16 août 2017


SABATON News/ Vidéo " Primo Victoria"
SABATON and the massively popular MMO game World of Tanks have collided to forge a new genre: Tank Metal.
The band's love of history, which blasts through in their music, reviving dramatic, historical events made them a perfect match for the historical tank warfare game developed by Wargaming. Both communities have a love of history and are proud that their players are bursting with musical creativity and passion.
SABATON collaborated with World of Tanks to put a new spin on the band's awesome song 'Primo Victoria'. The tune is an iconic song from the studio album released in 2005, which is loved by the fans all over the world.
When Wargaming discovered that SABATON were players of the game, they couldn't wait to collaborate with the band and ultimately created a music video that encapsulates World of Tanks' drive and style.
Directed by famous German music video and commercial director Zoran Bihac, the creative genius behind videos including 'Mein Herz Brennt' (RAMMSTEIN), 'Eat you Alive' (EMIGRATE), and 'Praise Abort' (LINDEMANN), the video features the song 'Primo Victoria' and focuses on all the emotions felt during a heroic tank battle.
"Understanding the setting of World of Tanks, I can easily say that this game is about history and its importance, but to be honest: also about fun," said Zoran Bihac, on the new music video. "It awakens the inner-child in you; it's how I feel about my work, and it resonates with SABATON's style. I wanted to keep the feeling of the game, and especially of their trailers, which look like real, historically accurate movies. This had to be combined with the song and our performance. To create a story, I came up with the setting of a normal performance video, where the tanks come alive, and start to hunt and shoot each other."
A number of the shots for the tanks were filmed in Arsenalen Tank Museum, Strängnäs, Sweden. The action scenes were shot on a military base in Belarus, where the band got a totally new experience of riding in actual WW2 tanks. The wall destruction scene was shot on the first take with a Panzer III actually crashing through the wall, with Pär Sundström on board.
"Working closely with talented musicians like SABATON was an awesome experience for us," said Maxim Chuvalov, World of Tanks marketing director. "One of the challenges we faced was that the band was constantly on tour, preforming shows all over the world almost every day. We had to find a slot in their tight schedule to bring the idea to life. Thankfully, the guys were very energetic and flexible, as well as really hardworking, so the project took shape. We're really proud to have such talented musicians in our community and super excited to present the Tank Metal video to our fans."
Fans can expect more Tank Metal coming to World of Tanks. On August 17th, the first ever music tank, the Strv 81 Primo Victoria, will be available in the game with some cool camo and unique features like a SABATON crew with the captain's VO, Band of Brothers perk, and more.


About World of Tanks
World of Tanks is a team-based massively multiplayer online action game dedicated to armored warfare of the mid-20th century. Throw yourself into the epic tank battles of World War II with other steel cowboys all over the world. Your arsenal includes over 500 armored vehicles from the United States, Germany, the Soviet Union, France, Great Britain, Japan, China, Sweden and Czechoslovakia carefully detailed with historical accuracy.
Official website: www.worldoftanks.eu
About Wargaming
Wargaming is an award-winning online game developer and publisher and one of the leaders in the free-to-play MMO market. Founded as a privately held company in 1998, Wargaming has shipped over 15 titles. Currently, Wargaming is focused on its team-based MMO war series dedicated to the mid-20th century warfare that includes the armored World of Tanks, the flight combat World of Warplanes, and the naval World of Warships. The three intertwined titles form a common gaming universe integrated within the portal http://ru.wargaming.net/
As part of its multiplatform line-up, the company has introduced World of Tanks on Xbox and World of Tanks Blitz on mobile platforms, Windows 10 PCs and Mac OS X. Launched in 2014 and 2015, World of Tanks on Xbox introduced epic tank-on-tank battles to console gamers and offers the first cross-platform gaming experience between Xbox 360 and Xbox One. In 2016, Wargaming released World of Tanks for PlayStation®4, continuing its console campaign.
---
11 août 2017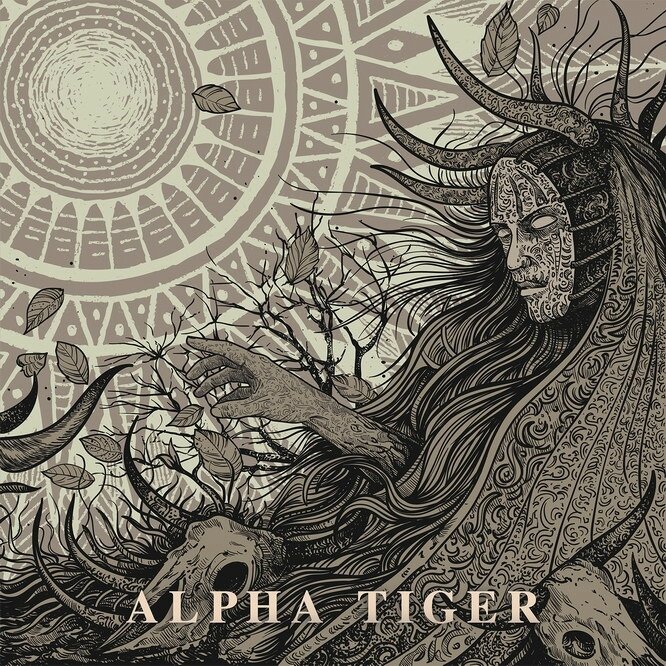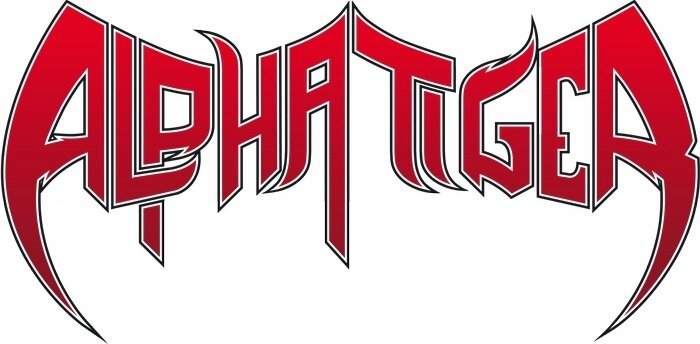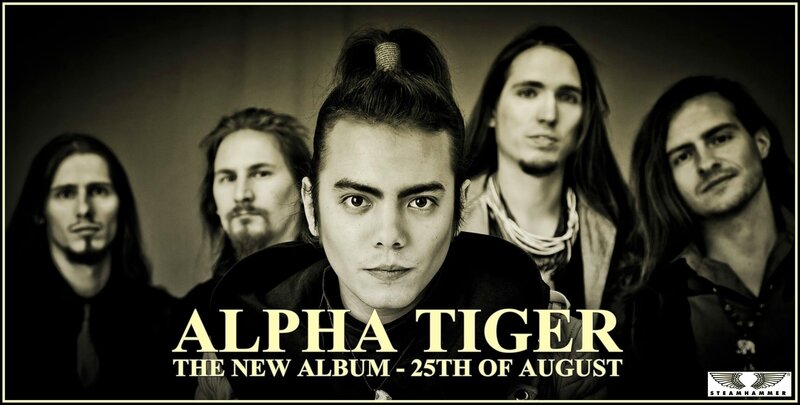 Quand en 2015, votre chanteur vous lâche en pleine ascension, la pilule est difficile à avaler et vous passez par des émotions diverses et variées mais avec, au final, une détermination encore plus intense, celle de continuer l'aventure ALPHA TIGER, celle de ces passionnés, puisque c'est d'eux dont il s'agit.
Menés par Peter Langforth, guitariste et compositeur de son état, les allemands reviennent remontés à bloc, déterminés et forts d'un nouveau chanteur, heureusement rapidement trouvé et qui a su s'adapter très vite non seulement à l'esprit Heavy unique qui anime la bande mais aussi prouver sa place au cours du baptême du feu lors des nombreux concerts qui ont suivi son intégration. Et c'est l'un des atouts de cet album éponyme de ALPHA TIGER, le fait que la bande soit déjà rodée, soudée et sur la même longueur d'ondes, un contexte idéal pour composer, entrer en studio et donner du coup pleinement vie au quatrième album de AT. Le pari pris pour ce nouvel effort était ambitieux, celui de lâcher la bride à la musique et la laisser s'exprimer en plein, se moquant de tout courant de mode : arpentant ainsi les routes du Rock old-school, du Heavy, du mélodique hymnique et révélant au passage une voie pour le futur et l'orientation artistique du groupe à venir, celle d'un Rock old school orienté seventies avec cette touche intemporelle ou spatiale qui valorise le tout et fait que l'alchimie opère. « Aurora » avec la distorsion des guitares qui vous happent et vous hantent autant que les vocaux, est le fer de lance de cet esprit libre, tout autant que peuvent l'être des pépites telles que, au choix, « Welcome To Devil's Town », « The Last Encore », « Singularity », « My Dear Old Friend », « Vice », « Comatose ».
Le choix du ' tout analogique' employé lors des sessions d'enregistrement, est une réussite : l'album sonnant de façon organique et prenante, tout en sachant donner une sonorité unique à tous les morceaux et à leur riche diversité qui surprend et accroche.

ALPHA TIGER sont de retour: entendez le rugissement puissamment libre d'un groupe en pleine maturation !

Tasunka
==> Pre-order the album here: https://AlphaTiger.lnk.to/AlphaTiger
ALPHA TIGER"Alpha Tiger"

Format: CD
Packaging: DigiPak + Poster

Format: 2LP
Packaging: gatefold, 180 g, black vinyl, printed inner sleeves, CD in cardboard sleeve


Tracklisting:
DigiPak Version:

01. Road To Vega 02:05
02. Comatose 05:09
03. Feather In The Wind 05:35
04. Singularity 04:20
05. Aurora 04:56
06. To Wear A Crown 04:57
07. Vice 04:40
08. Welcome To Devil's Town 05:44
09. My Dear Old Friend 05:56
10. If The Sun Refused To Shine 05:53
11. The Last Encore 04:54

The album was recorded and mixed by Richard Behrens
Guest musicians were organist Johannes Walenta and Berlin bands Street Hawk and Space Chaser (the choir vocals on ´My Dear Old Friend` & ´Singularity`)

-Peter Langforth – Guitars / songwriting
-Benjamin Jaino – Vocals
-Alexander Backasch – Guitars
-Dirk Frei – Bass
-David Schleif – Drums
---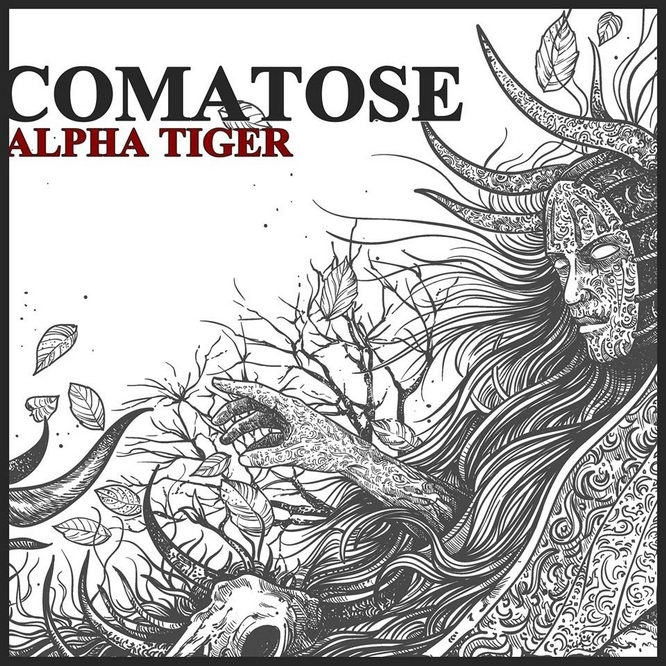 ---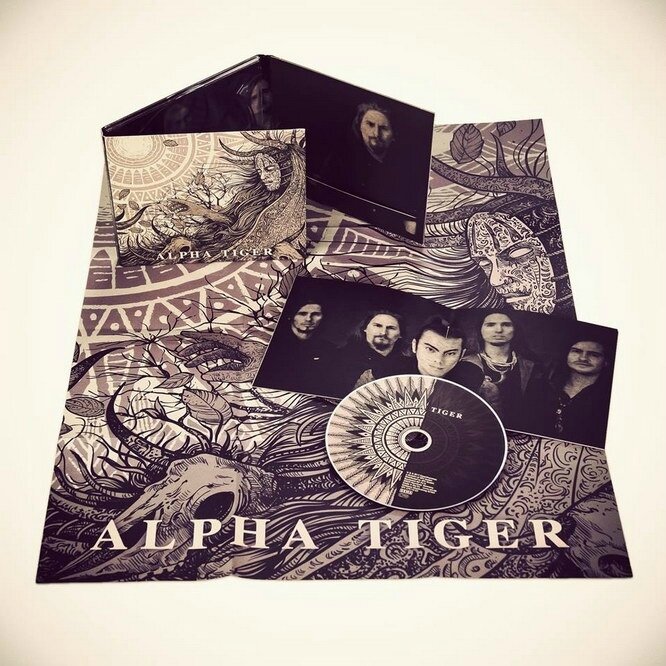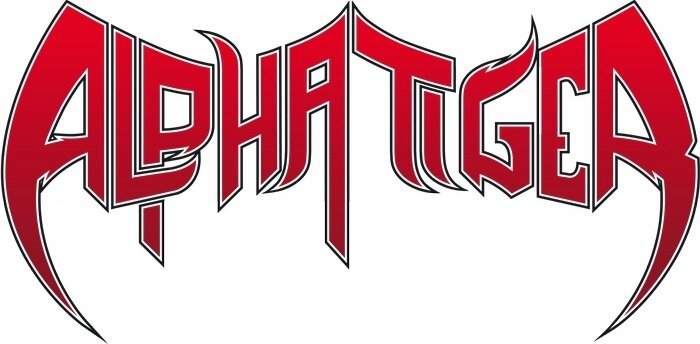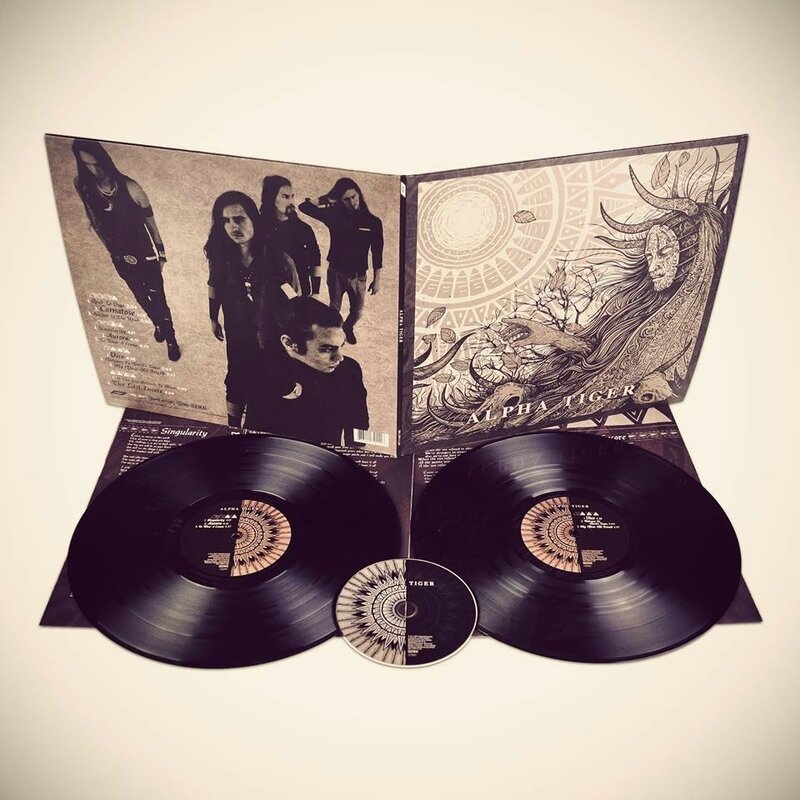 ---
10 août 2017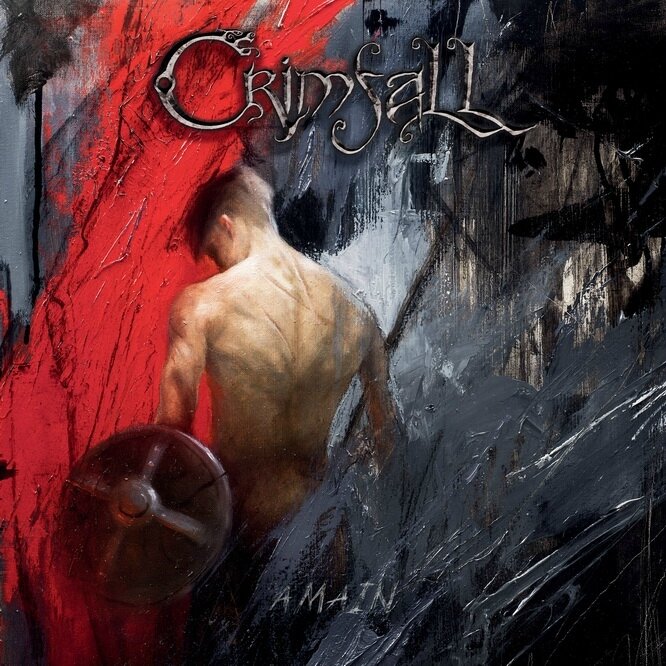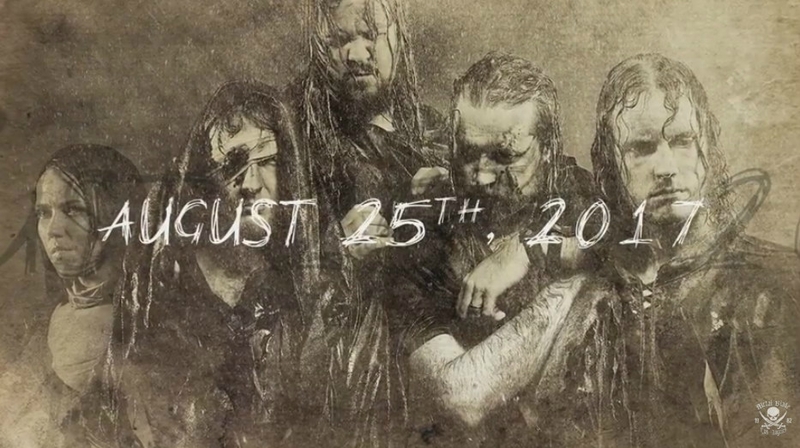 Il aura fallu six ans d'efforts et de totale implication et investissement pour CRIMFALL afin de délivrer leur album le plus ambitieux à ce jour , « Amain ». Une œuvre où les rudes racines de leur pays, la Finlande, trouvent un écho dans le Death / Black mixé avec le meilleur du Symphonic, du Folk en un mélange qui se montre être digne de figurer dans le meilleur de la bande son d'un film au thème héroïque.
Les finlandais ne font pas les choses à moitié et se donnent corps et âme pour donner vie à leur univers où les thèmes de liberté qui leur sont chers, de dénonciation de toute oppression, de lutte et guerre qui animent l'homme, sont présents et se traduisent en des atmosphères d'une grande richesse dynamique où le mot d'ordre est émotion forte.
La technique est assurée, les arrangements et orchestrations travaillés, le duo voix féminine claire et voix masculine en growl fonctionnant quant à lui, en plein accord avec la majesté qui se dégage des morceaux dans leur ensemble. La force féminine répond à la rage masculine en un redoutable mixe, telles le miroir de ce que les instruments déploient comme force de frappe mélodique et guerrière ou aérienne. Si CRIMFALL sont restés fidèles à leur technique de composition, une avancée et attention particulière ont été apportées à peaufiner les détails ainsi que les arrangements, curseur poussé vers la perfection et cela s'entend grâce à la production des studios Fascination Street (Amon Amarth / Soilwork). La production et le mixage de haut vol, participant, en effet , à délivrer la force subtile, orchestrale et brute à la fois qui anime « Amain » de tout son long, permettant ainsi à la dernière œuvre de Crimfall de vibrer et faire vibrer.
Des guitare, basse, batterie, aux violon, piano, aux vocaux et chorus, tout est en place en une configuration idéale pour donner toute sa ou plutôt ses dimensions au troisième effort de CRIMFALL, « Amain ».
CRIMFALL, dont le line-up à nouveau en configuration des origines avec le retour de leurs chanteuse et batteur, est redevenu la troupe soudée des débuts, une fraternité donc, qui s'y entend pour s'unir et délivrer un album qui mérite l'appellation d'œuvre. Certes, tout n'y est pas parfait, mais prenant assurément et ce, de bout en bout, des ambiances orientales, aux plus nostalgiques ou rudes et mélodiques voire surprenantes (vous verrez ;).
En somme, avec « Amain », CRIMFALL montrent combien le groupe se bonifie et gagne en maturation tout en sachant apporter un vent de fraicheur à son inspiration!
Tasunka
"Amain" Track-List:
01. Eschaton
02. The Last of Stands
03. Ten Winters Apart, Pt. 1: Far from Any Fate
04. Ten Winters Apart, Pt. 2: Song of Mourn
05. Ten Winters Apart, Pt. 3: Sunder the Seventh Seal
06. Ten Winters Apart, Pt. 4: Dawn Without a Sun
07. Mother of Unbelievers
08. It's a Long Road
09. Wayward Verities
10. Until Falls the Rain
11. Ten Winters Apart (Instrumental) (Bonus Track)
12. Kunnes Sade Saa (Bonus Track)
13. Writ of Pitchfork (Bonus Track)
Production from Fascination Street Studios (Sweden) by JOHAN ORNBORG (who also worked with AMON AMARTH, SOILWORK
-Mikko Häkkinen – Vocals (growl)
-Helena Haaparanta – Vocals (clean)
-Jakke Viitala – Guitars / arrangements
-Miska Sipiläinen - Bass
-Janne Jukarainen – Drums
CRIMFALL Discography:
As the Path Unfolds... (2009)
The Writ of Sword (2011)
Amain (2017)
---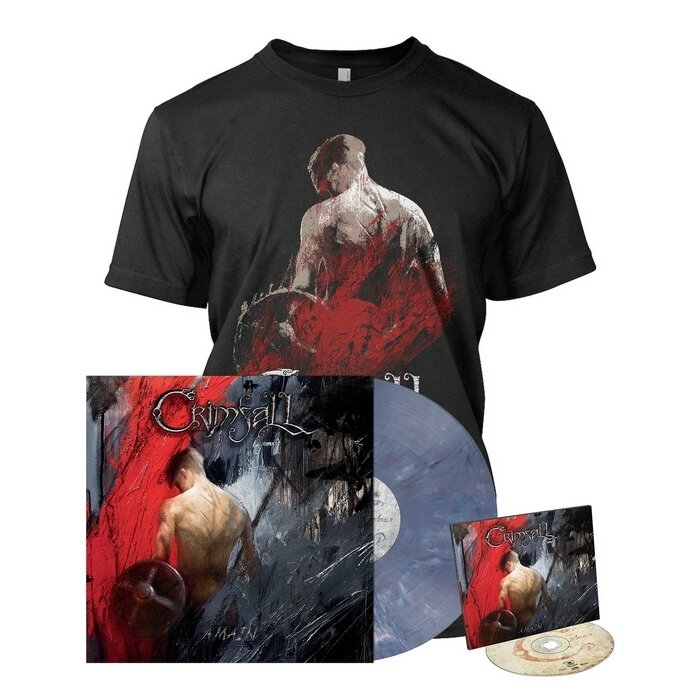 ---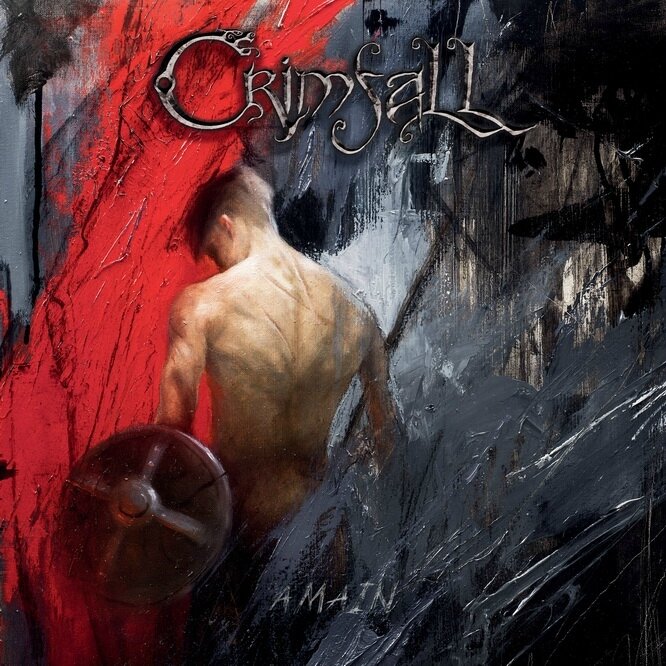 ---
09 août 2017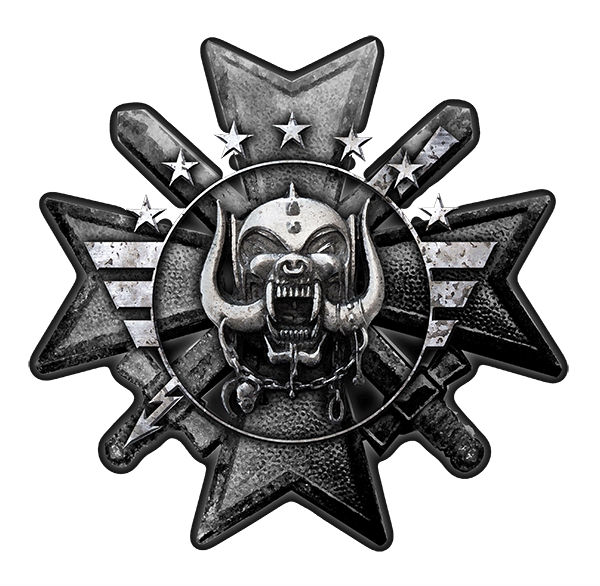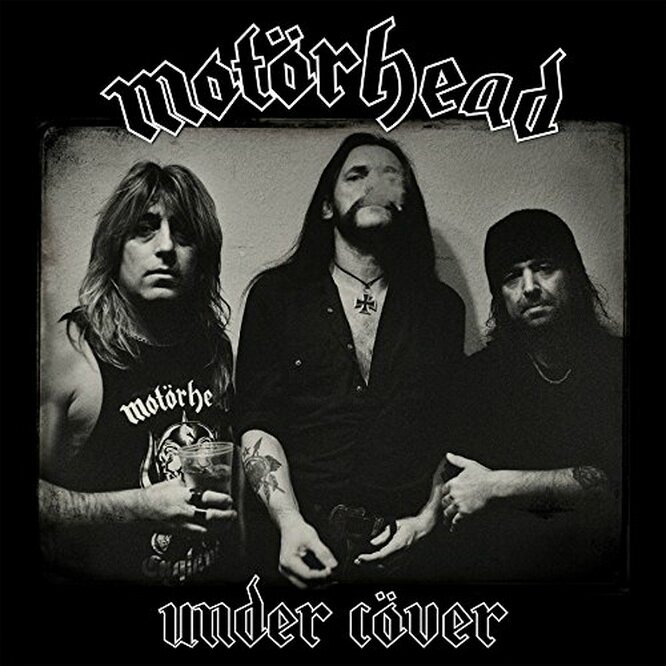 ==> Déjà dispo en précommande:

« Under Cöver »
==> Sortie le 1er Septembre 2017
CD digipak, vinyle, coffret collector & digital
(distribution Warner Music)

Grâce à « Under Cöver », la plupart des reprises enregistrées par Motörhead tout au long de sa prolifique carrière sont enfin réunies sur un seul et même disque ! Certaines sont connues, d'autres beaucoup moins, alors que leur version cosmique du « Heroes » de David Bowie était restée inédite jusqu'à ce jour…
Motörhead qui reprend Bowie, un moment forcément historique !
Plus qu'une simple compilation, « Under Cöver » est un recueil de morceaux particulièrement funs que Lemmy & co aimaient offrir leurs fans en hommage à leurs potes ou leurs pairs…

ONE THING Lemmy Kilmister, Phil Campbell and Mikkey Dee liked to do over their years together in Motörhead, was grab a favourite song by another artist and give it a good old fashioned 'Motörheading'. To run them through the Motörizer if you will. To rock them, roll them and even give them an extra twist and edge.
In celebration of some of those finest moments, the band will release "Under Cöver", a collection of some of their best covers, and a collection which will include the previously unreleased version of David Bowie's timeless classic "Heroes". Recorded during the Bad Magic sessions in 2015 by Cameron Webb, and was one of the last songs the band recorded together.
"It's such a great Bowie song, one of his best, and I could only see great things coming out of it from us, and so it proved to be," says Phil Campbell, "and Lemmy ended up loving our version."
"He was very, very proud of it," says Mikkey Dee, "not only because it turned out so well but because it was fun! Which is what projects like this should be – fun!"
To that ethic, the rest of the album contains loud and proud, raucous and raging Rock 'N' Roll takes on the likes of "God Save The Queen" (Sex Pistols), "Cat Scratch Fever" (Ted Nugent), "Rockaway Beach," (The Ramones), Breaking The Law" (Judas Priest) and "Whiplash" (Metallica) which earned the band a Grammy in 2005 for Best Metal Performance.
"We were happy with them at the time and we're happy with them now!" affirms Campbell, whilst Dee says, "We should remember that it's about having some fun with songs that we all loved."
So there you are. If that doesn't have you scrambling for your music delivery device, then check your pulse pronto.
Or just start scrambling for a copy of Under Cöver immediately. You won't be sorry.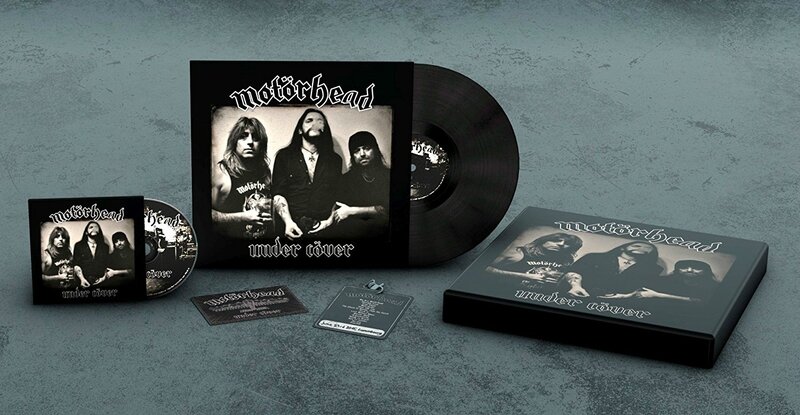 01. Breaking The Law (Judas Priest)- Produced by Cameron Webb / 2008
02. God Save The Queen (Sex Pistols) - Produced by Bob Kulick and Bruce Bouillet / 2000
03. Heroes (David Bowie) - Produced by Cameron Webb) 2015
04. Starstruck (Rainbow) - Produced by Cameron Webb / 2014
05. Cat Scratch Fever (Ted Nugent) - Produced by Peter Solley / 1992
06. Jumpin' Jack Flash (Rolling Stones) - Produced by Bob Kulick and Bruce Bouillet / 2001
07. Sympathy For The Devil (Rolling Stones) - Produced by Cameron Webb / 2015
08. Hellraiser (Ozzy Osbourne) - Produced by Billy Sherwood / 1992
09. Rockaway Beach "Demo Version" (Ramones) - Mixed by Cameron Webb / 2002
10. Shoot 'Em Down (Twisted Sister) - Produced by Bob Kulick and Bruce Bouillet / 2001
11. Whiplash (Metallica) - Produced by Bruce Bouillet and Bob Kulick / 2005

All songs performed by Motörhead:
-Lemmy Kilmister – B/V
-Phil Campbell – G
-Mikkey Dee – D
---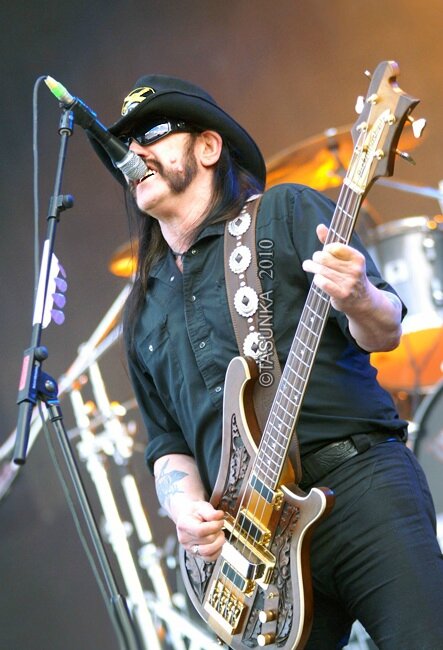 ---
==> Motörhead 'Heroes' - Live at Wacken Open Air 2017, Germany (Lemmy Tribute)
---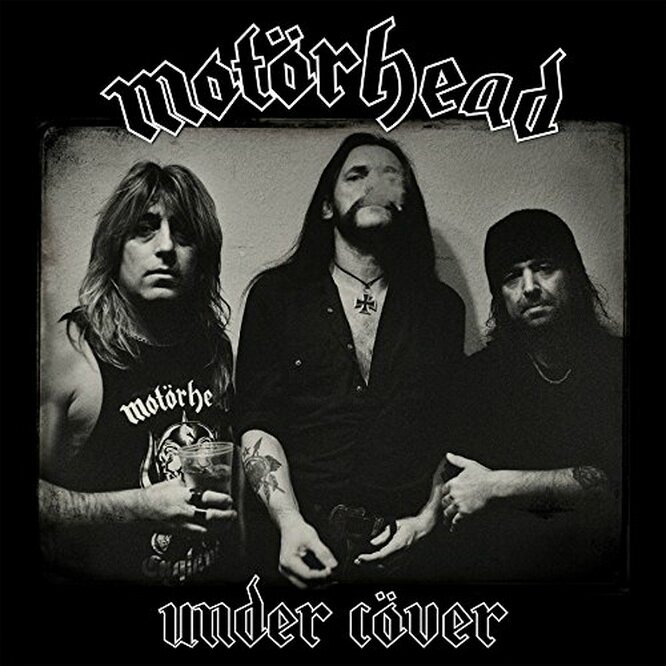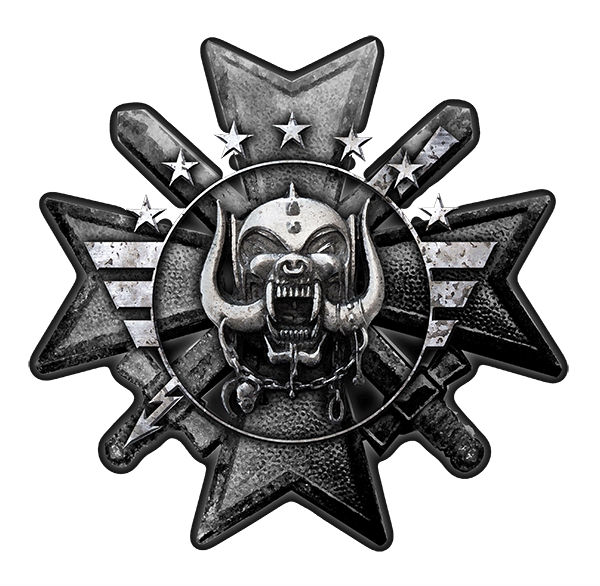 ---
06 août 2017

EKTOMORF, c'est ce groupe de valeur qui va, mine de rien, tourner son quart de siècle d'existence l'année prochaine et qui pourtant n'a pas subi l'usure du temps, au contraire, lui qui se bonifie et monte d'album en album, lui qui se montre en live et avec "Warpath (Live and Life On The Road)" en l'occurence, toujours aussi énergétique et explosif, sautillant, enthousiaste, authentique, qu'ils sont tous au sein de la formation, comme si la troupe du leader-chanteur-guitariste-compositeur-parolier (tout ça) et accessoirement unique membre restant de la formation originale, comme si, donc, la bande à 'Zoli' Farkas et lui le premier, venait juste d'arriver, toujours férocement en attaque et épatés d'être là à la fois.
C'est justement cette pèche intacte et ce dynamisme contagieux d'un neoThrash qui explose tout du long de ce live 2016 du groupe et en fait un très bon live, accrocheur au possible. Les hongrois sont incontestablement sur le sentier de la guerre au long de ce « Warpath » bien nommé et le groupe de se donner à fond du début du concert au salut final, et ce, que ce soit aux vocaux, guitares incisives et groove, aux rythmiques et basse-batterie en pleine osmose pour faire parler la poudre. Ca saute, ça headbang, ça s'époumone sourire jusqu'aux deux oreilles affiché sur et devant la scène de cette édition 2016 du mythique W.O.A teuton: le courant passe assurément entre le groupe et le public, un public nombreux et très réactif qui s'en donne à cœur joie dans les circle pits et autres dressages de poings, doigts d'honneur levés et cornes assorties lorsque le frontman les y incite.
Le mixage audio du à l'ami de longue date et cinquième membre de EKTOMORF, Tue Madsen, délivre l'intensité qui coure le long du gig et la captation vidéo étant, elle aussi, efficace via un rendu visuel apte à restituer l'ambiance survoltée qui avait cours ce jour-là: tout concorde à faire de ce live, un incontournable à avoir pour le plaisir coup de poing qu'il procure. Le DVD offrant en plus des onze titres issus des classiques de 2004 à 2006 puis de 2012 à 2015, en bonus, plus d'une heure d'un documentaire bien fait et complet en compagnie des Hongrois, un reportage bardé d'humour, d'anecdotes sur EKTOMORF, sa vie en tournée, hors scène dans les coulisses, en privé, et plus encore (le délire fun « Marijuana Symphony » à base de toux, marquant d'ailleurs les esprits).
Ce DVD "Warpath (Live and Life On The Road)" vaut le detour, lui qui est un 'merci' de la part de passionnés qui savent leur chance d'être là sur scène à réaliser leur rêve et en sont reconnaissants à leurs fans, au public et à tous ceux qui les soutiennent.
EKTOMORF possèdent une carrure internationale et le montrent, en assurant musicalement et humainement: respect à ce groupe authentique qui sait ce que fun et sueur signifient, comme le prouve leur tout dernier live !

Tasunka
EKTOMORF "Warpath - Live and Life On The Road" (Live At Wacken 05 Aug 2016 – Documentary recorded from 2015 to 2016)

CD:
01. Aggressor - (Aggressor- 2015)
02. Move On - (Aggressor- 2015)
03. Ambush In The Night - (Outcast – 2006)
04. Holocaust - (Aggressor- 2015)
05. Black Flag - (Black Flag – 2012)
06. Evil By Nature - (Aggressor- 2015)
07. United Nations - (Instinct – 2005)
08. Leech - (I Scream Up to the Sky- 2002)
09. Fuck You All - (Instinct – 2005)
10. I Know Them - (Destroy – 2004)
11. Outcast - (Outcast – 2006)

DVD:
01. Aggressor
02. Move On
03. Ambush In The Night
04. Holocaust
05. Black Flag
06. Evil By Nature
07. United Nations
08. Leech
09. Fuck You All
10. I Know Them
11. Outcast
__
12. Live And Life On The Road (Extensive Documentary: 1h)
==> Audio mix was once again handled by the band's longtime engineer Tue Madsen (Antfarm studios)
---

-Zoltán 'Zoli' Farkas : V/G
-Szabolcs Murvai : B
-Tomi Schrottner : G
-Robert Jaksa : D
---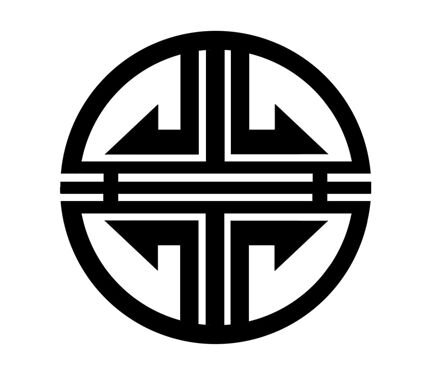 ---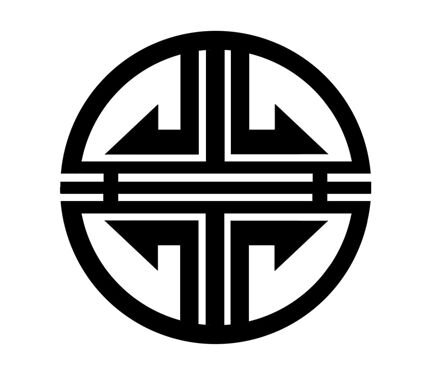 ---
05 août 2017


Grands bosseurs tout autant que passionnés jusqu'au bout du cuir et des chaines, PORTRAIT reviennent avec une intention: mettre le monde en feu avec leur Heavy Metal et cette fois, c'est avec la férocité d'une armée en marche comme ligne directrice, que les suédois mettent leur projet à exécution, vous bousculant au passage un sourire aux lèvres, ravis de leur méfait.
Leur quatrième offrande au titre des plus appropriés, « Burn The World », se montre effectivement féroce, plus dynamique que ses prédécesseurs et sait regrouper toute la riche palette d'atouts qui font que le groupe a été salué dès ses débuts et ce, à chaque album ou prestation fougueuse en live. C'est que la troupe s'y entend pour délivrer et fait parler la poudre, la dynamique, avec des riffs à vous réveiller un mort par leur agilité et leur puissance, des vocaux qui évoluent dans le même registre que KING DIAMOND pour exemple et qui collent à point avec les atmosphères énergiques au possible délivrées par la troupe au complet.
Les chorus se disputent l'avant scène avec les riffs, les soli du duo de guitares en pleine possession de leur art, les mélodies classieuses, les hymnes vocaux et aux instruments, en une attaque redoutablement efficace: en somme, on a à faire à une lame de fond de Heavy Metal speedé s'il en est, qu'une batterie à la double grosse caisse rageuse porte à bout de double pédale soutenue dans sa mission par une basse du même tonneau. Production au top, groupe remonté comme un viking prêt à envahir le reste du monde, « Burn The World » a tout pour assurer et ne s'en prive pas au long de ses nouvelles compositions, toutes placées sous la bannière de la férocité à tous niveaux. Courtes ou plus longues, les nouvelles compositions font souffler un vent incendiaire, tout en s'appuyant sur la marque distinctive de PORTRAIT et il faut reconnaître que la sauce prend, « Burn The World » alignant moments prenants après moments prenants. Si vous résistez à, pour exemples, « Martyrs », « Likfassna », « Burn The World », « Flaming Blood », "To Die For" ou "Pure Of Heart", c'est que vous êtes sourds… ;)

Avec leur quatrième LP, « Burn The World », PORTRAIT signent la marque d'un groupe qui a toute sa place aux côtés des plus grands du Heavy et bien plus : l'héritage Heavy et du Metal classique est, ici, porté bien haut et se montre des plus vivant et…féroce !
Tasunka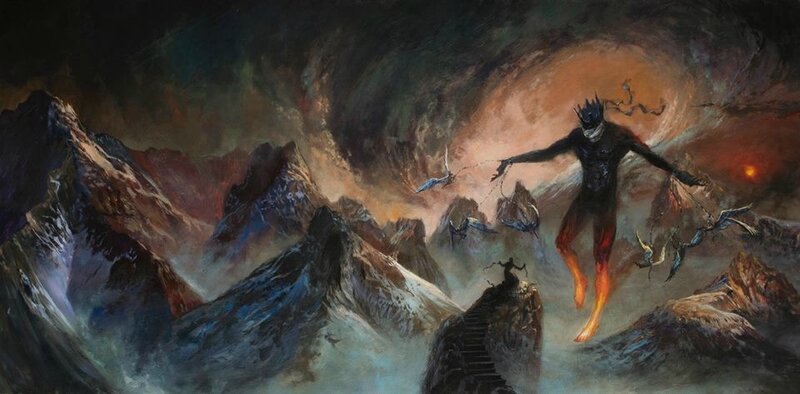 "Burn The World" Tracklisting:

01-Saturn Return (Intro)
02-Burn the World
03-Likfassna
04-Flaming Blood
05-Mine to Reap
06-Martyrs
07-Further She Rode
08-The Sower's Cross (CD Bonus Track)
09-To Die For
10-Pure of Heart
==> "Burn The World" features guest appearances by Set Teitan (Dissection/Watain) / Kevin Bower (Hell)
PORTRAIT Line-Up:
-Per Lengstedt: V
-Christian Lindell: G
-Robin Holmberg: G
-Fredrik Petersson: B
-Anders Persson: D
---
==> The box includes the following:

*Burn the World Digipack CD
*Burn the World LP (exclusive colour)
*Mother Sun 12" single (with the Judas Priest cover on A-side and two demo versions of songs from the Crossroads album on the B-side)
*Patch
*Signed photo card
*Slipmat

It is limited to 500 copies !

==> Go to www.metalblade.com/portrait to order it
---
PORTRAIT Discography:
2006 - Welcome To My Funeral - Demo Tape
2007 - Into The Nothingness 7" EP - New Iron Age Records
2008 - Portrait - Iron Kodex Records/High Roller Records
2010 - The Murder Of All Things Righteous 7" EP - High Roller Records
2011 - Crimen Laesae Majestatis Divinae - Metal Blade Records
2014 - Crossroads - Metal Blade Records
2014 - Under Command (Split with Ram) - Metal Blade Records
2017 - Burn the World - Metal Blade Records
---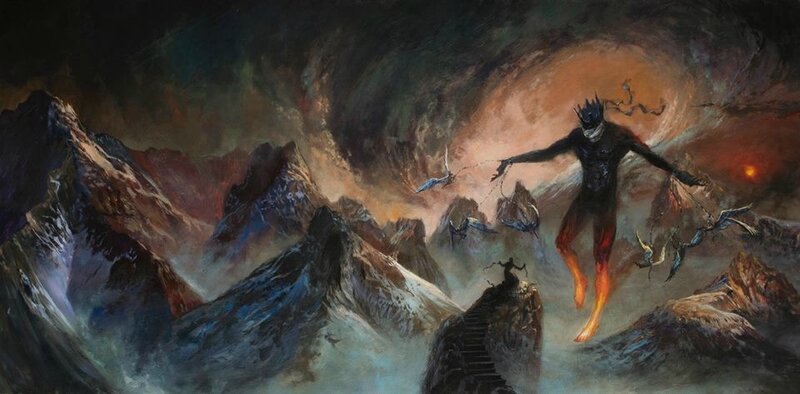 ---
30 juillet 2017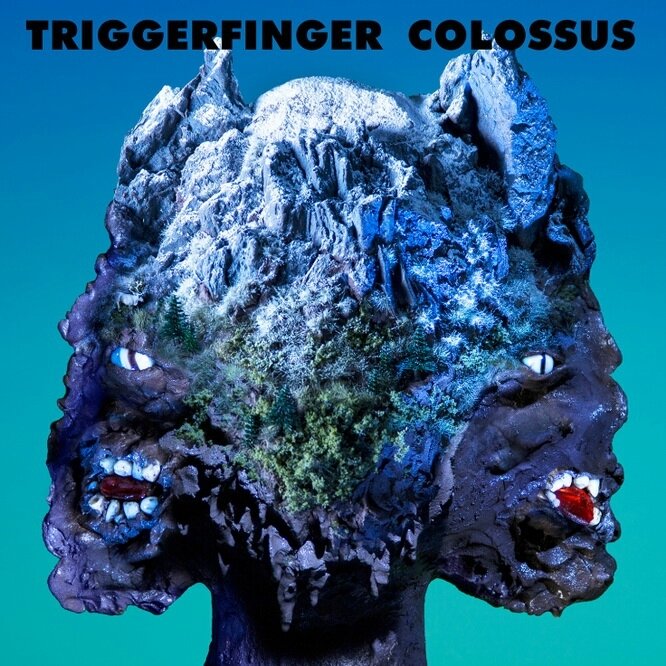 ==> Release: 25 / 08 / 2017
La musique comme unique point de mire central et rien d'autre, les morceaux d'abord, les hommes après, tel était le leitmotiv du trio de choc Stoner Rock qu'est TRIGGERFINGER quand ils se sont attelés à donne vie à leur nouvel album « Colossus ». L'envie assumée et déterminée de sortir de leur zone de confort habite et anime TF surtout depuis les collaborations avec d'autres musiciens, ce qui leur a donné des envies impérieuses d'ouvrir leur horizon musical en tant que groupe.
C'est dans cette optique d'écrire une nouvelle page, que la bande a innové avec leur cinquième opus, en laissant et ce, pour la première fois, les guitares céder le lead à un doublé de basses qui œuvrent de concert pour donner toute sa place à un groove pur et superbe de lourdeur sombre et de fraicheur à la fois. Cette basse doublée fait vibrer les morceaux avec un groove animal et à fleur de peau, lancinant, captivant et accentue les riffs de guitare, le chant et la batterie en un ensemble redoutablement efficace. A part pour « Afterglow » où la guitare revient sur le devant de la scène en acoustique et électrique ou sur le Rock Stoner du must qu'est « Bring Me Back A Live Wild One », la basse sourde est la maitresse du jeu, elle qui donne le ton, mettant en valeur les atmosphères intenses, ultra prenantes et hypnotisantes qui donnent toute son âme et son cachet à « Colossus ».
Epaulés par les deux pointures incontournables du monde du disque que sont Mitchell Froom à la production et l' ingénieur du son Tchad Blake, TRIGGERFINGER ont vu leur rêve de collaborer avec ce duo qu'ils révèrent depuis quelques années, se réaliser. Mitchell Froom, particulièrement séduit par les idées créatives de TF, les a soutenus, challengés, poussés à donner encore et toujours le meilleur d'eux-mêmes, au point de devenir le quatrième membre temporaire de Triggerfinger, au vu de son implication sans retenue pour « Colossus » et des idées qu'il a de même amenées, sans omettre de mentionner l'apport de ses claviers vintage à souhait. Grace à ce dernier et comme le déclare Ruben Block (chanteur, guitariste aussi talentueux que ses deux complices): « Il a ouvert beaucoup de portes pour TRIGGERFINGER et avec « Colossus », nous a mis sur la voie pour les prochaines années. ». Et dans le domaine 'apport de pointures', il est à souligner l'intervention on ne peut mieux sentie du saxophone de l'iconique artiste qu'est Steve Berlin (Los Lobos), sur trois des dix morceaux originaux. « Colossus » mérite son nom, l'album étant 'colossal' de groove énergique, lourd et frais à la fois, d'un mixe de sons, de styles, d'atmosphères, au point de ne pouvoir citer aucun titre en particulier, tous ayant sa patte unique et son accroche. L'artwork collant en cela parfaitement à la musique, en montrant un buste, lui aussi, à plusieurs visages.
« Collossus » est on ne peut plus audacieux et réussi, offrant un Stoner Rock libre et qui déploie ses ailes plus largement encore; TRIGGERFINGER ont ouvert une nouvelle voie avec lui ou comme le résume au mieux le trio :
« "Colossus", c'est comme être sur un manège dans un Disneyland post-apocalyptique » ! :)

Colossalement à découvrir d'urgence !
==> A ne pas manquer, les deux dates françaises de TRIGGERFINGER: le groupe sera à Paris/Elysée Montmartre le 25/11/17 et à Lille/Aéronef le 16/12/17
Tasunka
'Colossus' Tracklisting:
01. Colossus
02. Flesh Tight
03. Candy Killer
04. Upstairs Box
05. Afterglow
06. Breathlessness
07. That'll Be The Day
08. Bring Me Back a Live Wild One
09. Steady Me
10. Wollensak Walk
Produced by

Mitchell Froom

and engineered by

Tchad Blake:

they are arguably the most idiosyncratic duo in the record industry. As a team and separately they've worked with the likes of Los Lobos, Elvis Costello, Paul McCartney, Bonnie Raitt, Richard Thompson, Tom Waits, Arctic Monkeys, The Black Keys, U2, and Pearl Jam.
Los Lobos' saxophone giant Steve Berlin added his mojo on three tracks
---
TRIGGERFINGER Discography:
-self-titled debut album (2004)
-What Grabs Ya (2008)
-All This Dancing Around (2010)
-By Absence of the Sun (2014)
-Colossus (2017)
---
==> Colossus Tour: click here / cliquer ici
==> France:
*Paris: Elysée Montmartre le 25/11/17
*Lille: Aéronef le 16/12/17
---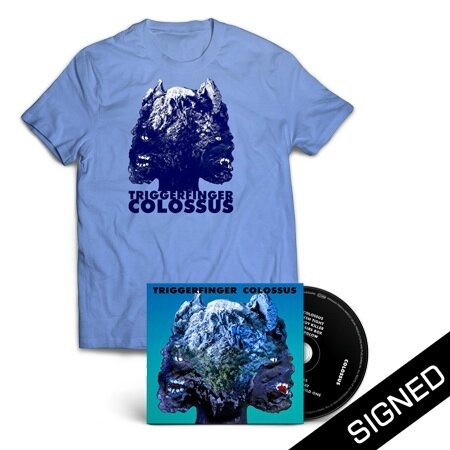 ---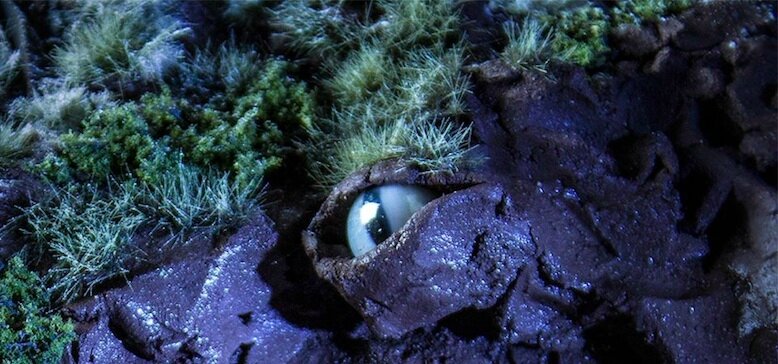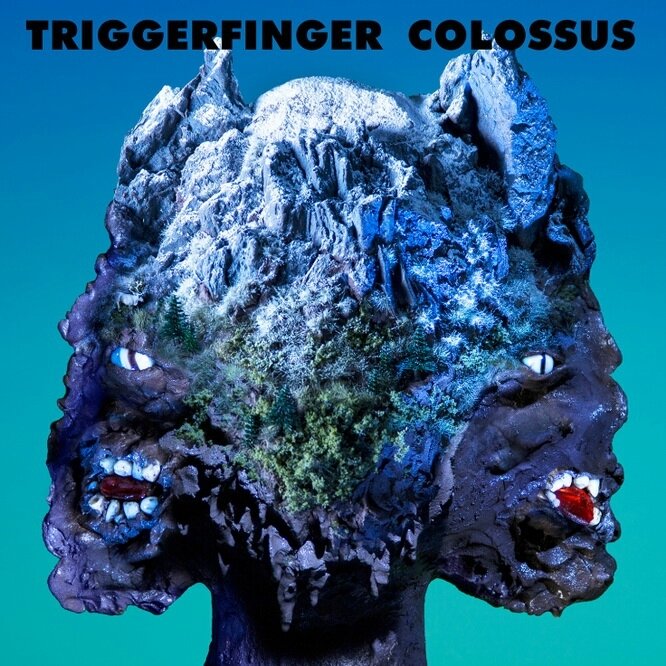 ---
29 juillet 2017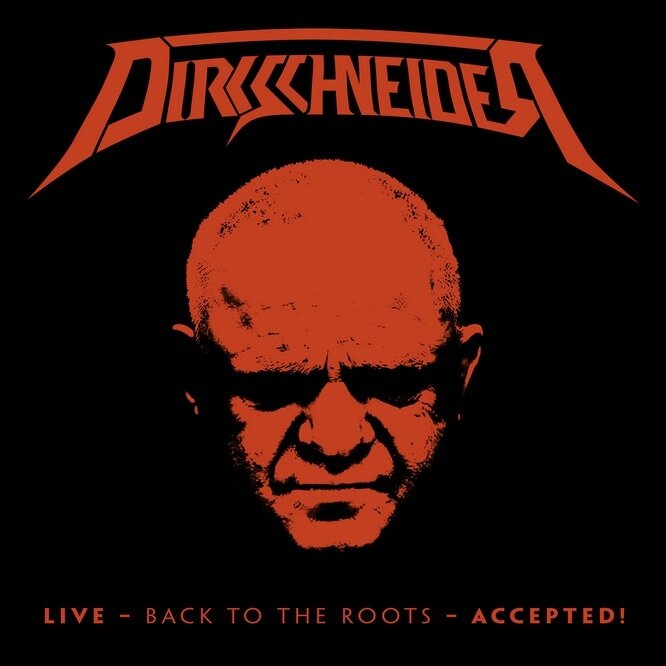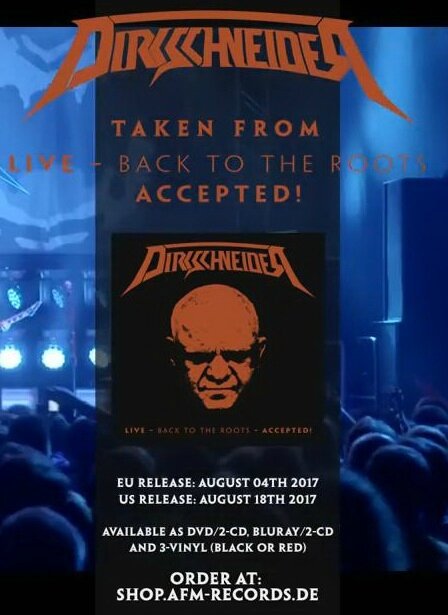 Udo Dirkschneider est un pilier incontesté du Heavy Metal, de par sa voix éraillée et puissante reconnaissable de suite, de par son charisme et sa carrure au propre comme au figuré de frontman et de par sa longue carrière qui couvre quatre décennies, avec, avant de former son propre groupe U.D.O., une page gravée dans le marbre avec ACCEPT jusqu'en 1986 et son départ en solo d'alors. Ceci étant posé, quand l'envie lui a pris de tourner pour la dernière fois la page et en beauté encore, des titres de l'ère ACCEPT des eighties, via une tournée et un live sorti en octobre 2016, qui comprennent en set-list, le meilleur des imparables classiques et des moins joués morceaux de cette époque, c'est logiquement sous le nom de DIRKSCHNEIDER que les choses ont pris corps.
Si en octobre 2016 sortait le bien nommé « LIVE – Back To The Roots » en version deux CDs et pour le plus grand plaisir des fans et de ceux qui voulaient découvrir cette mythique période pour ACCEPT et Udo Dirkschneider, en ce quatre août 2017, ce sont exactement le même concert avec la même set-list à peine augmentée, qui sort à nouveau dans les bacs à l'identique mais cette fois et la différence se situe là, en version DVD intitulée, pour l'occasion: « LIVE – Back To The Roots – Accepted !».
Certes, ce live a été filmé à la demande des fans qui réclamaient qu'après la captation audio de la tournée, une captation vidéo soit réalisée; c'est chose faite en décembre dernier lors de la première partie de « Back To The Roots Tour » à Brno en République Tchèque, certes, mais avec un point qui fait nénamoins lever le sourcil: ce DVD live aurait quand même pu être tourné en premier jet, et sortir en version DVD / 2 Cds directement en octobre dernier; or, en deux étapes, d'abord juste la version 2 CDs puis DVD / 2 CDs, c'est chaud pour le porte-monnaie des fans, isn't it ? Disons que les gagnants sont ceux ayant raté la sortie des 2CDs fin 2016 et qui se rattraperont avec ce très réussi DVD en 2017. En effet, « LIVE – Back To The Roots – Accepted !» apporte tout ce qui fait aimer cette époque Accept / Udo Dirkschneider avec un Udo et sa troupe (filsà la batterie inclus), la même que son groupe U.D.O., avce dinc une troupe dans une forme et une maitrise du sujet des plus accrocheuses. La captation est de qualité autant que le groupe peut l'être et le public est au top de l'enthousiasme comme tous ceux qui vont se plonger dans ces racines Heavy intemporelles, fédératrices hier, comme aujourd'hui. La révérence et le dernier salut de Udo à ces classiques est belle, efficace à souhait et avec une pointe révélatrice de Udo, qui en introduisant, par exemple, le morceau « I'm A Rebel », demande, avec malice: « vous voulez que je joue ce p..tain de vieux titre ? ».
A ne pas manquer la seconde partie de la tournée « Back To the Roots » qui sera, dès octobre 2017, placée sous le signe d'une set list différente de celle du DVD et qui passera par Paris, le 13 décembre prochain: un moment unique, c'est certain, que Udo Dirkschneider tirant le rideau sur ces morceaux mythiques avant de ne plus jouer, à l'avenir, que les titres de U.D.O. !

Tasunka
Tracklist "LIVE – Back To The Roots- Accepted!":
01. Intro
02. Starlight
03. Living For Tonite
04. Flash Rockin' Man
05. London Leatherboys
06. Midnight Mover
07. Breaker
08. Head Over Heels
09. Neon Nights
10. Princess Of The Dawn
11. Winterdreams
12. Restless And Wild
13. Son Of A Bitch
14. Up To The Limit
15. Wrong Is Right
16. Midnight Highway
17. Screaming For A Love Bite
18. Monsterman
19. TV War
20. Losers And Winners
21. Metal Heart
22. I'm A Rebel
23. Fast As A Shark
24. Balls To The Wall
25. Burning
26. Outro - I Give As Good As I Get
27. My Way (bonus)
-Udo Dirkschneider - V
-Andrey Smirnov - G
-Bill Hudson - G
-Fitty Wienhold - B
-Sven Dirkschneider - D
---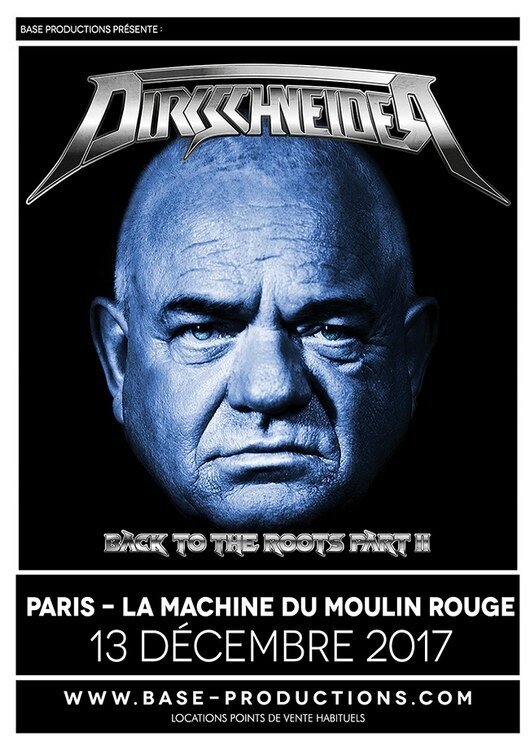 "Back To The Roots Part II" Tour:
01.07.2017 - ES-Barcelona Rock Fest
02.07.2017 FI-Helsinki Tuska Festival
05.07.2017 D-Ballenstedt Rock Harz Festival
29.07.2017 D-Kempten/Buchenberg Rock THE King
04.08.2017 SWE-Knislinge Helgaefestivalen
11.08.2017 BEL-Kortrijk Alcatraz Metal Festival
12.08.2017 D-Hanau Amphitheater/Shooter
18.08.2017 SWE-Falun Sabaton Open Air
01.10.2017 UA-Kharkiv KKZU
03.10.2017 UA-Dnipro Mashinostroiteley
04.10.2017 UA-Kiev Nau
06.10.2017 RU-St Petersburg Kosmonaut
07.10.2017 RU-Moscow Yotaspace Club
08.10.2017 RU-Nizhniy Novgorod Milo Concert Hall
26.10.2017 AUT-Wörgl Komma
27.10.2017 AUT-Wien Szene
28.10.2017 SK-Bratislava MMC
30.10.2017 HU-Budapest Barba Negra
31.10.2017 SK-Kosice Colosseum
02.11.2017 CZ-Ostrava Garage
03.11.2017 CZ-Zlin MOR Cafe
04.11.2017 CZ-Plzen KD Serikovka
06.11.2017 POL-Warschau Progresja
08.11.2017 LV-Riga Palladium
09.11.2017 EST-Tallinn Rockcafe
24.11.2017 NOR-Trondheim Byscenen
25.11.2017 NOR-Jevnaker Glassheim
27.11.2017 DK-Aalborg Skraaen
28.11.2017 DK-Copenhagen Amager Bio
29.11.2017 DK-Aarhus Voxhall
01.12.2017 CZ-Prag Meet Factory
02.12.2017 D-Leipzig Haus Auensee
03.12.2017 D-Oberhausen Turbinenhalle
05.12.2017 D-Hamburg Grosse Freiheit 36
06.12.2017 D-Hannover Capitol
07.12.2017 D-Bremen Aladin
09.12.2017 D-Osnabrück Hyde Park
10.12.2017 D-Berlin Huxley´s Neue Welt
12.12.2017 D-Köln Essigfabrik
15.12.2017 D-Tuttlingen Stadthalle
17.12.2017 D-Stuttgart LKA
19.12.2017 CH-Pratteln Z 7
22.12.2017 D-Geiselwind Music Hall
23.12.2017 D-Mannheim Maimarkthalle Club
Four more shows were added to the "Back To The Roots Part II" tour:
Oct 08, 2017 RUS-Nizhny Novgorod - Milo Concert Hall
Dec 13, 2017 F-Paris - La Machine
Dec 16, 2017 D-Kaufbeuren - All-Kart Halle
Dec 21, 2017 D-München - Backstage Werk
---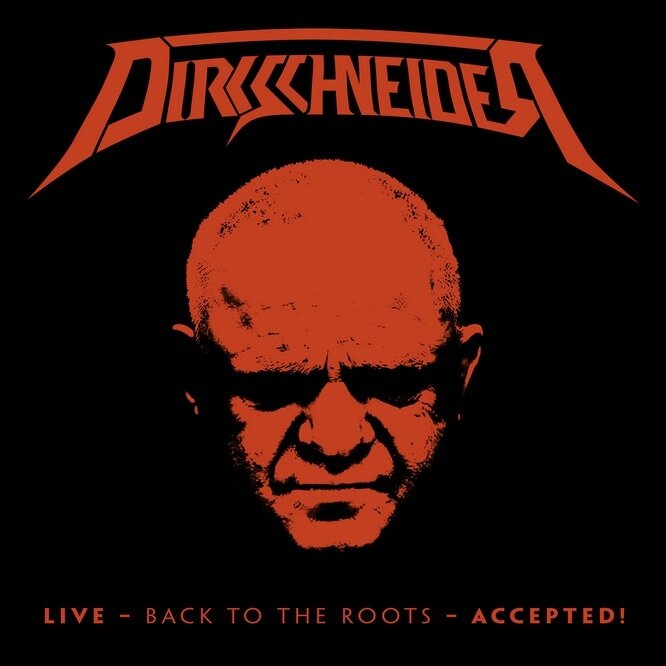 ---
24 juillet 2017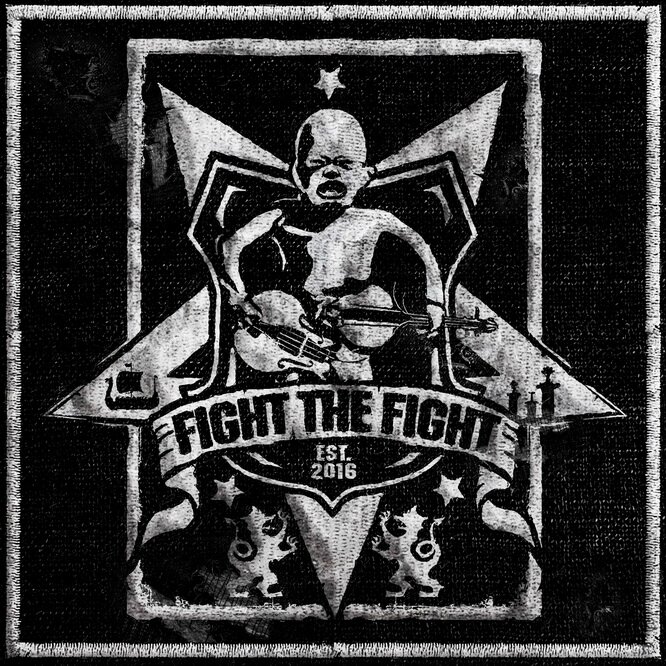 Afin de marquer le cent cinquantième anniversaire de la pièce de Henrik Ibsen : 'Peer Gynt' et avant tout pour célébrer l'œuvre musicale écrite pour cette pièce, par le plus que révéré compositeur romantique classique, Grieg Edvard (1843-1907), quoi de mieux que ses compatriotes norvégiens du très bon groupe montant FIGHT THE FIGHT (voir chronique de leur debut album – janvier 2017), eux qui ont choisi pour l'occasion d'extraire de la pièce l'incontournable opus, 'Anitras' Dance ' à la ritournelle entêtante et bien connue et de la plonger dans leur Metal estampillé Fight The Fight. La sauce prend incontestablement bien et tout en respectant l'esprit de l'opus original, les norvégiens fusionnent le classique avec leur patte Metal aux accents Black, progressif où les guitares généreuses rivalisent de maestria, les vocaux en growl ou voix claire de même, sans omettre de mentionner une section rythmique qui œuvre de conserve avec ses comparses.
La collaboration de Fight The Fight pour cette anniversaire, avec Music Norway, Innovasjon Norge, Peer Gynt AS ainsi qu'avec les producteurs de Bleed and Fantefilm porte ses fruits : l'inspiration est au rendez-vous et FIGHT THE FIGHT rendent un bel hommage à l'œuvre originale et à son auteur Grieg Edvard.
Le Metal et le classique, se marient décidément au mieux, comme l'ont prouvé maintes formations au long des dernières décennies et à présent en 2017, avec les bulldozers d'Oslo: Fight The Fight !

A noter que les norvégiens seront en tournée avec SATYRICON et, ça ne se manque pas, en France pour quatre dates fin septembre, début octobre: à vos agendas !

Tasunka
---
FIGHT THE FIGHT will also be going on tour supporting the black metal giants SATYRICON, starting from the end of September 2017.
==> See tour dates below:
August 3rd - August Burns Red, Copenhagen, Denmark
August 4th - August Burns Red, Oslo, Norway
Satyricon European Tour:
September 24th - Hamburg, Germany
September 25th - Essen, Germany
September 26th - Tilburg, Germany
September 27th - Vosselaar, Belgium
September 29th - London, UK
September 30th - Paris, France
October 1st - Nantes, France
October 2nd - Toulouse, France
October 4th - Madrid, Spain
October 5th - Barcelona, Spain
October 6th - Montpellier, France
October 7th - Bologna, Italy
October 9th - Zürich, Switzerland
October 10th - Munich, Germany
October 11th - Vienna, Austria
October 12th - Prague, Czech Republic
October 14th - Krakow, Poland
October 15th - Warsaw, Poland
---

---
21 juillet 2017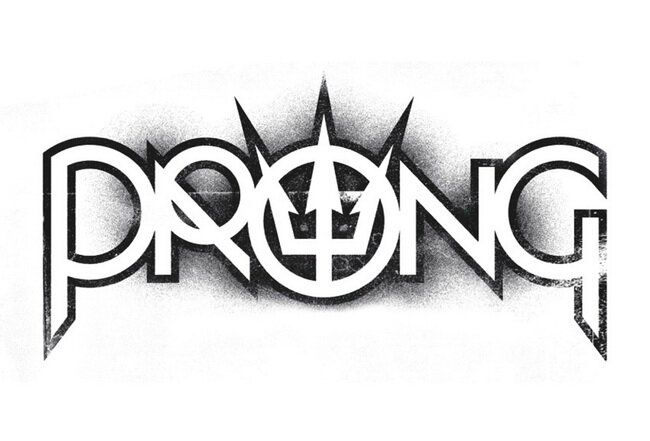 Quand un album du calibre de celui de « Zero Days » vous tombe dans le lecteur et vous explose les enceintes avec sa force de frappe dynamique, c'est l'accroche assurée. PRONG ont fait fort avec leur nouvel opus qui bouscule de la première à la dernière note, en un mixe des plus efficaces de tout ce qui fait que ce groupe est une référence.
On a, ici, à faire à une véritable détonation de Thrash / Hardcore où les hymnes, les martèlements, les attaques pied au plancher ou d'un volontairement lourd mid-tempo, le groove sous toutes ses formes et à tous les instruments, riffs solides, vocaux inclus, vous happent, vous secouent et ne font aucun quartier. PRONG délivrent avec « Zero Days », une pépite de disque servie par une production en pleine efficacité due à nouveau à la patte du très prolifique guitariste, chanteur, compositeur et leader de Prong, Tommy Victor, épaulé à la co-production par Chris Collier, aussi au poste d'ingé son. Il fallait bien cette union pour délivrer un son au top capable de capter toute l'impulsion, la dynamique ravageuse qui animent chaque morceau. Pas de temps mort, donc, sur « Zero Days », pas de superflu, juste une succession de bons titres qui font le boulot avec groove et force de frappe incisive, que viennent couronner des hymnes qui marquent. Et en parlant de couronner le tout, option cerise sur la galette, Tommy Victor avait beaucoup de thèmes à exprimer dans les paroles, aussi, a-t-il porté un soin encore plus particulier à celles-ci: l'artwork réussi s'il en est, en est un bon reflet.
PRONG étant un trio de pointures au line-up stable depuis quatre albums à la suite dont celui-ci, le groupe a ainsi pu se concentrer et se donner encore plus à fond, soudé, pour « Zero Days » et cela s'entend. Entre des titres mid tempo comme le lourd comme une menace qu'est le must « Self Righteous Indignation », ou l'Attila hymnique, tout riff en attaque dehors d'un autre point fort, cette fois, de « Rulers Of The Collective », entre, de même, le plus Indus Thrash « Wasting Of The Dawn » qui martèle comme une armée en marche, refrain catchy à souhait au compteur, l'hymnique plus Heavy Thrash « Collide And Conquer », le rentre-dedans « Forced Into Tolerance », « Interbeing », bref, entre ces exemples, poind le reflet de ce qu'est « Zero Days ",
un incontournable d'album aussi convaincant musicalement, vocalement que du point de vue des lyrics: PRONG montrant combien ils sont clairement plus qu'en pleine possession de leurs moyens avec « Zero Days ».
PRONG rule !
(comme l'a prouvé le trio en mettant le feu au Hellfest 2017, d'ailleurs :)
Tasunka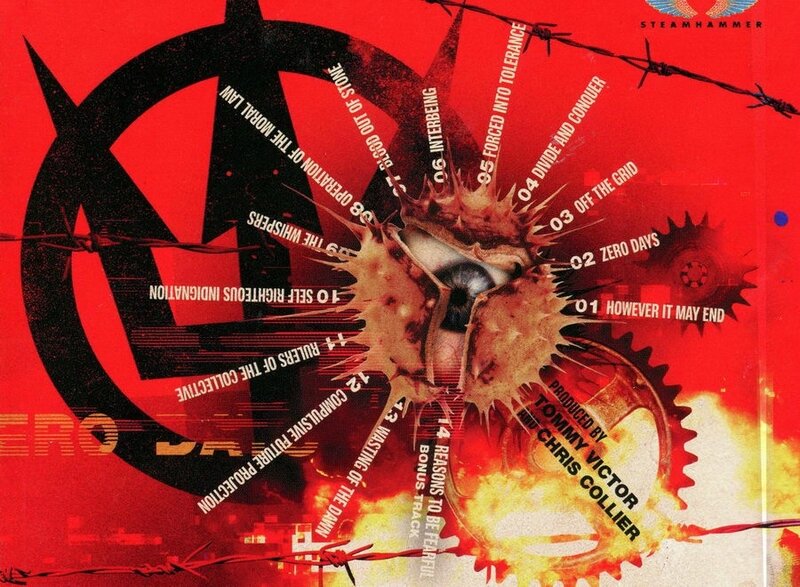 ---
---
PRONG Line-Up:
-Tommy Victor – G / V
-Mike Longworth – B
-Art Cruz - D
---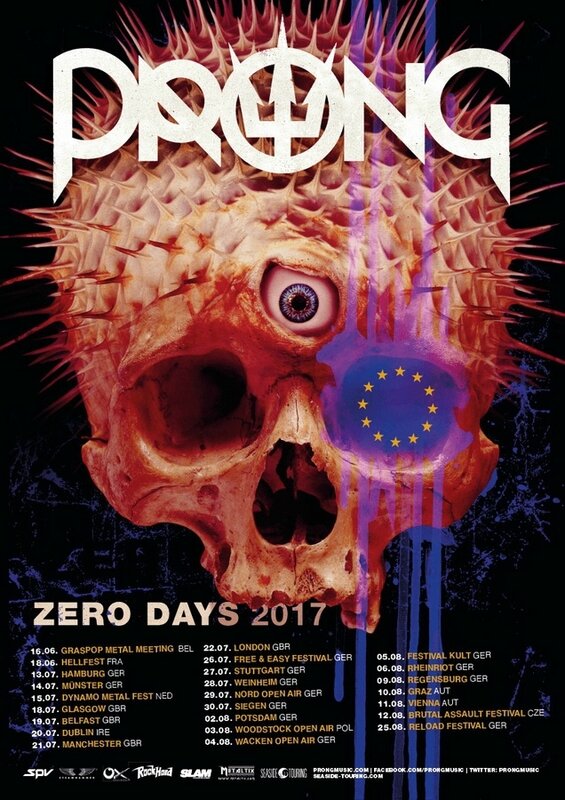 ---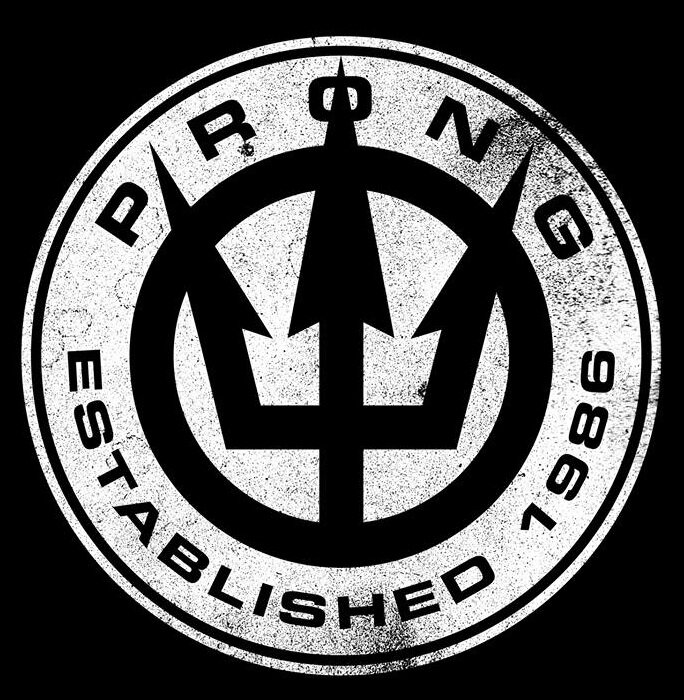 ---