23 septembre 2015
"Proliferation"

Release Date : 18th September 2015

Sorti en auto-production puis, à nouveau une seconde fois et un nouvel artwork, ce coup-ci, sous le label Metal Blade Records, avec qui le groupe a signé en juillet 2015, voici « Poliferation », le second effort des australiens de HARLOTT et que le quatuor peut délivrer le feu de l'enfer d'un Thrash nourri des influences classiques du genre des années 80s mixé et secoué avec ce vent de modernité, avec leur forte patte identitaire pour un résultat qui arrache tout, entre son tempo hyper speedé et ce Thrash riche aux mélodies aussi accrocheuses que les parties agressives peuvent l'être.
Les australiens se bonifient encore avec ce second album qui montre une maturation évidente, puisque forts de conserver l'ardeur Thrash sans failles qui les caractérise, le quatuor use de compositions carrées et riches, ainsi que d'une technique remarquable en soli ou pour donner le ton, et assurer la balance entre mélodies et Thrash option bolide sans freins. Les soli de guitare, les vocaux, la rythmique de furie, sont accomplis, réussis et on s'en prend plein les oreilles et avec délice, encore, notamment sur des « Denature », « Civil Unrest », « Legion », « Systematic Reduction », « Restless » au top, sans oublier, « Means To An end », « Bloodlust », « Cross Contamination » et bien sûr « Proliferation ».
HARLOTT confirment avec « Proliferation », être une formation de valeur dans le paysage Thrash et Metal en général, à l'image de groupes tels que TESTAMENT principalement ou encore SLAYER, EXODUS; TESTAMENT auquel il est d'ailleurs difficile de ne pas penser en entendant HARLOTT.
En résumé, les titres de « Proliferation » vous entrainent , vous passent à la lessiveuse australienne et on en redemande, alors, songez à l'effet en live…

Justement, HARLOTT seront en tournée européenne avec ANNIHILATOR et ARCHER, dont une date à Paris, le 6 octobre 2015, alors, prêts pour les moshpits ? Le groupe va tout arracher sur son passage !

Tasunka
"Proliferation" track-listing:
01. Proliferation
02. Denature
03. Systematic Reduction
04. Restless
05. The Fading Light
06. Lord of War
07. Civil Unrest
08. Hellbent
09. Bloodlust
10. Cross Contamination
11. Legion
12. Means to an End
HARLOTT Line-Up:
-Andrew Hudson - G / V
-Ryan Butler - Lead Guitar
-Tomas Richards - B
-Tim Joyce - D
---
---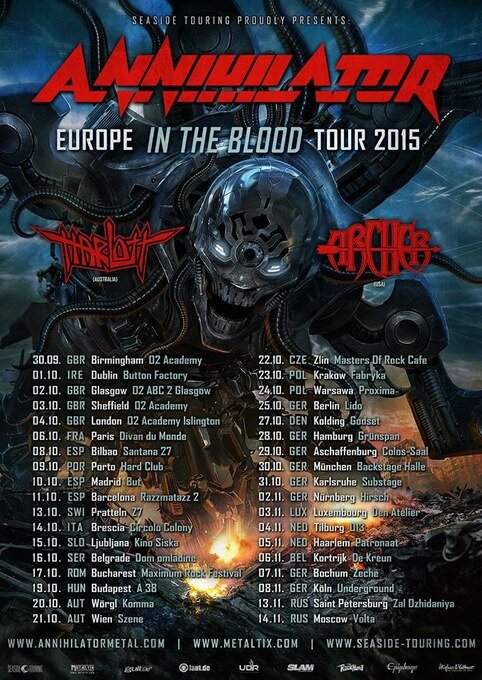 HARLOTT are hungry for the World, and in October 2015, they will be dominating Europe with Canada's Annihilator, the first step in what is to be a long and grueling career in total devastation!
Annihilator
+ HARLOTT
+ Archer
30/09/15 UK - Birmingham - O2 Academy
01/10/15 IE - Dublin - Button Factory
02/10/15 UK - Glasgow - O2 ABC2
03/10/15 UK - Sheffield - O2 Academy
04/10/15 UK - London - O2 Academy Islington
06/10/15 FR - Paris - Divan du Monde
08/10/15 ES - Bilbao - Santana 27
09/10/15 PT - Porto - Hard Club
10/10/15 ES - Madrid - But
11/10/15 ES - Barcelona - Razzmatazz 2
13/10/15 CH - Pratteln - Z7
14/10/15 IT - Brescia - Circolo Colony
15/10/15 SI - Ljubljana - Kino Siska
16/10/15 SR - Belgrade - Dom Omladine
17/10/15 RO - Bucharest - Maximum Rock Festival
19/10/15 HU - Budapest - A38
20/10/15 AT - Wörgl - Komma
21/10/15 AT - Wien - Szene
22/10/15 CZ - Zlin - Masters of Rock Café
23/10/15 PL - Krakow - Fabryka
24/10/15 PL - Warsaw - Proxima
25/10/15 DE - Berlin - Lido
27/10/15 DK - Kolding - Godset
28/10/15 DE - Hamburg - Grünspan
29/10/15 DE - Aschaffenburg - Colos-Saal
30/10/15 DE - München - Backstage Halle
31/10/15 DE - Karlsruhe - Substage
02/11/15 DE - Nürnberg - Hirsch
03/11/15 LU - Luxemburg - Den Atelier
04/11/15 NL - Tilburg - 013
05/11/15 NL - Haarlem - Patronaat
06/11/15 BE - Kortrijk - De Kreun
07/11/15 DE - Bochum - Zeche
08/11/15 DE - Köln - Underground
---