20 mai 2016


EUROPEAN Tour dates to be added soon.
Mot d'ordre : pas de limites et que ça Rock ! Tel était le simple plan pour les suédois de et leur nouvelle offrande remplit à 200 % son cahier des charges, tout au long d'un "The Machine, The Devil & The Dope" de tout premier choix et libre comme l'esprit du Rock, où le groupe s'est visiblement fait un énorme plaisir en composant et interprétant les morceaux qu'ils avaient envie d'entendre.
Comme le confie Snicken, le guitariste –co- parolier du quintet de choc et d'ajouter qu'en plus d'une dose d'égocentrisme pour le nouvel opus, puisqu'ils ont fait la musique qu'eux avant tout voulaient, c'est le fun qui a prévalu ». Et bien, égocentrique et fun comme ça, on en redemande tous les jours, étant donné que ce cinquième disque et premier depuis leur signature chez SPV/ STEAMHAMMER est une déflagration géniale qui vous rentre sous la peau de par son efficacité, de par un esprit Rock sans limitations comme on le souhaite, qui puise ses sources et explore les racines Hard depuis les débuts 1970 pour courir le long des quatre dernières décennies, et ce, avec une modernité bien sentie qui s'y mêle en un cocktail détonnant.
Doté d'une production au top, la sensation tout à fait volontaire de la part des suédois, d'assister à un concert en écoutant l'album, participe à l'accroche des morceaux, le groupe voulant ici libérer l'énergie qu'ils aiment en live. Riffs et rythmiques de guitares en armes fatales, basse au diapason et batterie tout autant redoutable, sans omettre les vocaux habités au possible, tout y est pour que leur "The Machine, The Devil & The Dope" soit un must dans les lecteurs de tous poils.

STONEWALL NOISE ORCHESTRA brillent littéralement avec un "The Machine, The Devil & The Dope" qui allie panache, énergie, esprit Rock et fun : indispensable! ;)
Tasunka


Tracklist CD:
01. The Fever
02. Welcome Home
03. Into The Fire
04. Don't Blame The Demons
05. Superior #1
06. Stone Crazy
07. I, The Servant
08. On A Program
09. The Machine, The Devil & The Dope


Tracklist LP:
Side A
01.The Fever
02.Welcome Home
03.Into The Fire
04.Don't Blame The Demons
05.Superior #1

Side B
01.Stone Crazy
02.I, The Servant
03.On A Program
04.The Machine, The Devil & The Dope
Available Formats:
Format: CD
Packaging: digipak

Format: LP + CD
Packaging: Colored (red & black marbled) 180gr. vinyl, printed inner sleeve, CD with the entire album, limited to 500 only worldwide!

DISCOGRAPHY S.N.O.:
-VOL. 1 (2005)
-CONSTANTS IN AN EVER CHANGING UNIVERSE (2008)
-SWEET MISSISSIPPI DEAL (2010)
-SALVATION (2013)
-THE MACHINE, THE DEVIL AND THE DOPE (Release date: May 20, 2016)
---
---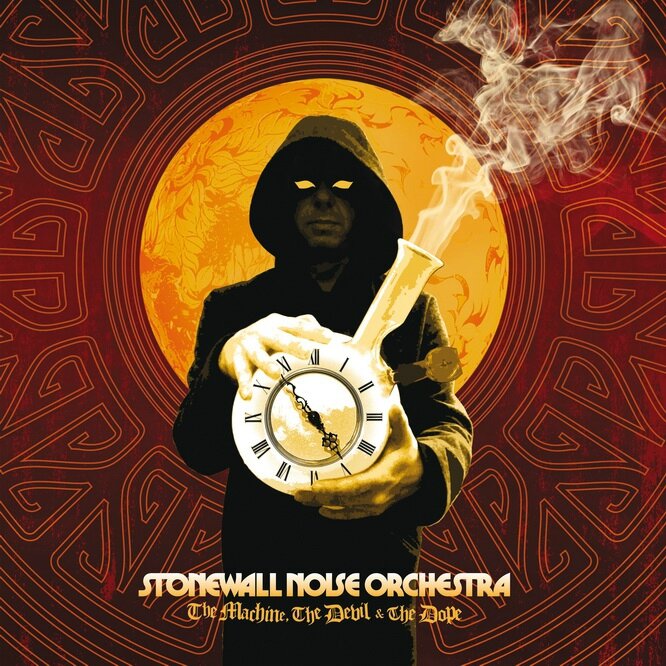 ---
19 mai 2016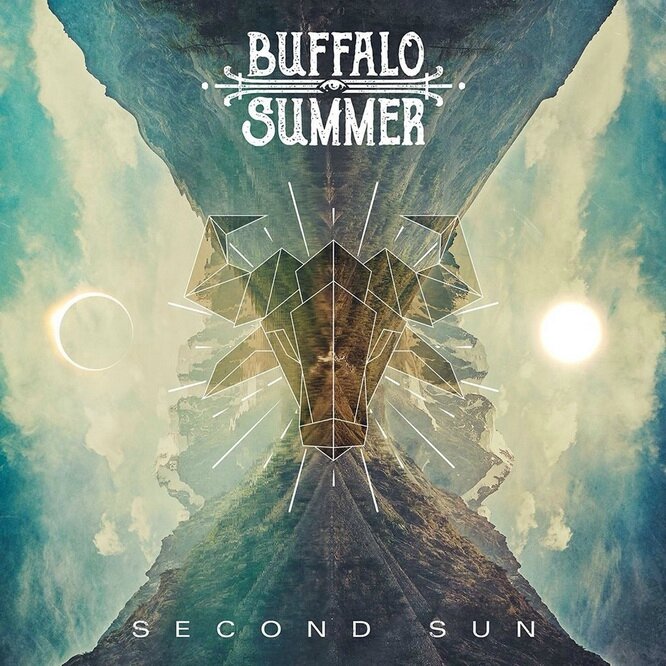 Plus cools et inspirés pour faire vibrer que les BUFFALO SUMMER et leur 'Feel Good Rock'n Roll', ça doit être difficile, à moins de songer à des pointures telles que les légendaires LYNYRD SKYNYRD, LED ZEPPELIN, DEEP PURPLE ou encore THE BLACK CROWES, voilà le calibre de ces que les anglais offrent, un Rock'n Roll au parfum de seventies, mâtiné de modernité, qui a des tripes et un groove redoutables, se distinguant par une réelle explosion de guitare, de basse, batterie et de vocaux, qui s'expriment et se lâchent en totale liberté tout au long des morceaux, et ce, que les atmosphères soient plus Southern, Blues-Rock, Rock'n Roll furieux, l'alchimie prend encore et encore.
Second effort de BUFFALO SUMMER et premier album signé dans la prestigieuse écurie de UDR Music (MOTÖRHEAD, SAXON, …),« Second Sun » est une pépite d'album, de ceux pour lesquels un coup de cœur se fait.
Evoquer tel ou tel titre quand c'est tout un album qui se distingue, vous accroche autant que ça, ce ne serait pas assez rendre justice à « Second Sun », aussi, pour résumer, BUFFALO SUMMER assurent avec leur second opus, leur place dans le top des groupes qui en veulent et ont quelque chose de 'catchy' et rafraichissant à offrir, via leur marque de fabrique, leur âme Rock, très contagieuse. Du beau travail, d'autant que ce quatuor qui en veut, a bénéficié de la production classe et ciselée mais grasse ce qu'il faut pour mettre l'ensemble en valeur, production donc confiée aux bons soins de Barrett Martin (Screaming Trees, REM, Queens of The Stone Age, Mad Season).

Avec leurs collègues et potes canadiens de MONSTER TRUCK, BUFFALO SUMMER et leur « Second Sun » sont le coup de cœur, la belle nouvelle de 2016 : et attendez de les voir en live, leur terrain de jeu favori, ... ;)

Tasunka

Tracklist 'Second Sun':

01. Money
02. Heartbreakin' Floorshakin'
03. Make You Mine
04. Neverend
05. As High As The Pines
06. Light Of The Sun
07. Levitate
08. Into Your Head
09. Little Charles
10. Priscilla
11. Bird On A Wire
12. Water To Wine



BUFFALO SUMMER Line_Up :

-Andrew Hunt - V
-Jonny Williams - G
-Darren King - B
-Gareth Hunt - D



---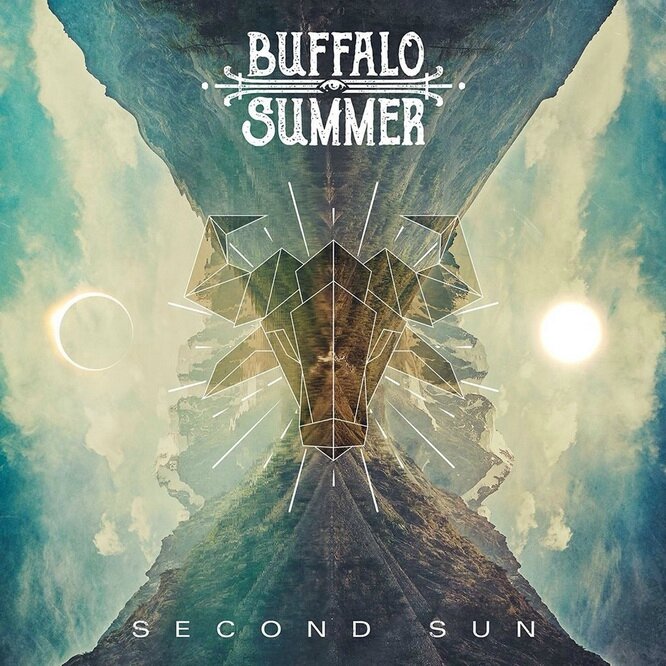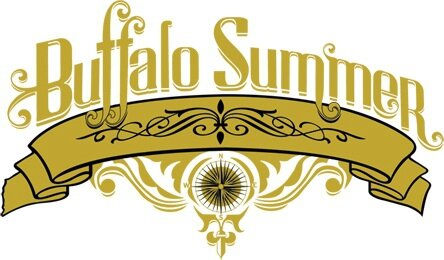 ---
17 mai 2016

Oui, les miracles arrivent et quand ils se retrouvent sous la forme de la renaissance après trente années de silence, d'un groupe de briscards reconnus et hautement respectés du rock, à savoir les incorruptibles, authentiques et durs à cuir au sens de l'humour affirmé de VARDIS, là, on se dit que les dieux du Rock, du Metal, sont décidément en forme pour ce nouveau millénaire, pour voir les anglais à nouveau prêts à en découdre avec leur Rock énergique, dynamique, sans concessions et au feeling intense qui transpire avec délectation, de chaque note que le trio joue.
VARDIS est emmené par Steve Zodiac, son charismatique fondateur (en 1973) de guitariste à la Telecaster d'enfer, à la voix parfaite pour le Rock au feeling seventies, New Wave Of British Heavy Metal eighties, qui puisse ses racines entre Blues, Boogie Rock et se joue sans concession aucune au son : c'est le top.
Ecouter les morceaux de ce tout premier album studio en trois décennies, « Red Eye », après leur EP de la reformation en 2014 « 200 M.P.H » au titre clin d'œil au EP des débuts dans les années 1970, « 100 M.P.H. », bref,
écouter cet opus qui signe un nouveau chapitre pour VARDIS, est un must qui vous redonne le goût, la sensation du ROCK pur souche !
Pas un titre n'est en dessous de l'autre, que ce soit du morceau de bravoure instrumental de 07 :47 « 200 M.P.H », au plus Rock'n Roll « Back To School », en passant par les plus courts et accrocheurs au possible : « Jolly Roger », « Red Eye », « Lightning man », « I Need You Now », « Paranoia Strikes », « Hold Me ».
Sir Zodiac est entouré de Martin Connolly, son acolyte depuis 1984, à la basse aussi précise, incisive et groovy que peut l'être sa guitare et d'un tout aussi furieux et groovy musicien, cette fois, à la batterie, le récemment recruté, Joe Clancy et ces trois-là s'y entendent à parts égales pour faire parler la poudre et le rythme. La récente signature avec SPV / STEAMHAMMER lave assurément le mauvais souvenir des relations passées avec les maisons de disques, qui avaient conduit VARDIS en procès contre la sienne et finalement fait lacher le groupe, dégoûté du système de l'époque qui voyait les artistes traités tels des pantins à manipuler et duper financièrement. Pas du genre de VARDIS et de son leader indomptable, comme l'a appris à ses dépends le label de l'époque.

Plein Gaz donc en ce nouveau millénaire et en pleine forme, prêts pour graver dans le Rock en lettres de feu, la suite de leur histoire, les indomptables VARDIS sont de retour, qu'on se le dise ; « Red Eye » est un album carrément indispensable, tout autant que VARDIS eux-mêmes : eh oui, c'est qu'ils vous bottent encore et toujours les fesses et vous savez quoi ? on en redemande ! ;)

Tasunka

Tracklisting "Red Eye":

DigiPak
01. Red Eye
02. Paranoia Strikes
03. I Need You Now
04. The Knowledge
05. Lightning Man
06. Back To School
07. Jolly Roger
08. Head of the Nail
09. Hold Me
10. 200 M.P.H.
BONUS TRACKS
11. Living Out Of Touch
12. 200 M.P.H. (Reprise)

Line-Up VARDIS:

- Steve Zodiac: Guitar/Voice
- Joe Clancy: Drums
- Martin Connolly: Bass



LIVE 2016:

03.06.SE-Alvesta - Muskelrock
26.06.GB-Biggar - Wildfire Festival
30.07.D-Brande/Hörnerkirchen - Headbangers Open Air
17.09.I-Villa Rosa - Heavy Metal Night 9
More dates: Click Here ;)
---
---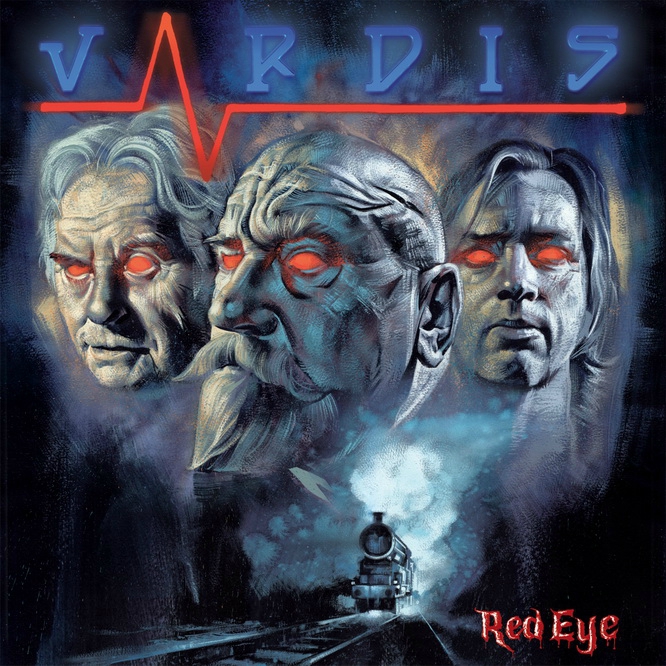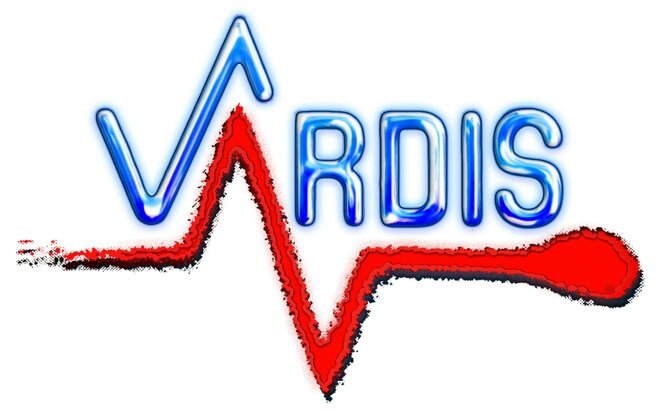 ---
16 mai 2016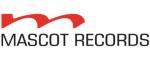 Plus solide et avec une plus large palette d'états d'esprits que le précédent album « Boo Hoo Hoo » (2014), « Old Habits Die Hard » montre une évolution. Là, le groupe a jammé en studio et la section rythmique, les guitares, sont ici plus consistantes, le tout pour un album de Rock-Blues 'old school' matiné d'atmosphères qui voyagent entre ombre et lumière.
Des atmosphères aux émotions variées, donc et qui s'expriment au son du Rock'n Roll, du Blues Rock et le tout, via, notamment, un chant, une voix éraillée, rugueuse et qui sait envoyer la puissance autant que la douceur pour un aller retour entre sentiments énergétiques, plus intimistes. Délivrant ainsi toute la force du chant de Colleen Rennison, la compositrice et charismatique motarde devant l'eternel et de ses acolytes, qui font à eux tous, autant parler la poudre que le feeling au long de leur nouvel opus.
La production de Ben Kaplan, qui a entre autres œuvré pour Biffy Clyro, Shakira, Gallows, Rise Against ou Atreyu, fait son effet en permettant à « Old Habits Die Hard», d'être un album consistant, aux nombreux feelings à fleur d'instruments et de vocaux.
Chacun se retrouvera en cet album simplement efficace et prenant, autant de par ses textes que par ses ambiances, ses passes d'armes notamment entre la voix furieuse et l'harmonica sur l'intense « Leadfoot » qui évoque à la fois la destruction et la liberté, sur le très original « One More Time » aux sensations LED ZEPPELIN / seventies, qui monte en tours au long du titre et vous emporte, ou que ce soit encore sur le Blues-Rock de leur titre réclamé par les fans, pour le voir figurer sur le nouvel album, à savoir « Mandy-Lyn », sans omettre, bien entendu, de parler du furieux Rock old School de « Saturday Night » avec tout l'esprit de JERRY LEE LEWIS ou encore de LITTLE RICHARDS, chevillé au corps et qui se montre parfait pour faire la fête, le tout en passant par la ballade « Hollow » ou enfin par les fort bons « When The Bell Rings » au mid tempo et guitares, rythmiques redoutables, le sensuellement chaud « Get It Up » ou sur une autre note, « Fading Away » et ses intonations disco voire 'Prince-iennes', fun, pour un voyage psychédélique en première classe.
En fait, « Old Habits Die Hard» est l'un de ces albums de premier choix qui comble vos attentes et avec panache et authenticité, encore :
NO SINNER ont mis dans le mille et tout le groupe, sa frontwoman de Robert Plant au féminin, en tête, ont assuré !

Tasunka
NO SINNER "Old Habits Die Hard" tracklist:
01. All Woman
02. Leadfoot
03. Tryin
04. Saturday Night
05. Hollow
06. Get It Up
07. Friend Of Mine
08. Fading Away
09. When The Bell Rings
10. Lines On The Highway
11. One More Time
12. Mandy Lyn
---
---
---
---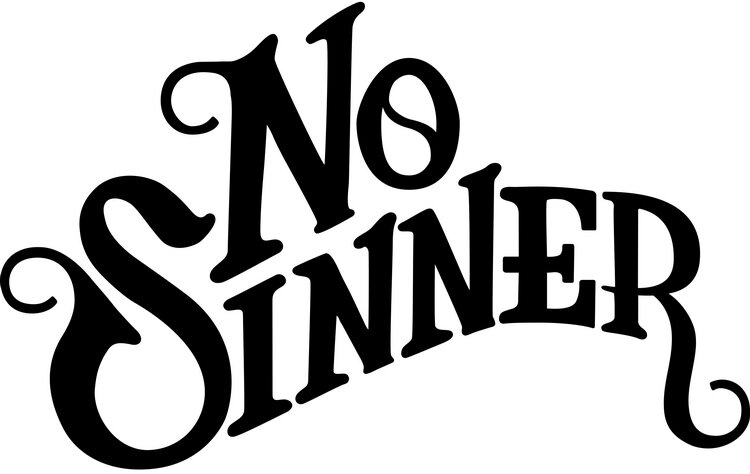 ---
15 mai 2016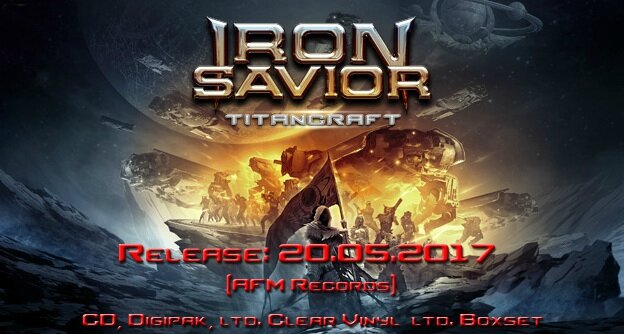 En premier titre de ce nouvel album des Power Metalleux de IRON SAVIOR, « Titancraft » fait bien son office en balançant le speed Power à fond de caisse, avec chœurs et pied au plancher pour tout le monde, mais aussi bon ce morceau soit-il, son côté sans surprise laisse espérer que la suite va se révéler plus personnelle à IRON SAVIOR et la réponse est que oui, la patte, la marque de fabrique typique des allemands s'exprime enfin dès « Way Of The Blade », et ce, quasi sur tous les tracks qui suivent dont les incontournables « Gunsmoke », « The Sun Won't Rise In Hell », « Brother In Arms » ou encore « Rebellious », « I Surrender », « Seize The day », « Strike Down The Tyranny ».
En effet, les guitares excellent une nouvelle fois, en ce qu'elles font de mieux, à savoir dans les riffs, les mid tempos qui martèlent ou les soli de guitares déchainées ou plus posés, le chant poussé dans son côté rugueux ou en voix claire assure sa place lui aussi, tout comme la solide section rythmique où la basse et la batterie font leur office avec force et subtilité quand il le faut. Rien à dire, les compatriotes de HELLOWEEN, GAMMA RAY, ne partagent pas seulement leur nationalité, mais aussi cette touche, cette habileté à délivrer les hymnes, la puissance, la richesse des guitares pour un Power toujours hautement accrocheur et le tout avec sa marque de fabrique propre.
IRON SAVIOR a démontré depuis ses débuts en 1996, sa valeur et album après album, sa place de groupe pilier du Power Metal; avec « Titancraft », la formation persiste et signe.
Du convaincant à tous les niveaux, des compositions à la production, de la part d'un groupe qui aime ce qu'il fait, assurément et le partager, c'est certain, « Titancraft » le prouvant allégrement!

« Titantcraft » est à compter parmi ces albums qu'on aime écouter encore et encore, pour enfin s'éclater en live avec le groupe himself !

Tasunka

Tracklist "Titancraft":
01. Under Siege (Intro)
02. Titancraft
03. Way Of The Blade
04. Seize The Day
05. Gunsmoke
06. Beyond The Horizon
07. The Sun Won't Rise In Hell
08. Strike Down The Tyranny
09. Brother In Arms
10. I Surrender
11. Rebellious
Ltd. Digipak incl. bonus tracks:
"R&R Addiction", "Protector (2016)" "Titancraft" is available as CD, ltd. Digipak, ltd. Vinyl (clear 2-Vinyl) & ltd. box set
The cover artwork was once again created by Felipe Machado Franco

IRON SAVIOR Line-Up:
-Jan S. Eckert : B
-Joachim 'Piesel' Küstner : G
-Piet Sielck : V / G
-Thomas Nack : D
---
---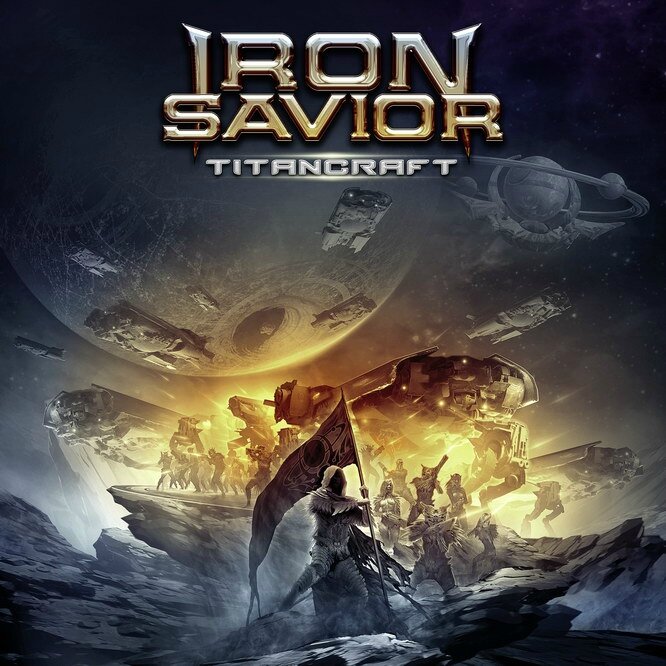 ---
---
---
08 mai 2016
Out : May 13th, 2016 (Europe) / June 3rd, 2013 (USA)

Available as DVD/Blu-Ray/2CDs
Pour une prestation de choix en tête d'affiche du E-Tropolis Festival à Oberhausen en Allemagne, c'en a été assurément une et c'était une trop belle opportunité à ne pas manquer, pour réaliser une captation en vue d'un live tant attendu pour souligner et saluer la carrière de DIE KRUPPS.
Oui, les piliers et pionniers de l'Indus- Metal que sont DIE KRUPPS, affichent plus de trois décennies au compteur depuis leurs débuts en octobre 1980, mais quelle fraicheur et énergie, intensité intactes et sans cesse renouvelées, ce groupe classe et sans prise de tête, a su garder et ne cesse d'afficher autant sur albums que sur scène via leur Indus savamment matiné de Metal aux riffs génialement lourds et d'une touche d'Electro qui explosent en des ambiances riches quelles soient lourdes d'intensité dans le meilleur sens du terme ou plus légères.
C'est donc devant une salle pleine à craquer et un public conquis et réactif au possible, qu'en ce 22 février 2014, le groupe s'est produit et a délivré son savoir-faire en un set de 90 minutes où toute sa créativité au long des années, s'est retrouvée et s'est exprimée à plein dans la set-list. Un choix de roi que d'entendre, notamment, « Dawning Of Doom », « Robo Sapien », « Risikofaktor », «Schmutzfabrik », « Metal Machine Music », « To The Hilt », « Fatherland », ou sur les rappels, « Crossfire » et « Machineries Of Joy ». En fait, la set-list offre un éventail de tous les titres emblématiques du DIE KRUPPS où chacun pourra donc aisément y piocher et trouver son bonheur de Metalhead.
« Live Im Schatten Der Ringe » est, en résumé, l'un de ces lives réussis et qu'il fait bon se procurer et savourer en DVD, Blu-Ray ou encore double CD: DIE KRUPPS y font merveille d'autant plus qu'il s'agit de leur premier live 'visuel'! :)
Tasunka


Line-Up DIE KRUPPS:
- Jürgen Engler : Vocals, Steelophone
- Ralf Dörper : Synthesizer
- Marcel Zürcher : Guitar
- Bradley Bills : Drums
Tracklists:
DVD/Blu-ray:
01. Intro
02. Blick zurück im Zorn
03. Dawning Of Doom
04. Risikofaktor
05. Im falschen Land
06. Essenbeck
07. Der Amboss
08. The machinist of joy
09. Part of the machine
10. Industrie-Mädchen
11. Schmutzfabrik
12. Robo Sapien
13. Metal Machine Music
14. To the hilt
15. Nazis auf Speed
16. Fatherland
17. Machineries of joy
18. Crossfire

CD 1:
01. Intro
02. Blick zurück im Zorn
03. Dawning of doom
04. Risikofaktor
05. Im falschen Land
06. Essenbeck
07. Der Amboss
08. The machinist of joy
09. Part of the machine
CD 2:
10. Industrie-Mädchen
11. Schmutzfabrik
12. Robo Sapien
13. Metal Machine Music
14. To the hilt
15. Nazis auf speed
16. Fatherland
17. Machineries of joy
18. Crossfire
Tour dates 2016:
-14.05.2016 – Wave Gotik Treffen (DE)
-05.08.2016 – Wacken Open Air (DE)
-06.08.2016 – Laba Daba Festival (LT)
-12.08.2016 – Brutal Assault Festival (CZ)
-13.08.2016 – Mera Luna Hildesheim (DE)
… more to come
---
---

---
05 mai 2016

Release Date: May 6th, 2016
Realease Date N. America: May 13th, 2016
Si je vous parle de la dernière pièce maitresse d'un quatuor qui sait saisir, apprivoiser, le feeling, la 'sonorité de l'univers' comme eux-mêmes le posent et avec justesse, peut-être serez vous déjà sur la piste ou perdu ?
Alors, peut-être que leur épurée et pourtant si parlante pochette ou encore les consonnes seules et du groupe TFN et de leur quatrième album « SFHVN », vous aideront ?Toujours pas ou plutôt pas encore ?
Alors, parlons d'un quatuor instrumental de passionnés, venus de Pologne, qui savent apprivoiser le feeling et sa large palette via leur Post Rock, où électro et Metal, guitares et piano, claviers, basse, batterie, se mêlent en une alchimie qui cotoie l'émouvant, l'intense, frole le sombre pour mieux rebondir et exploser en pleine lumière, bardé d'une énergie, d'une spontanéité, qui vous emmènent, vous touchent, vous bousculent pour mieux pour emporter loin, encore plus loin dans chaque recoin et ils sont multiples, de cet univers riche en expérience et sensations que TIDES FROM NEBULA, car oui, c'est bien d'eux dont il s'agit, ont le secret.
Quatre musiciens de talent, quatre albums dont cette dernière œuvre « Safehaven » qui mérite ce nom, car oui, « Safehaven » est une réussite autant de par ses compositions, interprétations inspirées, que de par la production que le groupe a réalisée, seul, ayant appris auprès des plus grands en ce domaine, lors de leurs collaborations pour les précédents albums.
Un bijou d'album qui a une profondeur à bien des niveaux, « Safehaven » en est assurément un !
Et il tarde de voir TIDES FROM NEBULA défendre ou plutôt et surtout, partager, ce qui tient tant au cœur du quatuor, leur dernier né, lors de leur tournée ce printemps 2016 (dates ci-dessous)

Chaudement recommandé, donc, tout ce très 'profondément aérien' ;) « Safehaven » de TIDES FROM NEBULA !

Tasunka

Line Up TIDES FROM NEBULA:
-Adam Waleszynski - Guitar
-Maciej Karbowski – Guitar, Keys, Piano
-Przemek Weglowski - Bass
-Tomasz Stolowski - Drums
"Safehaven" Tracklist: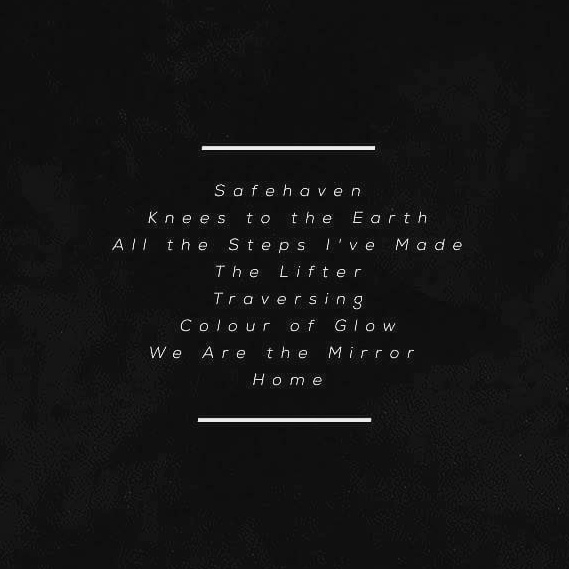 ---
Tourdates:
-06 may: DunkFestival, Zottegem, Belgium
-07 may: We Are a Young Team, Metz, France
-08 may: Sanctuary, Basingstoke, UK
-09 may: Boston Music Room, London, Uk
-10 may: Audio, Glasgow, UK
-11 may: Firebug, Leicester, UK
-14 may: Heretic Club, Bordeaux, France
-16 may: Le Saint Des Seins, Toulouse, France
-17 may: Sidecar, Barcelona, Spain
-18 may: Le Molotov, Marseille, France
-19 may: La Gravière, Geneva, Switzerland
-20 may: Freakout Club, Bologna, Italy
-21 may: Lo-Fi Club, Milan, Italy
-22 may: Rockhouse, Salzburg, Austria
-24 may: Sedel, Luzern, Switzerland
-26 may: Druckluft, Oberhausen, Germany
-28 may: Neushoorn, Leeuwarden, Netherlands
-29 may: Badehaus Szimpla, Berlin, Germany
-30 may: Cosmic Dawn, Jena, Germany
---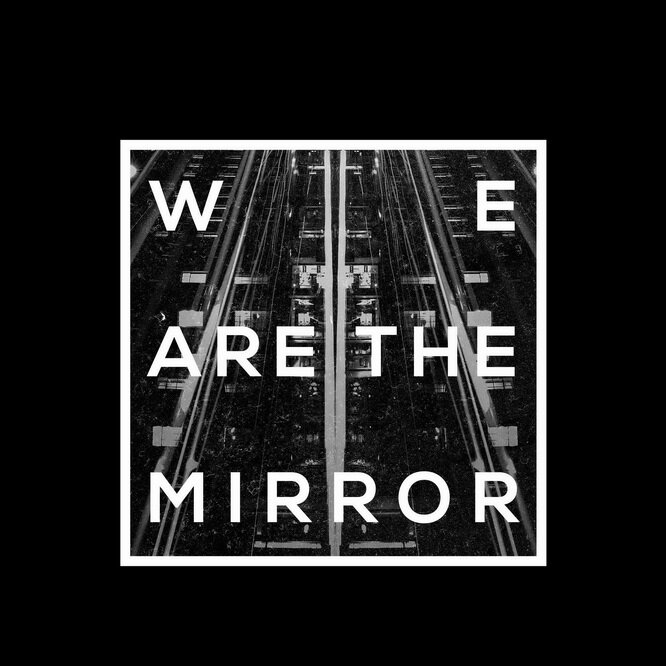 ---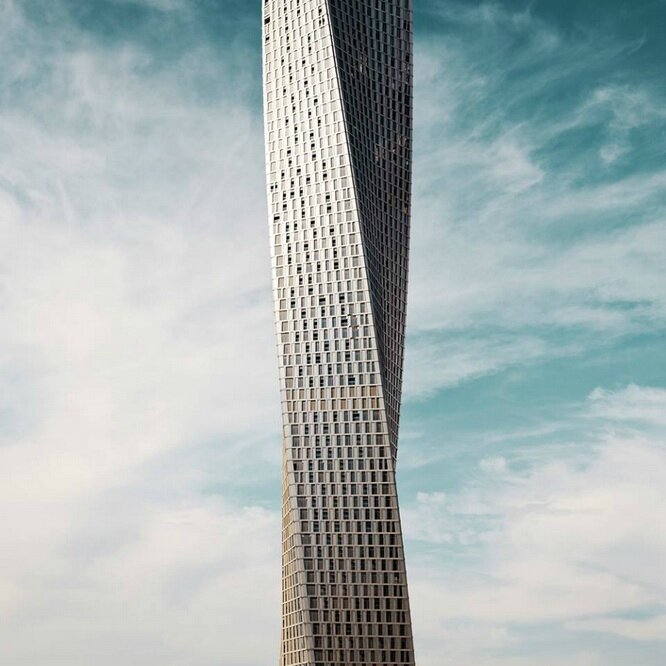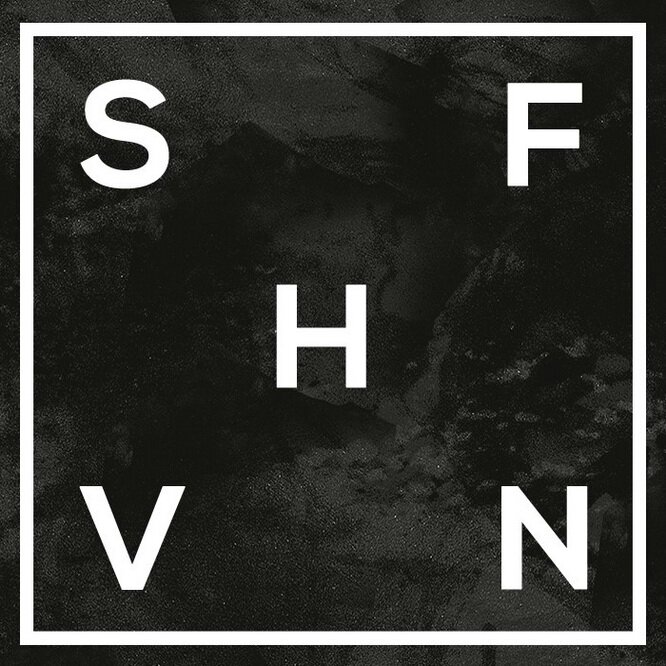 ---
10 avril 2016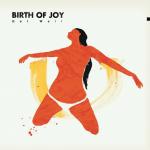 Release date: 26 February 2016
BIRTH OF JOY, c'est avant tout l'un de ces trios de choc, de ceux qui vous explosent tout sur scène et de ceux qui progressent avec détermination, toutes tripes, feeling et intelligence dehors : et effectivement, avec leur nouvel opus « Get Well », les hollandais savent intelligemment renouveler leur style et mâtiner leurs influences de Rock'n Roll 60/70s tout en s'en éloignant sans les renier pour autant mais en y apportant des touches appuyées de Stoner, d'une pincée de Punk et d'apport d'éléments Progressive-Rock, saupoudrés de ce psychédélique qui vous souffle, vous retourne, vous emporte tout en vous laissant un sourire ravi aux lèvres et une envie de vivre à fond, au coeur.
Rien à dire d'autre, si ce n'est déguster comme un mets de choix, ce « Get Well » via de titres aussi prenants, intenses que peuvent l'être : « Numb », « Those Who Are Awake », « Choose Sides », « Meet Me At The Bottom» ou encore « Get Well », ce morceau titre de 08 :06 , ou ceux, nerveux, comme « Midnight Cruise », « You Got Me Howling » et le superbement péchu et entrainant : « Hands Down », pour ne citer qu'eux. La patte de Joris Wolff (Within Temptation, De Staat, Mister and Mississippi etc.) pour l'enregistrement, les arrangements, se retrouve à nouveau et comme pour le précédent album « Prisoner » (2014), participe pleinement à restituer toute la sueur, la profondeur, la dynamique qui caractérisent la personnalité de BIRTH OF JOY, ce qui vaut d'être souligné.

BIRTH OF JOY délivrent, avec « Get Well », un bel album efficace au possible, qui se voit chaudement recommandé tout autant que leurs prestations scéniques (voir dates ci-dessous) lors d'un de leurs nombreux concerts et notamment aux côtés de MUSE en juillet prochain.

Tasunka

Tracklisting "Get Well":
01-Blisters
02-Meet me at the bottom
03-Choose sides
04-Numb
05-Midnight cruise
06-Carabiner
07-Those who are awake
08-You got me howling
09-Get Well
10-Hands down

Line Up BIRTH OF JOY:
-Kevin Stunnenberg: Vocals/Guitar
-Bob Hogenelst: Drums/Backing Vocals
-Gertjan Gutman: Organ/Bass

DISCOGRAPHY:
2016 Get Well (CD/LP, Long Branch/SPV, Suburban)
2015 Live At Ubu (2CD/3LP, Long Branch/SPV, Suburban)
2014 Prisoner (CD/LP, Long Branch /SPV, Grand Palais/Modulor, Suburban)
2013 The Sound of Birth of Joy (CD/LP, Grand Palais/Modulor)
2012 Make Things Happen (CD re-release, Suburban)
2012 Life in Babalou (CD/LP, Suburban)
2011 Make Things Happen (single EP, Suburban)
2010 Make Things Happen (CD, Birth of Joy)
---
---

The band is touring Europe at the moment with their brand new album "Get Well".
In July Birth Of Joy will head over to Turkey and Romania to support the mighty MUSE on their headliner shows. See all dates below.
APR 10: DE - Munchen, Milla
APR 11: DE - Nuremburg, Festsaal
APR 13: AT - Vienna, Arena
APR 14: CZ - Prague, La Fabrika
APR 15: PL - Warsaw, Stodola
APR 16: DE - Berlin, Privatclub
APR 17: DE - Hannover, Lux
APR 18: DE - Hamburg, Hafenklang
APR 19: DE - Koln, Blue Shell
APR 22: ES - Bilbao, Kafe Antzokia
APR 23: ES - Oviedo, La Salvaje
APR 24: ES - Madrid, La Boite
APR 26: ES - Barcelona, Rocksound
APR 28: FR - Nantes, Stereolux
APR 29: FR - Amiens, La Lune Des Pirates
APR 30: BE - Kontlich, Schoolrock Festival
MAY 13: FR - Besancon, CircaSismic Festival
MAY 14: NL - Eindhoven, Effenaar - Philicorda event
MAY 28: NL - Hellendoorn, Dauwpop
JUN 04: FR - Charleville Meziere, Le Forum
JUN 11: FR - Kervignac, Les pieds dans la vase
JUN 25: NL - Nieuwegein, Geinbeat
JUL 02: UK - Gloucestershire, Nibley Festival
JUL 08: FR - Neuve-Eglise, Festival Decibulles
JUL 09: DE - Bersenbruck, Talge Open Air
JUL 15: NL - Delft, Westerpop
JUL 16: NL - Oldenzaal, Fields of Joy
JUL 22: DE - Nordholz, Deichbrand Festival
JUl 23: NL - Lichtenvoorde, Zwarte Cross
JUL 26: TR - Istanbul, Istanbul Open Air w/ MUSE
JUL 29: RO - Bucharest, Rock The City w/ MUSE
JUL 30: NL - Ijzendijke, Weitjerock
AUG 06: FR - Chevanceaux, Laryrock Festival
AUG 13: BE - Geel, Yellowstock
AUG 15: BE - Oostende, Paulusfeesten
AUG 20: DE - Ahaus, MammaMia Festival
---
---
---
08 avril 2016

Release Date : 8 April 2016
Tenace, au long de plus de deux décennies, le frontman et doué T-Roy aura su gagner le respect pour avoir su rester fidèle à sa musique et mener son navire de groupe, SOURVEIN, au long d'un périple semé d'embuches, parfois près de chavirer, mais sans jamais couler et voici qu'arrive ce nouvel opus « Aquatic Occult », qui semble afficher qu'enfin, SOURVEIN sont arrivés à bon port, en ayant finalement trouvé le solide label qui leur faisait défaut : Metal Blade Records.
Le label croit en sa nouvelle signature, c'est évident et forts de ce premier album dans cette écurie au top, les Sludge Metal Masters de SOURVEIN délivrent quatorze titres qui savent alterner les ambiances riches, variées, entre un Sludge envoutant, qui ne vous entraine pas vers le bas, mais vous fait planer de sa lourdeur qui n'a rien de poisseux, bien au contraire et la part belle faite au chant clair, les guitares et compositions finement inspirées, participent à cette sensation ouverte, qui vous accroche écoute après écoute. Sludge, Doom, Metal, « Aquatic Occult » luit de maintes façon et bénéficiant d'une production qui a su capter l'esprit unique qui règne au long des morceaux, SOURVEIN délivrent avec « Aquatic Occult », un album qui vous colle musicalement à la peau !
Et les guests et amis du chanteur-guitariste T-Roy (voir Track-List) se sont autant investis que SOURVEIN-mêmes, ce qui se souligne et s'entend pour un « Aquatic Occult » qui vient des tripes tout en êtant musicalement convaincant.

SOURVEIN Rule ! En somme :)
Tasunka
"Aquatic Occult" track-listing:
*Reed Mullin on drums
01. Tempest (Of Desire) (feat. Stig Miller-Amebix)*
02. Avian Dawn*
03. Ocypuss (feat. Randy Blythe-Lamb of God, Mike Dean-Corrosion of Conformity)*
04. Aquanaut (feat. Dean Berry-Iron Monkey, Chris Holcombe and Joel Martin-Subrig Destroyer)
05. Hymn to Poseidon*
06. Mermaids*
07. Urchins (feat. Chris Holcombe and Joel Martin-Subrig Destroyer)
08. In the Wind*
09. Cape Fearian (feat. Dave Capps-All Tore Up, Randy Blythe spoken word-Lamb of God)*
10. Capsized (feat. Dave Capps-All Tore Up)*
11. High Tide (feat. Chris Holcombe and Joel Martin-Subrig Destroyer)
12. Bermuda Sundown (feat. Keith Kirkum-ex Weedeater)
13. Coral Bones*
14. Oceanic Procession (feat. Stig Miller-Amebix, Randy Blythe on organ-Lamb of God)*
Aquatic Occult is produced by Mike Dean / mastered by Brad Boatright (Sleep, Yob)
Cover Art by Jordan Barlow (High On Fire, Ritual Killer)

SOURVEIN line-up:
-T-Roy - vocals/guitar
-Lou Gorra - bass
-Rochelle - lead guitars/multi-instrumentalist
-Spider - drums
Featuring guest performances by Lamb of God's Randy Blythe (vocals, organ), Amebix's Stig Miller (guitar), Corrosion of Conformity's Reed Mullin (drums) and many others..
---
---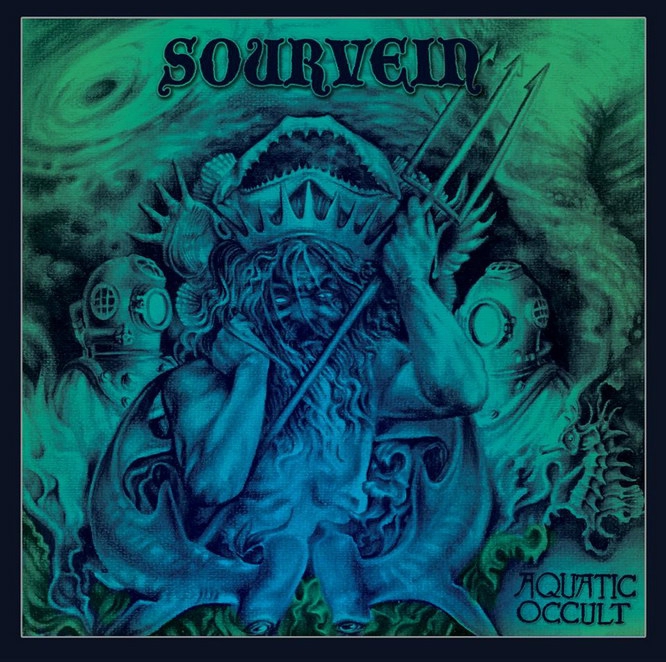 ---
02 avril 2016

"Apocalypse Again"
Release Date Europe: April 1st 2016
Release Date North America: April 15th 2016
"Apocalypse Again" est un album qui se caractérise à plusieurs titres et se distingue, tout d'abord parce qu'il signe et avec panache, le retour de THUNDERSTONE après six ans d'absence et enfin, et non des moindres, parce qu'avec cet opus, les finlandais procurent la surprise de voir rejoindre le groupe, par non moins que leur chanteur originel parti en 2007, le talentueux Pasi Rantanen et son chant à la saveur, à la tonalité qui se marient si bien à l'esprit, au Power Metal racé que sait délivrer avec cœur, âme et implication, toute la troupe.
Et ce retour de THUNDERSTONE au complet et à son son des origines, si apprécié, est à saluer :
tout ce sixième album se révélant effectivement être un déferlement de Power Metal riche, varié, intense, subtilement mélodique et droit au but, aux tripes à la fois. De quoi faire briller le nom de THUNDERSTONE à sa juste valeur, et redonner toute la justification à son nom, puisqu'on assiste, en effet, avec « Apocalypse Again », à un quintette qui sonne comme un tonnerre laché et ce, du premier et furieux titre speed en diable, « Veterans Of The Apocalypse » ou « Wounds », en passant par l'hymnique « Higher », « Fire And Ice », « The Path », le profond « Days Of Our Lives », pour se finir sur l'excellent et épic « Barren Land ».
Les guitares s'envolent, la batterie se lache, la basse se fait remarquer tout autant que les claviers et bien sûr, avec les vocaux pour parachever l'œuvre, car oui, avec « Apocalypse Again », les finlandais délivrent un album qui mérite le titre d'opus', d'autant que la production, léchée, sert au mieux le propos.THUNDERSTONE sont de retour et avec un vent de tonnerre qui puise ses racines dans ce que le groupe a fait de mieux, comme un retour aux racines, une décennie en arrière, tout en étant nourri d'un vent neuf et frais.
Alors, pour conclure, juste une forte envie d'ajouter à l 'adresse de Rantanen et tout THUNDERSTONE:
« Welcome Back ! » :)
Tasunka

Tracklist "Apocalypse Now":
01. Veterans Of The Apocalypse
02. The Path
03. Fire And Ice
04. Through The Pain
05. Walk Away Free
06. Higher
07. Wounds
08. Days Of Our Lives
09. Barren Land
CD first edition comes as Digipak

LINE-UP THUNDERSTONE:
- Pasi Rantanen: vocals
- Nino Laurenne: guitars
- Titus Hjelm: bass)
- Jukka Karinen: keyboards
- Atte Palokangas: drums

---
---

---
---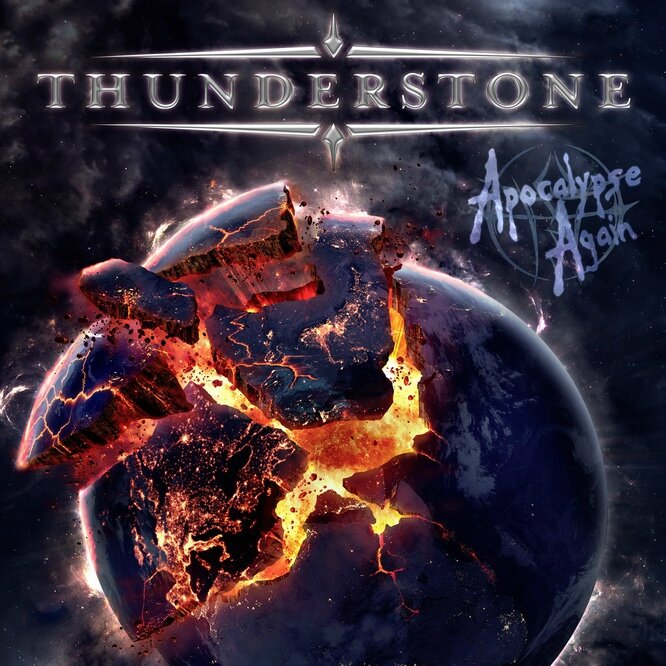 ---