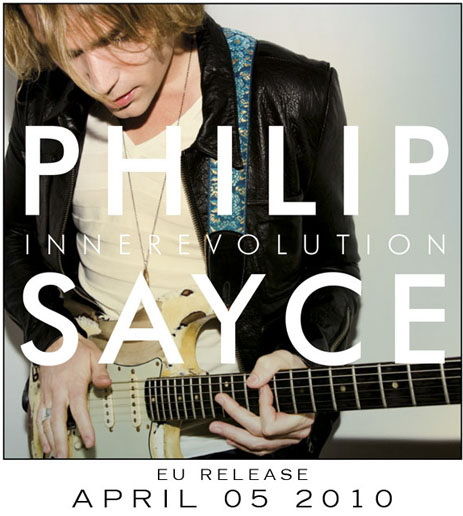 Premier concert "solo" en France de cet auteur-compositeur-interprète talentueux qu'est Philip SAYCE.
Enfin !!! pourrait-on dire et en effet, il n'était que temps de rendre justice à ce formidable guitariste que ne renieraient pas Hendrix, Stevie Ray Vaughan, notamment, en l'accueillant à Paris et au Réservoir, s'il vous plait, cet endroit qui a vu se produire en concert intimiste, les plus grands.
(Live Report / Photos: Tasunka)
Bio PHILIP SAYCE: ici ;)
Toutes les photos PHILIP SAYCE: ici ;) / All the photos of PHILIP SAYCE: here ;)
Chronique "Innerevolution": ici ;)
Interview PHILIP SAYCE: ici ;)
Chronique "Peace Machine": ici ;)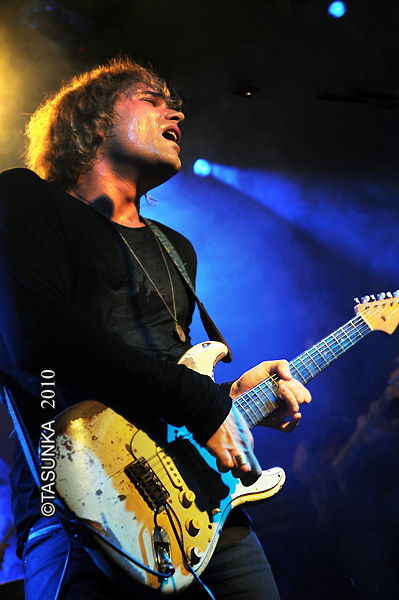 C'est que Philip SAYCE mérite d'être nommé et considéré aux cotés des plus grands guitaristes. Jugez plutôt: ce jeune trentenaire, né au pays de Galles, émigré au Canada, puis aux Etats –Unis, a déjà accompagné, avec succès, pas moins que Jeff Healey, Uncle Kracker et Melissa Etheridge avant d'entamer sa carrière "solo" où sa patte, son empreinte musicales uniques font merveille, sur album tout d'abord avec un second excellent opus venant de sortir : « Innerevolution » et en live. Et là, le live, quel moment privilégié c'est en compagnie de Philip Sayce aux guitare-vocaux, de Joel Gottschalk à la basse et de Ryan MacMillan (Matchbox 20) à la batterie.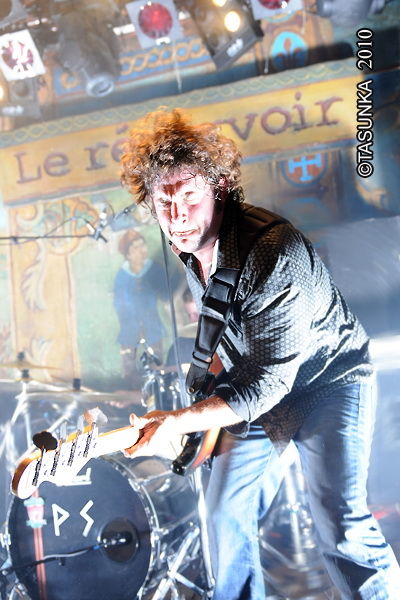 C'est simple, ce 26 mai, le trio a cassé la baraque, littéralement, avec une prestation de près de 1h30 devant un public qui, pour la majorité, ne connaissait pas encore l'artiste, mais qui à l'issue d'un concert de folie, est sorti complètement conquis et aux anges d'avoir, en prime, le plaisir de serrer la main des compères en fin de concert, tout en ayant leur exemplaire de l'album dédicacé.
C'est que l'homme possède la même chaleur hors scène que sur scène, où là, il sautille, transpire à grosses gouttes, donne tout de lui pour des morceaux, pour des soli Blues-Rock endiablés, fouillés, langoureux, en somme inspirés totalement. C'est simple, une osmose se crée instantanément entre le public et le trio emmené par la même force dynamique qui a charmé tout le monde :)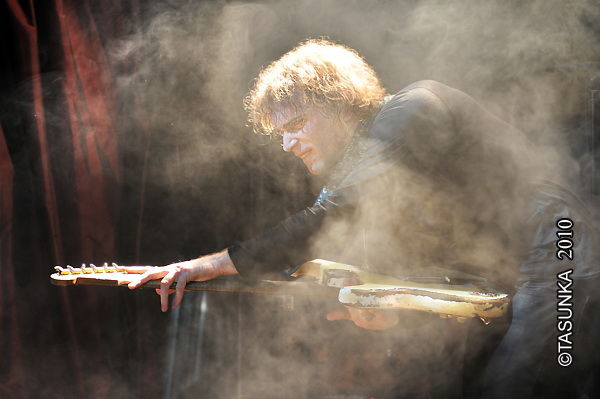 Pour parler franchement, la meilleure définition d'un concert de Philip SAYCE, c'est : sensuel !!
Avant tout avec ses deux guitares, des Fender de 62 et 63, qu'il sait faire vibrer avec toute la gamme de son savoir faire de guitariste hors pair : fascinants sont son jeu, ses doigts qui courent avec dextérité sur les cordes, les pressent, les caressent au rythme ou non du vibrato pour faire jaillir des notes, des harmoniques, des accords envoutants et d'un coup, le voir retourner sa guitare pour faire du hammering sur les ressorts du vibrato qui émergeaient du dos de sa Fender préférée, celle de 1963, qui l'accompagne depuis des années.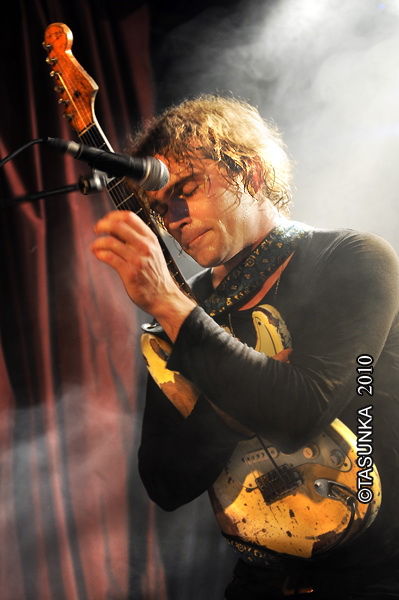 Sa musique est bel et bien d'une sensualité à fleur de cordes, à fleur de vocaux, car l'homme révèle, en plus, un grain de voix très agréable.
Et assorti d'un bel humour, ce qui ne gâche rien : en effet Mister SAYCE s'est adressé à l'assistance en français parfois, avec le sourire toujours et pour revenir dans le domaine langoureux, sa descente de scène pour aller jouer devant deux couples dans la salle (dont Annie et Benji du groupe NUNGAN ;), reflétait bien l'atmosphère unique de la soirée.
Le nom de Richard Marx, qui a participé à la production de « Innerevolution », a souvent été cité lors du concert par Philip, ainsi que celui de Jeff Healey a qui le trio a rendu hommage avec une reprise finale du regretté guitariste-compositeur de Jazz-Blues-Rock.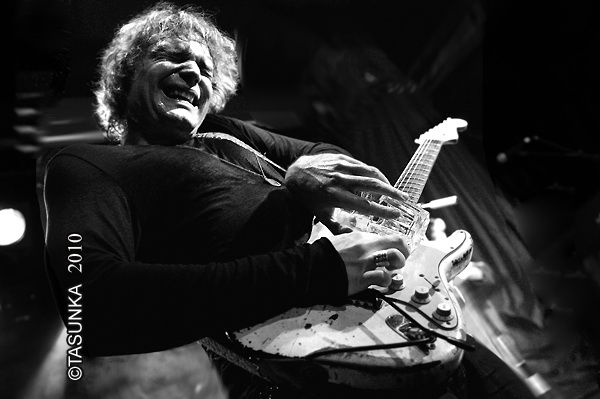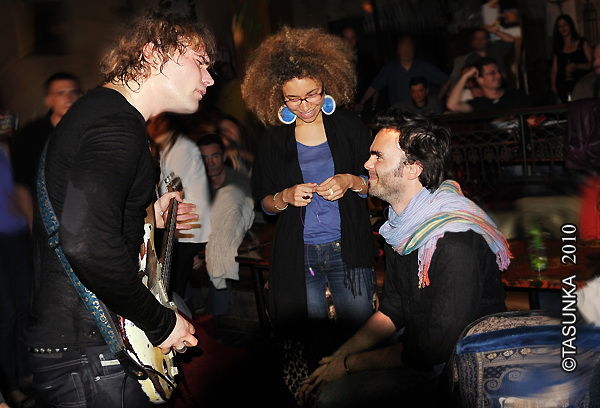 PHILIP SAYCE revient en France en novembre prochain,
alors, ne ratez pas cette occasion de vous prendre une claque musicale et humaine à la fois ;)