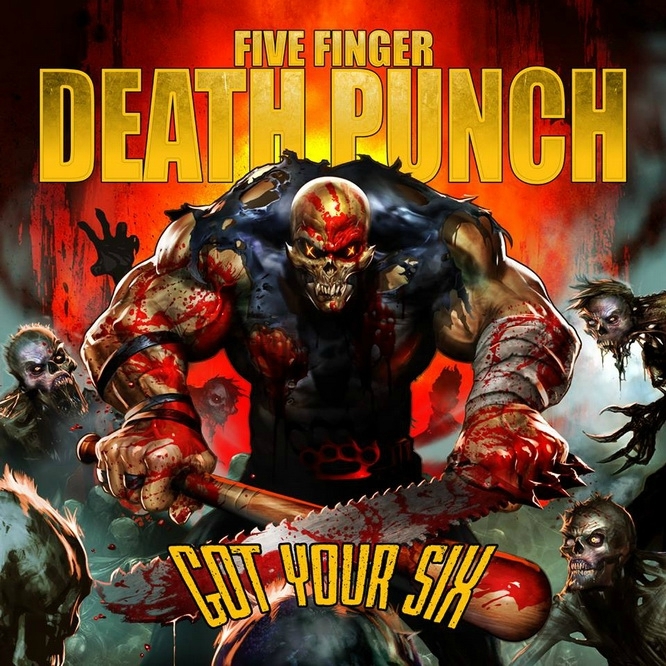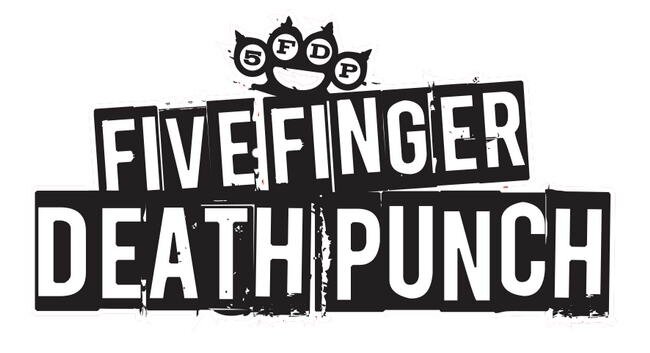 (Eleven Seven Music - Distribution ADA/Warner)
==> Release date: 04th Sept. 2015
2015 marque une 'décennie de destruction' pour FIVE FINGER DEATH PUNCH et les américains délivrent leur plus 'rentre-dedans' opus en date, « Got Your Six », pour cet anniversaire!
Happy 10th anniversary FIVE FINGER DEATH PUNCH ! :)

L'idée du premier single, « Jekyll And Hyde », est partie d'un message vocal de Ian Moody, le chanteur du groupe, qui, inspiré vers deux heures du matin, a laissé sur le répondeur du lead-guitariste, Jason Hook, une bafouille expliquant, en la scandant, son idée de morceau. Jason Hook, qui apprécié ce qu'il entendait, a construit ses riffs autour, et transféré le tout, en MP3, au reste de la bande, qui a adhéré de suite sur un 'That's pretty cool !' général, de la part, donc, du batteur aux rythmiques en béton et feeling armés, Jeremy Spencer, de Zoltan Bathory qui complète le duo d'enfer des guitares, de ses rythmiques percutantes, Chris Kael à la basse imparable.
Voilà pour la petite histoire derrière cet "uppercut" de titre qu'est: « Jekyll And Hyde ». Comme quoi, Ian Moody a bien fait d'être insomniaque et Jason Hook a été bien inspiré de suggérer au frontman de lui laisser un message à chaque nouvelle de ses idées, plutôt que de les laisser se perdre. Eh non, le frontman n'a pas de moyen technique d'enregistrement dernier cri et préfère cette méthode. Le message original a, d'ailleurs, été laissé en intro du titre, une fois l'album produit, histoire de montrer que FIVE FINGER DEATH PUNCH, c'est de l'authentique, un groupe au Metal 'coup de poing', qui vient des tripes et du cœur, puisqu'il sait être mélodique quand le besoin s'en fait sentir.
Il est à souligner que tout le nouvel effort se montre plus brut que ses prédécesseurs, à l'image de « Hell To Pay » qui a ce martèlement, cette cadence Heavy que n'aurait pas renié RAMMSTEIN et ces riffs au groove de malade qui arrachent tout, ainsi que des vocaux et chœurs du même ordre, comme tout l'album « Got Your Six », d'ailleurs. Carré, solide comme le Metal, comme peut l'être le racé « Wash It All Away » écrit par Jason Hook lors de leur dernière tournée, et qui présente différents tempos, ce qui participe à l'accroche imparable du titre ou le méchamment direct et percutant titre d'ouverture, « Got Your Six » qui vous coupe le souffle avec ses riffs et soli de tueur, ses vocaux et rythmiques frénétiques, à la cadence aussi rapide qu'une rafale de mitrailleuse tout comme « No Sudden Movement » ou les génialissimes « Meet My Maker » / « Boots And Blood ». Le groupe est habitué au Metal 'direct dans ta face' mais aussi à laisser l'émotionnel parler à chaque album, avec des mid-tempos chargés d'émotions 'mélos' comme « Digging My Own Grave » peut l'être, mais toujours avec ce Heavy massif qui soutient l'ensemble et rend le tout poignant, comme toujours avec 5FDP, il faut dire. Ce titre a, au passage, été le dernier morceau écrit pour « Got Your Six », alors que 5FDP étaient déjà en tournée et donc, enregistré dans un autre studio que le reste de l'album. « My Nemesis » porte, quant à lui, la signature du jeu en lead de Jason Hook, signature immédiatement identifiable notamment sur ce track qui est l'un des moments forts de l'album ; le titre étant basé sur une solide fondation due aux instruments, les vocaux de Ian Moody sont ensuite venus s'y rajouter tels la cerise sur un gateau déjà alléchant.
Vous l'aurez compris, « Got Your Six » de FIVE FINGER DEATH PUNCH, plus brut que ses prédécesseurs, se révèle être un album incontournable, très réussi à tous les niveaux dont sa production efficace au possible due à Kevin Churko tout comme son artwork et qui pose encore plus le quintette au sommet, la place qu'il mérite sans conteste: 5FDP, c'est du lourd, du grand !

Un 'fu… ' groupe pour un 'fuc…' Metal, vibrant d'émotions fortes, rentre-dedans toujours et qui vous fait dresser les poils, assurément !

A ne pas manquer le groupe en tournée européenne et en France le 15 novembre 2015 à Strasbourg et Paris, le 24 novembre : faites chauffer vos cervicales, l'attaque est imminente ! :)

Tasunka
5FDP Line-Up :
-Ivan Moody: V
-Zoltan Bathory: G
-Jeremy Spencer: D
-Jason Hook: Lead G
-Chris Kael: B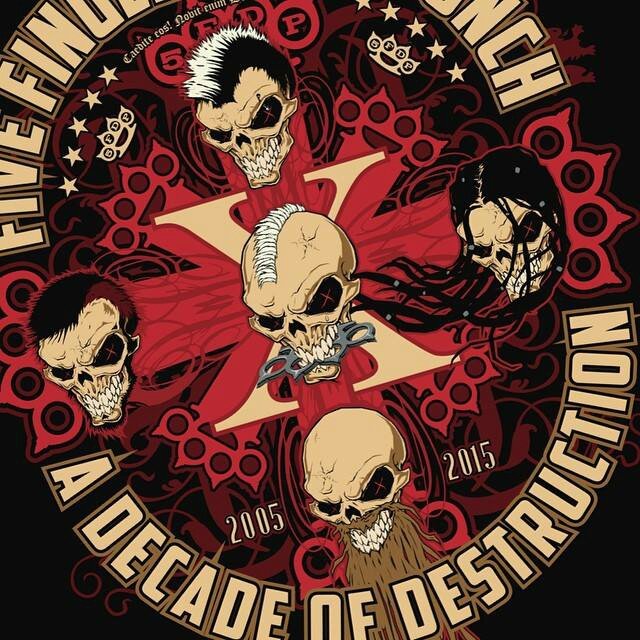 ---

Click here to know all the USA / Europe tour dates 2015

==> EN CONCERT<==
--DIMANCHE 15 NOVEMBRE 2015 A STRASBOURG / LA LAITERIE

--MARDI 24 NOVEMBRE 2015 A PARIS / OLYMPIA

---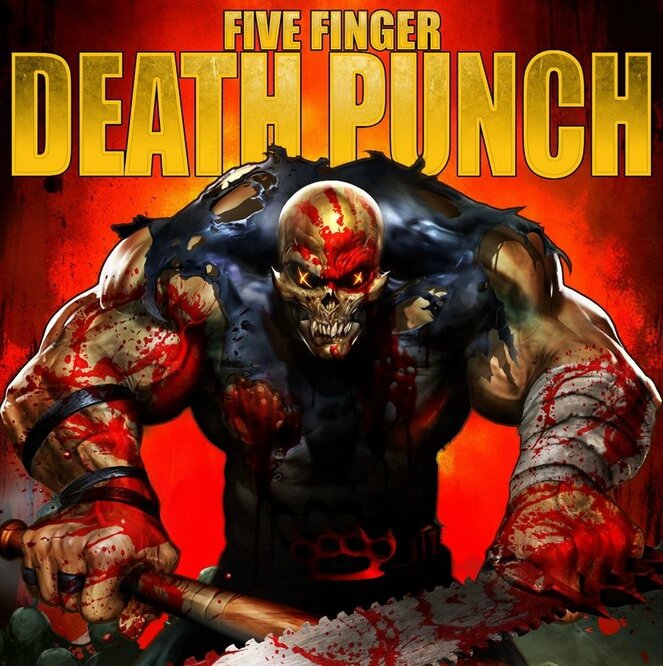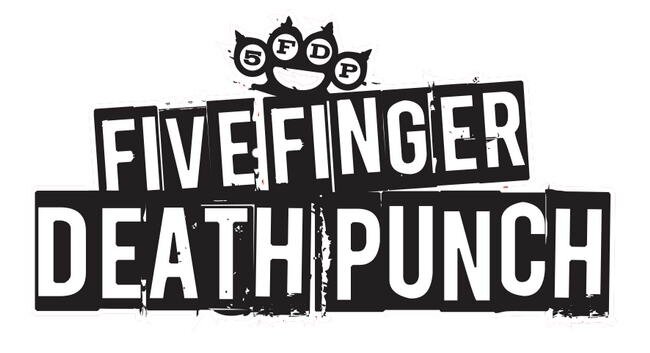 ---