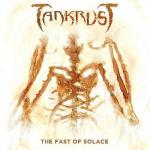 (Almost Famous)
Release date : 17 Oct 2015
Release Party @ Glazart (Paris) le 17 oct 2015 – Avec YORBLIND / BEYOND CHRONICLES



Quand on entend un "Improvisation 28 », qui vous rentre sous la peau avec son gimmick assassin, ses vocaux menaçants, son tempo à la basse et double grosse caisse d'acier, ce duo de guitares rythmiques ou en lead, qui tourne dans la tête comme une violente menace et un bienfait dangereux, à la fois, d'ailleurs, « Barbarians » vous assène le même effet imparable, ainsi que le suprême « 10 :22 » et son atmosphère aux vocaux gutturaux lourds et puissants, en somme, quand on entend ces titres, on se sait être à la bonne adresse, celle de TankrusT et de leur Thrash qui se paie le luxe intelligent de, comme le groupe le dit lui-même, « Faire du neuf avec de l'ancien…ou l'inverse ! » et ce, en utilisant leurs expériences et univers, influences protéiformes pour faire s'accoupler Thrash, Hardcore, Metal violent toujours, et le plus beau, c'est que ça marche : le cocktail prend aussi aisément que le chanteur peut passer d'un registre vocal à un autre, que les instruments peuvent assurer quels que soient l'atmosphère, le tempo ou les solos.
Au long de « The Fast Of Solace », s'ajoutent d'autres haltes en terre lourde ou intensément rapides tel un orage violent, à savoir et ils ne sont pas en reste, loin de là, sur : « Autonomy », « Dead Pools », qui figurait déjà sur le EP du groupe « Beyond Thresholds » ou « DMZ » et le final sur un « Cleaver » de choix.

TankrusT confirment et signent avec « The Fast Of Solace », une entrée de poids dans le 'Metal qui en a', qu'on se le dise !

Tasunka

TankrusT Line-Up:
- KooTôh : V
- Garth : Lead G
- Will : Rhythm G
- Schuff : D
- Jules : B

« The Fast Of Solace » Track-List :
---
---