Already Available / Available In USA - Canada : 11th September
Trois années durant en tournée d'adieu de par le monde, pour faire la fête et dire au-revoir à tous leurs nombreux fans sur les cinq continents, en 2010 et la même année, un album « Sting In the Tail » fort réussi, supposément dernier effort (car suivi par « ComeBlack » (2011), de la longue carrière à succès des allemand d'Hanovre et voici qu'à l'instar de ROLLING STONES, que nenni, les légendaires et iconiques SCORPIONS ne se résolvent pas non plus à raccrocher les micros, médiators, baguettes et après tout, pourquoi pas ? Du 'rab' de SCORPIONS ça ne se refuse pas.
Le quintet a sauté sur l'occasion de célébrer les 50 ans de carrière du groupe, en 2015, pour offrir non seulement un nouvel album, mais bien sûr, la tournée qui va bien, avec. La tournée est une excellente nouvelle vu que les SCORPIONS font toujours autant de ravage sur scène, rendant leurs concerts inoubliables, alors, inutile de dire combien pour leurs 50 ans, les Scorps' vont tout donner.
Par contre, difficile de ne pas avoir une appréhension sur le contenu d'un 18ième opus, surtout que la pression d'un disque pour marquer cinq décennies de succès, est forte autant que la barre est haute, vu les prédécesseurs d'albums à succès qui ont marqué le parcours de la formation.
« Return To Forever », puisque c'est de lui dont il s'agit, porte bien son nom, étant donné qu'il peut être vu comme un panaché de ce que le groupe sait si bien faire, à savoir du pur Hard Rock dynamique-hymnique, ou mélodique, des refrains sur lesquels s'époumoner, des ballades à la « Still Loving You », cet exercice immanquable sur chaque opus des allemands. Une plongée dans d'anciennes démos jamais terminées du début des 80's, un re-travail et ré-enregistrement à l'aune du line-up actuel et voilà notamment « Rock'n Roll Band », « Rock My car » à bord de « Return To Forever », aux cotés de nouvelles compositions.
L'idée de départ, si elle est bonne, présente un résultat inégal, où cela ronronne trop parfois car sans surprise mais sait aussi faire adhérer sur certains autres morceaux, de par leur feeling Rock et péchu à souhait, dont l'original Rockabilly-esque « The Scratch » fait merveille. Evidemment, trois ballades dont la réussie « House Of Cards », et du Rock de partout, partout, partout, (si, si) musicalement et lyriquement parlant, fait toujours plaisir, rien à dire et après tout, même si les nouveaux morceaux ne sont pas vraiment inoubliables, ils s'écoutent pour la plupart avec enthousiasme.
Oui, SCORPIONS sait faire parler la poudre et le feeling avec son quintet de choc, qui s'amuse comme des adolescents, toujours tous autant ravis de jouer le Rock qu'ils aiment et ça s'entend. La voix de Klaus Meine reste unique pour ce qui est de faire vibrer en attaque Hard Rock ou en douceur au long de ballades et les riffs des guitares de Rudolf Schenker / Matthias Jabs, la ligne rythmique des deux petits 'derniers' de la formation, Pawel Maciwoda à la basse et James Kottak, derrière les futs, le tout fait merveille : ça roule tout seul, rodé et avec cette sensation de ne pas dater, 50 ans d'actif ou pas.
A bien sûr ne pas manquer, la tournée anniversaire (dont 8 dates en France en novembre / Décembre 2015, celle du 20 juin au Hellfest ayant marqué) en compagnie d'EUROPE. Et en parlant de collaboration avec la Suède, il est à noter que SCORPIONS ont embauché aux mixage / production pour « Return To Forever », Mikael Nord ANDERSSON (déjà à bord pour « Sting In the Tail ») et Martin HANSON. Si Klaus MEINE et Rudolf Schenker sont à créditer de cinq titres plus un du chanteur-même (« Rock'n Roll Band »), les autres compositions voient la patte de la collaboration du groupe avec le duo suédois précité, flotter sur eux avec plus ou moins de bonheur dont un morceau marquant proposé par le duo de producteurs au groupe, à savoir le très réussi et remuant « Scratch » cité précédemment.
Pas d'innovation mais une affirmation, ce « Return To Forever » prouve combien SCORPIONS sont et restent une pierre de base de l'édifice hard Rock depuis 50 ans et ils le méritent. Cela valait bien en pochette d'album pour marquer l'occasion, une couronne formée de haut-parleurs, de médiator et jacks, avec un scorpion en son centre :)

SCORPIONS, we're still loving you !!
Tasunka

Track-List « Return To Forever » :
01. Going Out With A Bang
02. We Built This House
03. Rock My Car
04. House Of Cards
05. All For One
06. Rock'n' Roll Band
07. Catch Your Luck And Play
08. Rollin' Home
09. Hard Rockin' The Place
10. Eye Of The Storm
11. The Scratch
12. Gypsy Life
---------------
13. The World We Used To Know (bonus Deluxe Edition)
14. Dancing With The Moonlight (bonus Deluxe Edition)
15. When The Truth Is A Lie (bonus Deluxe Edition)
16. Who We Are (bonus Deluxe Edition)
17. Delirious (bonus iTunes)
SCORPIONS Line-up:
-KLAUS MEINE ; V
-RUDOLF SCHENKER : G
-MATTHIAS JABS : Lead Guitar / G
-JAMES KOTTAK : D
-PAWEL MACIWODA : B
---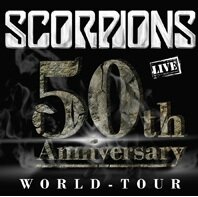 ---
---
---