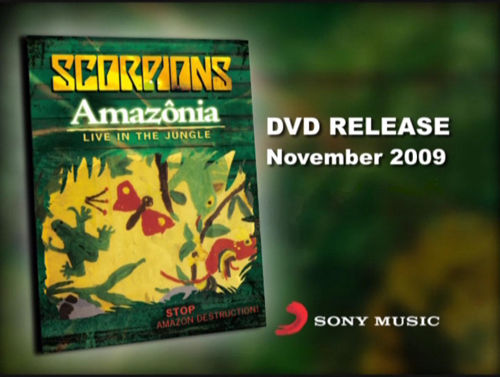 SCORPIONS: DVD « Amazonia – Live In The Jungle »
Sortie le 20 novembre 2009
DVD Trailer: ici ;)

'Avec leur nouveau DVD live, Scorpions soutiennent le combat de Greenpeace contre la déforestation de la forêt Amazonienne ' et le tout en se faisant et en faisant un plaisir vraiment réel. Les 'Scorps' sont assurément des bêtes de scène pour ce qui est de mettre une ambiance de folie dans une salle ou un stade et ce n'est pas la foule plus que nombreuse du Brésil qui a assisté au concert, qui dira le contraire. Cet « Amazonia » est dynamique, réjouissant, joué et chanté avec le même brio qui caractérise nos teutons préférés depuis toujours, bref, un DVD à acquérir les yeux fermés…enfin façon de parler, évidemment, étant donné que les images et le son sont de bonne facture et qu'il serait dommage de se priver des superbes versions acoustiques 'samba brésilienne', avec guests, de: « Holiday », « Dust In The Wind » (reprise de KANSAS), « Wind Of Change », ni des classiques musclés que sont « Blackout », « Bad Boys Running Wild », « 3, 2, 1 », « Rock You Like A Hurricane ». Cerise sur le gâteau, en guest, ANDREAS KISSER (SEPULTURA) se fait un de ces kiffs aux côtés de Scorpions que cela en est réjouissant au possible :)
Août 2007 avait marqué une première venue des Scorpions au Brésil et devant un parterre en délire de 40 000 personnes, on peut dire que le courant était décidément bien passé, alors le retour en septembre 2008 a été l'occasion de se replonger dans cette belle rencontre entre les Scorpions et le public Brésilien et de sceller une vraie collaboration entre le groupe et Greenpeace, puisque « Amazonia – Live In The Jungle » verra une partie de ses ventes reversées à Greenpeace Brésil dans son action pour sauver la forêt primitive.
Et pour prolonger le plaisir, il est à noter que si le concert principal enregistré au Brésil, est celui de Recife le 7 septembre 2008, les bonus du DVD offrent aussi 5 titres live de Manaus (2007), plus un documentaire de Greenpeace sur la déforestation catastrophique qui a lieu sur place.
Enfin, last but not least, Klaus Meine ayant participé à la reprise collective de Midnight Oil: « Beds Are Burning », à l'initiative de Kofi Annan (ancien secrétaire général de l'ONU et prix nobel de la paix » pour sensibiliser au problème du réchauffement climatique. vous pourrez télécharger gratuitement le titre ici ;)
Un DVD à mettre sous le sapin, en somme ;)
Tasunka
Scorpions
Klaus Meine (Vocals)
Rudolf Schenker (Guitars)
Matthias Jabs (Guitars)
James Kottak (Drums)
Pawel Maciwoda (Bass)
Track Listings
Main Programme: Live in Recife
1. Hour I
2. Coming Home
3. Bad Boys Running Wild
4. No Pain No Gain
5. Always Somewhere
6. Holiday
7. Dust In The Wind
8. Wind Of Change
9. 321
10. Blackout
11. Big City Nights
12. Still Loving You
13. Rock You Like A Hurricane
Bonus Programme: Live In Manaus
1. Hour I
2. Love 'em Or Leave 'em
3. Make It Real
4. Tease Me, Please Me
5. Humanity
Bonus Documentary:
1. Amazonia - Greenpeace Documentary