Belle journée que ce 15 septembre 2008 : interviewer dans la foulée deux très bons groupes VOLBEAT et BACKYARD BABIES, quoi demander de plus ? :)
Et c'est parti pour en savoir plus sur VOLBEAT en compagnie de Thomas Bredahl, guitariste de son état et mec aussi sympa que drôle dans ses réparties, qu'en train de poser, mort de rire, devant le magnifique (si, si, on y croit :) papier peint du lieu des interviews: jetez un coup d'oeil sur la photo en dessous :)
(Interview et Photos : Tasunka)
Chronique "Guitar Gangsters & Cadillac Blood" ici ;)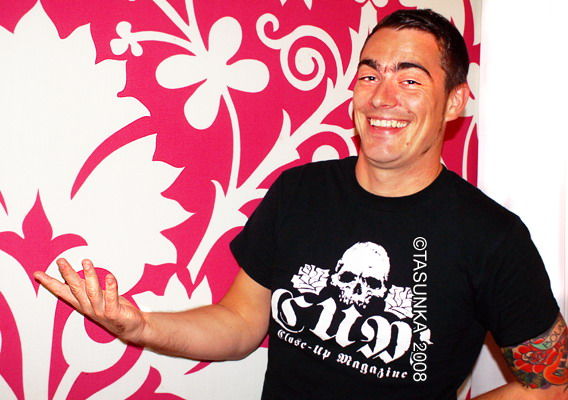 Le nouvel album a été plutôt placé sous le signe de la pression ou du plaisir ?
C'est vrai que nous avons été album du mois avec « Rock The Rebel/Metal The Devil », que nous avons eu de très bonnes chroniques, qu'on a joué devant des milliers de personnes, joué avec METALLICA, alors quand on préparait « Guitare Gangsters », la maison de disques nous a dit en plaisantant, vu que nous sommes amis : « Les gars, cette fois, ça va être un sacré challenge : vous êtes sûrs que vous y arriverez ? » Bien sûr ! (rires) Sur le plan créatif, on voulait être meilleurs et le challenge, nous nous le sommes mis nous-mêmes et ça, c'était la pression, pas commerciale, même si c'est évident qu'elle est là, dès que tu vends pas mal de disques et tickets de concerts, mais c'était bel et bien la pression de donner à chaque fois le meilleur de nous, qui nous tient à cœur. Par contre si la pression était bien là, à partir du moment où les morceaux ont commencé à être écrits lors de la dernière tournée, mais quand on est entrés en studio, tout était prêt, et donc la pression n'était plus si importante. Le seul challenge qui restait, c'était de bien jouer :)
Ça me fait repenser au moment où j'étais assis avec Jon, notre batteur et je lui jouais des passages que j'avais écrits pour savoir ce qu'il en pensait, si c'était bon ou pas. C'est bien sûr, Michael (Poulsen G / V) qui a composé sur sa guitare acoustique, la structure de tous les morceaux. Donc, j'étais à jouer les passages à Jon, quand je me suis aperçu que ça sonnait très BLACK SABBATH sur le titre d'ouverture, ce qui n'était pas intentionnel, vu qu'avec le batteur, on modifiait au fur et à mesure de ses remarques. Comme la pression était axée sur donner le meilleur sur le plan créatif, je me suis demandé pour les laisser ou non. Mais bon, tu vois, c'est le problème d'avoir des influences, chacun en a et pour être honnête, il y a beaucoup d'influences BLACK SABBATH dans les parties Lead, mais ça sort tout seul, sans être des copies, juste des influences. Tous dans le groupe, nous avons notre background musical qui est bien là : MISFISTS, SOCIAL DISTORTION, BLACK SABBATH, METALLICA, mais, au final, VOLBEAT est et reste unique avec sa personnalité musicale.
C'est vrai que vous êtes uniques :) Vous avez à nouveau travaillé avec Jacob Hansen pour la production : quelle a été son influence, justement, pour le nouvel album ?
Disons que pour le premier album (« The Strength, The Sound, The Songs ») il a reconnu ne pas être très à l'aise, sur le moment, comme il se disait : « Ok, mais VOLBEAT, c'est supposé sonner comment ? « (rires) Mais c'est un mec ouvert et il y a longtemps maintenant, qu'il est devenu le cinquième membre du groupe: il comprend complètement ce que nous voulons. Chacun connait son domaine, le guitariste ses parties guitare, le bassiste idem, etc.. Et comme chacun est à sa place, Jacob inclus, les compétences de nous tous s'additionnent et se complètent :) Il faut être ouvert et compréhensif pour discuter avec les musiciens en studio, pour apporter des idées, des suggestions, et comprendre ce que le groupe veut exactement et Jacob est tout ça :) Michael est le frontman du groupe et écrit quasiment tout, mais il nous explique ce qu'il voit et comment il le voit et fait de même avec Jacob en studio. En plus, Michael est ouvert aux nouvelles idées que celui-ci ou l'un de nous apporte. Par exemple, il arrive qu'un passage de guitare sonne Reggae, Michael le trouve cool et cherche un moyen de l'intégrer dans un morceau. L'ouverture d'esprit est primordiale: ce qui veut dire, pour nous tous, garder une âme d'enfant dans le sens d'être curieux et avec l'envie d'essayer et d'explorer de nouvelles choses. Pour nous, un groupe, c'est ça, de grands enfants ensemble, en quelque sorte (rires)
Belle définition :) Même si on te l'a demandé certainement pas mal de fois, tu pourrais me redire comment tu as rejoint VOLBEAT ?
Pas de problèmes (rires) Avec mon groupe de l'époque, en 2006, on a fait une tournée pour 10 dates avec VOLBEAT et je peux te dire que ça a été du pur fun, comme toujours avec VOLBEAT, je dois dire (rires) Quand on est rentrés de tournée, j'ai su qu'ils cherchaient un nouveau guitariste, après le départ de leur précédent gratteux. Un soir, j'ai reçu un coup de fil de Michael, alors que nous ne nous étions pas vus depuis 2 mois et il m'a dit : "Tu fais quoi ces 5 prochaines années ? » :) J'étais impressionné alors même que VOLBEAT n'avait pas encore sa renommée actuelle. Ça a été un véritable compliment qu'ils aient pensé à moi comme guitariste, qu'ils m'aient trouvé sympa pendant les dates communes et que j'ai ma place au sein du groupe, parmi cette bande de mecs vraiment sympas. Michael, au téléphone, m'avait demandé de ne répéter à personne l'offre qu'il me faisait, mais je me devais d'avoir quand même l'avis de mes proches, de ma petite amie là-dessus et d'en parler à mon groupe de l'époque, ce qui me semblait réglo. Quand on s'est vus avec Michael et le groupe, ce n'a pas été vraiment une audition, mais juste jouer deux morceaux et improviser, jammer avec les gars, sur un nouveau titre : c'était un moment génial ! Quand j'ai ensuite repris le train, pour rentrer chez moi, je me suis endormi avec la fatigue de la journée et c'est le coup de téléphone de Michael qui m'a réveillé sur le trajet du retour. Il m'a dit que ça collait, qu'ils m'appréciaient et que j'étais dans le groupe !!!! :)
J'imagine que ça a dû être un grand moment d'apprendre la nouvelle :) Dans Vol beat, vous avez des looks et influences différents, mais ce qui frappe dans VOLBEAT, c'est le sentiment d'unité qu'il y a entre vous
Oui, parce qu'on peut discuter, mais jamais il n'y a de combats quand on n'est pas d'accord : on n'est pas MÖTLEY CRÜE (rires) En ce qui me concerne, je n'écoute pas de Reggæ mais du Ska, et chacun peut apporter ses influences, ce qu'il aime: on est tous ouvert :) L'unité vient, entre autre, de là et de la complicité qu'il y a entre nous tous :)
Avant d'aborder le sujet de la tournée d'octobre 2008, tu pourrais me parler de cette histoire intrigante qui court sur 7 des morceaux de l'album ?
Au moment où nous avons commencé à réfléchir au titre de l'album, on a eu une piste, étant donné que l'un des titres de SOCIAL DISTORTION parle de gangsters. Comme, en plus, on aime les films du genre, les associations d'idées se sont faites toutes seules : gangsters, Cadillac, blood, ça collait et sonnait bien ensemble. Quand tu écris les idées jaillissent les unes des autres. Même si on n'a pas encore écrit de nouveaux morceaux au moment où je te parle pour un futur album, mais comme on l'a déjà fait auparavant, l'histoire qui démarre avec « Guitar Gangsters » va certainement se poursuivre pour le prochain disque mais ça dépend: ça peut tout aussi bien être développé par écrit et mis en ligne comme un livre ou pour un film, ce qui serait vraiment cool :)
La tournée d'octobre 2008, dont la première date est à Paris (le 8 octobre à la Scène Bastille) arrive : coté préparation, ça donne quoi ?
Avant de monter sur scène, on se réunit 5 minutes, mais pas plus : pas comme METALLICA qui s'échauffent en jouant les titres avant. De toute façon, c'est tellement du pur plaisir d'être sur scène, que tu t'éclates que tu sois en forme ou pas, dans tous les cas. En avril dernier, on a enregistré « Guitar Gansters »et ensuite joué dans des festivals, ce qui est un bon échauffement. La veille de la date du 8 octobre, à Paris, on joue dans un club au Danemark sans aucun public: VOLBEAT, c'est la musique, mais aussi le visuel avec les lumières et cette répétition permet de les régler avant de partir en tournée. Les mecs de la lumière ont besoin qu'on joue sur scène pour leurs réglages.
Et vous allez filmer cette tournée ?
Sur le précédent DVD « Sold Out », je trouve qu'il manquait un peu de passages plus privés, pour que le public nous accompagne backstage ; mais sans aller jusqu'à avoir des cameras quand on est à poil, bien sûr (rires) Le premier DVD était axé sur l'histoire du groupe, son passage des petites scènes aux grandes, mais ce serait sympa d'avoir des moments plus intimes pour un éventuel futur DVD, pas encore prévu, mais qui sait ? :) Personnellement, c'est ce que j'aime voir sur des vidéos des groupes.
Question croisé avec BACKYARD BABIES à qui je demande la même chose à propos de vous, comme les deux groupes sont le même jour en promo : que penses-tu de BACKYARD BABIES ?
Je ne les connais pas personnellement et je n'ai pas encore eu l'occasion d'entendre leur tout dernier album. Par contre, avec mon précédent groupe, on jouait de leurs anciens morceaux. J'ai hâte d'écouter leur nouvel opus, surtout que j'aime beaucoup leur musique. Et eux, tu leur as déjà demandé ce qu'ils pensaient de VOLBEAT ?
Pas encore, comme je fais ton interview avant la leur :)
J'aimerais bien savoir leur réponse :)
Tu l'auras :) En attendant, merci pour cette interview vraiment très cool :)
Plaisir partagé et à tous, rendez-vous le 8 octobre à Paris et sur la tournée :)