==> K.O.B. are back !! <==
KOB Line-Up:
- Stéphane Graziani / Vocals
- Thierry Huylebroeck / Guitars
- Rodolphe "Rudy" Bousquet / Guitars
- Jean Michel Berger / Bass (ex- SKELETON CREW)
- Bruno Laguide / Drums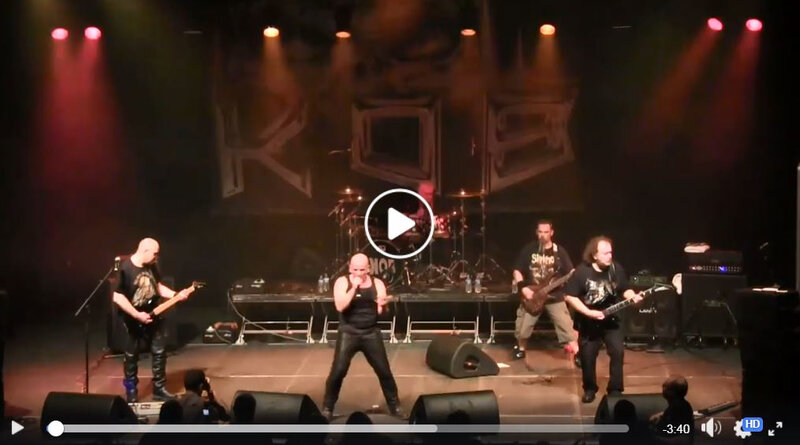 Oui, les briscards du Heavy sans fioriture, juste l'essentiel de ce Hard Rock péchu qui fait du bien par où ça passe, sont bel et bien de retour et cela mérite deux cornes hautes en salut métallique !
K.O.B., pour resituer le groupe, ont fait impression dès leurs débuts pas mal d'années plus tôt, avec leur approche carrée, droit au but à l'impact Heavy / Hard affirmé: d'ailleurs, les cervicales des premiers spectateurs des prestations énergiques des français, s'en souviennent encore, un sourire aux lèvres de la part de leurs propriétaires.
Et comme le clame AC/DC, puisque "it's a long way to the top if you want to Rock'n'Roll', la route de K.O.B. n'a pas échappé à cet adage et effectivement connu des hauts, mais aussi des bas, splits inclus. Et puisque le Rock'n'Roll, on l'a dans les tripes ou pas, la bonne nouvelle de 2016, après leur dernier split heureusement revoqué, c'est que les 'Old Boys of Heavy Metal', ont décidé d'effectuer un retour aux affaires et ils sont déterminés à faire parler la poudre à nouveau!
Le line-up original étant reformé, à l'exception du bassiste (voir ci-dessus), la toute première prestation du groupe a eu lieu au Mojo Café en septembre 2016 de façon assez confidentielle, de manière à observer les réactions en live.
Le vrai « grand » retour de KOB s'est fait sur la scène du Théâtre de Villeroy à Mennecy le 25 mars 2017, en tête d'affiche en compagnie du groupe Désillusion.
S'enchaineront ensuite, le Cirque Electrique à Paris, le Normandy Métal Fest, le Festival Montereau Confluences, le Festival Mennecy Métal Fest, etc …..
Désormais, le groupe s'est attelé à de nouvelles compositions en vue de produire un album, des pistes live furent d'ailleurs captées ça et là, alors, seront-elles sur la future production ???
Toujours est-il que mars 2018 marque l'entrée du groupe au studio PnF avec le toujours fidèle Fred Rochette aux manettes, qui avait déjà officié pour "Close To Dawn" (2009)
Alors, ladies and gentlemen, préparez vos clous, patches, cuir et échauffez d'avance vos cordes vocales et cervicales, car K.O.B. sont de retour et ils sont déterminés à ne pas faire de prisonniers autant en live que pour leur futur quatrième album, à sortir dans les mois à venir !
Ne venez pas dire que vous n'avez pas été prévenus !
Stay tuned... closely ;) / A suivre...de près ;)
Tasunka
---