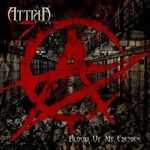 ATTIKA 7 "Blood Of My Enemies"
Ninetone / Membrane (distribution Sony)
Sortie le 03 Septembre 2012
Passion, tripes, liberté, amitié et esprit biker sont l'essence de « Blood Of My Enemies » et ça ne plaisante pas côté puissance et authenticité : quelle claque on se prend du point de vue d'un Heavy intemporel, graisseux et digne d'un shoot d'adrénaline, mais pas que!!
Aucun doute que cet album va au-delà de la musique, il a une âme ou plutôt deux : celles des géniteurs de ATTIKA 7, à commencer par celle de Rusty Coones, lead guitariste / fameux constructeur des superbes Harleys notamment vues dans la série « Sons Of Anarchy », et la seconde âme n'est autre que celle d'Evan Seinfeld plus que fameux chanteur-bassiste / compositeur de BIOHAZARD pendant d'innombrables années.
Trop d'années puisqu' Evan Seinfeld a ressenti le besoin impérieux de partir pour retrouver la créativité, de renaitre et se réinventer musicalement parlant, aussi l'occasion lui en a été donnée avec Rusty Coones. ATTIKA 7 est né de cette fraternité, de cette expérience de vie hors normes que les deux hommes ont en commun, de cette envie d'exprimer en musique et par des paroles bien senties, ce vécu, le faire ressentir au plus grand nombre.
Et en parlant de vécu, il est à noter que c'est dans une prison fédérale que Rusty Coones a non seulement posé les bases des morceaux, mais a en plus développé une technique, un jeu de guitare qui lui sont propres : de quoi vous donner un aperçu de ce qu'est ATTIKA 7, du véritable, du sérieux ! Rajoutez à ce cocktail détonnant qu'est ATTIKA 7, la présence aussi charismatique d'Evan dont la voix marquante fait plus qu'effet, ainsi que pour l'enregistrement de l'album, une autre pointure au jeu de basse redoutable : Tony Campos, fondateur de STATIC X, ayant également joué au sein de Soulfly, Prong, Possessed, Asesino et Ministry et vous aurez d'ores et déjà une idée de combien le gang vaut le détour !
Et le tout, sans omettre de mentionner une production simplement excellente dûe au talent de Mudrock (Avenged Sevenfold, Godsmack). Coté titres, « No Redemption », « Blood Of My Enemies », « Living In Oppression », « All Or nothing », « Lockdown », le single "Devil's Daughter", "Serial Killer", "Dying Slowly" sont des must et vous mènent à un train d'enfer d'émotions fortes, fortes comme la vie à 100 à l'heure des protagonistes

Incontournable, oui, ce« Blood Of My Enemies » l'est assurément !

Tasunka

PS: Paré pour ses premiers concerts, ATTIKA 7 compte maintenant dans ses rangs le guitariste Zach Broderick (ex-Nonpoint), le batteur Tommy Holt (ex-UPO), ainsi que le bassiste de Kyuss, Scott Reeder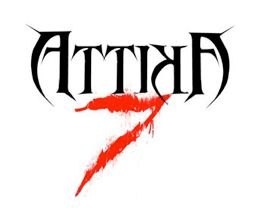 Tracklisting "Blood Of My Enemies":
01. Crackerman
02. Serial Killer
03. Devil's Daughter
04. Greed And Power
05. All Or Nothing
06. Lockdown
07. The Hard Cold Truth
08. No Redemption
09. Blood of My Enemies
10. Living in Oppression
11. Dying Slowly
12. Hellbound
13. War
ATTIKA 7 line-up :
- Evan Seinfeld : V (ex-BIOHAZARD)
– Rusty Coones : Lead Guitar / famed (Sons of Anarchy) motorcycle builder
– Tony Campos : Bass on recordings sessions (STATIC-X, who also currently performs in Soulfly, Prong, Possessed, Asesino and Ministry)
– Recently recruited :
– Zach Broderick: G (ex-NONPOINT)
– Tommy Holt : D (ex-UPO)
– Scott Reeder : B (KYUSS)