09 février 2017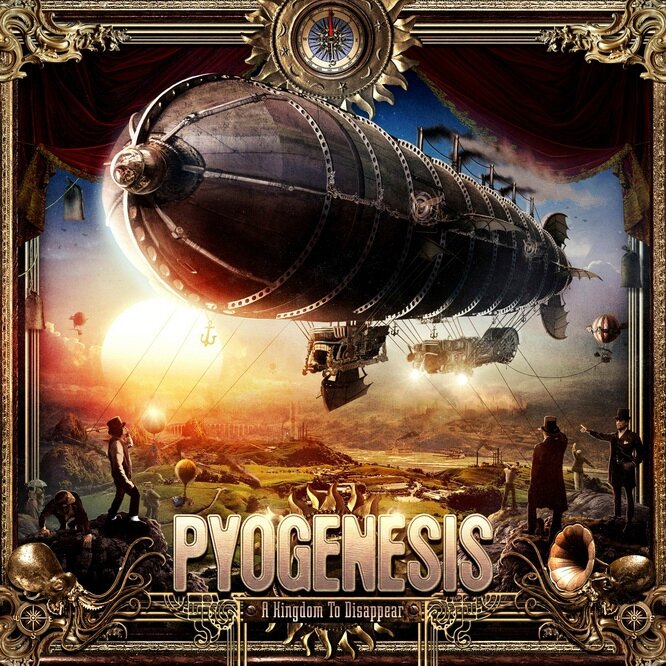 Release: February 24th 2017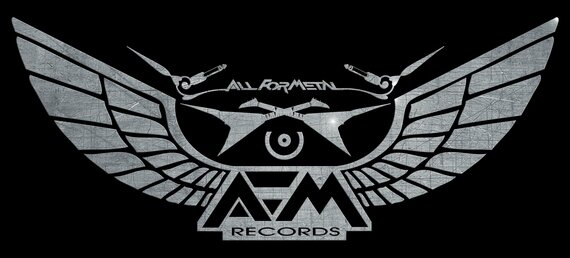 Les cultes et pionniers PYOGENESIS avaient signé un retour marquant en 2015, après treize ans d'absence, en inaugurant leur trilogie inspirée de l'ère Victorienne du dix neuvième siècle, via le premier et fort réussi volet « A Century In the Curse Of Time » (chronique ici). Voici qu'arrive « A Kingdom To Disappear », le second opus, toujours dans la même veine et qui, dès son approche, partage avec son prédécesseur un artwork Steampunk, gothique romantique qui vaut le coup d'œil de par sa qualité et donne le ton de la valeur de ce qui va suivre musicalement et vocalement.
Après le train explosant la pochette 2015, l'autre révolution de l'ère industrielle, le dirigeable, les ballons en général, trône, quant à elle, en maitre sur celle de ce second volet. A l'image de ce puissant artwork, les allemands de Pyogenesis font impression, captivent avec leur Metal Gothique qui voit le groupe innover au long des nouveaux morceaux, alignant audace, feeling, touche romantique, chant clair et appoints en growl, instruments saturés et acoustiques en contre-points, pour ensuite mieux re-mêler à une sauce qui prend déjà au mieux, du Rock 'rentre-dedans', du Melodic Death Metal (le fort bon « Blaze, My Northern Star » en étant l'étendard). Puissant et vibrant, le Metal des maitres du Gothic-alternatif-mélodique / Rock que sont Pyogenesis depuis plus d'un quart de siècle, vous rentre sous la peau à tous niveaux, que ce soit côté des compositions, de l'interprétation authentique, précise et à la fois passionnée d'une formation qui aime visiblement ce qu'elle fait et s'y investit totalement. Les paroles agissent, quant à elles, en reflet de la musique, des harmonies, en intégrant les sujets des changements sociaux de cette époque et ce ton Victorien posé par les vocaux d'ouverture de l'album d'intro: 'Dormir, c'est bien, la mort, c'est mieux…' avant que n'attaque un déferlement Gothique Death mélodique / Rock rentre-dedans, accrocheur s'il en est.

Hautement recommandé, donc, ce second voyage à l'ère Victorienne, en compagnie des uniques PYOGENESIS et de leur « A Kingdom To Disappear » qui assure et se conclue, comme pour le premier volet, par un morceau de bravoure de plus de treize minutes : « Everlasting Pain ».
Tasunka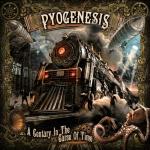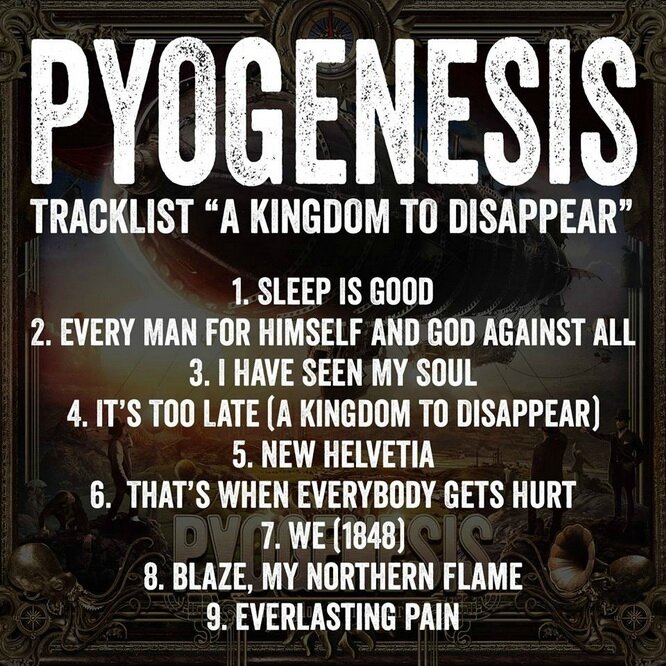 PYOGENESIS Line-Up :
- Flo V. Schwarz: Guitar & Vocals
- Gizz Butt: Guitar & Backing Vocals
- Malte Brauer: Bass & Backing Vocals
- Jan Räthje: Drums
---
---

Here are the supports!
Anchors & Hearts from the northern coast will support the first 8 shows of the tour. And Ignis Creatio will appear on only 3 shows playing their one and only album which they released 25 years ago in its entirety. This happens for the very first time!

PYOGENESIS will also be playing this year's Full Metal Cruise, setting sails in Palma de Mallorca/Spain at the end of April.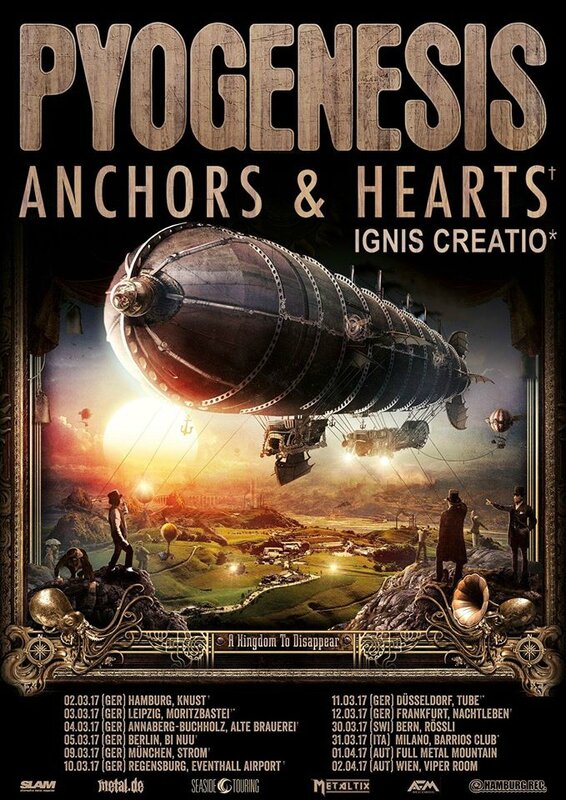 ---

---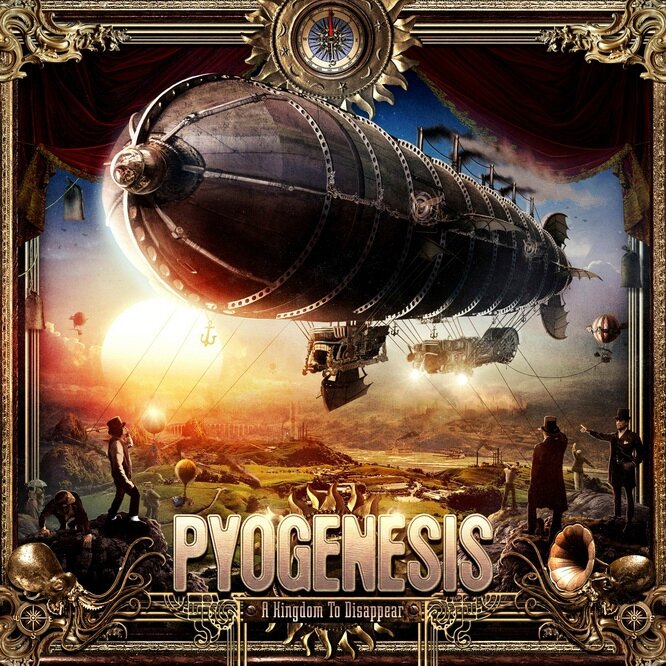 ---
07 février 2017

==> Available Worldwide February 24th, 2017 <==

L'approche est plus agressive, la déflagration de l'incontournable Death Metal de SIX FEET UNDER, plus intense encore: « Torment », le nouvel opus, est bel et bien une explosion, dont le carburant qui l'alimente, se nourrit de modernité et à la fois de classique, les racines du genre.
L'expérience fait, ici, toute son œuvre en un douzième album des plus classieux, hargneux et au top qualité d'un Death Metal qui voit ses géniteurs en pleine maitrise de leur art, à tous niveaux, vocaux, instruments et paroles. « Torment » a été créé par Chris Barnes pour tous les lyrics et Jeff hughell pour tous les instruments, et l'addition d'un nouveau batteur, Marco Pitruzzella et de son sang frais, a parachevé l'œuvre. Technique et groove Death sont au rendez-vous tout au long d'un « Torment » qui aligne la philosophie du groupe ainsi que tous les atouts qui ont fait de SFU un pilier du Death Metal, tout autant qu'une source d'inspiration au long des décennies, pour bien d 'autres formations et d'enthousiasme de la part de leurs très nombreux inconditionnels.
Vitesse et précision des instruments, riffs assassins, rythmiques qui vous rentrent sous la peau, growls de haut vol, tout y est et habite, hante littéralement chaque composition de « Torment », en un feu non stop d'atmosphères intenses, qui ne vous lâchent plus. Des mixe et master de Chris 'Zeuss' Harris qui avait déjà œuvré pour « Unborn » en 2013 et qui a su capturer le feeling de « Torment », à l'artwork de la pochette confié à un nouvel artiste, Septian Devenum, SFU a réuni tous les atouts dans son jeu, pour délivrer un album unique !

« Torment » est un must d'album Death Metal du premier au dernier titre : une œuvre à part entière ou plus simplement…une tuerie! :)
PS: une bonne chose n'arrivant jamais seule, SFU accueille en second guitariste, leur frère de Metal: Jack Owen (ex-Cannibal Corpse) (voir la déclaration ci-dessous)

Tasunka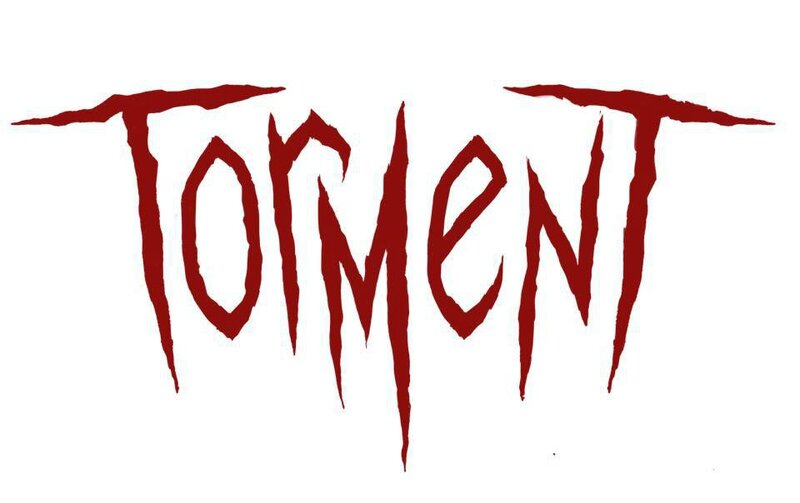 01-Sacrificial Kill
02-Exploratory Homicide
03-The Separation of Flesh from Bone
04-Schizomaniac
05-Skeleton
06-Knife Through the Skull
07-Slaughtered As They Slept
08-In the Process of Decomposing
09-Funeral Mask
10-Obsidian
11-Bloody Underwear
12-Roots of Evil

==>With the release of their new album, the band also welcomes Jack Owen (ex-Cannibal Corpse) to their ranks, as the second guitarist.
Front-man Chris Barnes comments:
"Hello, hello! First of all, I would like to thank all the fans that pre-ordered and purchased our new album 'Torment', and everyone that is enjoying our new work! Thank you very much! Much appreciated!!
And now, without further ado, it is with great pleasure that I announce and introduce to you our new second guitarist, Jack Owen.
As you all know, Jack and I started off together helping form one of the greatest Death Metal bands of all time. Jack and I began talking a few months ago, after his departure from his previous band about joining forces.
From my side of things, it's going to be amazing to work with Jack again!! We had some intense adventures, to say the least hahaha...and it's gonna be killer to step on stage with Jack for the first time in over 22 years!!
Jack will be joining SFU for the entire cycle of touring for the new album and beyond!
As you can imagine Six Feet Under is planning a very exciting live set list for you all to freak out over!!!
More info and tour dates coming soon!
Hang on to your skeleton!!"

Jack Owen adds:
"I'm super excited to work with my metal brother Chris Barnes and the mighty Six Feet Under! We've been talking about writing original material for years, and I hope it gets to that point. It would be amazing. For now, I'm looking forward to touring our asses off. I miss Europe, Canada, South America - hell, I just miss touring! It will be an honor jamming with Chris and his current SFU lineup of talented musicians...and performing with Chris will be like reliving our youth. I can't wait to see all the SFU and old school Cannibal Corpse fans across the globe!"
********
---

---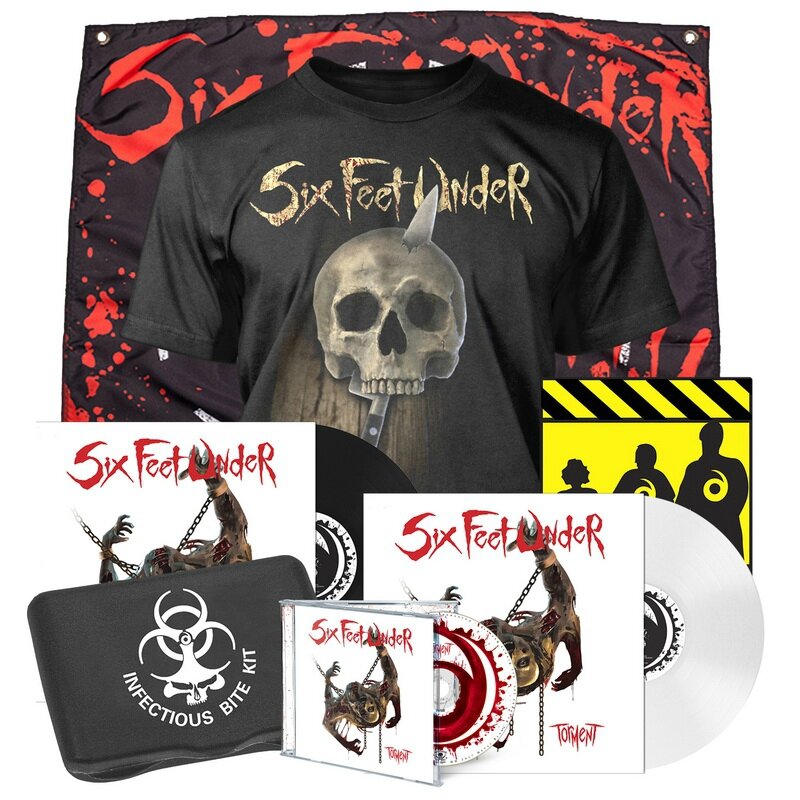 ---

---
05 février 2017

Aguerris à la scène underground, aux nombreux concerts et lives en festivals où ils se sont fait plus que remarquer depuis près de dix ans avec leur formation, sous le premier nom de Faenskap et à présent dénommés FIGHT THE FIGHT, les fougueux norvégiens, donc, délivrent leur premier album éponyme :
cet opus se révèle être une bombe de Rock/Metal au sang frais, une boule de dynamisme et intense s'il en est, qui puise sa source, se nourrit de la même veine que les pointures de groupes qui ont jalonné l'histoire. Les riffs/ rythmiques sont bien menés qu'ils soient en attaque ou accroche pleine de feeling, le chant se distingue aussi autant en voix claire ou arrachée, Rock/Metal, Metalcore, Punk ou en growl, la basse, quant à elle, se montre un support de choix et quant à la batterie, l'effet est similaire: une rythmique solide, catchy qui est sur la ligne rouge d'une dynamique des deux guitares et vocaux au curseur poussé à son maximum. Cela déménage avec les bien-nommés FIGHT THE FIGHT et leurs morceaux composés avec intelligence et une maturité certaine, savent faire parler la poudre en une déflagration de spontanéité, de côté racé et nerveux dans les atmosphères.
FIGHT THE FIGHT viennent de sortir un premier album qui laisse entrevoir que ce n'est que le début: les jeunes loups ont faim et nul doute là-dessus, ils ont l'étoffe d'aller loin et haut !
Tasunka

FIGHT THE FIGHT Track-List :
01-Fight The Fight
02-The Edge
03-The Other Side
04-Perfect Combination
05-Addictions
06-This is War
07-My Emperor
08-Patient Zero
---
---
FIGHT THE FIGHT Line-Up:
-Lars Vegas- V
-Amok- G
-Lord- G
-HM- B
-Detyler- D

---
04 février 2017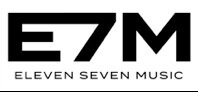 Successeur de leur EP «Aftermath » aux quatre titres ravageurs de Hard Rock moderne, AS LIONS battent le fer quand il est chaud en sortant dans la foulée, leur premier album « Selfish Age ».
L'accueil ayant été des plus enthousiastes depuis leur création en 2015 et leurs concerts se voyant être sold-out sur leur terre d'origine, l'Angleterre et plus particulièrement Londres, le quintette fait impression et accomplit son vœu et but, celui de délivrer
'un Hard Rock le plus méchamment bon possible à une échelle quasi cinématographique'
comme le résume son chanteur à la voix charismatique bardée d'autant d'émotion, de charge puissante, de force que les instruments peuvent l'être. Capable de susciter l'impression de bonheur et l'instant d'après d'entrainer dans l'agressif, la colère, avec AS LIONS, on vole haut, titre après titre, surfant au long des contrastes qui voient des riffs imparables et rythmiques de premier ordre, côtoyer des appoints d'ambiances électroniques, des touches au piano, des accroches hymniques qui, tous, vont donnent déjà toute leur puissance sur album, procurant une accroche de première, alors, facile d'imaginer l'explosion que cela va être en live, terrain d'élection de AS LIONS, une tuerie, assurément, comme l'a prouvé leur récente tournée aux USA, aux côtés des incontournables FIVE FINGER DEATH PUNCH.
Le groupe a pris beaucoup de plaisir à composer son album et d'autant plus à en explorer les possibilités en studio et enregistrer aux côtés d'un as dans son domaine, Kane Churko (Five Finger Death Punch, Disturbed, In This Moment) à Las Vegas et du très respecté et récompensé David Bendeth (Of Mice & Men, Paramore, Bring Me The Horizon) au New Jersey. Le résultat de ce fun, de cet enthousiasme, de cette passion s'entend tout au long de « Selfish Age », alors, c'est parti pour les montagnes russes de contrastes sur des rails solides de dynamique, d'intensité Rock, dont les musts que sont « The Fall », « Buried My Dead », « Deathless », « Pieces », « The Great Escape », « Aftermath », sont les fers de lance. Et du côté des paroles, la profondeur est au rendez-vous en une introspection intelligemment amenée dans les sujets traités: le constat de l'état du monde, de l'ère actuelle, l'addiction à internet, à l'image virtuellement parlant, pour exemples.
Décidément, les enfants d'Iron Maiden assurent autant que leurs géniteurs et dans leur style propre à nul autre qu'eux, pour Harris ou ici, Dickinson en l'occurrence ! ;)

AS LIONS est une perle de groupe et d'album assurément, « Selfish Age », l'un de ces coups de cœur qu'on aime avoir : 'Comme Des Lions', oui, ils rugissent assurément et marquent une évolution du Rock anglais tout en y laissant leur empreinte!

Tasunka

'Selfish Age' Track Listing:
01.Aftermath
02.The Suffering
03.Bury My Dead
04.Deathless
05.Selfish Age
06.White Flags
07.Pieces
08.World On Fire
09.One By One
10.The Fall
11.The Great Escape
Produced by award-winning producer David Bendeth (Of Mice & Men, Paramore, Bring Me The Horizon) and Kane Churko (Five Finger Death Punch, Disturbed, In This Moment)

AS LIONS Line-Up:
-Austin Dickinson -V
-Conor O'Keefe - G / K
-Will Homer - G
-Stefan Whiting - B
-Dave Fee – D
---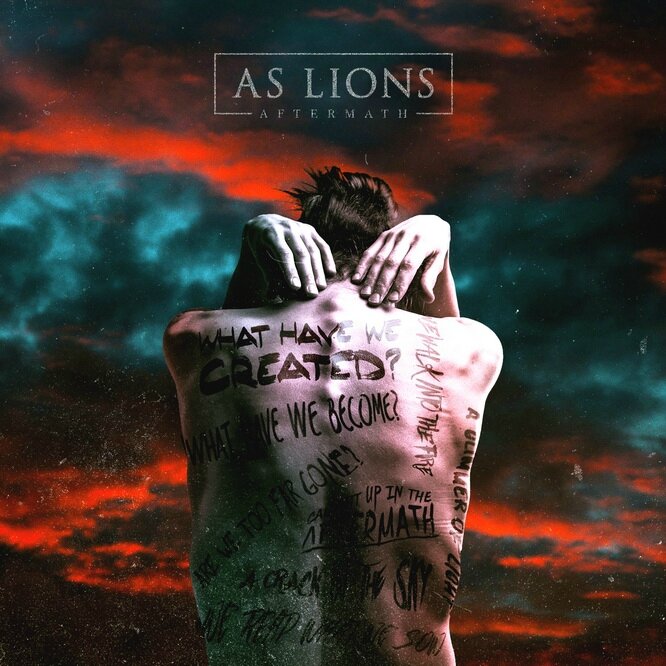 ---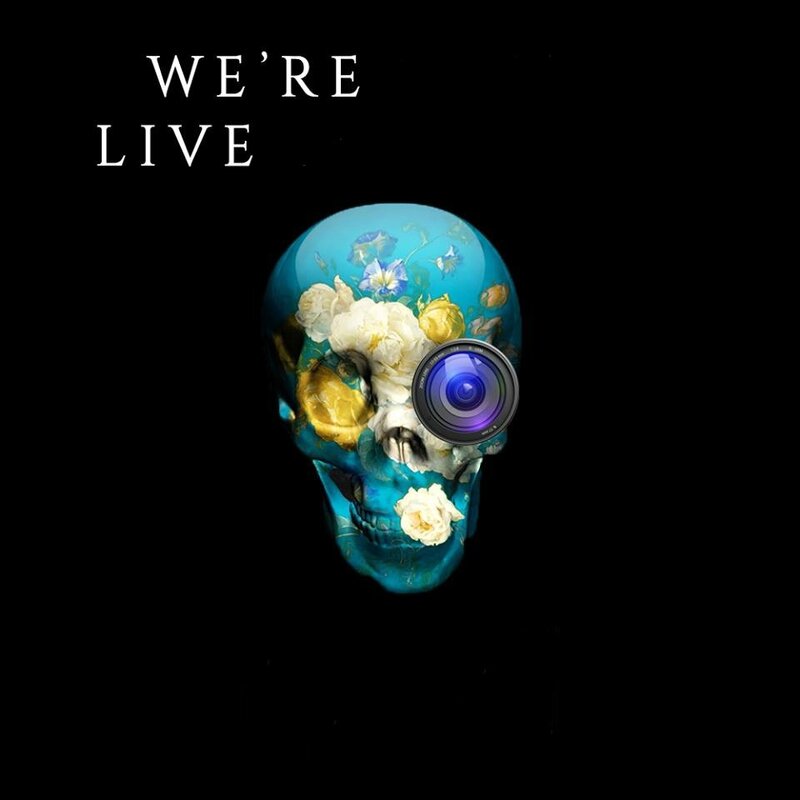 ==>AS LIONS - Tour Dates: click Above
---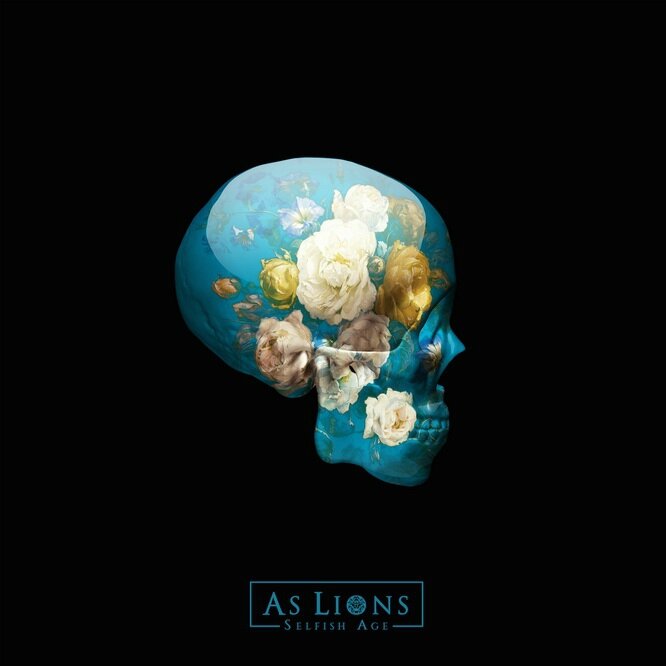 ---
03 février 2017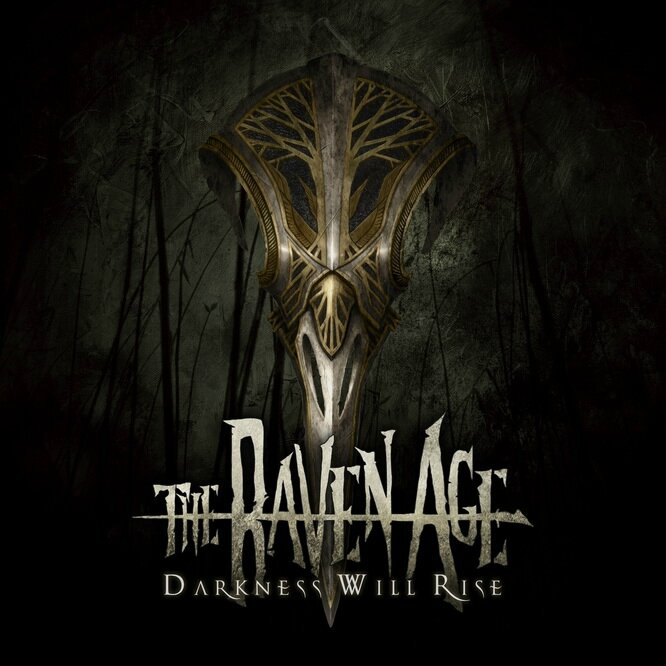 A voir en

concert avec Anthrax
Paris / Elysée Montmartre
Le public a découvert The Raven Age en 1ère partie d'Iron Maiden, Mastodon, Gojira, Ghost,
Tremonti, Opeth ou Delain. En 2016 le groupe sortait un EP et se produisait sur
différentes éditions du Dowmnload Festival dont celui à Paris.

Cette année,

The Raven Age
est fin prêt à sortir

son premier album
et

à partir

en tournée à travers toute l'Europe avec Anthrax !
*********************
The Raven Age - Promised Land (Official Music Video) - album "Darkness Will Rise" (2017)
Angel In Disgrace - The Raven Age (Official Music Video) EP "The Raven Age"
---
---
02 février 2017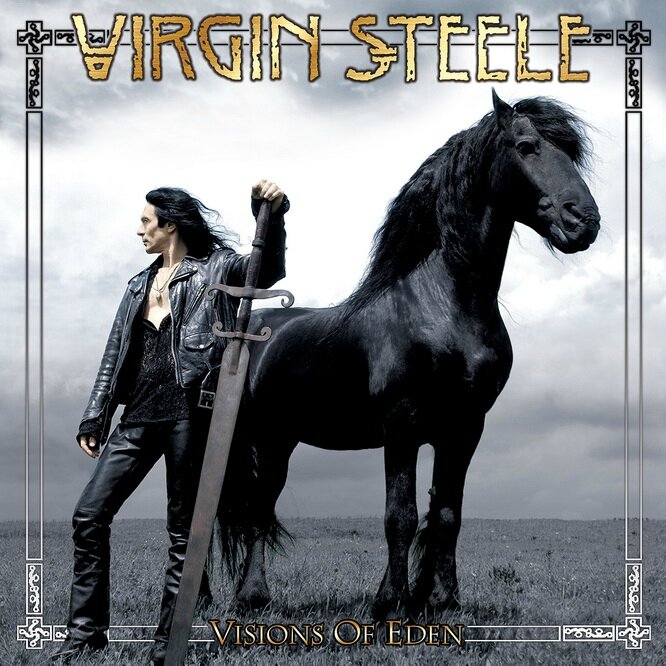 Worlwide Release Date: February 17th, 2017




Vous voulez entendre l'album original « Visions Of Eden », à la fois re-masterisé en version 'romantique' et re-mixé en version 'Barbare', en 2017? VIRGIN STEELE l'a fait en le re-sortant, justement en un digipak composé de deux CDs: sur le premier, se trouve l'album en entier, en version re-mixée et sur le second, c'est la présentation de la version originale qui se voit re-masterisée. La pochette ayant été, quant à elle, conservée identique à celle choisie une décennie plus tôt, par l'incontournable David DeFeis et sa bande.
L'esprit de ce Power Metal Opera ambitieux, épique et mélodique est, lui aussi, toujours là ainsi que son propos narrant tout sauf le bonheur, le contentement ou la paix, non, bien au contraire et c'est ce qui donne justement l'accroche de « Visions Of Eden », sa charge émotionnelle. Par contre, retravailler le mixage et/ou le master modifie l'ambiance sans toucher au fond certes, mais ce peut être risqué puisque cela fait changer l'angle d'approche de tout « Visions Of Eden ». L'intention était clairement, ici, d'éclairer « Visions Of Eden » et ses onze morceaux, sous un nouvel œil en une version 'barbare' pour le CD un et 'romantique' pour le deux, 'Power-Barbaric-Romantic Metal Band' oblige ! Ces deux aspects se complètent dans ce re-mixe / re-master, et font le charme de la mouture 2017 de « Visions Of Eden », il faut le reconnaitre. Disons qu'ici le re-mixage 'barbare' du premier CD est bien amené, laissant la part belle aux vocaux forts du maestro, mais avec la guitare toujours parlante, de l'intense et même si la batterie volontairement électronique sonne trop froidement, toujours est-il que l'accroche se fait spontanément. L'énergie est présente et se sent avec plaisir. Par contre, la version des mêmes onze titres sur le second CD, cette fois re-masterisée en un traitement 'romantique', demande un peu de temps pour apprivoiser sa dynamique remaniée et finir par s'y plonger pleinement : écoute après écoute, l'approche 'romantique' finit, justement, par faire son effet.
Un VIRGIN STEELE reste un VIRGIN STEELE, ce qui signifie que ce « Visions Of Eden » est au minimum un bon opus, un très bon même des lors que le charme opère.

Certes, depuis 1981 et treize albums studios avant celui-ci, cette édition 2017 du onzième effort de VIRGIN STEELE, ne se placera pas dans les indispensables du groupe, mais vaut d'y jeter une oreille, et pourquoi pas les deux ? :)
Tasunka

Tracklisting "Visions Of Eden":
CD 1: Re-Mixed 'Barbaric' version Tracklist:
01- Immortal I Stand (The Birth Of Adam)
02- Adorned With The Rising Cobra
03- The Ineffable Name
04- Black Light On Black
05- Bonedust
06- Angel Of Death
07- God Above God
08- The Hidden God
09- Childslayer
10- When Dusk Fell
11- Visions Of Eden
CD 2: Re-Mastered 'Romantic' Tracklist:
01- Immortal I Stand (The Birth Of Adam)
02- Adorned With The Rising Cobra
03- The Ineffable Name
04- Black Light On Black
05- Bonedust
06- Angel Of Death
07- God Above God
08- The Hidden God
09- Childslayer
10- When Dusk Fell
11- Visions Of Eden
==>"Visions Of Eden" was originally released in September 2006.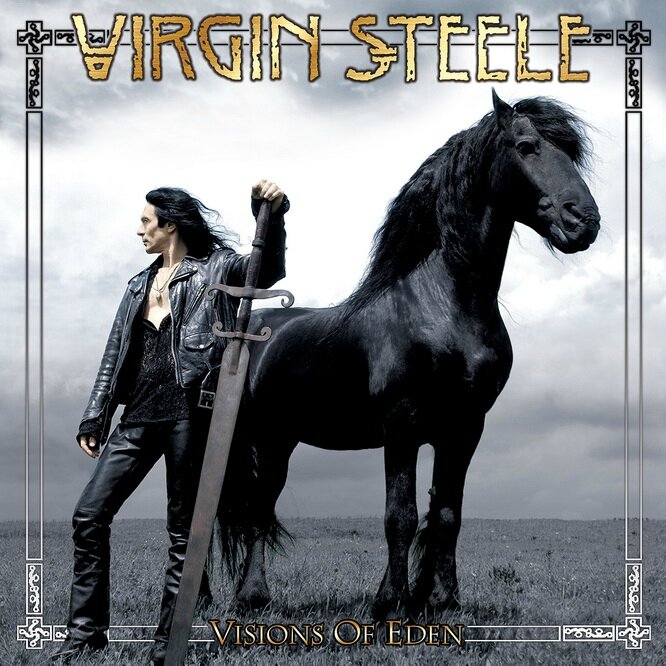 ---
Chroniques des précédents albums: cliquer ci-dessous :)

---
01 février 2017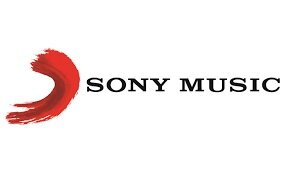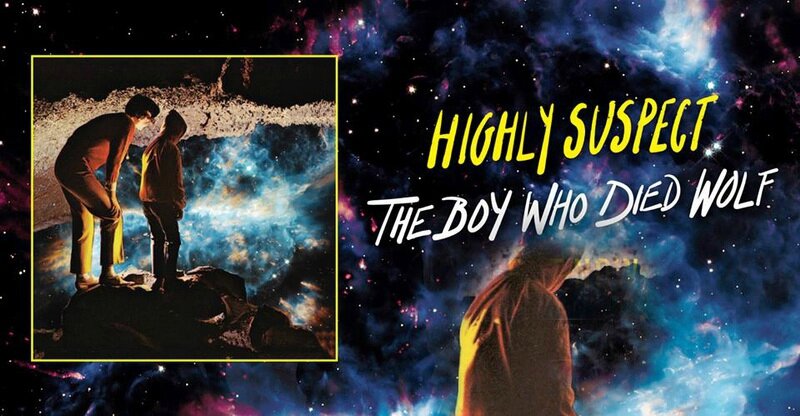 Dans le Rock Alternatif, l'arrivée de HIGHLY SUSPECT n'est pas passée inaperçue puisqu'en quelques deux ans, les américains se sont distingués avec leur musique lourde et si vivante à la fois, avec leur son organique, leur état d'esprit libre et comme l'avoue le groupe lui-même, c'est surréaliste ce qui leur arrive !
Le chanteur-guitariste, Johnny Stevens, outre sa voix, son style uniques, résume le parcours de HIGHLY SUSPECT au mieux quand il dit : 'En 2015, j'étais encore barman et me voilà deux albums plus tard grâce au groupe, à faire ce que j'aime, à vivre ce que j'aime, à être même nominés pour deux Grammy Awards..'. Les frères Meyer, Ryan à la batterie et Rich à la basse, qui sont à l'initiative de HIGHLY SUSPECT, ne pouvaient qu'approuver ce sentiment partagé par tout le trio.
En fait, ce groupe est bluffant, dans le sens où quand on entend son Rock/ Progressif où le Blues courre tout du long en base solide, quand on se prend l'intensité des sentiments qui explosent lourds ou moins, au travers des instruments sourds, des vocaux, une sensation d'être en présence d'une formation de vieux routiers du Rock / Prog se fait, tant tout parle de par sa maitrise et son naturel et vous entraine, surtout sur des perles que sont les morceaux: « Serotonia », « Chicago », « My Name Is Human », « For Billy », Send Me An Angel », « Wolf », « Viper Strike », « FWYT », mais non, ce sont bien de jeunes loups à la manœuvre, ici. Pourtant, quelle maturité doublée de spontanéité, d'intelligence au service du feeling ! Cela laisse présager que si le bande est déjà capable de délivrer un album du calibre de « The Boy Who Died Wolf », l'avenir s'annonce des plus prometteurs. Lourd, sur le fil de la limite du désaccordé, saturé, envoutant sans être lassant, le second album de HIGHLY SUSPECT est une belle carte de visite d'un groupe qui en a sous le pied et le travail racé de la production, à nouveau, comme sur le second opus « Mister Asylum » (2015) , confié aux bons soins du magicien du son, Joel Hamilton, bref, sa patte participe de même à l'accroche générale.
HIGHLY SYSPECT ont pour ligne de conduite de toujours rester fidèles à eux-mêmes, que leur musique soit un moyen réel d'expression artistique, ce qui est amplement réussi via leur second album, « The Boy Who Dies Wolf » !

HIGHLY SUSPECT seront sur la route dès février et démarreront leur tournée par Paris pour leur toute premier concert en France, à Paris le 25 Février 2017 et Arras, le 2 juillet!

HIGHLY SUSPECT, une formation à découvrir d'urgence sur album et en live ;)
Tasunka

HIGHLY SUSPECT Line-Up:
-Ryan Meyer - Drums/Vocals
-Rich Meyer- Bass/vocals/peacekeeper
-Johnny Stevens- Guitar/Vocals/synth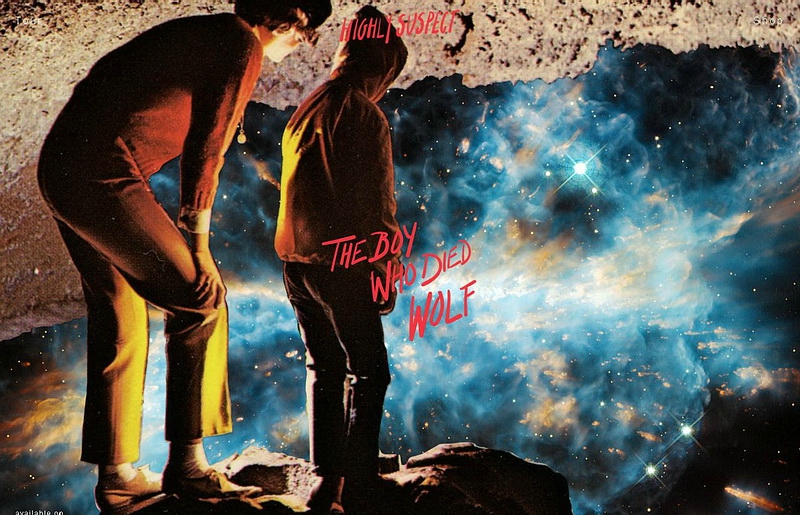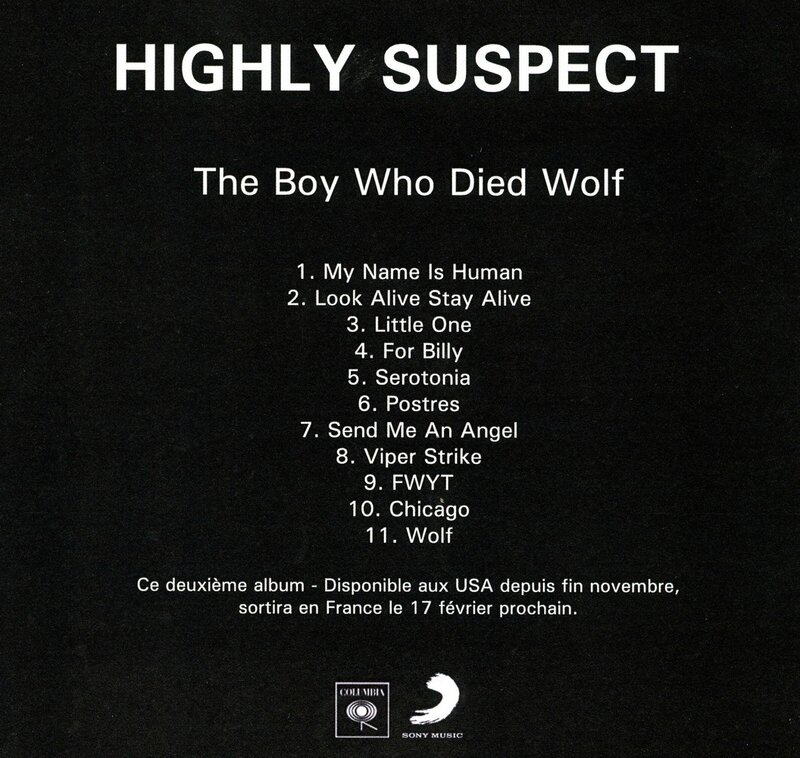 ---
==> All the Tour Dates: Click Here:)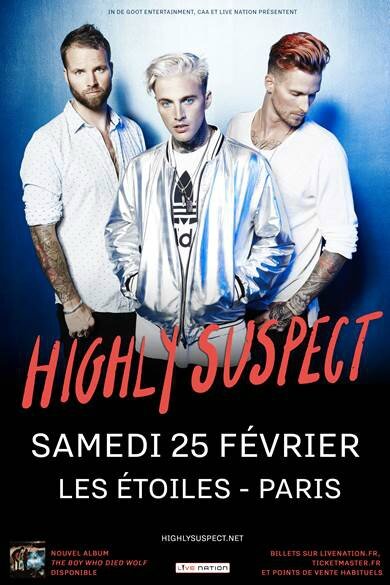 ****

Le dimanche 2 juillet
Highly Suspect
sera à l'affiche du
Main Square à Arras
avec Radiohead, Seasick Steve,
Mark Lanegan Band, Savages...
****
---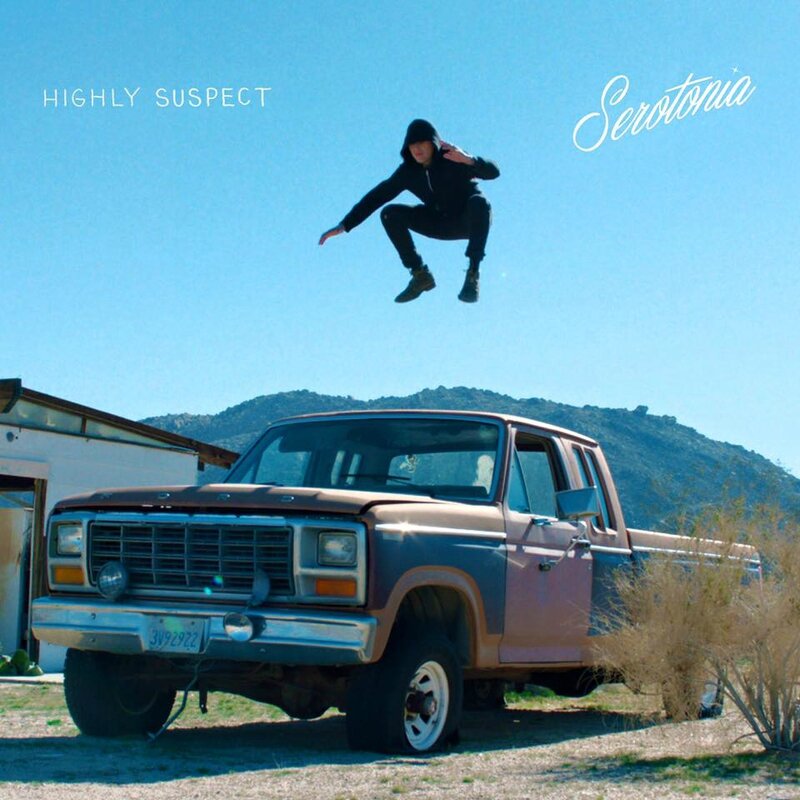 ---
---