04 novembre 2023

Since 1998
Pour toutes les infos des concerts de mai et plus, cliquer sur l'affiche ou le logo
version en ligne

Après un superbe week-end d'anniversaire à Rennes, on repart pour notre 26ème année de concerts et tournées !

La programmation de novembre
⬇ cliquez sur les vignettes pour plus d'info ⬇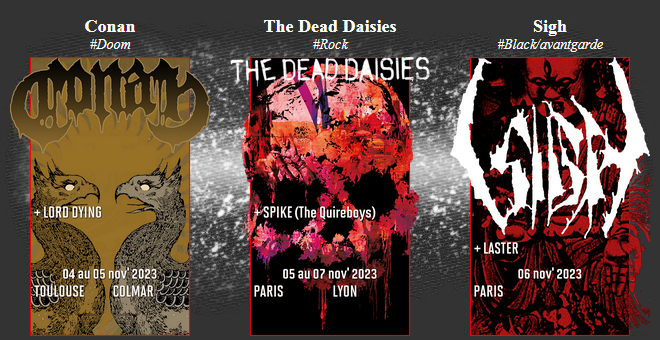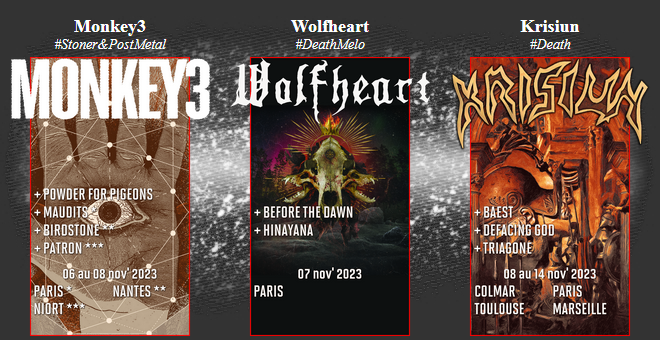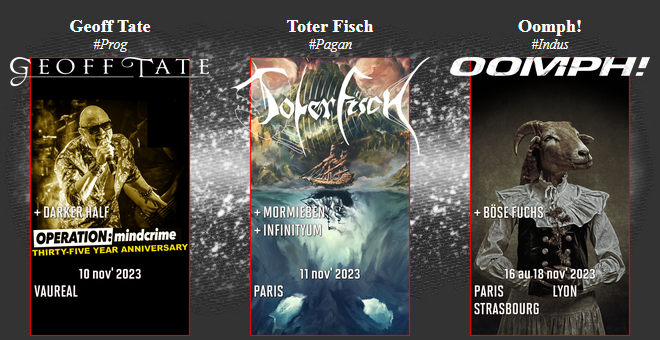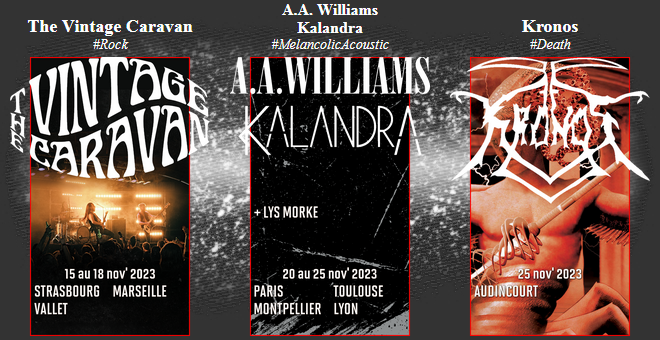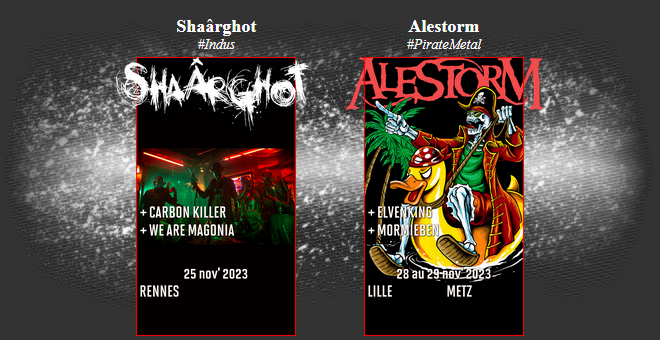 ➡ TOUS NOS CONCERTS ⬅

17 février 2017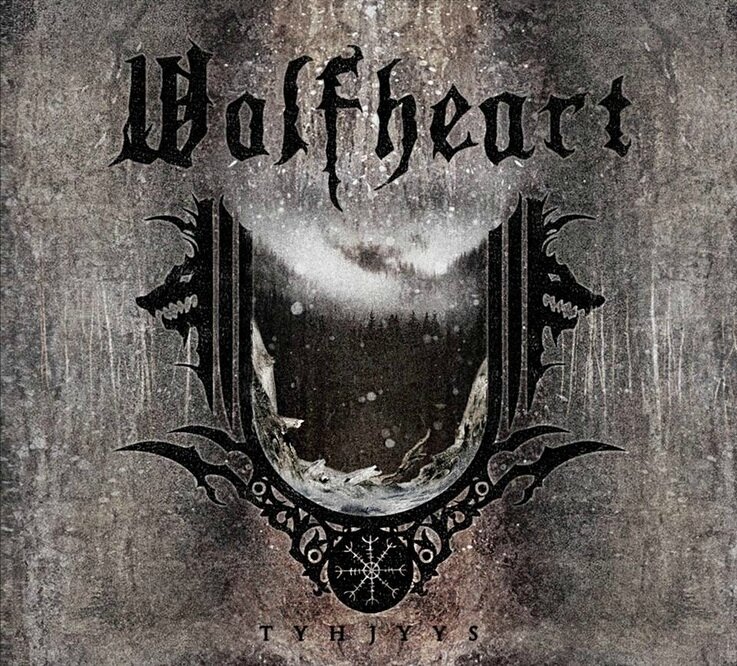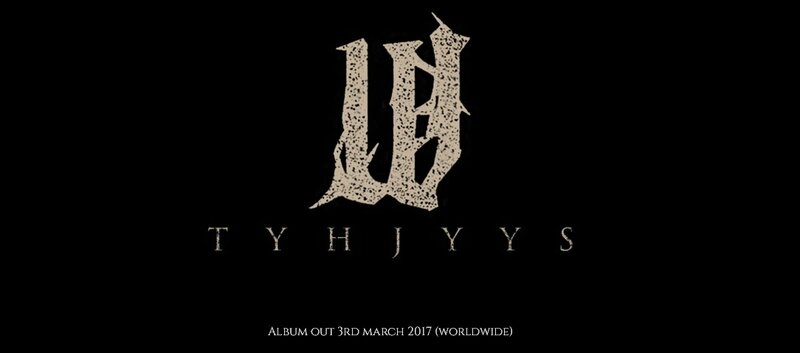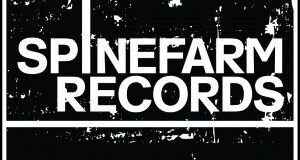 'Winter Metal', qui de mieux que WOLFHEART pour donner ses lettres de noblesse et sublimer toute l'intensité, la froide beauté qui se dégage de ce Metal aussi beau et fort que les paysages glacés et superbes des landes du nord, la Finlande, qui a vu naitre le groupe.
Ce mélange subtil et brut de Death Metal à la fois couplé à des passages de Black froid, à du Doom mélodique, ne laisse pas intacte, surtout avec la troisième et intense offrande de la meute, « Tyhjyys ». Vous citer un titre pour exemple ? Non, car tous les huit bénéficient de la même force épique et vous harponnent pareillement. Les morceaux sont un déploiement de toute la créativité dont les finlandais font preuve depuis qu'en 2012, son fondateur et charismatique, talentueux chanteur-guitariste, multi instrumentiste et compositeur, Tuomas Saukkonen a décidé de laisser ses nombreux projets pour les sublimer en un en formant WOLFHEART.
L'inspiration est à nouveau au rendez-vous pour ce troisième album, « Tyhjyys » et cela s'entend ou plutôt devrait-on dire, se ressent au travers des frissons qu'on sent monter au long des successions d'atmosphères que les guitares, le chant, les attaques, les martèlements de la batterie, les envolées lancinantes de la basse, vous procurent. Tout concorde à poser quasi la bande son d'un film: en effet, épique, dynamique, fragile et fort à la fois, les sensations se succèdent grâce à des musiciens et un chanteur en osmose et au talent affirmé dans l'interprétation, qui, tous, subliment le propos et tels une lame de fond venue du froid, subjuguent. Pour parachever l'ouvrage, le son du à le pre-production aux légendaires 'Petrax studios' (CoB, HIM, Korpiklaani etc) fait son œuvre, lui qui permet à l'album de sonner de façon naturelle, laissant ainsi parler toute la rude beauté mélodique de ce 'Winter Metal'.

Indispensables WOLFHEART et « Tyhjyys » : l'un de ces albums qui touche et qu'on aime faire défiler encore et encore pour toute sa similitude avec les uniques paysages de Finlande : richesse, force et rudesse doublée de fragilité et intense toujours.
Un must de disque, qui est le contraire de son nom « Tyhjyys / Emptiness / vide » : riche !
Le troisième jour du troisième mois, le troisième opus de WOLFHEART voit le jour : alors, ce jour-là, ralliez la meute pour une course unique en sa compagnie !
Tasunka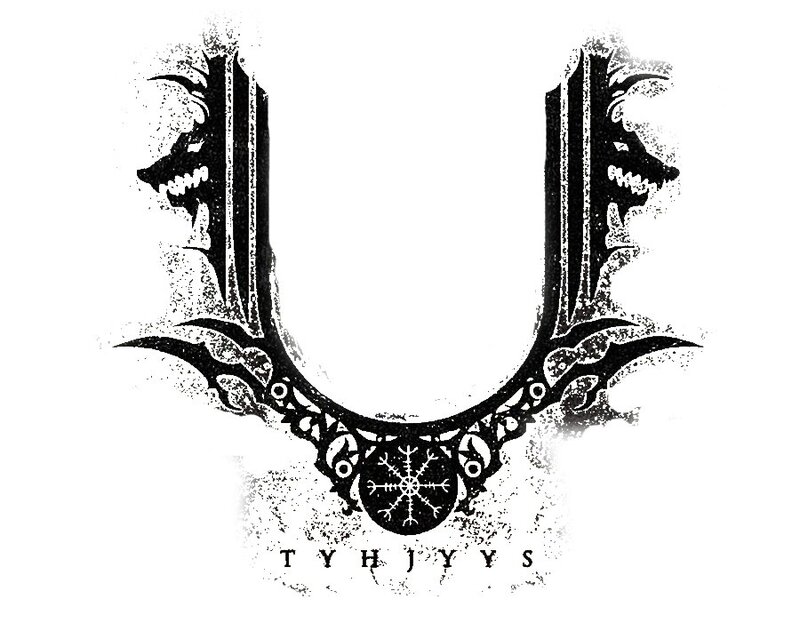 01. Shores Of The Lake Simpele
02. Boneyard
03. World On Fire
04. The Flood
05. The Rift
06. Call Of The Winter
07. Dead White
08. Tyhjyys
Cover by: Nikos Stavridakis / VisionBlack
***
==> Pre-orders:
http://www.madsupply.com/en/shop/band+merchandise/wolfheart
***
---
---



-Tuomas Saukkonen - lead vocalist & guitar (Before The Dawn, Black Sun Aeon, Dawn Of Solace, Routasielu)

-Mika Lammassaari - guitar (Eternal Tears of Sorrow, Mors Subita)

-Lauri Silvonen - bass & backing vocals (Bloodred Hourglass)

-Joonas Kauppinen - drums (Disease of the Nation)
Endorsements: Amfisound, Birdz Customz, Yamaha, Dingwall, Impression, Silverblade, Fazer etc...
---
---

---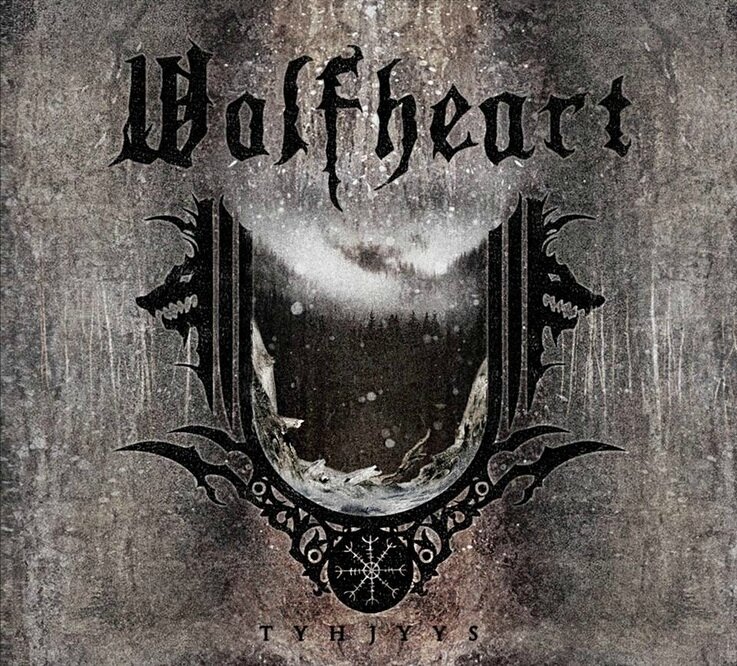 ---