25 octobre 2019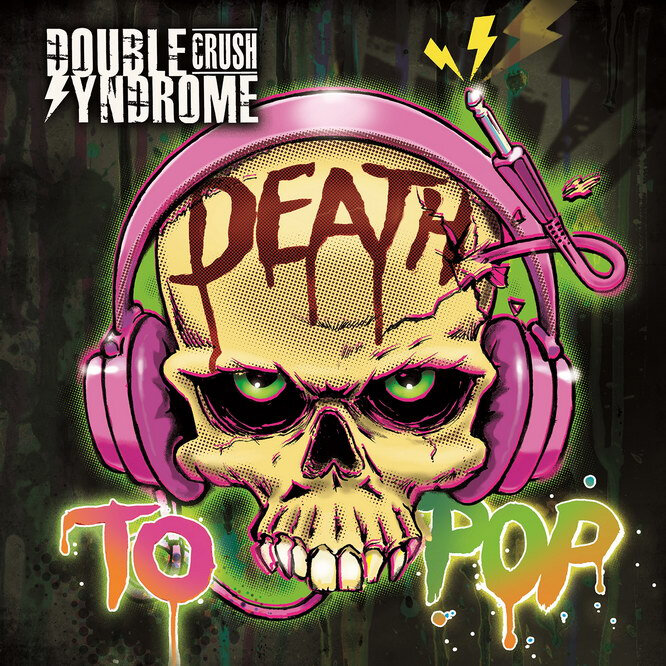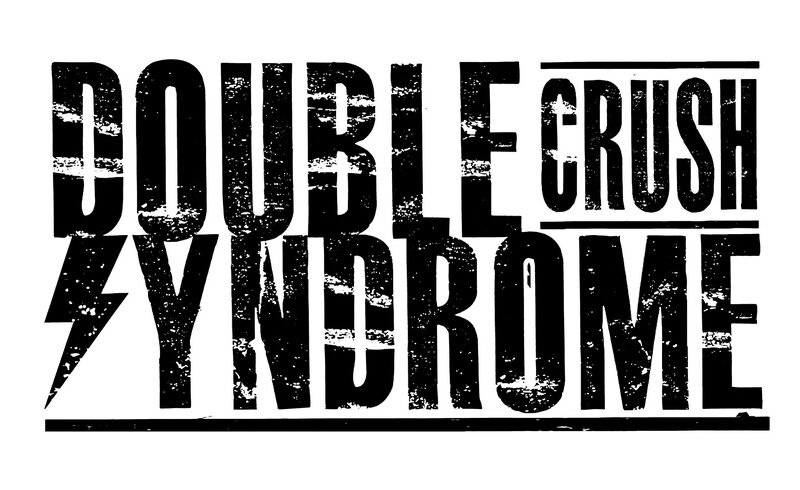 -- Release date: 25 Oct. 2019 --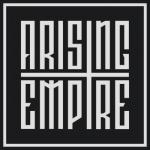 Après « Die For Rock'n'Roll » qui, en hors d'œuvre, donnait le ton des réjouissances PunkRock / Metal, voici qu'arrive, pied au plancher, le second album des énergiques DOUBLE CRUSH SYNDROME et là, le plat de résistance est du meilleur tonneau Rock/Punk/Metal, fort réjouissant, donc et puisque la bande déclare son envie de 'sauver le Rock', pas moins, alors, ce second effort ne pouvait que se nommer « Death To Pop », natürlich ! :)
C'est que le trio allemand emmené par son doué, volontairement électron libre de guitariste, chanteur, producteur, réalisateur de films, Andy Brings, en a sous le pied et à eux trois, c'est à part égale que les vocaux, guitare, basse et batterie s'y entendent et savent incontestablement mettre le feu, faisant adhérer à chaque morceau et à la dose d'énergie dégagée et ce, avec une aisance remarquée. Le groupe se fait plaisir et sait le faire partager, d'autant que les titres sont nerveux, courts comme il se doit pour garder l'esprit Rock Punk, Metal en pleine action. Sur près de 37 minutes, l'accroche se fait du début à la fin, en passant notamment par le titre phare « Death To Pop », le tout autant fédérateur et remarqué « Souls To Sell » sur lequel les vocaux sont assurés par le bassiste Slick Prolidol ou encore par « Tonight », " We Cannot Be Ruled ", « Cocaine Lips », entre autres. En pur fun à l'image de la pochette, le final « Die Berühmten Drei Worte » détonne et en même temps, cette reprise de Andy Borg, confirme le tableau d'un artiste doué et ses potes de même talent, qui savent délirer. Fort d'une production à la hauteur, l'ex VENOM-THE TRACEELORDS-POWERGOD, délivre avec DOUBLE CRUSH SYNDROME un second album où ses comparses et lui s'y entendent pour fédérer !
Alors, volume à fond et à pleins poumons, on reprend en chœur avec DOUBLE CRUSH SYNDROME : eins, zwei, drei,« Death To Pop » !!!

Tasunka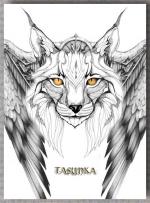 "Death To Pop" Tracklisting:
01. Whore
02. Death To Pop
03. Refuse To Kiss Ass
04. Cocaine Lips
05. Souls To Sell (Vocals by Bassist Slick)
06. I'm In Love With You
07. With Me
08. Mistakes We Love To Make
09. We Cannot Be Ruled
10. Tonight
11. Die Berühmten Drei Worte (Andy Borg cover)
-"Death To Pop" written by Andy Brings & Uwe Hoffmann
-Produced by Uwe Hoffmann & Andy Brings
-Mixed By Hoffmann, Brings, Mölders
-Mastered by Eroc
- Andy Brings : V/G
- Slick Prolidol : B/V
- Markus Herzog : D
---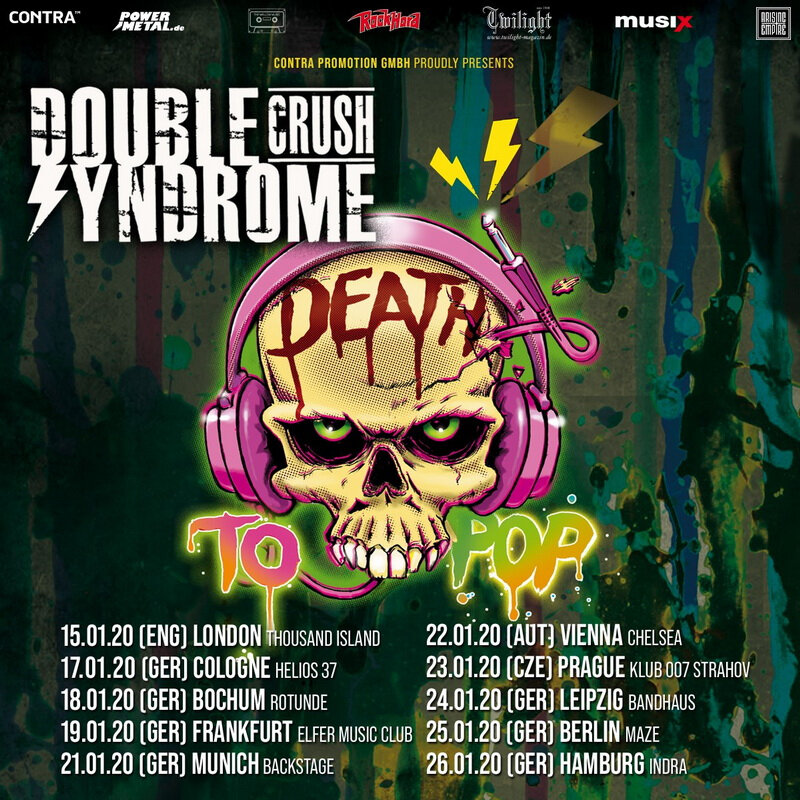 ---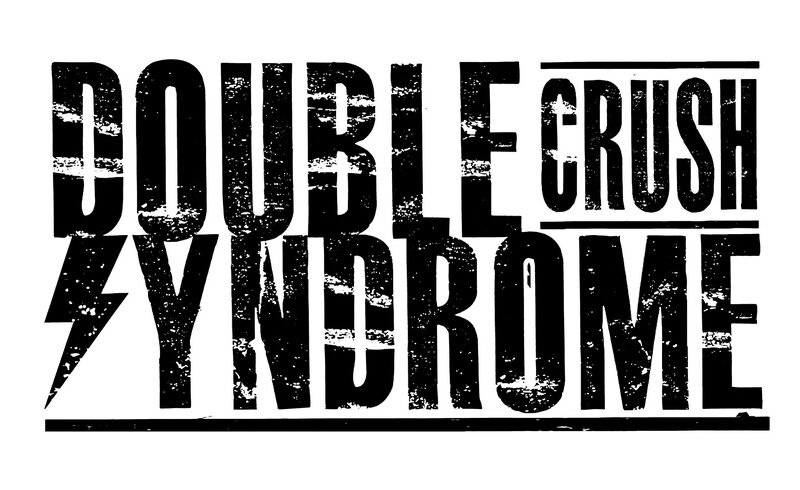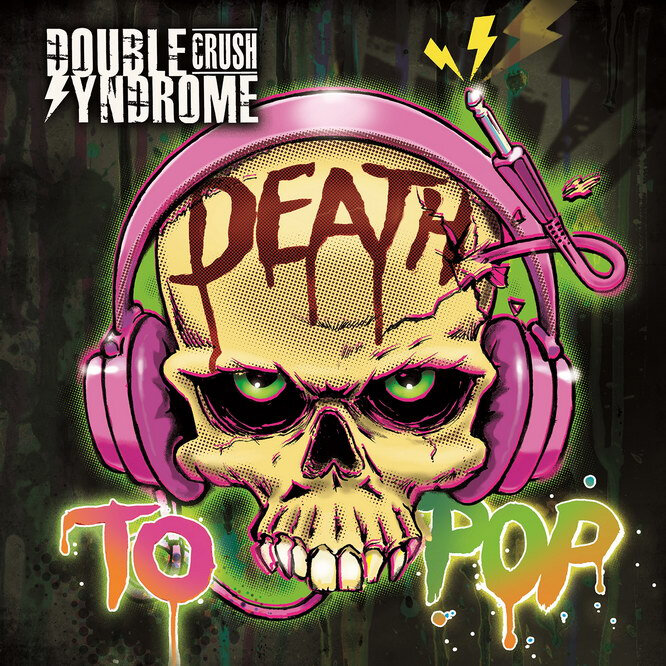 ---
05 août 2016


Liste des titres/ Tracklist "Southern Native" :
01. Need My Ride
02. Southern Native
03. Everyman
04. Call Of A Hero
05. Take Me Home
06. Whiskey Train
07. Satisfied Man
08. Ohio
09. Love This Town
10. Diablo Loves Guitar
---

Nouvel album - Sortie le 5 août 2016
Distribution Warner Music
Formé à l'origine dans les années 70 par Rickey Medlocke, à travers cette nouvelle incarnation, BLACKFOOT perpétue la grande tradition du Southern Rock !
Blackfoot, le groupe de rock sudiste américain formé dans les années 1970 par l'actuel guitariste de Lynyrd Skynyrd, Rickey Medlocke, est donc de retour avec un nouveau line-up et sortira un nouvel album, « Southern Native », le 5 août prochain sur Loud & Proud Records. Il aura fallu près de deux ans à Medlocke pour composer, enregistrer et produire cette nouvelle galette.
Blackfoot a toujours été perçu comme le plus « hard rock » des groupes « sudistes », notamment grâce au succès de titres légendaires tels que « Train, Train », « Highway Song » ou « Good Morning ». En France, on se souvient aussi des glorieux concerts du groupe en 1ère partie d'Iron Maiden ou Scorpions !
En 2012, le toujours robuste Rickey Medlocke, a donc décidé de recruter un nouvel ensemble de musiciens afin de faire renaître son groupe de toujours. Basé à Jacksonville, sa ville natale, Blackfoot se compose désormais des guitaristes/chanteurs Tim Rossi et Rick Krasowski, du bassiste Brian Carpenter et du batteur Matt Anastasi. C'est ce quatuor que Medlocke a désigné pour reprendre le flambeau là où l'avait laissé dans les années 90.
« Ce disque est une sorte de tête à tête entre l'ancienne et la nouvelle école... du classic rock interprété par une nouvelle génération » commente Rickey Medlocke
« Dans le passé Rickey avait déjà établi un pont entre les générations en invitant son grand-père Shorty Medlocke à jouer sur les premiers disques de Blackfoot.» commente Tim Rossi « et c'est un peu la même chose aujourd'hui. Avoir Rickey qui joue de la slide et partage des parties de guitare avec nous, permet au groupe de passer un nouveau cap et d'entrer dans une nouvelle ère. Ainsi, en quelque sorte, la boucle est bouclée…»
Mieux que de beaux discours les meilleures preuves de ce fier héritage se retrouvent dans les morceaux qui composent « Southern Native ».
De la chanson titre en passant par « Take Me Home » et même dans « Ohio », la reprise de Crosby, Stills, Nash & Young, l'on sent que la puissante identité de Blackfoot est belle est vivante. Une force ancrée dans le sud des Etats-Unis qui l'est impossible de renier et que les musiciens n'ont pas manqué de développer ces dernières années en tournant de manière incessante avant d'entrer en studio pour écrire ce nouveau chapitre de l'histoire d'un groupe mythique…
---

If there's one thing Rickey Medlocke can't do, it's sit still. The Blackfoot cofounder and Lynyrd Skynyrd guitarist is constantly looking for ways to challenge his creative impulses, and his latest pet project has been to shepherd the next-generation incarnation of his beloved Blackfoot. Under Medlocke's steady guidance, the Florida-based foursome — lead guitarist/vocalist Tim Rossi, guitarist/vocalist Rick Krasowski, bassist Brian Carpenter, and drummer Matt Anastasi — has been jamming together live under the vaunted Blackfoot banner for quite some time, and now they're ready to release a hard-charging new album on Loud & Proud Records, Southern Native, that beautifully meshes traditional tones with modern sensibilities.
---
---
---
04 septembre 2015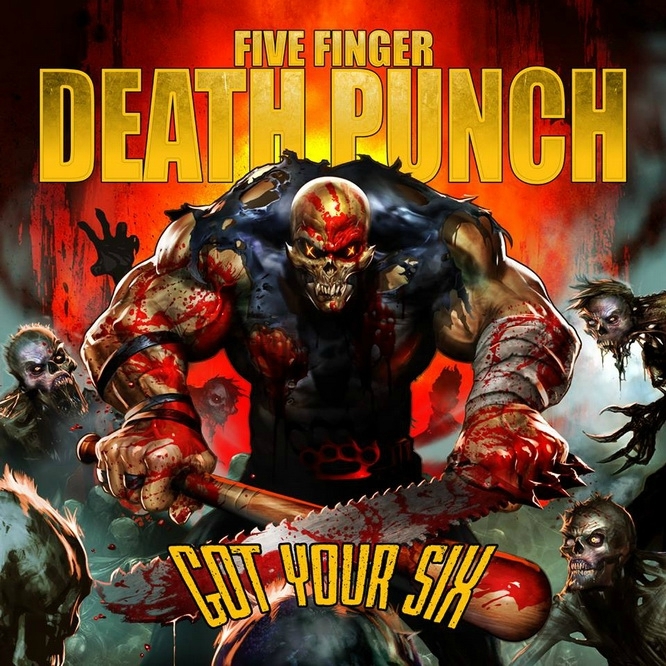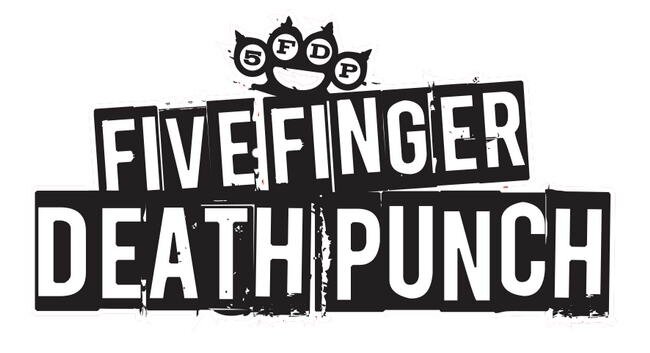 (Eleven Seven Music - Distribution ADA/Warner)
==> Release date: 04th Sept. 2015
2015 marque une 'décennie de destruction' pour FIVE FINGER DEATH PUNCH et les américains délivrent leur plus 'rentre-dedans' opus en date, « Got Your Six », pour cet anniversaire!
Happy 10th anniversary FIVE FINGER DEATH PUNCH ! :)

L'idée du premier single, « Jekyll And Hyde », est partie d'un message vocal de Ian Moody, le chanteur du groupe, qui, inspiré vers deux heures du matin, a laissé sur le répondeur du lead-guitariste, Jason Hook, une bafouille expliquant, en la scandant, son idée de morceau. Jason Hook, qui apprécié ce qu'il entendait, a construit ses riffs autour, et transféré le tout, en MP3, au reste de la bande, qui a adhéré de suite sur un 'That's pretty cool !' général, de la part, donc, du batteur aux rythmiques en béton et feeling armés, Jeremy Spencer, de Zoltan Bathory qui complète le duo d'enfer des guitares, de ses rythmiques percutantes, Chris Kael à la basse imparable.
Voilà pour la petite histoire derrière cet "uppercut" de titre qu'est: « Jekyll And Hyde ». Comme quoi, Ian Moody a bien fait d'être insomniaque et Jason Hook a été bien inspiré de suggérer au frontman de lui laisser un message à chaque nouvelle de ses idées, plutôt que de les laisser se perdre. Eh non, le frontman n'a pas de moyen technique d'enregistrement dernier cri et préfère cette méthode. Le message original a, d'ailleurs, été laissé en intro du titre, une fois l'album produit, histoire de montrer que FIVE FINGER DEATH PUNCH, c'est de l'authentique, un groupe au Metal 'coup de poing', qui vient des tripes et du cœur, puisqu'il sait être mélodique quand le besoin s'en fait sentir.
Il est à souligner que tout le nouvel effort se montre plus brut que ses prédécesseurs, à l'image de « Hell To Pay » qui a ce martèlement, cette cadence Heavy que n'aurait pas renié RAMMSTEIN et ces riffs au groove de malade qui arrachent tout, ainsi que des vocaux et chœurs du même ordre, comme tout l'album « Got Your Six », d'ailleurs. Carré, solide comme le Metal, comme peut l'être le racé « Wash It All Away » écrit par Jason Hook lors de leur dernière tournée, et qui présente différents tempos, ce qui participe à l'accroche imparable du titre ou le méchamment direct et percutant titre d'ouverture, « Got Your Six » qui vous coupe le souffle avec ses riffs et soli de tueur, ses vocaux et rythmiques frénétiques, à la cadence aussi rapide qu'une rafale de mitrailleuse tout comme « No Sudden Movement » ou les génialissimes « Meet My Maker » / « Boots And Blood ». Le groupe est habitué au Metal 'direct dans ta face' mais aussi à laisser l'émotionnel parler à chaque album, avec des mid-tempos chargés d'émotions 'mélos' comme « Digging My Own Grave » peut l'être, mais toujours avec ce Heavy massif qui soutient l'ensemble et rend le tout poignant, comme toujours avec 5FDP, il faut dire. Ce titre a, au passage, été le dernier morceau écrit pour « Got Your Six », alors que 5FDP étaient déjà en tournée et donc, enregistré dans un autre studio que le reste de l'album. « My Nemesis » porte, quant à lui, la signature du jeu en lead de Jason Hook, signature immédiatement identifiable notamment sur ce track qui est l'un des moments forts de l'album ; le titre étant basé sur une solide fondation due aux instruments, les vocaux de Ian Moody sont ensuite venus s'y rajouter tels la cerise sur un gateau déjà alléchant.
Vous l'aurez compris, « Got Your Six » de FIVE FINGER DEATH PUNCH, plus brut que ses prédécesseurs, se révèle être un album incontournable, très réussi à tous les niveaux dont sa production efficace au possible due à Kevin Churko tout comme son artwork et qui pose encore plus le quintette au sommet, la place qu'il mérite sans conteste: 5FDP, c'est du lourd, du grand !

Un 'fu… ' groupe pour un 'fuc…' Metal, vibrant d'émotions fortes, rentre-dedans toujours et qui vous fait dresser les poils, assurément !

A ne pas manquer le groupe en tournée européenne et en France le 15 novembre 2015 à Strasbourg et Paris, le 24 novembre : faites chauffer vos cervicales, l'attaque est imminente ! :)

Tasunka
5FDP Line-Up :
-Ivan Moody: V
-Zoltan Bathory: G
-Jeremy Spencer: D
-Jason Hook: Lead G
-Chris Kael: B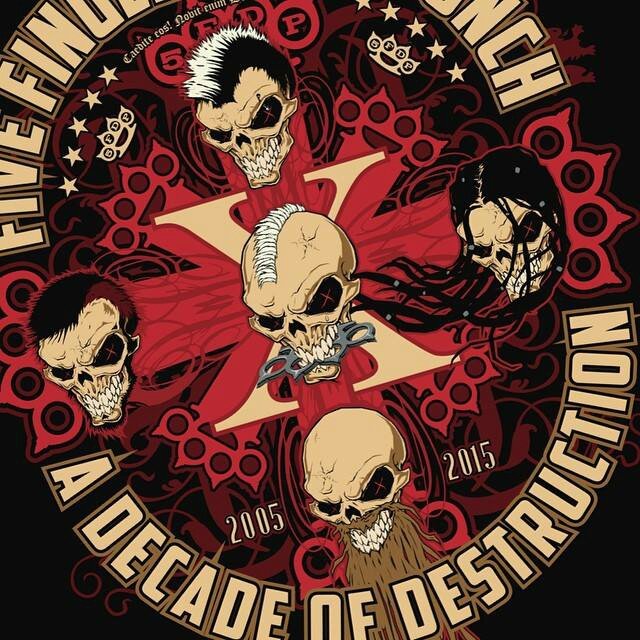 ---

Click here to know all the USA / Europe tour dates 2015

==> EN CONCERT<==
--DIMANCHE 15 NOVEMBRE 2015 A STRASBOURG / LA LAITERIE

--MARDI 24 NOVEMBRE 2015 A PARIS / OLYMPIA

---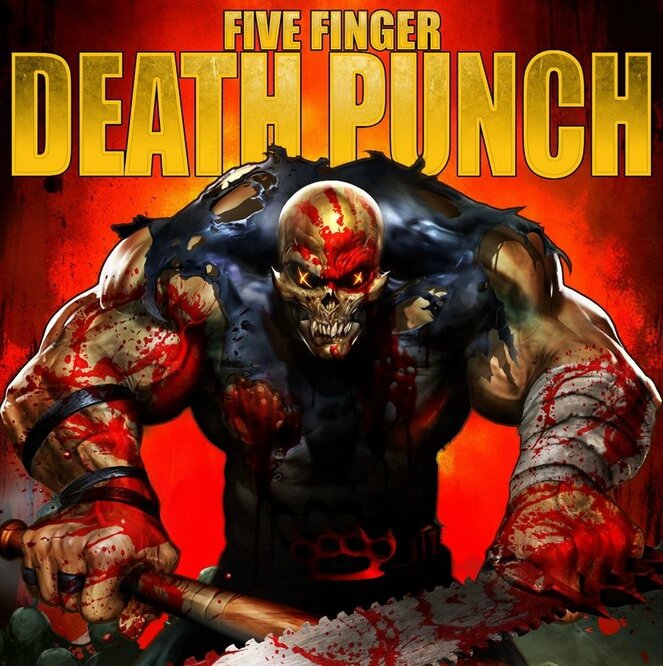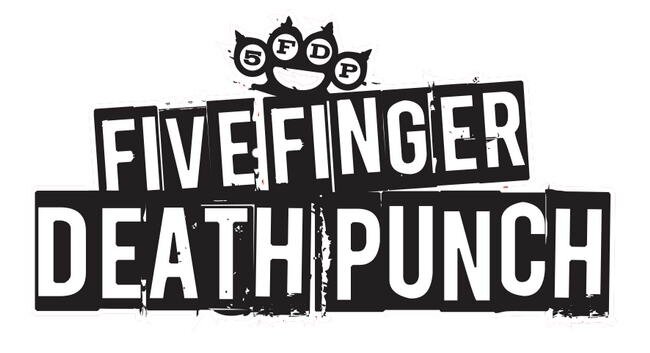 ---