04 novembre 2023

Since 1998
Pour toutes les infos des concerts de mai et plus, cliquer sur l'affiche ou le logo
version en ligne

Après un superbe week-end d'anniversaire à Rennes, on repart pour notre 26ème année de concerts et tournées !

La programmation de novembre
⬇ cliquez sur les vignettes pour plus d'info ⬇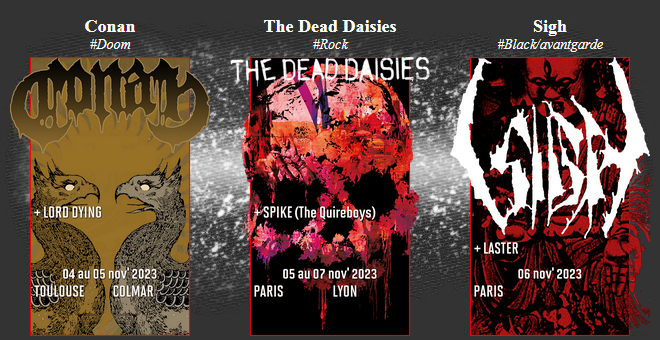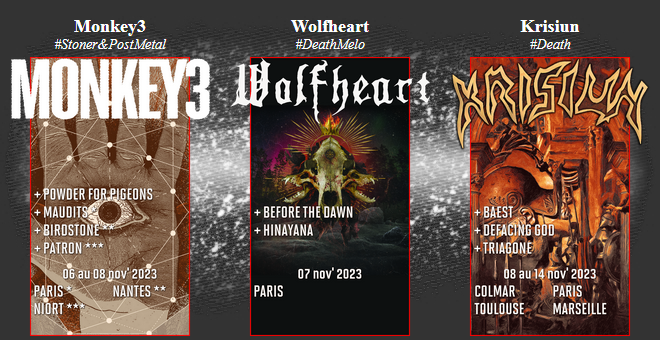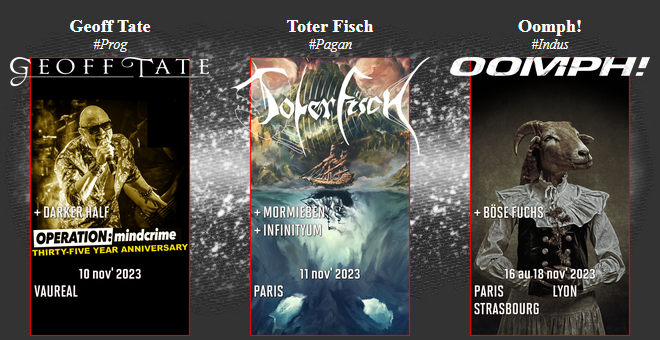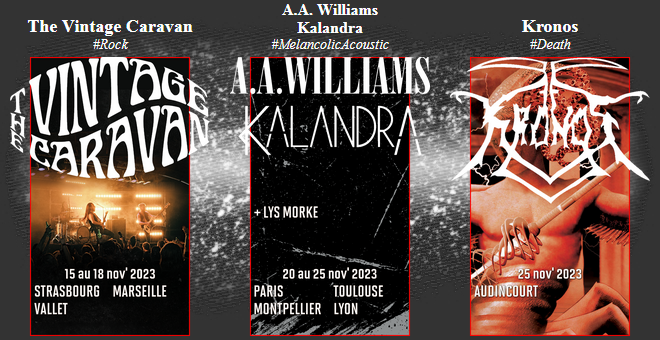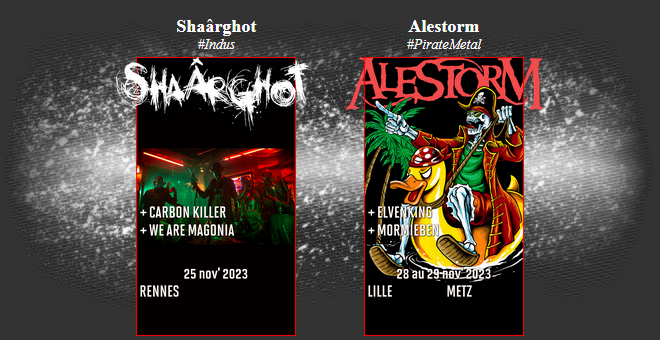 ➡ TOUS NOS CONCERTS ⬅

13 juillet 2017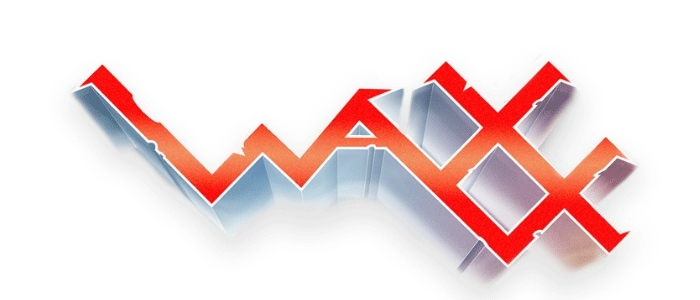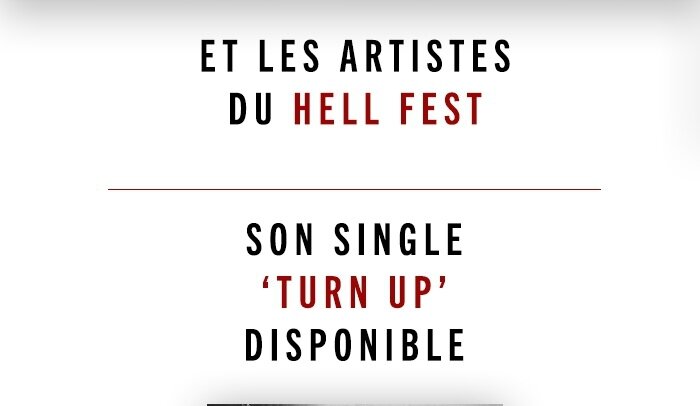 WAXX @ HELLFEST 2017:
'Walk this Way' en medley avec Chuck D de Prophets of Rage, Avatar, Evergrey, In Flames, Trust, The Dead Daisies, The Treatment, Ugly Kid Joe, Saxon, Emperor..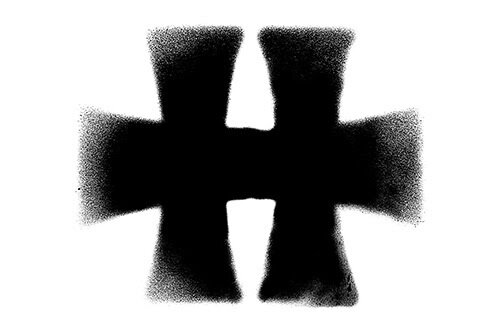 ---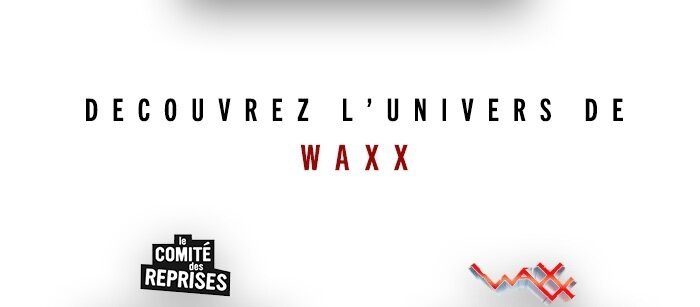 ---
18 mai 2017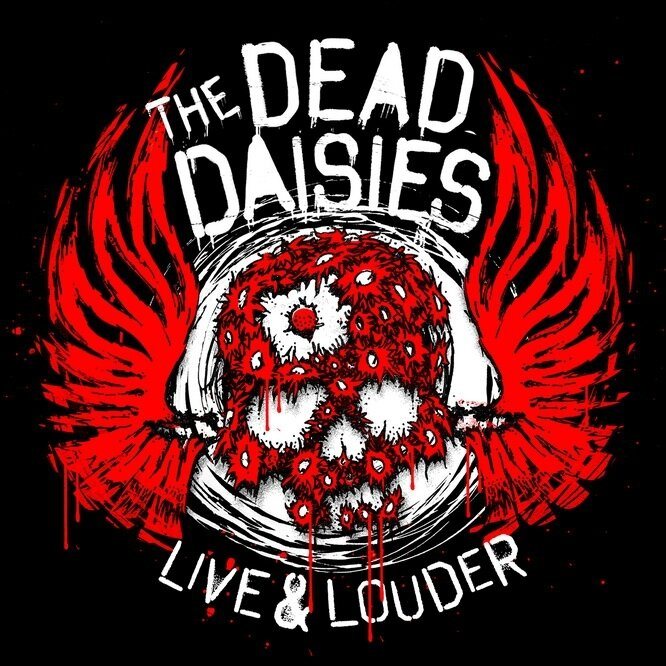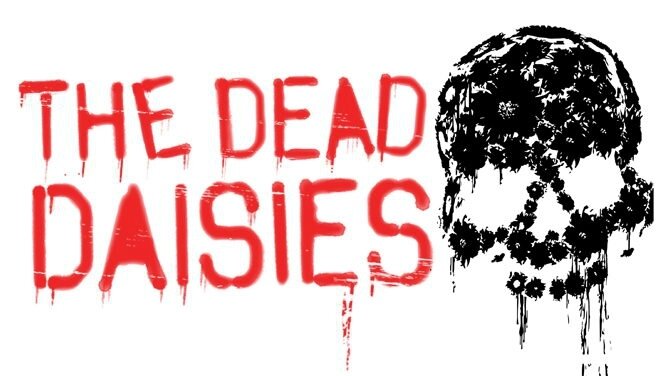 ==> Release Date : May 19th, 2017 <==
Territory: World (ex Japan)
=(Spitfire Music / SPV)=
Déclarant combien ils sont excités et fiers de leur « Live & Louder », les THE DEAD DAISIES peuvent assurément l'être:quand un groupe de ce calibre sort un premier live hautement réclamé par tous leurs nombreux fans, il est clair que les petits plats sont mis dans les grands et toutes les attentes comblées. Enregistré magistralement par la même équipe qui s'est chargée du précédent et superbement accrocheur album studio « Make Some Noise » (chronique ici), « Live & Louder » aligne, en effet, les compteurs au maximum à tous niveaux: d'abord et avant tout celui de l'efficacité imparable d'un Hard Rock péchu, hymnique, classieux et spontané, nourri au meilleur des racines seventies, débuts 80's et ce, sans passéisme aucun et avec cette patte personnelle classieuse qui distingue THE DEAD DAISIES. Une patte Hard Rock libre comme l'air, des plus entrainantes, hautement, positivement prenantes et qui met tout le monde d'accord. Les compteurs sont de même au taquet pour ce qui est de la bande, au line-up qui semble enfin stable et assurément soudé, une troupe complice au possible et qui donne tout : chacun s'éclate et communique, fait vibrer sa passion et un de ces plaisirs à être sur scène lors de cette tournée 2016.
Les captations pour ce live, qui a emmené la troupe en Europe et au-delà, Japon compris, ont ainsi été faites au choix à Paris, Vienne ou encore Hambourg, Munich, pour exemples. Quant à la set-list entre morceaux originaux et reprises de choix, elle assure elle aussi, pour garder l'intensité à son maximum tout du long. Que rajouter ? Rien, « Loud & Louder » parle de lui-même dès qu'il est dans le lecteur audio ou DVD. Ce must de live remplissant, en effet, toutes les attentes et plus encore : sur et devant la scène, c'est un raz de marée d'enthousiasme, de moments marquants où chacun s'éclate à l'unisson.
Les multi talentueux et hautement reconnus et appréciés membres de THE DEAD DAISIES, viennent de délivrer un premier live , « Live & Louder »…un indispensable de live à savourer volume à fond!
THE DEAD DAISIES seront de retour en France pour deux dates en juin: au Forum Vaureal (16 juin) et au Hellfest (17 juin) (voir ci-dessous) : si vous ratez ça ou ce live et leurs albums, alors, c'est que vous êtes perdu pour le Rock'n Roll ;)

Tasunka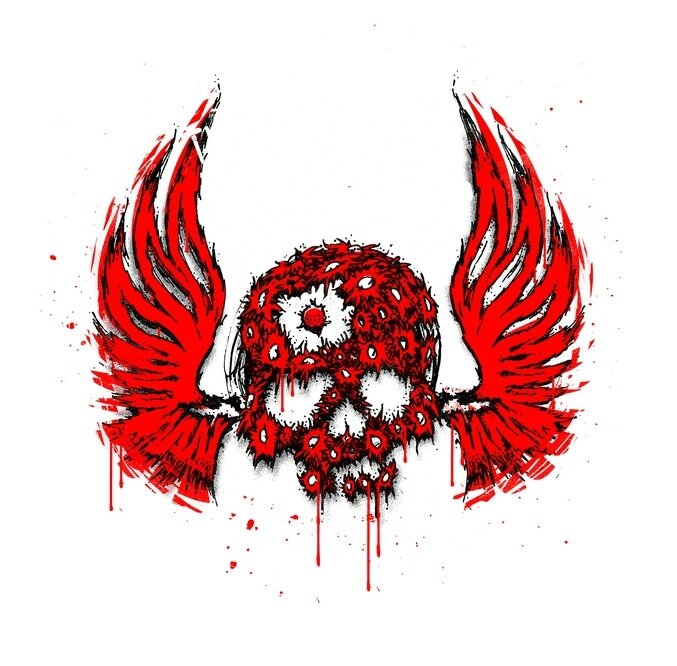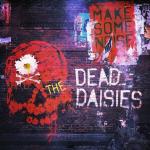 "Make Some Noise" (2016): French Review / Chronique : click here / cliquer ici
---
"Live & Louder" Tracklisting Digipack+DVD :

01. Long Way To Go 4:47 *
02. Mexico 5:15 **
03. Make Some Noise 02:59 *
04. Song And A Prayer 3:39 *
05. Fortunate Son 4:01 (Cover of Creedence Clearwater Revival) *
06. We All Fall Down 3:43 *
07. Lock ' N' Load 5:12
08. Something I Said 5:19 **
09. Last Time I Saw The Sun 5:13 *
10. Join Together 6:30 ((Cover Of THE WHO) *
11. With You And I 5:06 **
12. Band Intros 5:05
13. Mainline 4:54 *
14. Helter Skelter 6:57 (cover of the BEATLES)
15. American Band 3:27 (cover of Grand Funk Railroad)
16. Midnight Moses 5:31 **
-From "Make Some Noise" album: *
-From "Revolucion" album: **


DVD content:

total playing time: 85 min
language: English
video: NTSC / 16:9
audio: 2.0 Stereo

Documentary "Live & Louder" (40min)
01. Intro
02. Looking back at 2016
03. Touring with the Daisies
04. Doug Aldrich
05. Show Preparation
06. Stage Fright
07. Song Favorites
08. Cover Songs
09. The Signing Sessions
10. Looking to the Future

Tour Recaps (25 min)
01. Recording
02. Musikmesse / Hessentag
03. Summer Tour
04. Freedom to Rock Tour
05. Arizona Cardinals
06. Japan / South Korea – U.S.O.
07. Kiss Kruise
08. Fall/Winter Tour

Bonus Content (20min)
01. Slideshow Best of 2016
02. Videoclip: Song and a Prayer
03. Videoclip: Join Together
04. Videoclip: Long Way to Go
05. Videoclip: Make Some Noise


CONTENT BOXSET:

- 2LP (279651)
- CD Digi + DVD (279652)
- 7" red Vinyl Single
(live at Planet Rock Radio UK: My Generation, American Band, Maggie May, Ramble On)
- A1 Poster
- Sticker
- Button
- Patch
- A5 Photocard
- size of the box: 31,5 cm x 31,5 cm
- hard cardboard material with top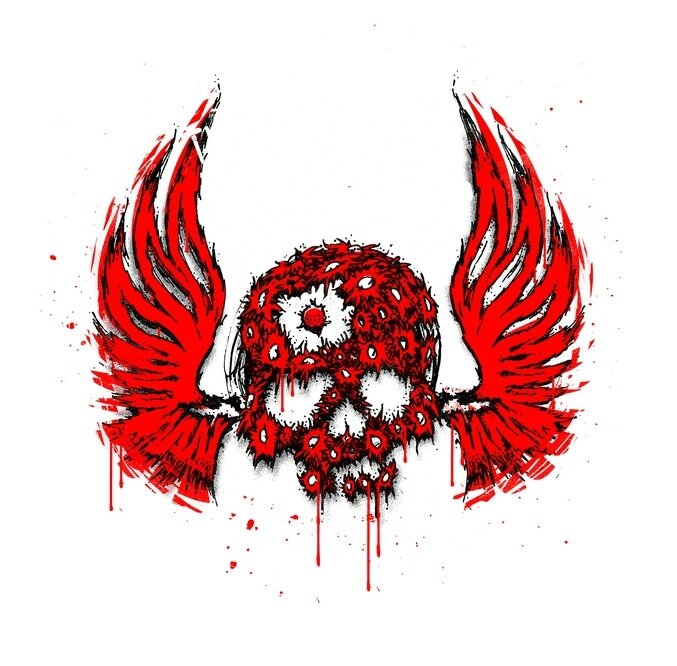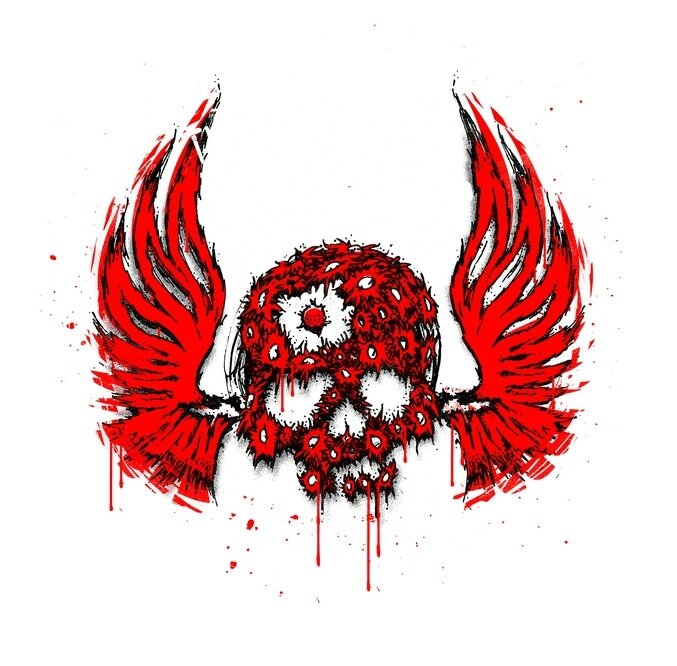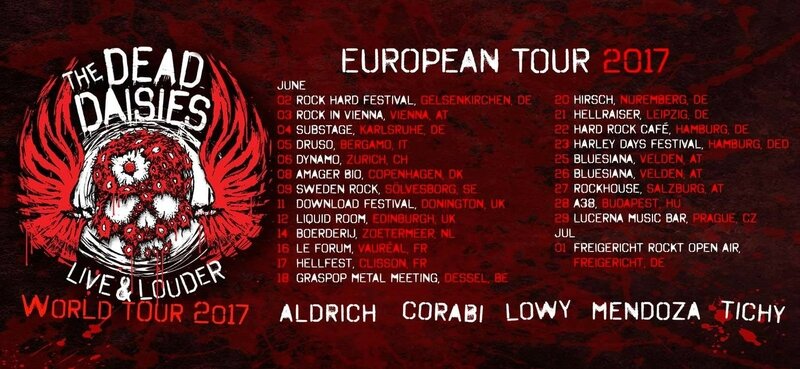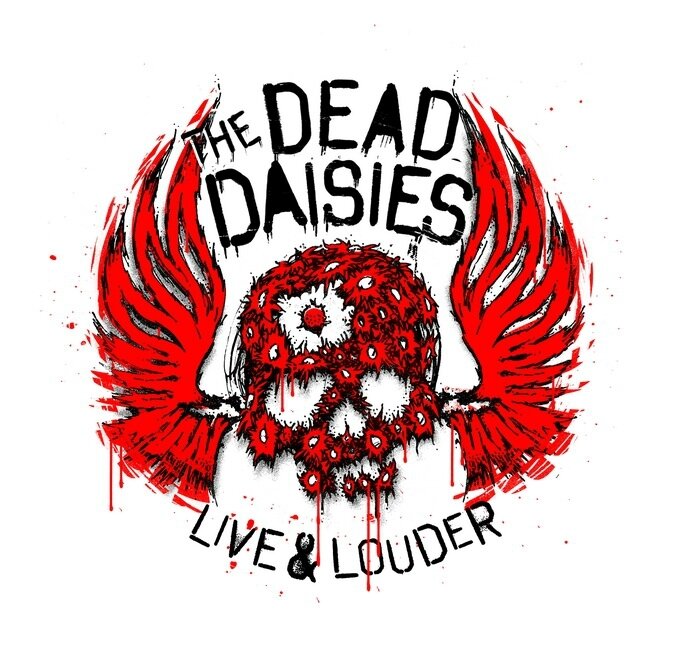 ---
08 décembre 2016
==>The CD and the Vinyl-version have a different Cover Artwork! ;)
/ Les versions CD et VYNILE ont chacune leur pochette! ;)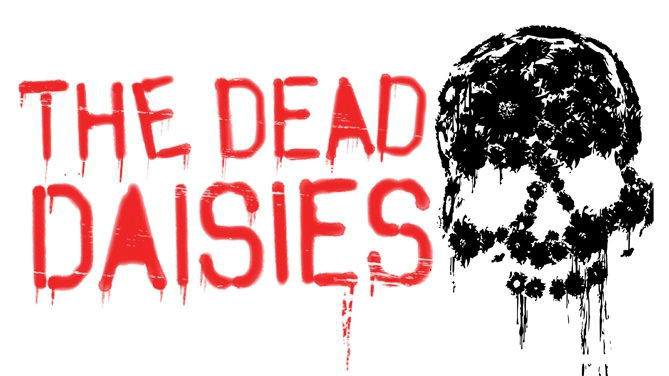 Release Date : August 05th, 2016
Territory: World
=(Spitfire Music / SPV)=
Difficile de mettre la barre plus haute côté line-up de rêve comme celui que peut aligner ce collectif musical qu'est THE DEAD DAISIES, difficile aussi de voir le Rock'n' Roll intemporel, son esprit de liberté, de fun, de pur plaisir et de puissance dynamique en diable, mieux représenté et salué, interprété, qu'avec cet all-star project sorti tout droit des intentions de son fondateur de guitariste et compositeur : David Lowy (Red Phoenix, Mink).
Pour ce troisième opus à la formation de nouveau cinq étoiles et au titre évocateur, « Make Some Noise », le ton est donné, c'est option volume à fond et plaisir garanti. Hautement addictives, les dix nouvelles compositions plus deux reprises, vont vous rentrer sous la peau, vous enflammer avec leur Rock aux solides bases qui plongent dans les racines Rock / Hard Rock 70's - début 80's et ce, qu'il soit plein gaz, plus mid-tempo et toujours passionné et bien entendu, hymnique à souhait. L'expérience des pointures (line-up en fin de chronique) à l'origine de cette petite perle d'album assure à tous niveaux et n'a d'égale que l'enthousiasme, le pied pris de façon évidente par tous les protagonistes de ce « Make Some Noise » et de même pour Marti Frederiksen (Aerosmith, Def Leppard, Mötley Crüe, Buckcherry) qui a, lui aussi, visiblement allié plaisir et professionalisme, en enregistrant et produisant ce numéro trois de chez THE DEAD DAISIES.
THE DEAD DAISIES et « Make Some Noise » ont mis dans le mille : indispensables groupe et nouvel album, en somme !

Indispensable tout autant, de les voir en live, d'autant que la formation sera de passage en France pour trois dates (flyer ci-dessous), à l'occasion de leur European Winter Tour ;)
Tasunka
"Make Some Noise" Tracklisting:
01. Long Way To Go
02. We All Fall Down
03. Song And A Prayer
04. Mainline
05. Make Some Noise
06. Fortunate Son (Cover of Creedence Clearwater Revival)
07. Last Time I Saw The Sun
08. Mine All Mine
09. How Does It Feel
10. Freedom
11. All The Same
12. Join Together (Cover Of THE WHO)
Recorded and produced in February, march 2016 in Nashville by Marti Frederiksen (Aerosmith, Def Leppard, Mötley Crüe, Buckcherry)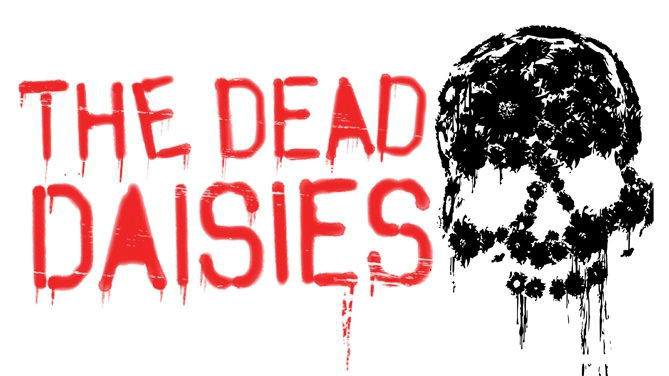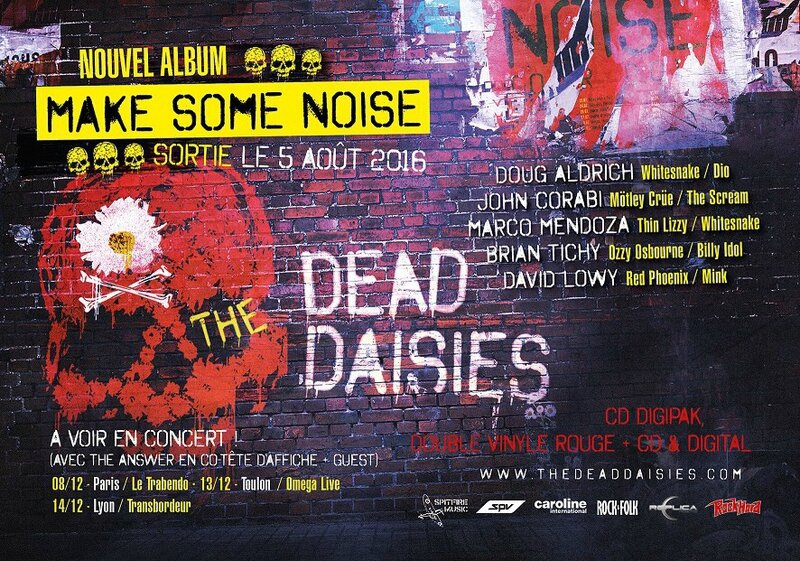 A VOIR EN CONCERT EN FRANCE !
(avec The Answer en co-tête d'affiche + guest)
-08/12 - Paris / Le Trabendo
-13/12 - Toulon / Omega Live
-14/12 - Lyon / Transbordeur
---

---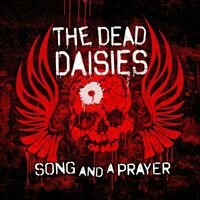 ---
---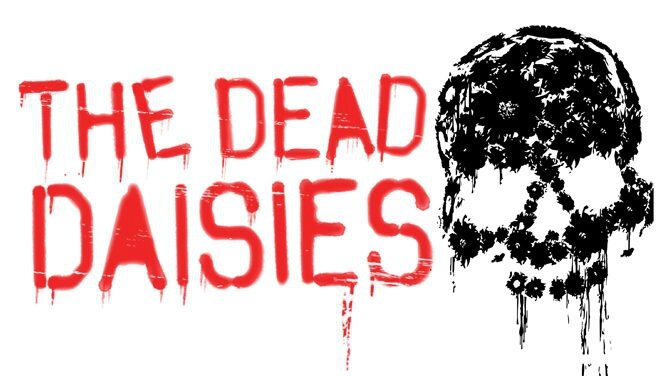 ---