12 novembre 2015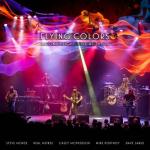 RELEASE DATE: 13 November 2015
DVD/ Blu-ray / 2 CDs / 3 LPs

Le 'Z7' de Pratteln en Suisse a eu le privilège d'accueillir en son sein les seuls et uniques, FLYING COLORS, pour un concert d'anthologie en bien des points : tout d'abord, parce qu'à la fois le public et le groupe lui-même, ont pu découvrir et avoir l'expérience des morceaux tout frais en live, vu que l'album « Second Nature » ne venait de sortir qu'une seule petite semaine auparavant, ensuite, cette huitième date de la tournée d'automne 2014, est aussi un concert unique en ce qu'il a été filmé, enregistré et produit par les bons soins de Bill Evans (également manager du groupe) et ce, avec des moyens techniques qui permettent de savourer une image de haute qualité aux angles de prise de vue multiples et de savourer aussi un pur son 5.1 surround qui vous font ressentir cette géniale sensation d'assister au gig comme si vous y étiez, depuis votre fauteuil.
Et enfin et non des moindres, un concert unique et bluffant, de par ses protagonistes bien sûr, puisque FLYING COLORS, c'est avant tout un groupe d'incontournables poids lourds de musiciens, passionnés, aguerris, multi talents et qui pourtant, tels des ados, prennent un de ces pieds sur album, alors, on ne vous dit pas en live, ils sont grandioses, bardés d'humour et humbles à la fois : qu'il est contagieux leur plaisir partagé avec le public de la part de Neal Morse, Steve Morse, Mike Portnoy, Dave LaRue, Casey McPherson.
Généreux en plus d'être d'excellents musiciens, les cinq donnent tout, s'amusent et enchainent les titres aux atmosphères variées et riches, dont le morceau préféré de « Second Nature » pour Neal Morse, le profond « The Fury Of My Love ». Et ça saute de partout sur un énergétique Rock « Shoulda, Coulda, Woulda » qui voit Mike Portnoy en littéralement bondir de joie à la fin du titre, et le même batteur unique entre tous, de haranguer la foule, en faisant participer tout le monde, leur disant que: 'ok, il sait que la Suisse c'est calme mais que là, il va falloir se lacher', ce qui était taquin, vu que la salle était déjà au taquet coté participation, aimant clairement ce que le groupe leur et nous propose, à savoir, un mélange de Rock Progressif aux multiples couleurs et de haut vol.
Se succèdent les titres, dont le superbe « One Love Forever » et son intro en acoustique qui voit tout le monde réuni sur le devant de la scène et d'alterner ensuite les vocaux principaux de Casey McPherson, ou ceux de Neal Morse, de Mike Portnoy. D'ailleurs, s'ensuit un discours simple et touchant de Mike Portnoy à l'adresse de Casey McPherson, qui le présente au Z7 en précisant combien ils sont tous reconnaissants au chanteur/ guitariste / compositeur d'être leur voix, combien il est parfait pour FLYING COLORS et de le laisser entamer le seul morceau du concert écrit par Casey McPherson seul (tous les autres ayant été composés par FLYING COLORS). En solo au chant donc et accompagné de sa guitare acoustique sur la première moitié du très fort « Colder Months », pour ensuite à mi- titre, se voir rejoint par Neal Morse avec ses chant et claviers dont il a le secret et par tout le groupe, aux instruments: un vibrant coup de chapeau acclamé comme il se doit par une salle aux anges !
Que des moments forts sur ce live, dont l'intense Rock / Prog « Mask Machine » qui voit Steve Morse assurer à sa six cordes comme lui seul sait le faire, de même pour ses complices à la basse, batterie, claviers, guitare et chant, et notamment sur le jam de la très réussie apothéose finale de « Infinite Fire ». Le fait que chacun assure est sans surprise bien sûr, au vu, tout de même, du line-up de baroudeurs et potes, de 'première classe' qui constitue FLYING COLORS.

Ce « Second Flight : Live At The Z7 » voit ses '01h48 ' se dérouler en un éclair, et donne une furieuse envie de se rejouer encore et encore le live en DVD / Blu-ray ou en CD/ LP, pour le grand plaisir qu'il procure.

FLYING COLORS, c'est une musique de virtuoses avec des compositions mélodiques fortes et riches en intensité et émotions.
Ce live est une perle pour un groupe unique: un DVD et un groupe indispensables et qui méritent tous deux une salve de superlatifs!
FLYING COLORS a commencé sur une simple idée: un groupe formé de musiciens virtuoses et d'un chanteur Pop qui font une musique nouvelle avec les bonnes vieilles méthodes, bases et.. ca marche à merveille! :)
Tasunka

Line-Up:
-Steve Morse: G (Dixies Dregs, Deep Purple, Kansas...)
-Mike Portnoy: D (Winery Dogs, Transatlantic, ex-A7X, ex-Dream Theater...)
-Neal Morse: K / V (claviers, chant / Transatlantic, ex-Spock's Beard...)
-Dave LaRue: B (Dixies Dregs...)
-Casey McPherson: V / G (Alpha Rev)
---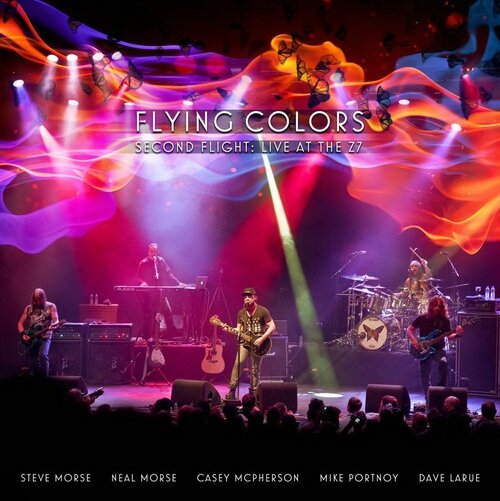 ---