13 juillet 2017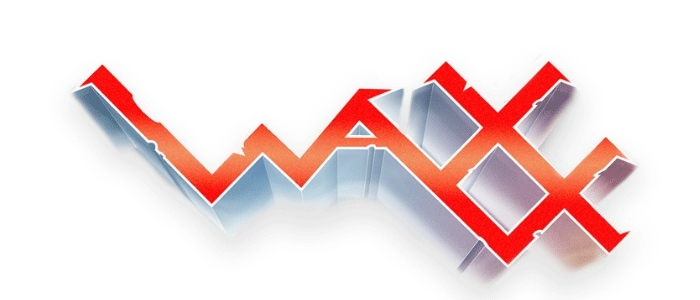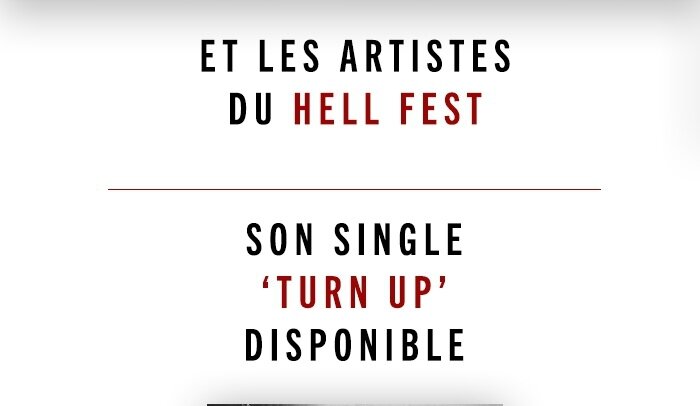 WAXX @ HELLFEST 2017:
'Walk this Way' en medley avec Chuck D de Prophets of Rage, Avatar, Evergrey, In Flames, Trust, The Dead Daisies, The Treatment, Ugly Kid Joe, Saxon, Emperor..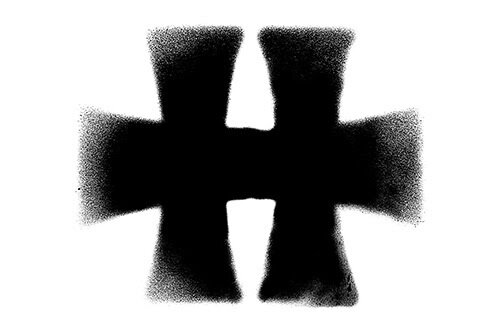 ---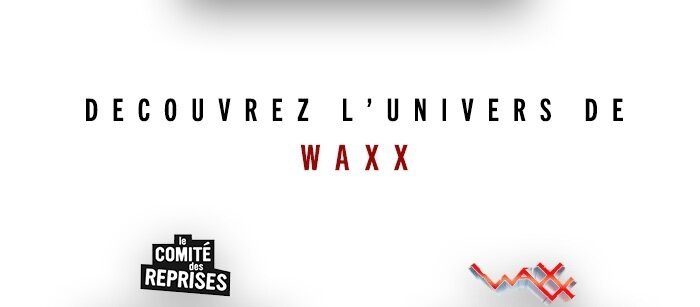 ---
09 juin 2017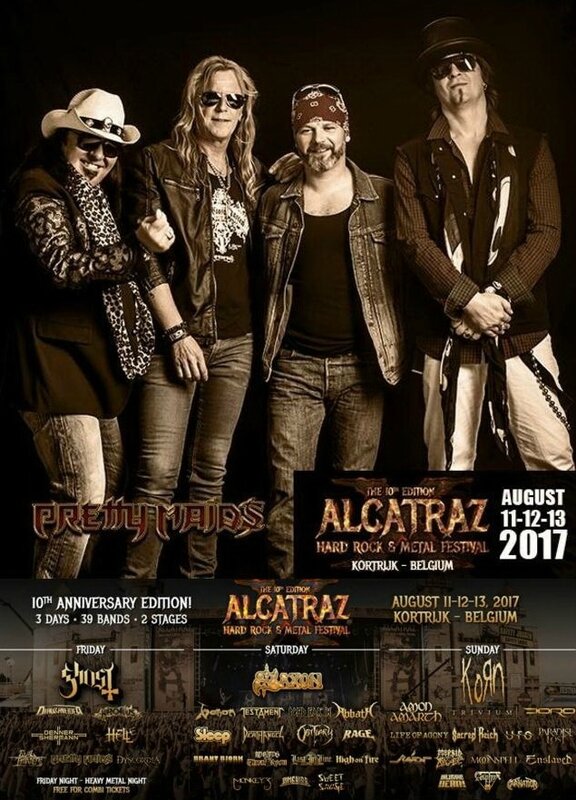 ​

Mot Des Organisateurs:
Avec cette nouvelle et dernière annonce, nous clôturons l'affiche de l'Alcatraz 2017.
Selon la formule habituelle 'Last but not least', c'est le groupe PRETTY MAIDS qui honorera de sa présence l'Alcatraz Metal Festival.

Nous clôturons donc la liste des fantastiques groupes qui se sont donnés rendez-vous à Courtrai le week-end des 11, 12 et 13 août 2017 et nous mobilisons déjà toutes nos forces
afin de faire de cette édition un nouveau succès total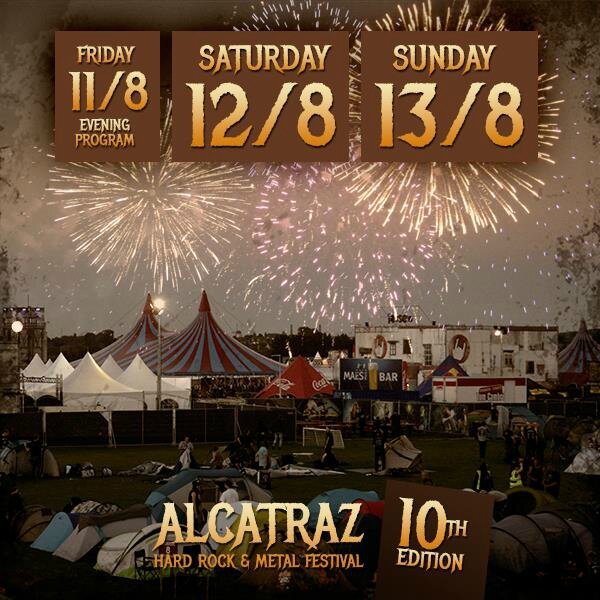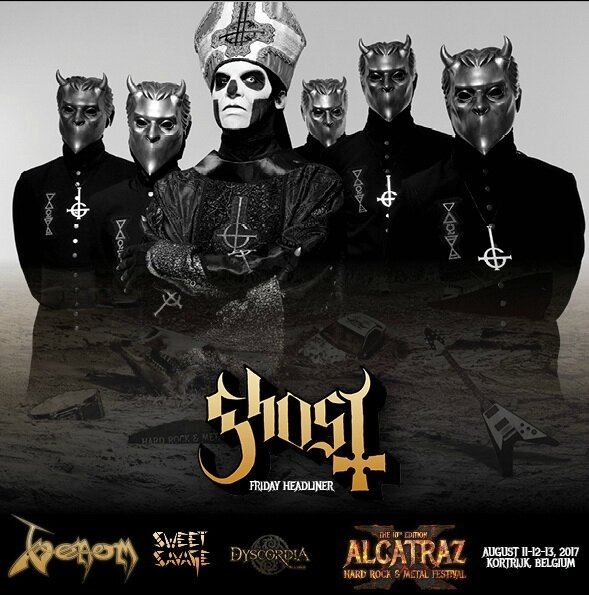 ==> GHOST "Meliora" : Chronique ici ;) / French Review: here ;)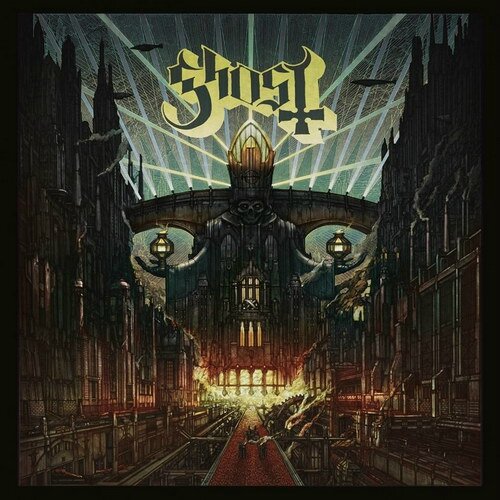 ---

Mot Des Organisateurs:
Vous serez très certainement étonnés de constater que nous annonçons GHOST en tête d'affiche de la journée du vendredi 11 août car vous pensiez que l'affiche du Vendredi était complète, et que nous ajouterions une tête d'affiche à la journée du Samedi au dessus de Saxon, sur notre Prison Stage. Et bien, vous avez doublement raison !
Cependant, Alcatraz ne serait pas Alcatraz si, contrairement aux règles établies, nous ne faisions pas les choses à notre manière !
Et plus que jamais cette année, alors que nous avons quelque chose de très particulier à célébrer avec vous. Nous ne souhaitions pas que notre dixième anniversaire passe inaperçu, et nous travaillons très dur en coulisses pour vous apporter des nouveautés, tout comme nous nous affairons à vous concocter notre plus belle affiche jamais conçue jusqu'à présent. Tout ceci afin de faire de cette dixième édition un évènement inoubliable !
C'est la raison pour laquelle nous avons décidé d'ouvrir notre scène principale, la Prison Stage, dès le vendredi.
Nous sommes à présent prêts à vous offrir une vraie journée supplémentaire, complète de huit groupes, dont quatre se produiront sous tente, et quatre sur notre scène principale. Et la clôture de notre scène principale ne pouvait se faire qu'avec un groupe à la hauteur de votre imaginaire. C'est ainsi que GHOST vient s'ajouter à notre déjà longue liste de groupes de haute volée. Ce mystérieux collectif mené par l'iconique Papa Emeritus tient le monde en haleine depuis 2010, et a vu sa horde de fans grandir continuellement.
L'ajout de GHOST à l'affiche, ainsi que l'ouverture de notre scène principale dès le Vendredi, ne change rien au prix des billets, y compris pour le prix du billet du Vendredi seul.
Nous sommes également heureux de vous annoncer que nos héros de la NWOBHM, SAXON, clôtureront la journée du Samedi et que cela sera donc la grande fête du Heavy Metal !
Il nous reste donc encore deux groupes à vous dévoiler pour la journée du Samedi et nous sommes fiers de vous les annoncer dès aujourd'hui. Nous allons rester sur les îles britanniques, à la fin des années 70 - début des années 80, avec le légendaire VENOM. Ce nom continue de résonner très fort en 2017, et tout le monde se souvient bien de leur première participation à l'édition 2015 du festival Alcatraz qui a laissé un souvenir impérissable à tous les festivaliers présents ! La NWOBHM sera donc bel et bien à l'honneur en ce samedi 12 aout qui plus est avec l'ajout de SWEET SAVAGE qui se produira sur notre scène principale également. Ce groupe venu d'Irlande du Nord, fondé en 1979, a influencé rien de moins que Metallica avec le titre 'Killing Time' repris avec brio en 1991 en face B du single 'The Unforgiven', et ré enregistré par la suite en 1997 sur le CD 'Garage Inc'. 2010 a ensuite marqué l'année du grand retour du groupe qui a été embarqué par Iron Maiden & Deep Purple pour assurer la première partie de leurs concerts.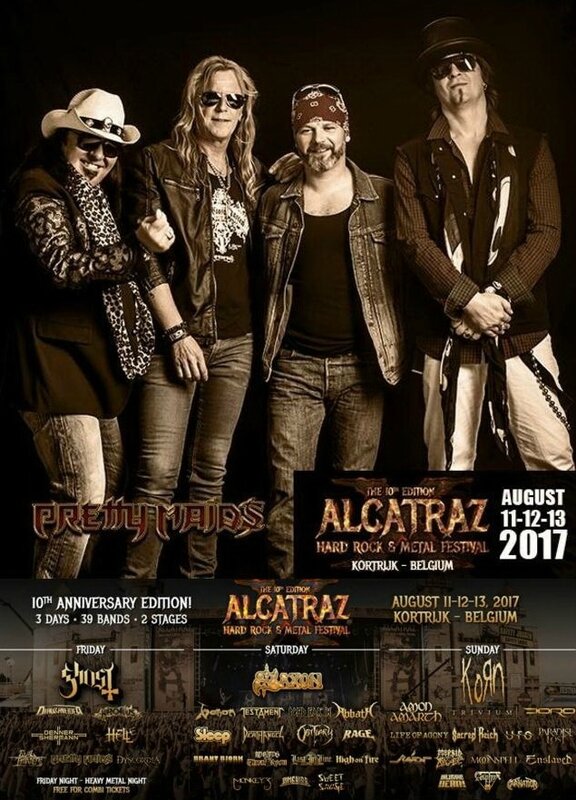 ---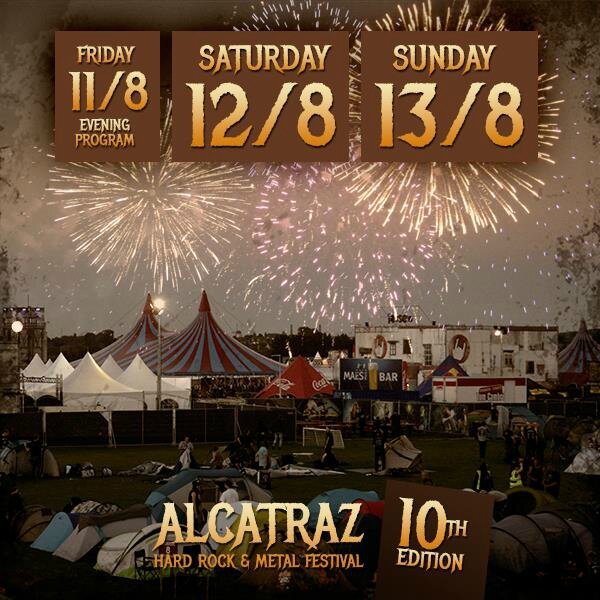 ---
02 mai 2017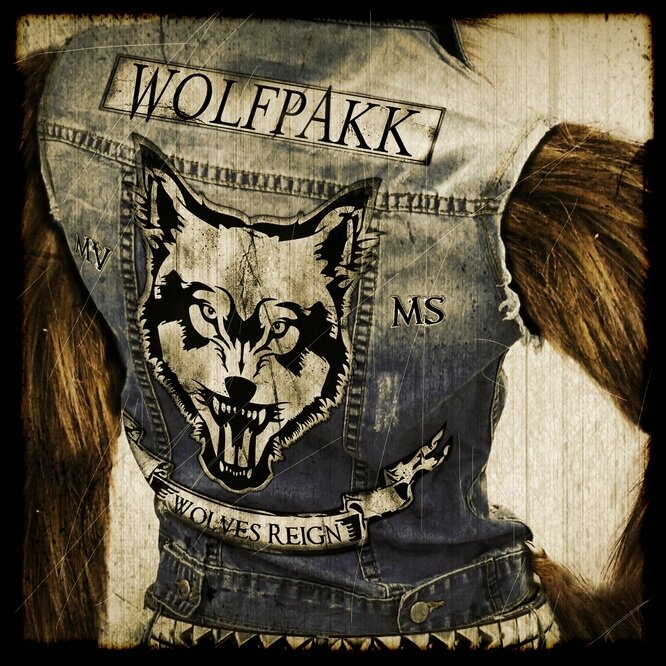 Une nouvelle meute de pas moins de 26 guests issus de la fine fleur du Hard Rock / Heavy mélodique (voir la liste de prestige, ci-dessous) s'est assemblée autour des deux males alphas et piliers de WOLFPAKK : le duo des fondateurs de cet 'all-star project', à savoir les artistes, compositeurs-producteurs accomplis à l'origine du projet, que sont Mark Sweeney (Chant, ex-Crystal Ball) -Michael Voss (Guitare / Basse / Chant, Mad Max, ex-Casanova, Michael Schenker).
Depuis 2011 et l'idée qui a germé dans l'esprit prolifique des deux amis de délivrer un Heavy Metal mélodique / Hard Rock péchu où de nouveaux guests seront invités à chaque nouvel album, a fait mouche. C'est le cas pour les trois premiers albums et à présent, le tout dernier né, « Wolves Reign » fait, lui aussi, honneur à ses prédécesseurs, en alignant des titres imparables où le duo de membres permanents du projet a, une fois de plus, posé une solide fondation de compositions de pur Heavy / Hard Rock, fondation sur laquelle s'éclate littéralement chacun des invités.
Car la clé de la réussite qui caractérise WOLFPAKK, vient du fait que la couleur, la saveur particulière est donnée par l'intervention des invités, qui, chacun dans leur partie, sont libres d'apposer et apporter leur touche sur cette base, ce qui fait de chaque morceau, une pièce unique et ce qui fait, de même, de l'ensemble de l'album, un kaléidoscope puissamment accrocheur car riche de tous les horizons et personnalités, talent des guests. Dans un esprit très intelligent de partage, chaque poste est occupé à tour de rôle par un invité, en plus du duo de base et ce, à tous les postes, d'où des moments intenses où le plaisir est au rendez-vous, car on assiste à une débauche de l'expression de l'habilité de tous, que ce soit au chant, basse, guitare ou batterie. Ecouter « Blood Brothers », « Wolves Reign », « Inside The Animal Mind », « Mother Earth », « Falling », le final Hard Rock dynamique au possible "I'm Onto You", c'est succomber à l'appel de la meute, mais en réalité, chacun trouvera son bonheur, puisque chaque titre est porteur d'un fort potentiel accrocheur. Alors, pourquoi choisir quand c'est bon comme ça ? :)

Au long de "Wolves Reign", on s'éclate autant que la troupe, chante en chœur, secoue ses cervicales, en compagnie de WOLFPAKK qui a, une fois encore, réussi une belle pièce d'album, et ce, à tous niveaux,
grâce à une meute totalement investie, toute sueur et motivation dehors pour ce quatrième opus hautement fédérateur!

Tasunka
« Wolves Reign » Tracklist:
01. Falling
02. Run All Night
03. Blood Brothers
04. Wolves Reign
05. No Remorse
06. Inside The Animal Mind
07. Spirit Of The Hawk
08. The 10 Commandments
09. Mother Earth
10. Tomorrowland
11. I'm Onto You
All songs written by Sweeney/Voss except #1,2 & 11 by Sweeney, Voss, Rauber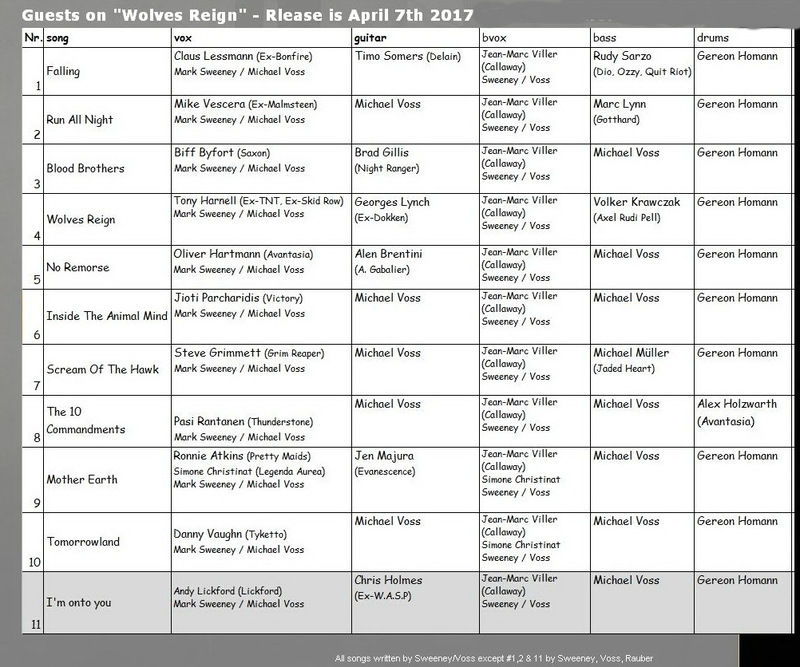 The melodic metal allstar project led by Mark Sweeney (ex-Crystal Ball) and Michael Voss (Mad Max, Michael Schenker)
Guest musicians:

Vocals:
-Biff Byford (Saxon)
-Ronnie Atkins (Pretty Maids)
-Michael Vescera (ex- Yngwie Malmsteen)
-Tony Harnell (TNT)
-Oliver Hartmann (Avantasia)
-Jioti Parcharidis (Victory)
-Steve Grimmett (Grim Reaper)
-Pasi Rantanen (Thunderstone)
-Claus Lessmann (Phantom V)
-Danny Vaughn (Tyketto)
-Andy Lickford (Lickford)

Guitar:
-Timo Somers (Delain)
-Brad Gillis (Night Ranger)
-George Lynch (ex-Dokken)
-Alen Brentini (A. Gabalier)
-Jen Majura (Evanescence)
-Chris Holmes (ex-W.A.S.P.)
Bass:
-Rudi Sarzo (Ozzy Osbourne)
-Marc Lynn (Gotthard)
-Volker Krawczak (Axel Rudi Pell)
-Michael Müller (Herman Frank)

Drums:
-Alex Holzwarth (Avantasia)
-Gereon Homan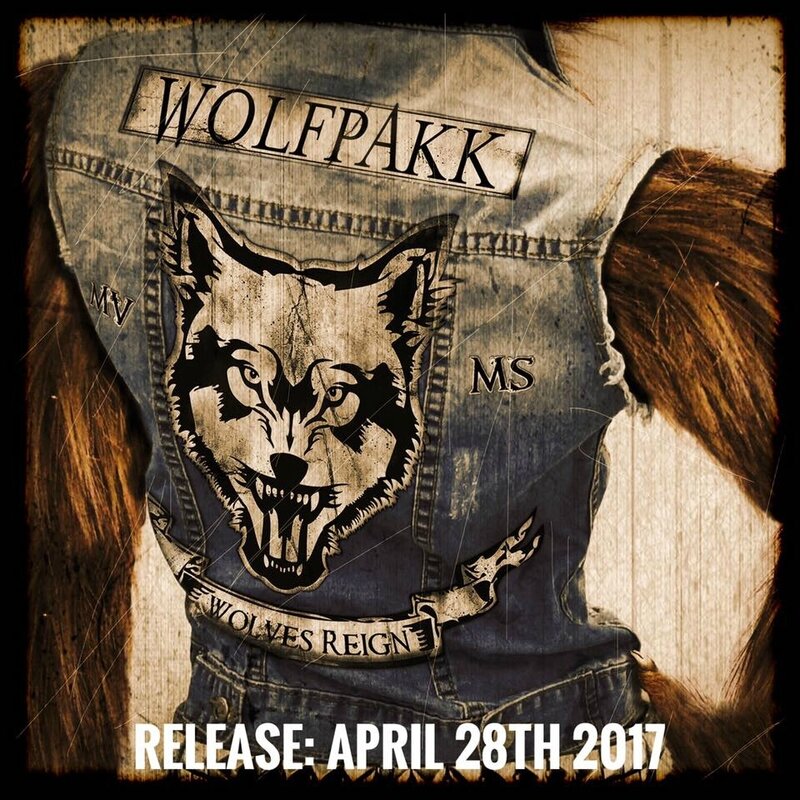 ---
==> Chroniques / French Reviews : click on artwork / cliquer sur les pochettes ;)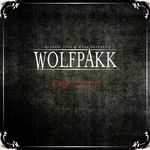 ---
---
08 novembre 2015

"Guilty As Sin"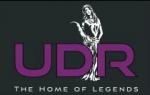 Release Date: 13.11.2015



Pas superstitieuses et elles en ont vu d'autres au long de leur longue carrière, les rebelles rockeuses devenues iconiques, de GIRLSCHOOL, sortent leur 13ième album, un vendredi 13.
Les belles font leur retour après une longue absence pour ce qui est de la sortie d'un nouvel album studio et cela valait l'attente, étant donné qu'avec « Guilty As Sin », nos quatre ladies font montre d'une énergie et d'une passion intactes au travers de leurs nouvelles compositions toutes gonflées à bloc d'un Rock / Hard Rock, accrocheur et hymnique.
Du premier titre d'ouverture « Come The Revolution » qui donne le ton Rock / Hard Rock, à « Take It Like A band », « Guilty As Sin » hymnique au possible ou le punk / Rock « Night Before », en passant par le martèlement hypnotique du très bon « Treasure » qui appelle à chérir la terre ou le succulent mid-tempo d'un « Painful », succulent autant de par son accroche musicale Blues/Rock que par ses paroles, « Guilty As Sin » est un opus plutôt goutu dans son ensemble et même la reprise Rock du hit des Bee Gees « Staying Alive », marche.
En fait, « Guilty As Sin » a une particularité qu'il est bon de signaler : même si la première écoute fait déjà l'apprécier, plus on écoute l'album et plus on l'aime !
Le quatuor est tombé dans la fontaine de jouvence ou plutôt ne l'a jamais quittée, vu que Rock, les petites sœurs de Lemmy le sont encore et toujours, qu'on se le dise et le prouvent avec de furieuses guitares en duo ou solo, qui vous déchirent tout, des vocaux toujours rocailleux et hargneux comme au premier jour, une basse et une batterie solides comme le Metal; rien à dire, GIRLSCHOOL assurent dans l'attaque ou le plus mesuré.
Produit par Chris Tsangarides (Judas Priest, Thin Lizzy) au sein de son 'Ecology Room Studios' dans le Kent anglais, « Guilty As Sin » sonne comme il se doit, brut et net à la fois : Rock, en somme !

GIRLSCHOOL délivrent avec "Guilty As Sin", un album aux morceaux dont on sent d'avance l'effet garanti en live et justement, ces dames emmènent leur Rock pour une tournée européenne d'anthologie aux côtés de leurs homologues et complices masculins de MOTÖRHEAD et SAXON.
Paris, le Zénith, le 15 novembre 2015, marquera, d'ailleurs, le coup d'envoi de ce tour qui vaut le détour :)

Tasunka



Track-Listing "Guilty As Sin" :

01. Come the Revolution
02. Take it like a band
03. Guilty as Sin
04. Treasure
05. Awkward Position
06. Staying Alive
07. Perfect Storm
08. Painful
09. Night Before
10. Everybody Loves (Saturday Night)
11. Coming your Way
12. Tonight
Line-Up:
•Kim McAuliffe - V / G
•Enid Williams - V / B
•Jackie Chambers - lead guitar and backing vocals
•Denise Dufort - D


---
European Tour With MOTÖRHEAD / SAXON: click here :)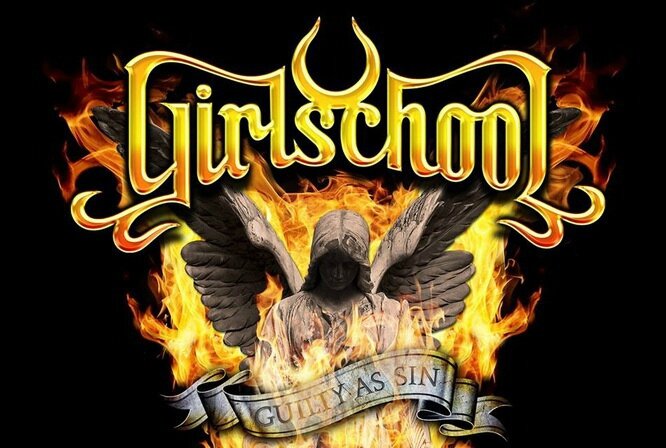 ---
---
---
20 octobre 2015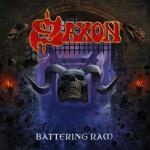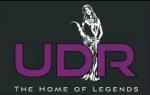 Worldwide Release: October 16th, 2015
La légendaire machine à headbanger et à hymnes, SAXON, sort son 21ième album qui, à l'image de son sobre titre "Bélier" et de sa punchy pochette, en dit long sur l'intention du groupe : l'esprit est à en découdre et à un retour plus marqué au Heavy laissant un peu l'orientation Rock'n Roll, pour revenir à dix nouvelles compositions plus Metal que jamais, fortes et mélodiques à la fois.
« Battering Ram » peut être vu comme une rencontre, une alliance choc et bien équilibrée entre le passé et le futur, pour des morceaux hymniques où les guitares de Paul Quinn et Doug Scarratt s'en donnent à cœur joie que ce soit sur les passages qui demandent leur talent et dextérité affirmée de 'shredder' ou de fins mélodistes et la voix de Biff Byford laisse tout autant épaté, puisque des attaques en aigus façon old school du début des 80's, aux intonations suaves ou feutrées et mélancoliques, Biff Byford assure avec une de ces aisances, prouvant si besoin était, qu'il n'a décidément rien perdu de sa tessiture unique de voix, ni de sa puissance vocale reconnaissable entre toutes. Côté assise rythmique solide comme l'acier et subtile à la fois, c'est toujours le duo Nibbs Carter à la basse et Nigel Glockler derrière les futs, qui assurent le job avec brio.
Le sceau Saxon est bel et bien apposé sur ce « Battering Ram » qui navigue avec panache et efficacité entre touche classique et moderne, délivrant ainsi toute l'étendue du potentiel du groupe au long des dix morceaux qui peuvent se balader entre Heavy hymnique et faire de même la part belle à la fraicheur en laissant l'exploration s'exprimer, notamment avec des titres tels que « Queen Of Hearts » qui a cette saveur de Prog dans son esprit et ambiance, « Stand Your Ground » et son excellent break en solo des deux guitaristes ou le mid tempo « To The End » et sans omettre le superbe final sur le poignant et plein de la force de l'émotion, « Kingdom Of The Cross », qui rend hommage, en cette année du centenaire, à tous ceux tombés lors de la meurtrière première guerre mondiale. L'idée de ce titre est venue de Nigel Glockler qui jouait cette base sur son synthé depuis quelques années et Biff Byford appréciant ce qu'il entendait, le moment semblait bien choisi pour en faire un morceau: « Kingdom Of The Cross » est, au final, un titre fort en émotions et qui a la particularité d'avoir été interprété seulement par le chant, les claviers, la basse et la voix du narrateur, à savoir Dave Bower, qui est à la fois acteur et chanteur du groupe HELL.
La production, quant à elle, paraphe et scelle ce « Battering Ram » de choix, en faisant sonner chaque détail, chaque atmosphère pour un résultat très naturel alors qu'en coulisses, il est dû à la précision du travail minutieux de non moins que Andy Sneap (MEGADETH, TESTAMENT, EXODUS, ACCEPT) aux Backstage Recording Studios.
Les textes de Biff Byford inspirés du réel, du Rock'n Roll ou de la fantaisie, montrent, quant à eux, que l'inspiration est au rendez-vous sur des compositions et interprétation de même intensité et cet ensemble réussi fait assurément de « Battering Ram », un album qui est à compter parmi les meilleurs du groupe!

A noter que pour célébrer la sortie de « Battering Ram », SAXON fouleront les scènes et y mettront à n'en pas douter le feu, pour des concerts en compagnie de MOTÖRHEAD ou de ARMORED SAINT, selon les dates.
SAXON seront justement en France, au Zénith de Paris, le 15 novembre 2015 en guests de MOTÖRHEAD et au Zénith de Lille, le premier février 2016, toujours en invités pour célébrer les 40 ans de carrière de MOTÖRHEAD et les 70 ans de Lemmy.

Et, c'est à saluer aussi, SAXON seront au complet, avec leur batteur Nigel Glockler, qui s'est bien remis de son intervention en urgence au cerveau, en février 2015 : bref, ça va assurer !
SAXON sont bel et bien là, chapeau bas ! :)

Tasunka
"Battering Ram" track listing:
01. Battering Ram
02. The Devil's Footprint
03. Queen Of Hearts
04. Destroyer
05. Hard And Fast
06. Eye Of The Storm
07. Stand Your Ground: TB solo duo
08. Top Of The World
09. To The End
10. Kingdom Of The Cross

SAXON Line-Up:
-Biff Byford: V
-Nigel Glockler: D
-Nibbs Carter : B
-Paul Quinn : G
-Doug Scarratt : G
---
---
SAXON European tour dates/ CLICK HERE :)
SAXON Dates en France, ci-dessous :)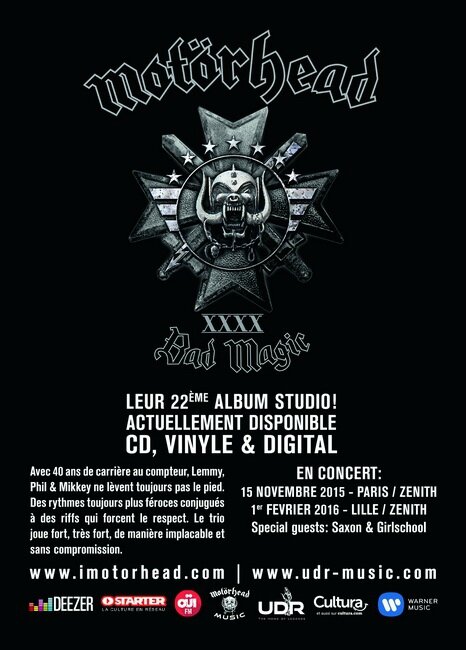 ---