21 janvier 2020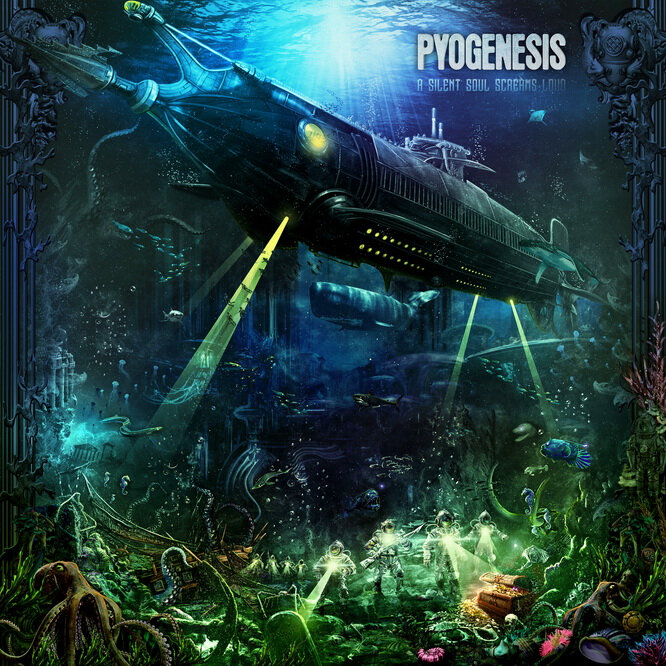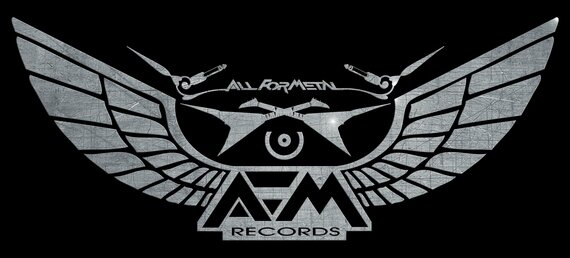 PYOGENESIS met un point final à sa trilogie, avec le convaincant dernier chapitre : « A Silent Soul Screams Loud ». Commencée en 2015 par "A Century In The Curse Of Time", poursuivie deux ans plus tard avec « A Kingdom To Disappear », cette 'Steampunk Trilogy' qui couvre le 19ième siècle et ses changements, vaut le détour.
Avec cette troisième partie, on retrouve cette saveur unique qui caractérise et fait apprécier PYOGENESIS : sa capacité à créer des atmosphères riches, variées, dynamiques, mélancoliques, puissantes et fines à la fois, cette maestria dans les compositions et leur interprétation, qui fait plonger ou s'envoler aux côtés du groupe, dans ses univers issus de l'imagination et inspiration fertiles de son frontman de compositeur, chanteur, guitariste et derrière les manettes pour la production côté albums, à savoir : Flo V. Schwarz. Le Metal Power, mélodique et alternatif est ici à son aise que ce soit dans les parties puissantes où guitares, double grosse caisse et basse mettent le feu ou tout autant à l'aise dans les parties mélancoliquement prenantes et le mélange prend sans coup férir; on adhère et voyage dans les atmosphères de PYOGENESIS, où la musique reflète au mieux l'évocation des thèmes à la hauteur, notamment Napoléon et ses apports, Karl Marx et le capital, le Darwinisme, en somme, les changements propres au 19ième siècle, ce siècle romantique et de bouleversements techniques et de société à la fois. Le tour de force de PYOGENESIS étant d'emporter une pleine adhésion autant musicalement, que vocalement, tout en portant des thèmes peu jouissifs sur le papier de premier abord. Toujours est–il qu'au long des huit morceaux de « A Silent Soul Screams Loud », PYOGENESIS y parvient et avec panache, encore et sait mettre le feu, fédérer ou faire planer à la fois avec son Metal Heavy mélodique de premier choix et avec ses atmosphères inspirées et riches. Huit titres qui font mouche et accrochent au point de voir trop tôt, « A Silent Soul Screams Loud », tirer sa révérence après près de 14 minutes passées en compagnie du morceau d'anthologie final : "The Capital" (A Silent Soul Screams Loud).
Outre le fait que le groupe ait produit ce dernier chapitre lui-même, outre le fait que la pochette est superbe une fois encore et riche de détails qu'on aime découvrir en écoutant l'album, outre ces faits, il est à noter l'apparition d'un guest vocal de choix et ce, pour la première fois en duo avec Flo V. Schwarz, sur "Modern Prometheus » : Chris Harms (Lord Of The Lost).
Fidèle aux pochettes respectives, après avoir fait embarquer à ses côtés au sol avec le premier opus, dans les airs avec le second, et à présent, un voyage sous les mers avec ce troisième volet à l'oxymore bien senti: « A Silent Soul Screams Loud », PYOGENESIS a réussi sa trilogie Steampunk et vaut décidément un coup de chapeau pour son Metal riche, profond et mélodiquement puissant qui n'appartient qu'a lui.

Tasunka
"A Silent Soul Screams Loud" Tracklist:
01 - Survival Of The Fittest
02 - Mother Bohemia
03 - I Can't Breathe (Prologue)
04 - I Can't Breathe (Monologue)
05 - High Old Times
06 - Modern Prometheus (feat. Chris Harms / Lord Of The Lost )
07 - Will I Ever Feel The Same
08 - The Capital (A Silent Soul Screams Loud)
---
---

Flo V. Schwarz (V/G)
Thilo Schmidt (G)
Malte Brauer (B)
Jan Räthje (D)
---

==> On Tour: click here / cliquer ici
---
---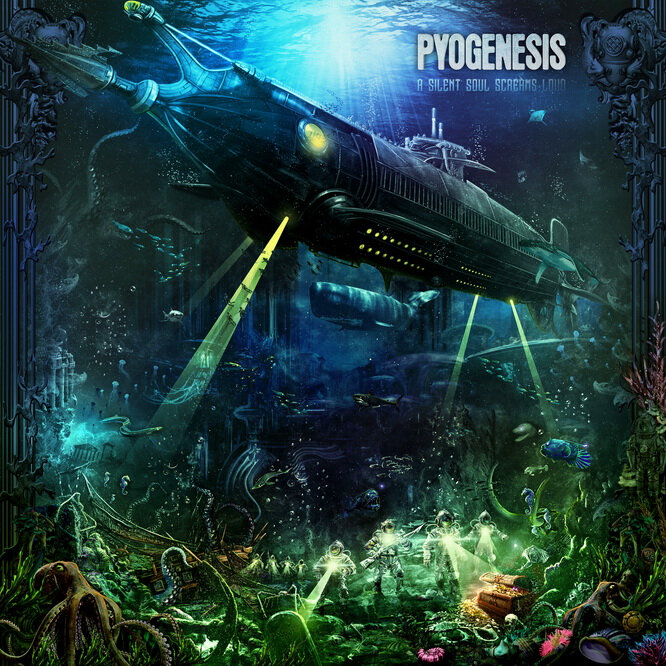 ---
09 février 2017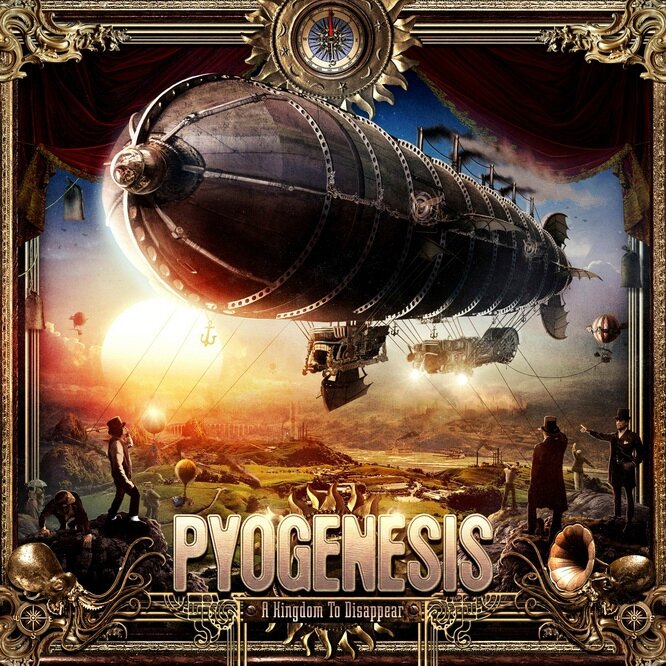 Release: February 24th 2017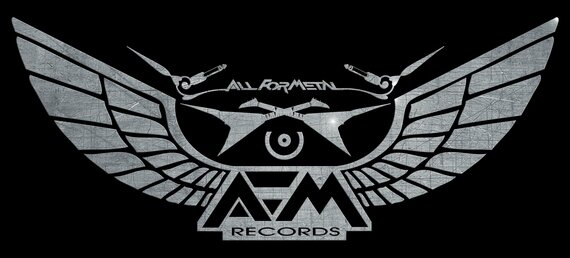 Les cultes et pionniers PYOGENESIS avaient signé un retour marquant en 2015, après treize ans d'absence, en inaugurant leur trilogie inspirée de l'ère Victorienne du dix neuvième siècle, via le premier et fort réussi volet « A Century In the Curse Of Time » (chronique ici). Voici qu'arrive « A Kingdom To Disappear », le second opus, toujours dans la même veine et qui, dès son approche, partage avec son prédécesseur un artwork Steampunk, gothique romantique qui vaut le coup d'œil de par sa qualité et donne le ton de la valeur de ce qui va suivre musicalement et vocalement.
Après le train explosant la pochette 2015, l'autre révolution de l'ère industrielle, le dirigeable, les ballons en général, trône, quant à elle, en maitre sur celle de ce second volet. A l'image de ce puissant artwork, les allemands de Pyogenesis font impression, captivent avec leur Metal Gothique qui voit le groupe innover au long des nouveaux morceaux, alignant audace, feeling, touche romantique, chant clair et appoints en growl, instruments saturés et acoustiques en contre-points, pour ensuite mieux re-mêler à une sauce qui prend déjà au mieux, du Rock 'rentre-dedans', du Melodic Death Metal (le fort bon « Blaze, My Northern Star » en étant l'étendard). Puissant et vibrant, le Metal des maitres du Gothic-alternatif-mélodique / Rock que sont Pyogenesis depuis plus d'un quart de siècle, vous rentre sous la peau à tous niveaux, que ce soit côté des compositions, de l'interprétation authentique, précise et à la fois passionnée d'une formation qui aime visiblement ce qu'elle fait et s'y investit totalement. Les paroles agissent, quant à elles, en reflet de la musique, des harmonies, en intégrant les sujets des changements sociaux de cette époque et ce ton Victorien posé par les vocaux d'ouverture de l'album d'intro: 'Dormir, c'est bien, la mort, c'est mieux…' avant que n'attaque un déferlement Gothique Death mélodique / Rock rentre-dedans, accrocheur s'il en est.

Hautement recommandé, donc, ce second voyage à l'ère Victorienne, en compagnie des uniques PYOGENESIS et de leur « A Kingdom To Disappear » qui assure et se conclue, comme pour le premier volet, par un morceau de bravoure de plus de treize minutes : « Everlasting Pain ».
Tasunka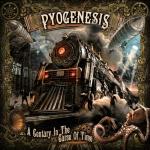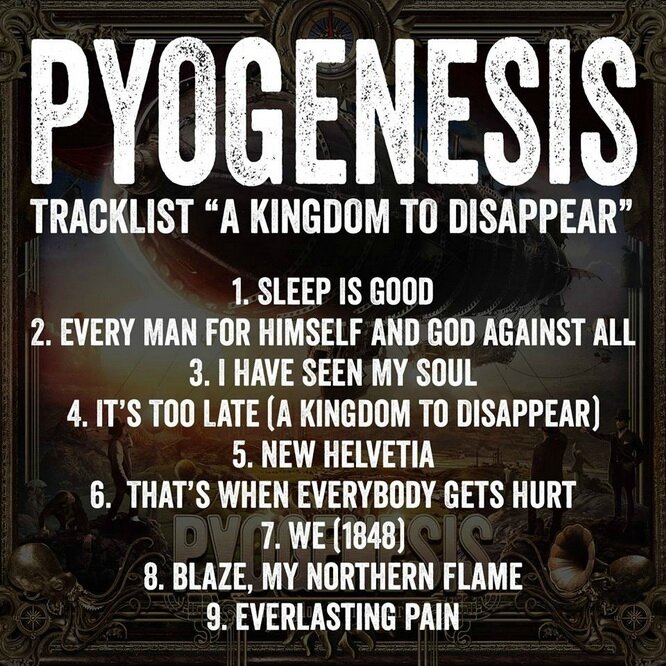 PYOGENESIS Line-Up :
- Flo V. Schwarz: Guitar & Vocals
- Gizz Butt: Guitar & Backing Vocals
- Malte Brauer: Bass & Backing Vocals
- Jan Räthje: Drums
---
---

Here are the supports!
Anchors & Hearts from the northern coast will support the first 8 shows of the tour. And Ignis Creatio will appear on only 3 shows playing their one and only album which they released 25 years ago in its entirety. This happens for the very first time!

PYOGENESIS will also be playing this year's Full Metal Cruise, setting sails in Palma de Mallorca/Spain at the end of April.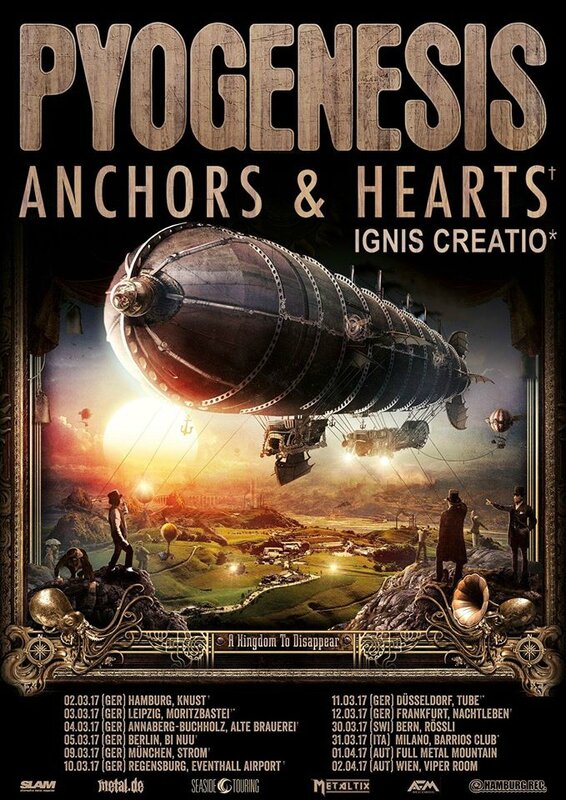 ---

---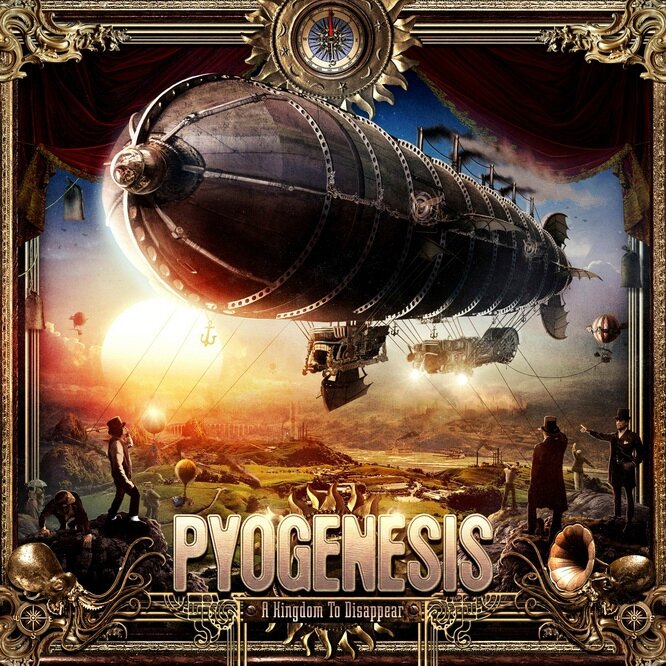 ---
02 août 2015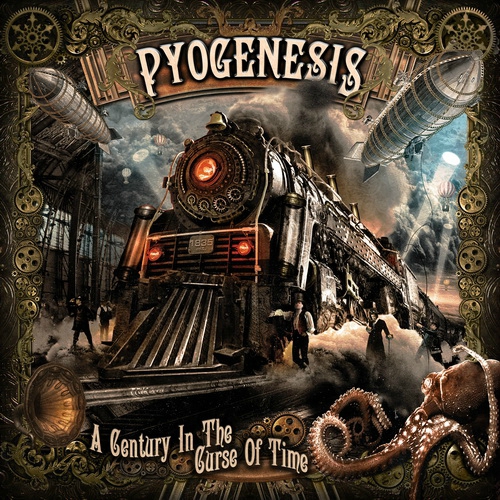 Release Date: August 14th 2015

24 ans d'existence, 13 ans sans sortir un nouvel album studio,10 ans sans s'être produits sur scène, les allemands de PYOGENESIS se sont fait désirer de leur très nombreux fans de par le monde, et voici qu'en 2014, le break prend fin, enfin, et le quatuor reformé se produit à nouveau en live pour un concert sold out en Roumanie, puis, s'attèle à créer un sixième et tout nouveau effort, à sortir en août 2015 : « A Century In The Curse Of Time ».
Cela valait l'attente étant donné que les huit nouvelles compositions renouent avec les racines de ces co-initiateurs du Metal Gothic en 1991-92, de ces habitués à surfer, par le passé, entre Rock Alternatif, Punk Rock et Melodic Death Metal.
Difficile, donc, de ne pas adhérer de suite à l'ensemble de « A Century In The Curse Of Time », que l'on soit habitué du style pratiqué ou novice du groupe, surtout que PYOGENESIS, toujours emmené avec brio par son frontman de chanteur-guitariste Flo V Schwartz, renoue ici avec ses racines et délivre un album plus Heavy, Epique et ambitieux que jamais.
Un album plein d'intelligence dans son écriture, tout autant que dans ses interprétations vocales brutes ou intensément calmes et instrumentales elles-aussi calmes ou sourdes, lourdes. Cerise sur la galette, PYOGENESIS nous offre une nouveauté, car outre les titres tous frais et bardés de finesse doublée de puissance accrocheuse, le quatuor s'est et pour la première fois dans l'histoire du groupe, attelé à donner vie à un concept album, dont le sujet est l'influence de la révolution industrielle dont l'invention des machines à vapeur fait partie, de l'industrialisation de la fin du 19ième siècle, donc, et de ses influences sur la société, avec toutes les conséquences que cela implique : l'émergence de 'plus' (notamment de la littérature de science fiction dont Jules Verne est l'emblème) et de 'moins' (l'émergence de la bourgeoisie, entre autres).
A l'image de la pochette, tout « A Century In The Curse Of Time », emmène au sein d'un voyage profond et relevé, qui fait penser à un ouvrage du précité et fameux auteur français de science fiction, mais le tout en restant les pieds sur terre, conscient et les yeux grands ouverts sur la réalité des choses. D'ailleurs, Le titre final « A Century In The Curse Of Time » et ses 14 :17 minutes, est un fleuron de ce que ce sixième opus peut être.
Le line-up reformé en 2014, voit le retour après 16 ans d'absence d'un membre original de PYOGENESIS : Tim 'Asmodeus ' aux guitare-vocaux et l'album fort d'un quatuor soudé, sonne qui plus est, de mille facettes qui mettent en valeur le propos, alors,
PYOGENESIS sont de retour et en grand forme, encore, qu'on se le dise ! :)
Tasunka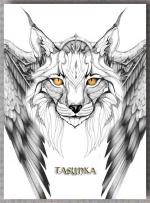 ---

01. Steam Paves Its Way (The Machine)
02. A Love Once New Has Now Grown Old
03. This Won't Last Forever
04. The Best Is Yet To Come
05. Lifeless
06. The Swan King
07. Flesh And Hair
08. A Century In The Curse Of Time
---
PYOGENESIS Line-Up 2015 (after their comeback in 2014):
-Flo V. Schwarz: V / G
-Malte Brauer : B
-Oliver 'Viper' Wiebe: D
-Tim 'Asmodeus' Eiermann: V / G
---
---
---
==>Tour Dates 2016: click below:
---