11 septembre 2023
"Time After Time" ou comment s'inspirer avec beaucoup d'humour, du gimmick du film "La journée de la marmotte" pour mettre en scène le très catchy Hard Rock du nouveau morceau de LYNCH MOB, la bande de George Lynch, guitariste orfèvre en la matière:
titre tiré de "Babylon", nouvel album qui s'annonce bien alléchant: un album disponible le 20 octobre 2023 chez FRONTIERS Music et dont le peintre du 16ieme siècle, Jérôme Bosch, aurait certainement apprécié d'avoir inspiré l'artwork
---
Tracklist :
01. Erase
02. Time After Time
03. Caught Up
04. I'm Ready
05. How You Fall
06. Million Miles Away
07. Let It Go
08. Fire Master
09. The Synner
10. Babylon
---
Line-up:
Gabriel Colón: Vocals
George Lynch: Guitars
Jimmy D'anda: Drums
Jaron Gulino: Bass

---
20 novembre 2010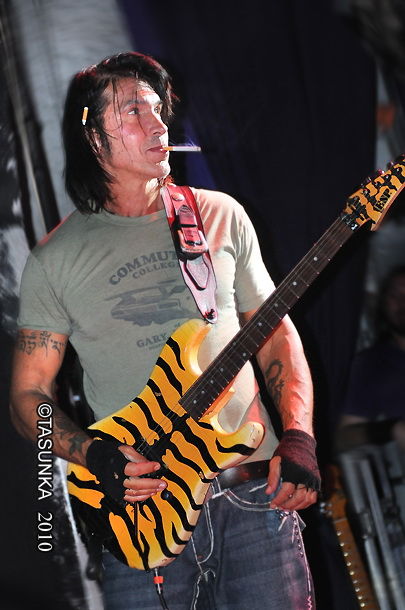 (Live Report / Photos: Tasunka)
Photos LYNCH MOB/ PLEASURE ADDICTION: ici :)
(French) Live Report / Photos: ici :)
A retrouver aussi sur ZIKANNUAIRE : ici :)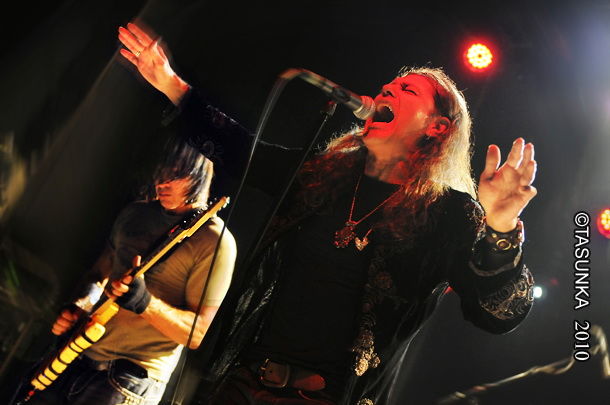 19 novembre 2010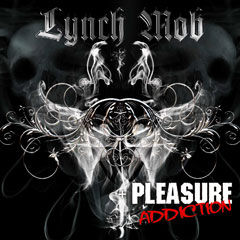 George Lynch et LYNCH MOB n'avaient pas fait un tour dans la capitale depuis quelques longues années, et ce come-back hexagonal a été l'opportunité de se repaitre une nouvelle fois de l'habileté impressionnante de ce « shred master » qu'est George Lynch sur ses guitares, mais aussi de savourer le toujours prenant Metal / Rock des américains, avec, pour soutien très appréciable, PLEASURE ADDICTION en ouverture.
Un aperçu de ce 17 novembre 2010 au Divan Du Monde ? Alors, lisez ce qui suit ! :)

(Live Report / Photos: Tasunka)
Photos LYNCH MOB/ PLEASURE ADDICTION: ici :)
A retrouver aussi sur ZIKANNUAIRE : ici :)
PLEASURE ADDICTION, ce nom sonne non seulement bien mais donne aussi le ton sur l'ambiance à attendre de la part de nos frenchies et sur un certain Hard Rock influences 80's / Glam nourri aux meilleures sources, dont Danger – Danger, Mötley Crüe ou Poison, que pratique le quintet. Un pied à peine sur scène et voici que le groupe met de suite à l'aise avec une attaque de concert incontestablement efficace, où les rythmiques de Bady (Sweet Silence) et les très bons soli de Carvin (Aesthesia), ne laissent planer aucun doute sur la compétence des deux guitaristes, et la basse de Stuffy (High-School Motherfuckers, Suckerstarz, Voodoo Smile, Love Sikk Junkiez) s'allie avec la batterie de Pamy (High-School Motherfuckers, Suckerstarz, Voodoo) pour vous marquer un tempo qui rock comme l'enfer.
Cerise sur le Hard Rock, le dernier arrivé au chant, El Butcho (Watcha, Hellectrokuters, Showtime, Redneck Rampage) possède le timbre et la présence vocale qui conviennent au mieux pour les morceaux. Même si quelques petites points faibles étaient à relever ça et là, les points forts l'emportent largement et Pleasure Addiction porte son nom avec justesse: c'est qu'on en deviendrait accro ! :)
Les titres originaux sont bien inspirés et la reprise de Cinderella: « Gypsy Road », rappelle qu'avec Pleasure Addiction, l'esprit est à la célébration de ce style de Hard Rock qui vous inspire une furieuse envie de s'éclater !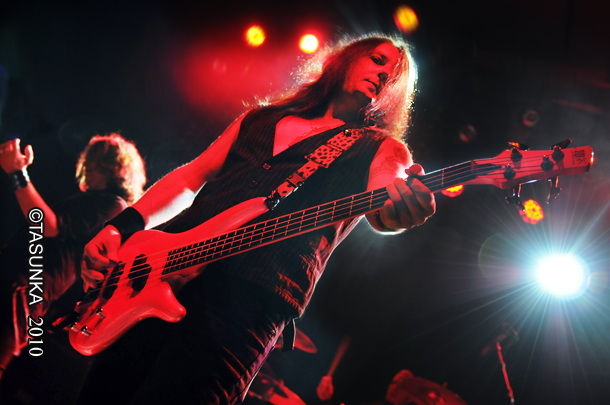 Avec son dernier opus sorti en 2009: « Smoke And Mirrors », LYNCH MOB a récolté d'emblée une moisson de critiques très positives, de la part des fans et de la presse, aussi, une tournée « Smoke And Mirrors » était une nouvelle logique et qui s'apprend avec plaisir. C'est bon de revoir en live le duo des débuts de LYNCH MOB, à savoir son fondateur et ex-DOKKEN, George Lynch (guitare) et Oni Logan (chant), duo à nouveau ensemble pour promouvoir les tout nouveaux morceaux. La halte de la tournée 2010 au Divan Du Monde, a aussitôt vu les places achetées à peine l'annonce du concert faite et la salle se remplir en conséquence.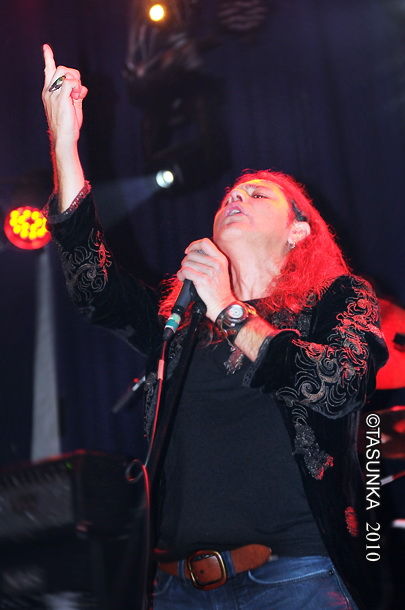 C'est donc face à un public déjà acquis à sa cause, que LYNCH MOB est enfin monté sur scène. « Enfin », parce que les problèmes techniques qui se sont succédés tout le long du gig, ont retardé l'entrée en scène de la tête d'affiche; ça a commencé par un micro réticent à tout réglage et au fil des 1h40 de concert, cela a continué avec, au choix, des problèmes de raccordements, de réglages sonores, de chutes brutales de pieds de cymbales du haut de l'estrade, le tout avec pour effet, de très, trop nombreux arrêts entre chaque morceau ou presque, afin de remettre le tout en ordre. Ce qui a donné des temps morts comblés soit par un solo a capella de Oni Logan, soit par de nombreuses blagues ou un George Lynch qui demande au public si quelqu'un peut lui passer une cigarette: un paquet vole et voilà le musicien, clope à la bouche, dans les fumées de cigarette pour entamer l'un de ses excellents soli: épatant !! Epatant de groove, de technicité dosée avec talent entre feeling et dynamisme purs :)
Le concert était donc reparti de plus belle et si ce n'était ces temps morts forcés quelque peu agaçants et un groupe qui prend le tout avec nonchalance, l'alchimie reprenait néanmoins à peine la troupe entamait-elle un nouveau morceau. Adieu alors la nonchalance, et bonjour l'implication et le plaisir de jouer de tous les membres de LYNCH MOB. Ce qui n'a pas manqué de donner de grands moments de Metal, de Rock'n Roll haut de gamme, où le talent de George Lynch faisait des étincelles, où celui d'Oni Logan, au chant, de Scott Coogan (Brides of Destruction, Ace Frehley) à la batterie, faisaient décoller immanquablement.
Pour la suite de la tournée et donc à Paris aussi, Marco Mendoza (Whitesnake, Thin Lizzy, Ted Nugent) a laissé sa basse à Robbie Crane (Ratt, Vince Neil) et avoir une palette des pointures pareilles en live, c'est le top ! Le top, en effet, comme pour ce final où le hit hymnique, « Wicked Sensation », a fait des heureux dans tout le public et en bonus, a vu une surprise de taille: d'un coup, surgi du fond de la salle, James KOTTAK (Scorpions, Kottak) a grimpé l'estrade pour rejoindre LYNCH MOB à la batterie. OK Scott Coogan ne fait pas semblant quand il joue et se donne tellement à 100% que les cymbales volent au sol avec leur pied, mais quel batteur et pour laisser sa place, il fallait au minimum un autre musicien de ce niveau, alors qui de mieux que James Kottak qui assure avec SCORPIONS derrière les futs ou avec son groupe KOTTAK (aux chant et guitare) ?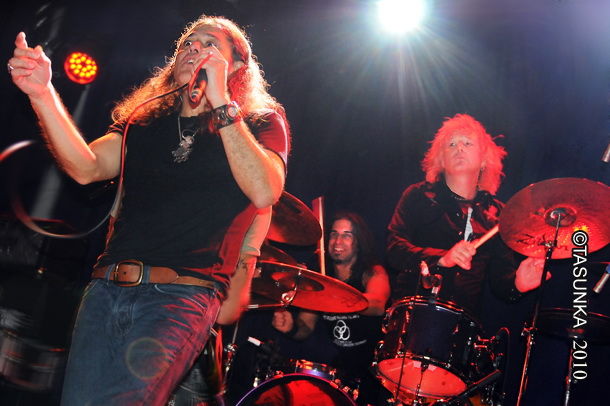 Le concert de LYNCH MOB a certes eu un peu de mal à décoller pleinement, mais quand à mi course, ce fut fait, on aurait aimé que ça se prolonge encore et encore. Une tentative de second rappel de la part du public a manqué d'aboutir, mais dommage, les lumières se sont rallumées, pour de bon.
En résumé, un 17 novembre où le froid était à l'extérieur et où la chaleur de deux formations de pur Rock / Hard Rock a mis le feu à l'intérieur, d'autant que l'ingé son a fait du beau travail !
Alors, LYNCH MOB et PLEASURE ADDICTION, merci ! :)
Et un clin d'oeil aux membres de Dokken Fanatic.com pour leur drapeau tricolore avec dessin, logo et comme inscription un « In GeOrgD'ge we trust! » qui a été remis au groupe lors du salut de fin et leur a apparemment plutôt plu ! :)
Setlist LYNCH MOB :
- She's So Evil
- River Of Love
- Hell Child
- Revolution Hero
- Music Master
- 21st Century
- All I Want
- We Will remain
- Mr Scary
- Into The Fire
- Tooth 'n Nail
- Wicked Sensation
Setlist PLEASURE ADDICTION:
-Couldn't Live
- Dance With The Devil With Me
- My Superstar
- Shout It Out
- Saturday
- No More Me No More You
- Gypsy Road
- Melody
- Shot Of poison