08 septembre 2017

==> Out September 15th via eOne // Long Branch Records (Europe) - SPV

THE CONTORTIONIST, ce nom a su rimer avec les années et depuis la création du groupe en 2009, avec formation d'exception qui aime se poser des défis artistiques. Avec « Clairvoyant », la progression justement vers une liberté artistique sans barrières, vers toujours plus de ce pur et simple plaisir de créer, donner vie à une musique pour le plaisir de ses créateurs et de son auditoire, suit sa maturation, son chemin avec toujours cette classe, ce flair et inspiration qui caractérisent les américains. Techniquement toujours aussi en pointe, au service total des muses qui animent chaque membre du groupe, «Clairvoyant» se voit être un voyage hypnotique aux multiples facettes, entre sensibilité et intelligence, urgence et méditation, dynamisme des guitares, claviers et beauté planante qu'une voix plus que majoritairement claire, parachève: le Metal Progressif qui est ici pratiqué, surprend, séduit, captive, grâce à un mixe de vibrations, de tension, d'influences, qui se complètent, se répondent, explosent en une détonation de Prog, de Metal, d'inspirations de fusion jazzy par touches. Les compositions sont racées et naturelles à la fois, fortes et émotionnelles assurément. Il est à souligner l'autre atout qu'est le son, ce son puissant qui fait partie intégrante de l'aboutissement de « Clairvoyant », en permettant aux multiples couches caractérisant les compositions et à leur profondeur, leur recherche, leur tension, de toucher avec tout l'impact qui est le leur.
THE CONTORTIONIST sortent des sentiers battus tout en demeurant fidèles à eux-mêmes et avancent sur le chemin qu'ils ont choisi, de pure création et plaisir au travers de ce « Clairvoyant », tout simplement réussi!
Tasunka
« Clairvoyant » Tracklist :
01. Monochrome (Passive)
02. Godspeed
03. Reimagined
04. Clairvoyant
05. The Center
06. Absolve
07. Relapse
08. Return To Earth
09. Monochrome (Pensive)
"Clairvoyant" reunited the band with producer Jamie King (Between The Buried And Me, Through The Eyes Of The Dead)
THE CONTORTIONIST Line Up:
-Michael Lessard - Vocals
-Roby Baca - Guitars
-Cameron Maynard - Guitars
-Jordan Eberhardt - Bass
-Eric Guenther - Keyboards
-Joey Baca - Drums
---
---

---
20 juin 2017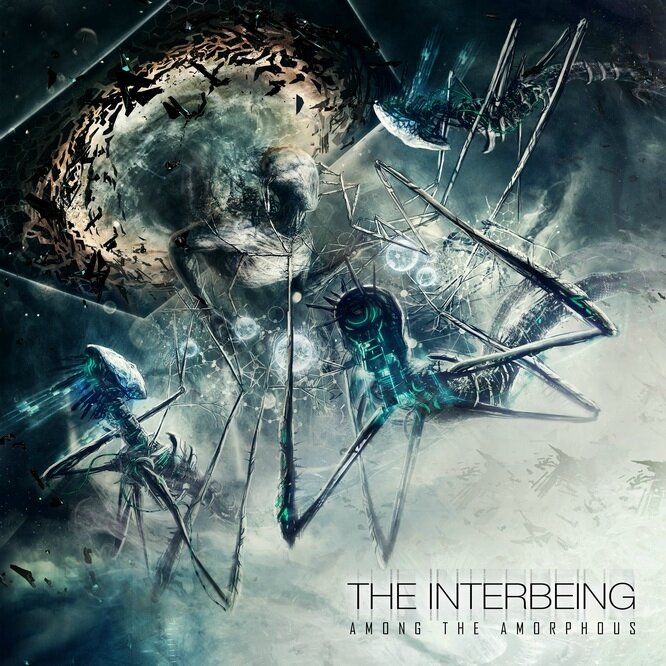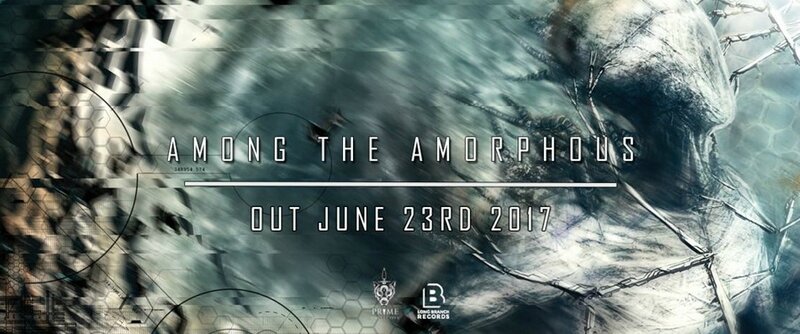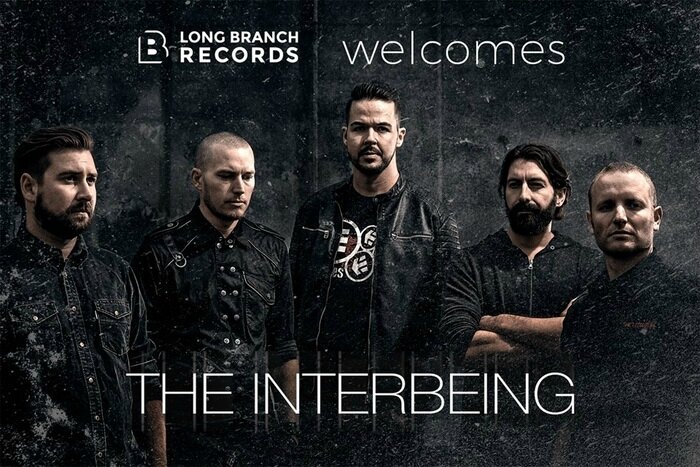 Donner un successeur à son premier album surtout quand celui-ci a fait forte impression, en 2011 et qu'on a tourné dans la foulée, avec pas moins que Stone Sour, Meshuggah, succéder à cet album, donc, est toujours un défi pour tout groupe en devenir et particulièrement pour les bien inspirés, THE INTERBEING et leur Metal Industriel moderne, de premier ordre.
C'est donc avec un second opus, « Among The Amorphous », que les danois reviennent et le temps que la bande a pris pour perfectionner, peaufiner chaque détail, valait toute la sueur, l'inébranlable implication et investissement perso, qui n'ont d'égal que la détermination et passion évidentes qui animent le groupe, The Interbeing a placé la barre haute au niveau des compositions, de l'ambitieux et intelligent concept à la dystopie visionnaire glaçante, qui est la colonne vertébrale de cette second offrande et de même côté barre placée haute, en ce qui concerne une interprétation organique, technique, et bardée d'une réelle intensité chevillée aux instruments et aux vocaux; tous alignent, en effet, une dextérité des plus notables et pointue, qui sait faire parler le feeling hypnotisant des atmosphères nombreuses et variées qui animent les nouveaux morceaux.
On sent le vent des sonorités à la Meshuggah, la brise des chorus évocation Devin Townsend, courir le long des titres, tout en voyant ces derniers, les titres, possédés par une patte riche et bien inspirée qui n'appartient qu'à The Interbeing. C'est justement ce sceau TI, qui démarque The Interbeing et leur second opus et fait adhérer à leur Metal technique et bardé d'une charge émotionnelle, de haut vol. La barre dans l'écriture et la composition de ce concept album, a été franchie avec aisance: challenge relevé puisque, à l'instar des vocaux chargés en émotions qui mixent, avec brio, chant en growl, voix claire ou sourde, en murmures ou arrachée, le Metal des TI offre un déploiement d'atouts à tous niveaux. Cela part de la pochette en osmose avec le propos, à la production vivante et forte de Jacob Haagensen, doublée du master du à Jacob Hansen, aussi bassiste de la troupe, en passant, bien sûr, par une interprétation assurément convaincante et convaincue de The Interbeing, au complet.

Pari réussi, donc, pour les danois, puisque leur seconde offrande, « Among The Amorphous », est accrocheuse et porte la signature du Metal Industriel moderne, d'un groupe de valeur : The Interbeing !

Tasunka

01-Spiral Into Existence
02-Deceptive Signal
03-Sins Of The Mechanical
04-Borderline Human
05-Purge The Deviant
06-Cellular Synergy
07-Enigmatic Circuits
08-Pinnacle Of The Strain
09-Sum Of Singularity
10-Among The Amorphous
"Among the Amorphous" is mixed by the newly talented producer Jonas Haagensen and mastered by Jacob Hansen at Hansen Studios (Volbeat, Dizzy Mizz Lizzy, Pretty Maids)

"Among the Amorphous" cover by Michel Winckler-Krog / TI logo by Michel Winckler-Krog // Hackstage
-Dara Corcoran : Vocals
-Boas Segel : Guitars/Programming
-Torben Pedersen : Guitars/Vocals
-Jacob Hansen : Bass
-Kristoffer Egefelt : Drums
---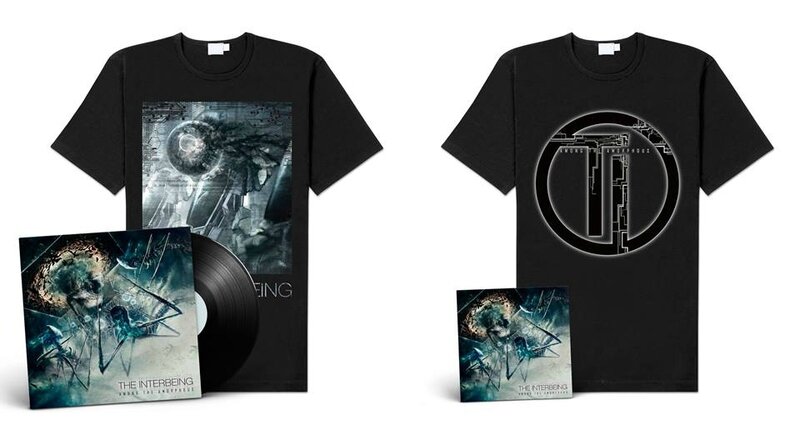 ---
10 juin 2017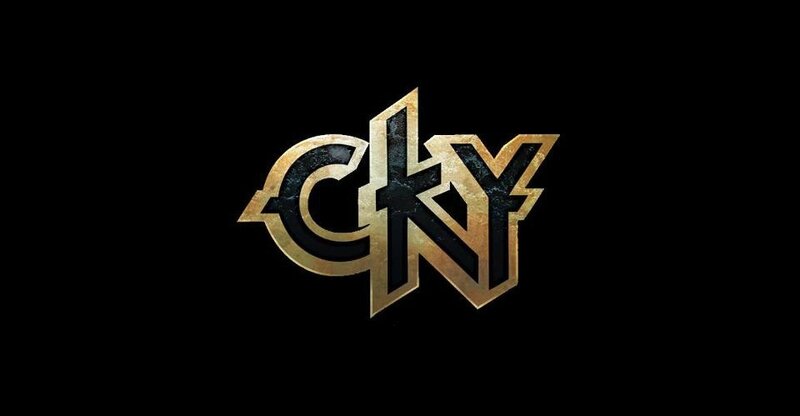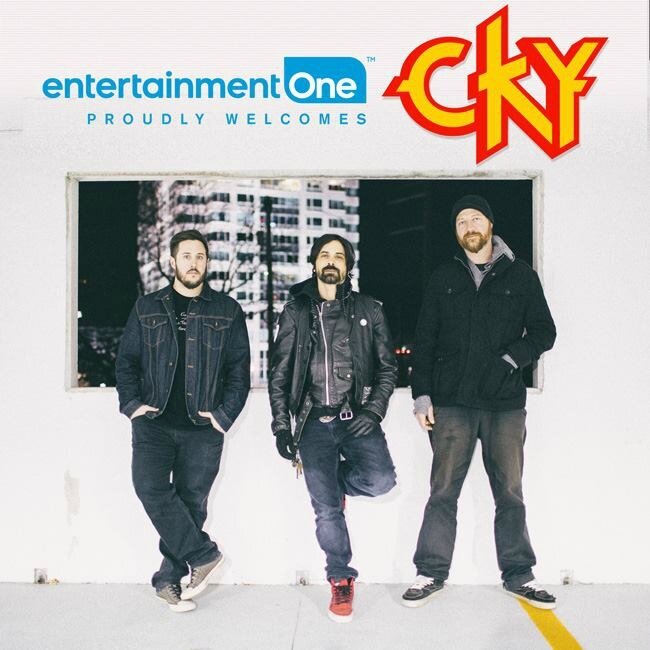 ==>Worlwide Release Date: 16/06/2017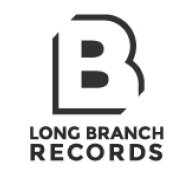 (Europe) / eOne (Rest Of the World)
'Nous ne 'devions' pas faire cet album, nous voulions le faire' déclare Chad I Ginsburg à propos de « The Phoenix ».
Le guitariste, chanteur, co-fondateur de l'iconique CKY, et à présent frontman du groupe, résume ce que le désormais trio, voulait pour leur tant espéré, presque inespéré nouvel effort. Pas de nouvelles compositions de CKY depuis 2009 et « Carver City », alors, il y a de quoi se réjouir de voir le Rock alternatif des américains de retour aux affaires en 2017 et qui plus est, dans une forme aussi flagrante que leur motivation, leur envie de déployer leur savoir-faire, et de faire parler la poudre.
Un retour aux origines, aux racines de leur Rock, marque de son empreinte tout « The Phoenix », qui comme le déclare CKY, est le successeur de l'esprit de « Infiltrate•Destroy•Rebuild » (2002), avec une touche de « Volume 1 » (1999).
Rechargés à bloc, CKY sont entrés en studio avec la ferme intention et détermination de délivrer un opus qui fasse s'exprimer en plein, tout ce qui fait la force, l'accroche qui fonde CKY, depuis surtout ses débuts. Enregistré avec maestria au fameux studio californien, 'Rancho Del La Luna', « The Phoenix » sonne avec toute l'efficacité et la dynamique requises et porte, ainsi, son nom avec panache, lui qui voit chacun des morceaux être une véritable renaissance, un brillant rappel de ce qui fait la force de frappe et d'accroche de CKY, son esprit en somme : c'est grand, brut, authentique, libre de tout faux semblant ou obligation, tout autant que propice à vous enflammer, groovy et toujours mené de main de maitre par le trio, qui pose, avec ce disque, un retour remarqué aux bases classiques, tout en sonnant mieux. Que ce soit les deux singles, « Days Of self Destruction » sur lequel joue, en guest, pas moins que le guitariste de Mastodon et ami de CKY, Brent Hinds ou « Replaceable », deux titres qui donnent le ton d'entrée de jeu, que ce soit le très prenant « Unknown Enemy » et « Wiping Off The Dead », « The Other Ones » ou encore le catchy « Better Than Get Even »,
CKY délivrent un album qui signe avec force et réussite, leur retour.
CKY font montre avec « The Phoenix », d'un déploiement d'atouts qui savent fédérer et c'est un groupe à l'assurance affichée de qui ils sont, de leurs capacités et de où ils vont, qui vous salue et marque un retour gagnant qu'une tournée va parachever.
Welcome back CKY !
Tasunka
"The Phoenix" track listing:
01. Replaceable
02. Days of Self Destruction
03. Unknown Enemy
04. Head For a Breakdown
05. The Other Ones
06. Wiping Off The Dead
07. Lies From You
08. Better Than Get Even

• The cover art : The band commissioned chandelier maker and artist Adam Wallacavage
• The album was engineered and mixed at Rancho De La Luna, the highly regarded recording studio in Joshua Tree, CA.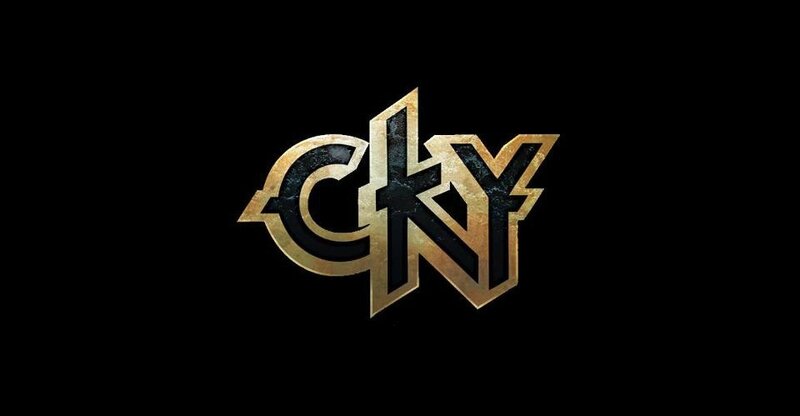 CKY Line Up:
-Chad I Ginsburg - Vocals/Guitars/Synths
-Jess Margera - Drums
-Matt Deis - Bass/Synths/Backing Vocals
Additional musician:
Brent Hinds (Mastodon)– additional guitar on "Days of Self Destruction"
---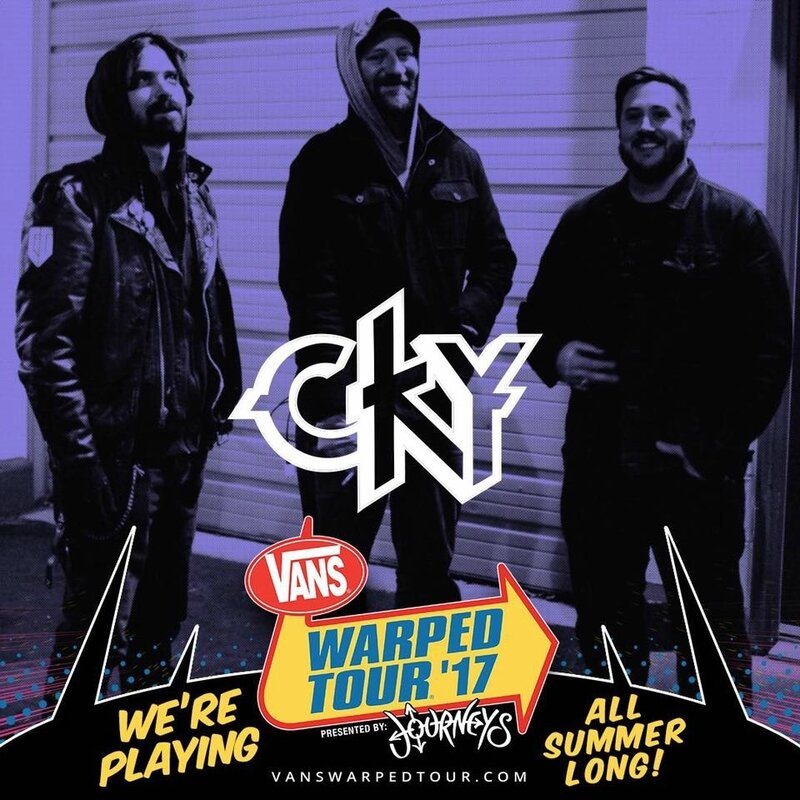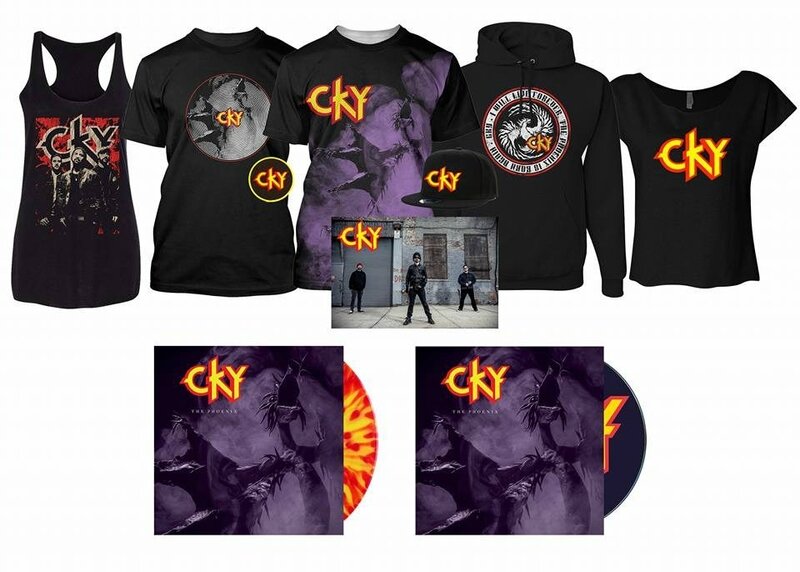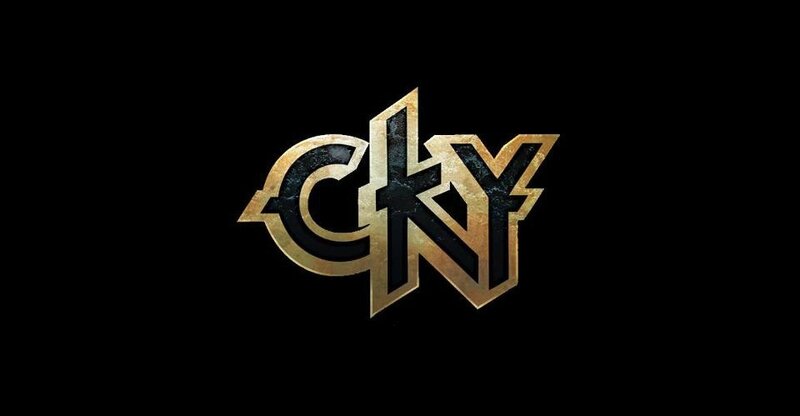 ---
21 avril 2017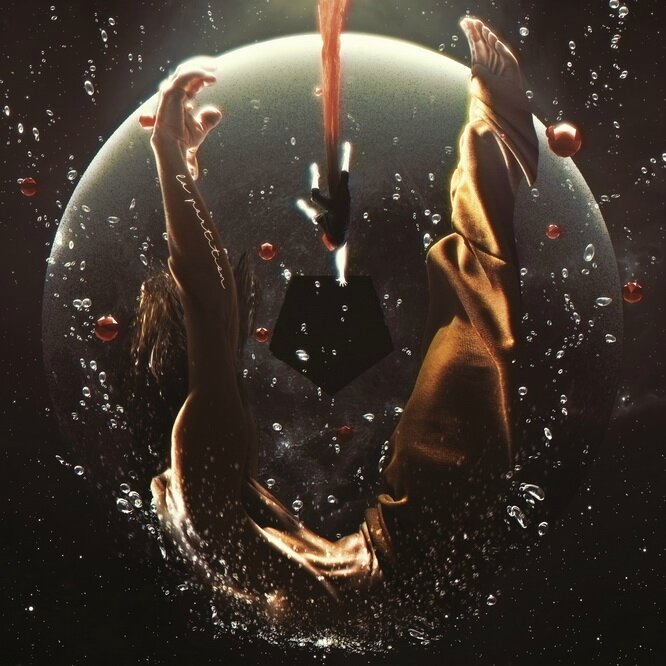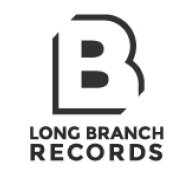 Quatre ans que UNEVEN STRUCTURE travaillaient sur leur concept-album , « La Partition » et on peut dire que le sextette a mis la barre haute, très haute avec un disque qui tutoie la perfection.
C'est simple, le successeur du déjà largement salué « Februus » (2011), pose les bases d'un post Djent, avec ce mixage audacieux et abouti entre les genres, un mélange et une base qui sont à l'image du son : alambiqué et accrocheur à la fois, technique et expérimental, aux arrangements fins, complexes, puissants et qui donnent vie, génèrent un de ces grooves qui emporte tout sur son passage.
Comment décrire un album qui se classe directement dans la catégorie 'un skeud comme ça, on l'attendait depuis longtemps' autrement que par des superlatifs ?
Les ambiances riches, élaborées et organiquement fédératrices à la fois, se taillent la part du lion au long de chacun des titres, qui sont autant de perles de par leur composition et leur interprétation, des perles qui voient la force du Metal avec la technique du Prog et l'atmosphérique, faire des ravages sur leur passage tout au long de « La Partition ». De la pochette de qualité, à la production peaufinée et racée, à l'interprétation d'un groupe au line-up à nouveau solide, une formation au demeurant, totalement investie dans le nouvel opus, et qui y a, cela se ressent, mis corps et âme, tout « La Partition » vous emportant littéralement. Tout se poursuit avec « Incube» qui fait le pont entre l'album « Februus » de 2011 et celui de 2017 et que vogue UNEVEN STRUCTURE vers les hauts sommets, là où est indiscutablement la place de cette formation hexagonale de valeur et classe internationales. D'ailleurs, la signature en janvier 2017 avec non moins que Long Branch records, pour une sortie à l'international, vaut tous les discours.

Hautement, chaudement recommandable, « La Partition » et son superbe voyage de 56 minutes dans l'univers intense de UNEVEN STRUCTURE !

Tasunka
"La Partition"Track-List:

01. Alkaline Throat
02. Brazen Tongue
03. Crystal Teeth
04. Groomed And Resting
05. Incube
06. Succube
07. Funambule
08. Greeted And Dining
09. The Bait
10. Our Embrace
11. Your Scent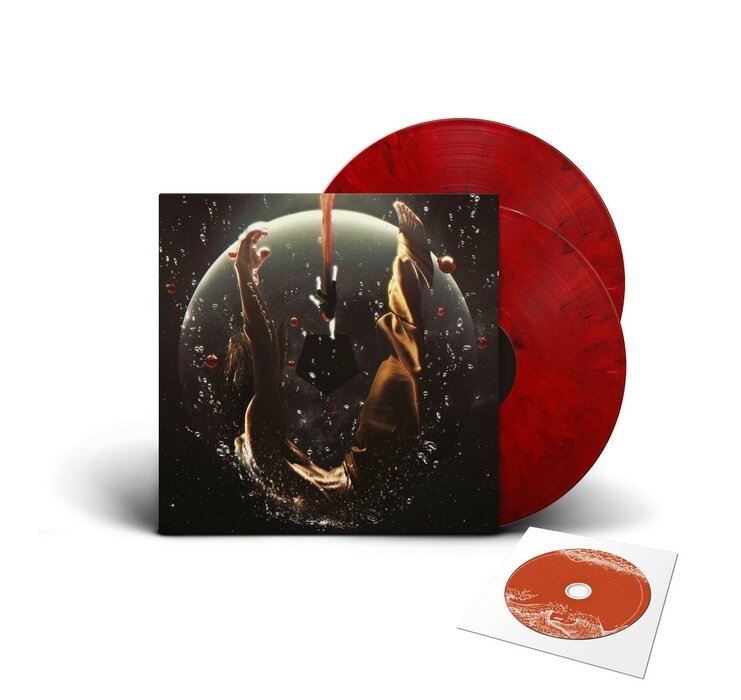 UNEVEN STRUCTURE Line-Up:
-Arnaud Verrier – Drums (ex Zuul FX / Kadinja)
-Benoit Friedrich - Bass
-Igor Omodei - Guitar, Production, Videos
-Jérôme Colombelli - Guitar
-Matthieu Romarin - Vocals, Production
-Steeves Hostin – Guitar (Beyond The Dust)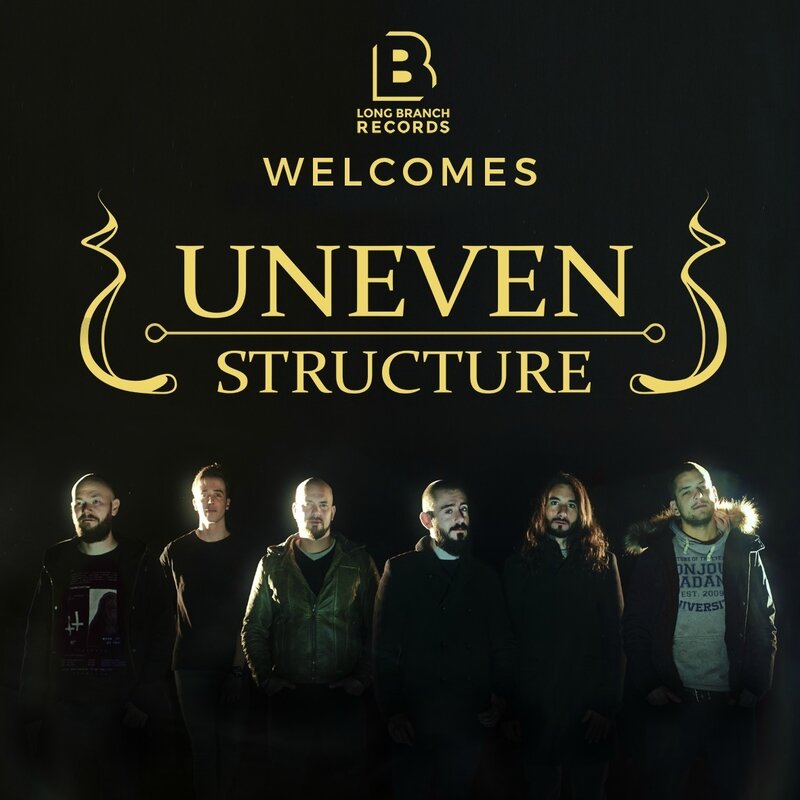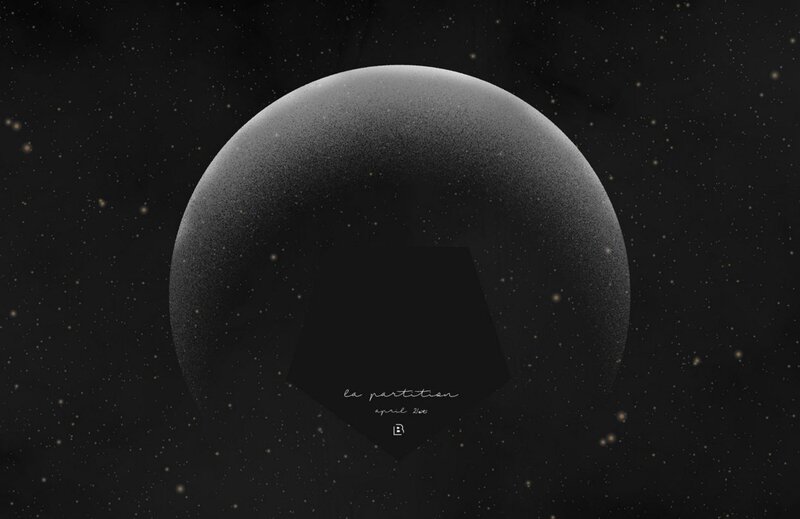 ---
+
-06.-10.07. UK, Newark - UK Tech-Fest
-29.09.-01.10. DE, Cologne - Euroblast Festival
---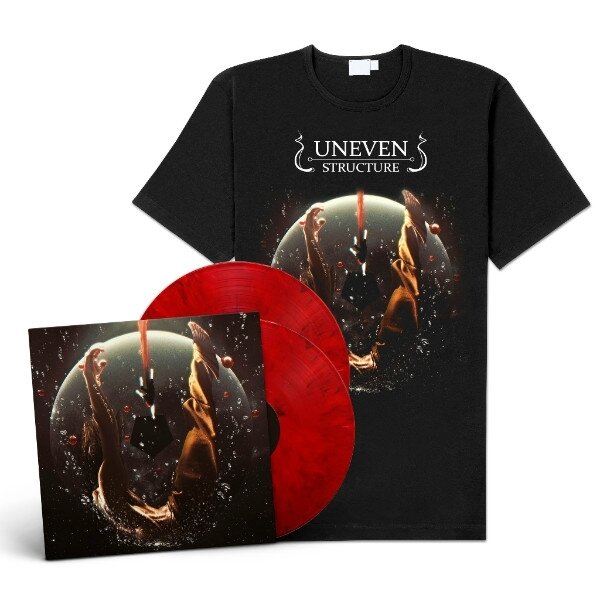 ---
15 mars 2017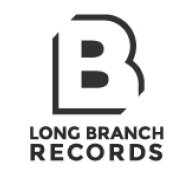 Formé en 2012, THE ROYAL n'a pas cessé, depuis, de se distinguer et de faire parler de lui avec son Metalcore mélodique dynamique et habité, qui traverse les genres en fusionnant le groove, le Metalcore et les mélodies, se les appropriant tous pour en faire sa musique, sa marque de fabrique propre.
Si ces jeunes loups sont forts à la fois de leur appétit indéniable d'y arriver et de leur plaisir et envie de jouer la musique qu'ils aiment, les hollandais ont de même une qualité qui les anime et est une solide base, celle de proposer des compositions solides, bien senties et pensées que des paroles aussi inspirées que la musique, viennent compléter. D'ailleurs, pour leur second album studio, « Seven », la ligne directrice est celle-ci : « Recherchez la vérité et la sagesse dans tout ce que vous faites et cherchez les solutions qui se cachent en toute chose ». Musicalement, le quintette donne vie au propos avec brio, puisque on assiste à une déferlante riche et bien calibrée, variée, de pur Metalcore, toujours appuyé par des mélodies qui capent tout l'attention. Des guitares au chant, de la section rythmique basse-batterie à la production, tout y est fort en efficacité et vitalité, notamment via des titres sur lesquels le groupe se remarque plus, c'est-à-dire ceux où la diversité se fait encore plus sentir : « Counterculture », « Draining Veins », « Creeds And The Vultures », « Feeding Wolves », « Viridian », « Seven », pour exemples.
Long Branch Records a eu du nez en signant THE ROYAL et cette première sortie sous la bannière du label, « Seven », convainc largement du potentiel de la troupe.
Jugez-en par vous-mêmes lors la sortie de « Seven » le 31 mars 2017 et même bien avant, puisque THE ROYAL débutera sa tournée en support de Dreamshade, le 19 mars 2017 à Paris. Le quintette s'étant forgé une belle réputation quant à ses prestations scéniques, le concert promet de valoir le déplacement :)

THE ROYAL, retenez ce nom: ils ont les atouts pour aller loin !
Tasunka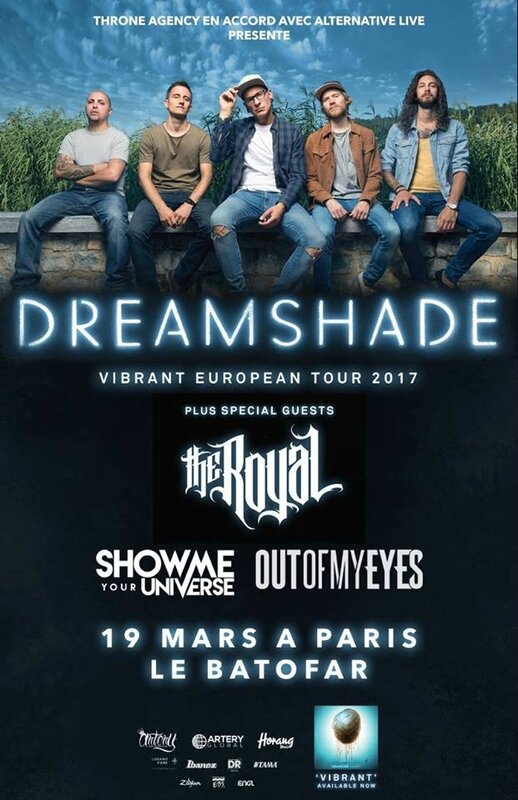 « Seven » Track-List :
01-Thunder
02-Feeding Wolves
03-Wildmind
04-Creeds And The Vultures
05-Counterculture
06-Interlude
07-Seven
08-Life Breaker
09-Thalassa
10-Draining Veins
11-Viridian
THE ROYAL Line Up:
-Sem Pisarahu (Vocals)
-JD Liefting (Guitars)
-Pim Wesselink (Guitars)
-Loet Brinkmans (Bass)
-Tom van Ekerschot (Drums)
Discography:

-2017 : "Seven" (First label released record)
-2014 : "Dreamcatchers" (self-released first full-length album)
-2013 : "Blind Eye" (single)
-2012 : "Origins" (EP)
---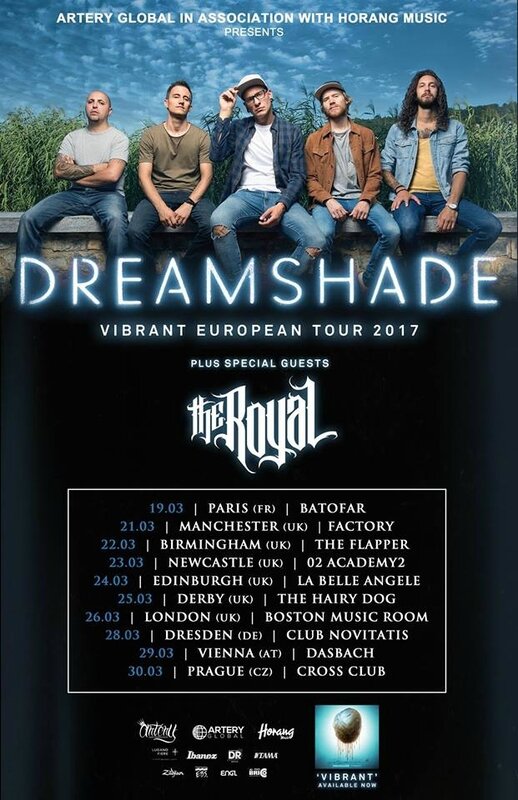 THE ROYAL TOURDATES 2017

w/ DREAMSHADE
19.03. FR - Paris - Batofar
21.03. UK - Manchester - Factory
22.03. UK - Birmingham - The Flapper
23.03. UK - Newcastle - o2 Academy2
24.03. UK - Edinburgh - La Belle Angele
25.03. UK - Derby - The Hairy Dog
26.03. UK - London - Boston Music Room
28.03. DE - Dresden - Club Novitatis
29.03. AT - Vienna - Das Bach
30.03. CZ - Prague - Cross Club

w/ SIENNA SKIES
06.04. IT - Verona - Blocco Music Hall
07.04. IT - Bergamo - Joe Koala
08.04. IT - Misano Adriatico - Wave Club

HEADLINE TOUR
10.04. CH - Bellinzona - PIT
12.04. LU - Luxembourg - Spot 48
13.04. BE - Brussels - Rock Classic
14.04. BE - Liege - Le Garage Creative Music
18.04. ES - Barcelona - Sala Rocksound
19.04. ES - Madrid - Starving
20.04. ES - Maliano/Santander - La Tribu

FESTIVALS
07.07. UK - Newark - UK Tech-Fest

More tourdates coming soon...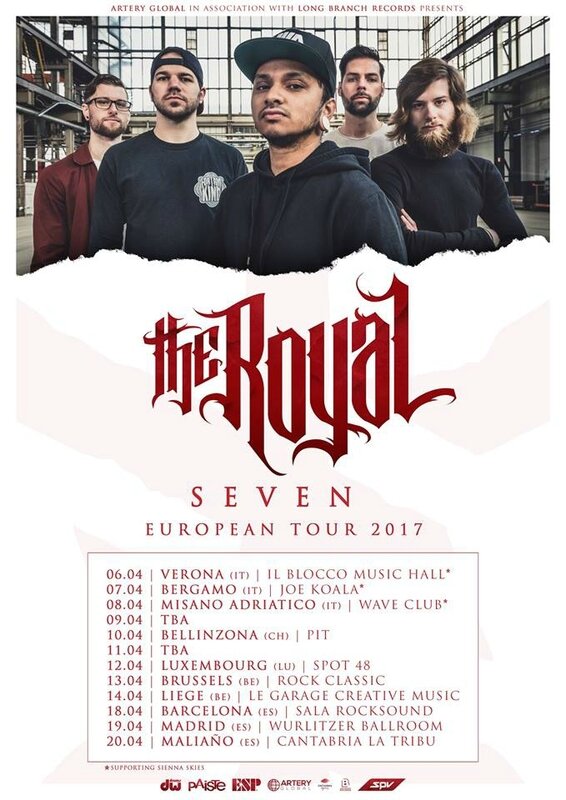 ---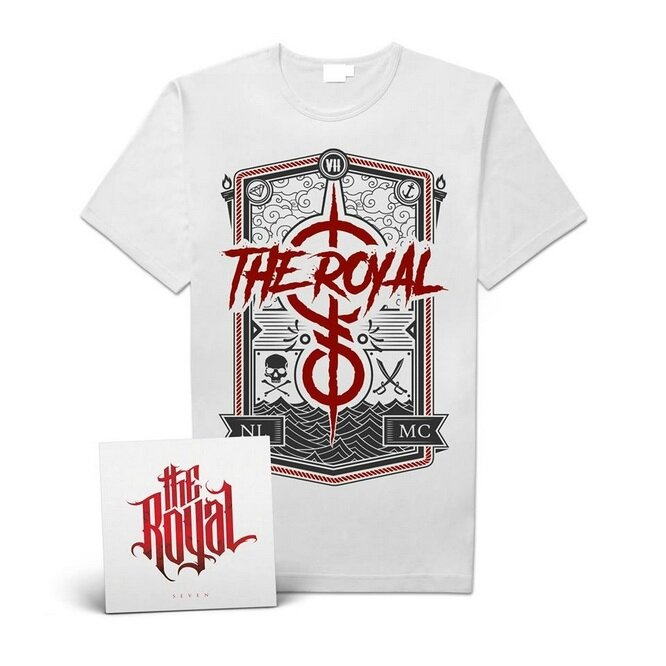 ---
---
11 mars 2017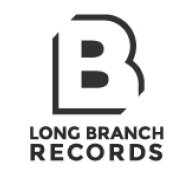 (Europe) / eOne (Rest Of the World)

Quand Will Putney, guitariste, producteur et fondateur de FIT FOR AN AUTOPSY, déclare que « The Great Collapse » est l'album le plus fort de leur catalogue, on en salive d'avance. Le groupe étant, effectivement, habitué à tout broyer sur son passage avec son Deathcore novateur de premier ordre, intelligent et très investi, inspiré, alors, il tardait de mettre le brulot dans le lecteur et d'exploser les enceintes volume au maximum, comme il se doit quand on a un grand cru comme ça à savourer.
Et pour un grand cru, « The Great Collapse » en est un: l'humeur, l'atmosphère sont capiteuses et vénéneuses au point de se prendre comme autant de punchs droit dans les tripes, la densité, l'agitation des émotions exprimées avec une de ces forces de conviction et un investissement qui s'entendent, se ressentent, via toute la troupe, des vocaux redoutables au trio de guitares, sans omettre une basse et une batterie au top pour lâcher les chiens à pleine intensité. On est ici en présence d'un album propulsé par son puissant néo-post Deathcore, qui agit tel une déflagration superbe et fédère haut la main. Les paroles font, quant à elles, partie intégrante de la réussite et sont, comme toujours avec Fit For An Autopsy, des brulots engagés dénonçant pour exemple, le chaos engendré par l'homme via son rapport à l'environnement. Quant au son, il assure en plein pour ce qui est de délivrer à son maximum la furie habilement dosée, l'agitation qui animent les titres et que la bande de ces musicien doués, soudés, assure à magnifier. Des morceaux tels que les excellents « Head Will hang », « Black Mammoth » et ses chœurs, le génial final avec « Spiral », en passant par « When The Bulbs Burn Out », « Hydra », « Too Late », "Iron Moon" (avec en guest vocal, Kevin McCaughey-Ion Dissonance), tous vous rentrent sous la peau.

Magnifiquement intense en agressivité bien menée et en émotions, atmosphères puissantes, ce quatrième opus, « The Great Collapse » est
un must d'album: les porteurs de flambeau que sont FIT FOR AN AUTOPSY, ont fait très fort !

Tasunka

"The Great Collapse" Tracklisting:
01. Hydra
02. Heads Will Hang
03. Black Mammoth
04. Terraform
05. Iron Moon (feat. Kevin McCaughey -Ion Dissonance)
06. When The Bulbs Burn Out
07. Too Late
08. Empty Still
09. Spiral
LINE-UP:
-Joe Badolato - Vocals
-Patrick Sheridan - Guitars
-Will Putney - Guitars
-Tim Howley - Guitars
-Peter Spinazola - Bass
-Josean Orta - Drums
---
==> PS perso pour une fois:
Merci à FIT FOR AN AUTOPSY pour leur vidéo et single « Black Mammoth », pour leur soutien au combat actuel des nations amérindiennes, notamment des Lakotas dans le Dakota du nord (USA): combat contre le désastre environnemental du au pipeline de pétrole qui est en train d'être installé, qui traverse une réserve indienne, des lieux sacrés Sioux et représente un réel danger de contamination pour l'eau et ainsi, de tout ce qui vit. Oui, ça se passe, maintenant, au 21ième siecle !
'Hooka Hey' !
==> FIT FOR AN AUTOPSY vend un T-shirt dont les bénéfices iront directement en soutien au combat des Sioux @ Standing Rock: cliquer ici :)

FIT FOR AN AUTOPSY's Political "Black Mammoth" Video Tackles North Dakota Pipeline Controversy
Fit For An Autopsy commented on the themes of the song saying:
"We were recording the new record when the shit hit the fan in North Dakota, and I felt compelled to write a song that would address it," says guitarist and producer Will Putney. "This short clip we pieced together gives a little insight into the events that have transpired over the past few months throughout the protests."
"It got bad, then it got better, then it got worse, and now the natives of North Dakota need more help than ever, so we're launching an additional CD/Shirt bundle in conjunction with the single. All the profits from this sale will go directly to the Standing Rock Sioux Tribe – Dakota Access Pipeline Fund. No one in this country should have their rights denied or their homes taken from them."
==> The band are selling a t-shirt with proceeds going to the Standing Rock Sioux Tribe. Order one here

---
Directed by Max Moore (CODE ORANGE, OF MICE AND MEN)
---
---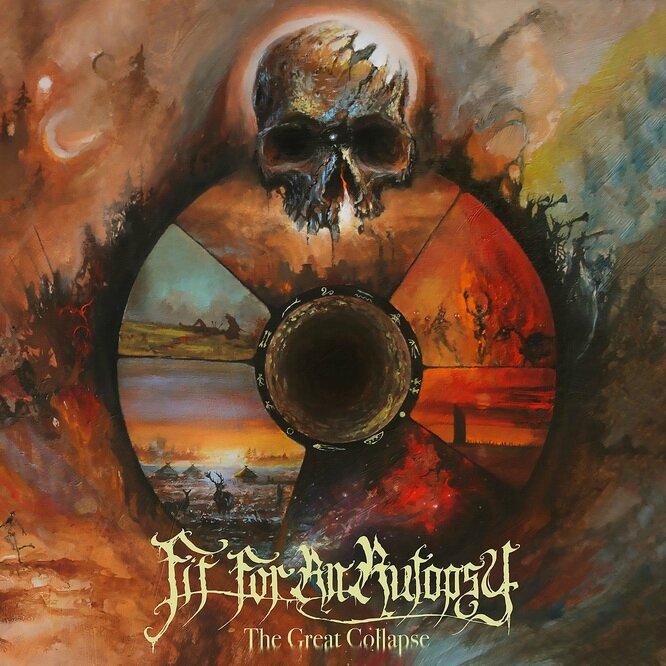 ---
10 mars 2017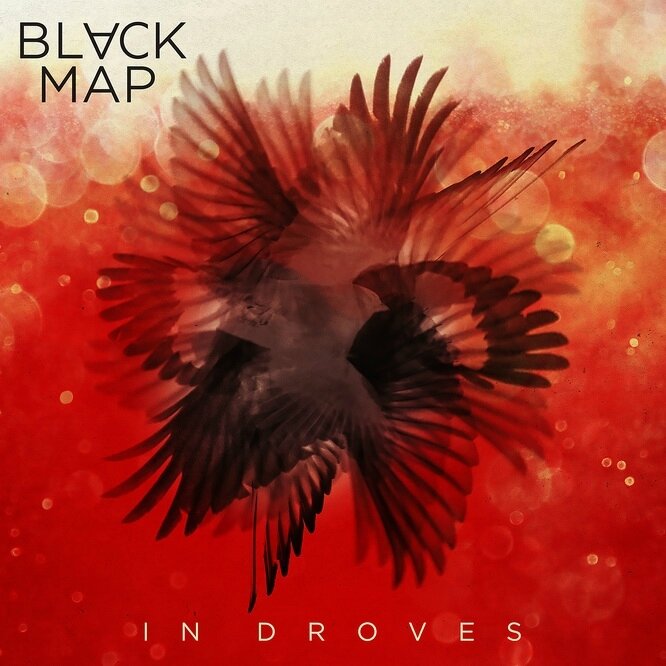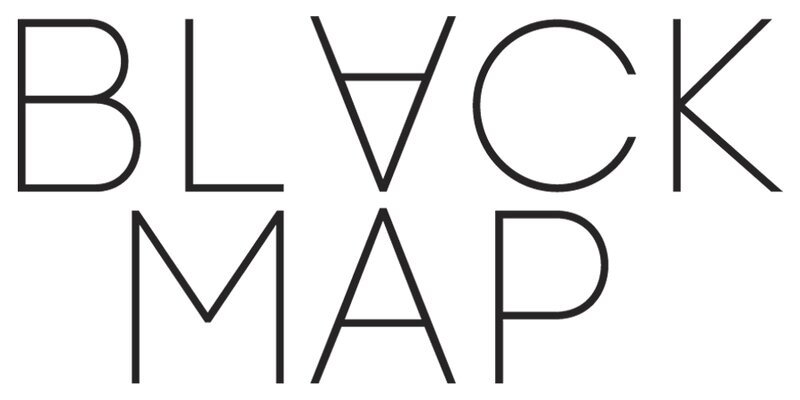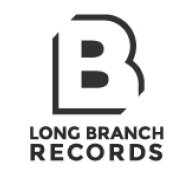 BLACK MAP étire et étend ses ailes musicales plus largement, et couvre avec son second album, « In Droves », une palette toujours plus vaste en allant du Rock épuré et aux accents années 90s, à l'atmosphérique lancinant, envoutant, via des mélodies et accroches aussi ciselées que les riffs peuvent être incisifs, mélodieux et aptes à laisser le feeling s'exprimer en force.
Le groove est indiscutablement au rendez-vous à tous les étages de ce trio californien des plus inspirés, qui sait être non conventionnel, se joue des limites et ose expérimenter de la voix, de la basse sourde et parlante, de la guitare aux atouts précités tout autant que de la batterie. Cette force de beauté Rock et progressive qu'est BLACK MAP, met dans le mille et obtient l'effet voulu, faire voyager, donner envie de relever le défi qu'ils nous lancent, celui de sortir de ce conformisme qui enferme et empêche de s'envoler, d'être soi. « In Droves » est une belle ode portée et sublimée par un Rock inspiré et sans fioritures, ni contraintes, qui laisse ses groove et sensibilité libres de s'exprimer en plein et ce, de multiples façons. Très accrocheur, ce second album du trio de choc, « In Droves », l'est assurément, d'autant que celui-ci bénéficie d'une production à l'image de la pochette : vive et totalement en adéquation ainsi qu'au service du propos.
Belle surprise que ce « In Droves » bardé de feeling et ce, de bout en bout : quasiment chaque titre pouvant être un hit-single potentiel.
Hautement recommandé, donc ! :)
Tasunka
« In Droves » Track-List :
01-Transit I
02-Run Rabbit Run
03-Foxglove
04-Ruin
05-Heavy Waves
06-Dead Ringer
07-Octavia
08-Transit II
09-No Color
10-Indoor Kid
11-White Fence
12-Just My Luck
13-Cash For The Fears
14-Transit III
15-Coma Phase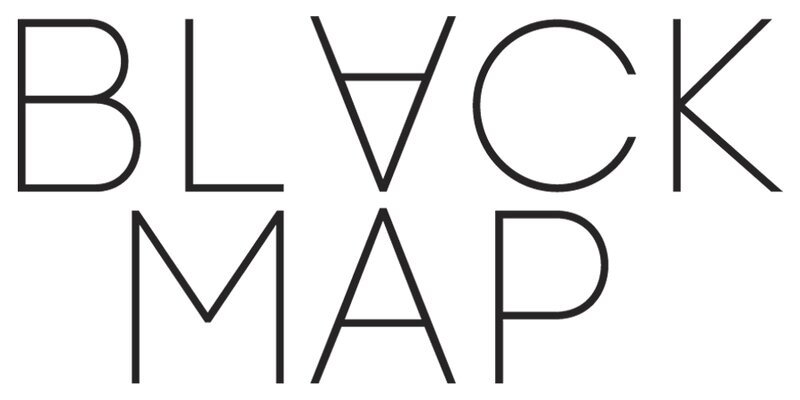 BLACK MAP Line Up:
-Ben Flanagan (Trophy Fire) - Vocals/Bass
-Mark Engles (Dredg) - Guitar
-Chris Robyn (Far) – Drums
---
---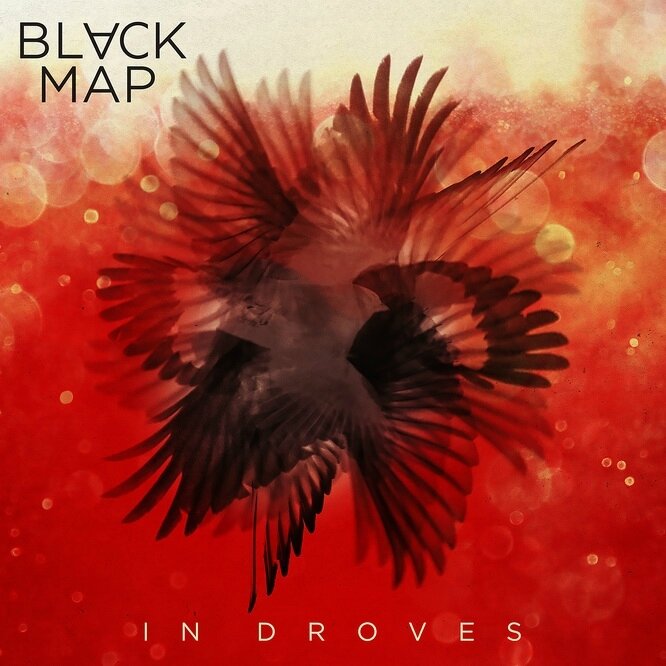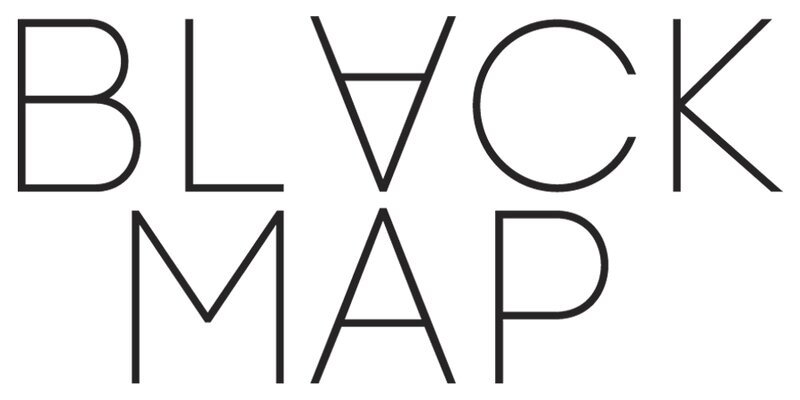 ---
28 février 2017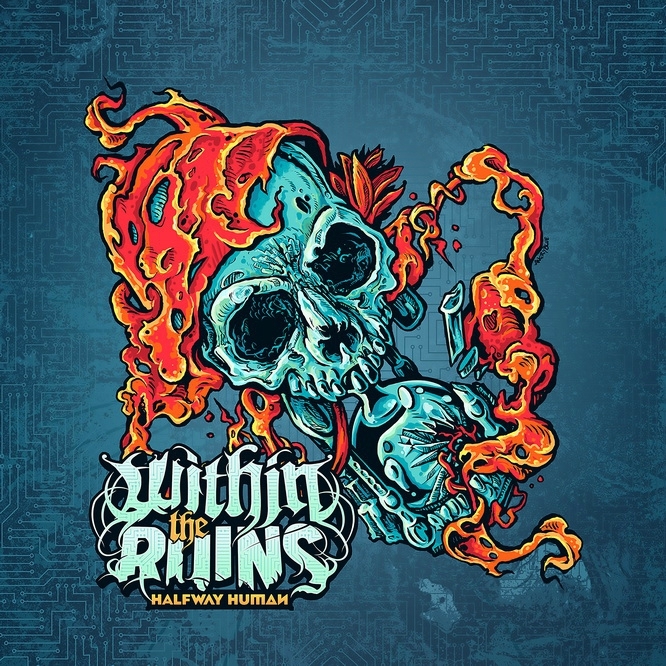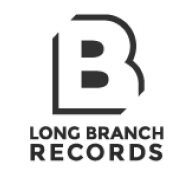 Toujours impériaux dans leurs riffs, shred et vitesse d'exécution qui n'ont d'égales que la créativité, l'inventivité pour casser les barrières de genres, WITHIN THE RUINS sont de retour avec leur Metal extrême inventif et avec «Halfway Human », pour l'occasion, qui signe une avancée de plus dans l'approche audacieuse du groupe.
On retrouve, en effet, cette identité qui a fait saluer la formation depuis ses débuts en 2003, avec ses attaques et riffs de guitare, sa technicité, sa précision chirurgicale et ses mélodies tranchantes comme un rasoir, tous fidèles au poste et plus aiguisés, inspirés que jamais au long des nouvelles compositions, mais avec, cette fois, l'alternance entre chant Death-Deathcore sauvage au possible et appoints de chant clair en réponse, de touches de tempos ralenti et d'acoustique, pour mieux reprendre dans l'agressivité brute , pour une sensation réussie qui voit le tout se mélanger avec agressivité et tout autant de classe, de panache et d'ingéniosité;
le pari n'était pas gagné sur le papier, mais WITHIN THE RUINS a su relever et dépasser le challenge et haut la main encore, notamment sur des titres tels que le royal et seul long morceau (6 :50) « Ataxia IV » un instrumental de premier choix, varié et riche à souhait, qui démontre, mais était-il encore besoin de le faire, la haute qualité technique et de feeling du quatuor. Plus courts et tout aussi nerveux, racés et inspirés, sont de même à citer le puissant final sur « Treadstone », ou encore le non moins fort « Incomplete Harmony », ainsi que « Death Of The Rockstar », « Ivory Tower », « Absolution », « Objective Reality ».
Des barrières ? Des compromis ? De la conformité ? Pas le style de WITHIN THE RUINS, au contraire:
brut, énergique, agressif, WITHIN THE RUINS persistent et signent avec « Halfway Human », leur identité unique, leur son massif au possible et bien sûr, leur audace créatrice qui fait que le groupe se remarque et se démarque, ouvrant l'horizon Metal plus grand à chaque fois.

Tasunka

01-Shape-Shifter
02-Death of the Rockstar
03-Beautiful Agony
04-Incomplete Harmony
05-Bittersweet
06-Objective Reality
07-Absolution
08-Ivory Tower
09-Sky Splitter
10-Ataxia IV
11-Treadstone
The band recorded the new effort from their own studio with producer and guitar player Joe Cocchi at the helm.
Vocal production took place at Zing studios in Westfield, MA with Jim Fogarty (Killswitch Engage, The Devil Wears Prada)
-Tim Goergen - Vocals
-Paolo Galang - Bass & Clean-Vocals
-Joe Cocchi - Guitarist / producer
-Kevin 'Drummer' McGuill - Drums
---
---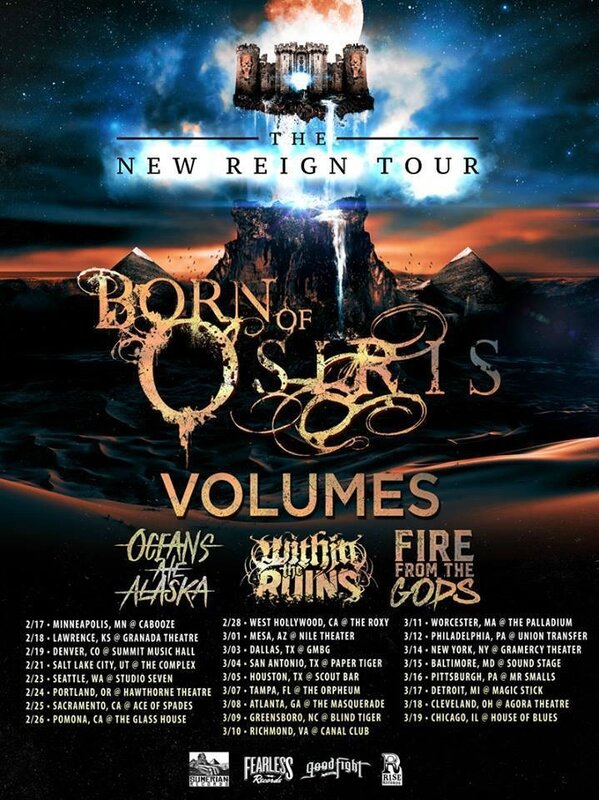 ---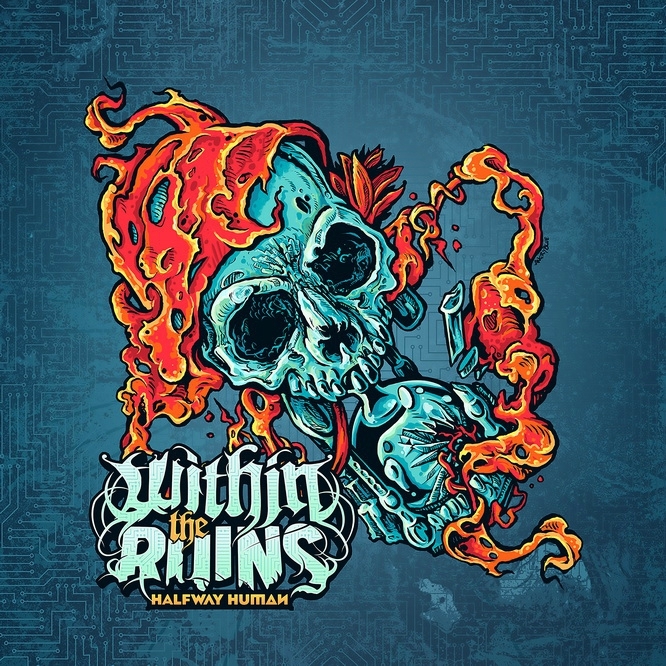 ---
23 janvier 2017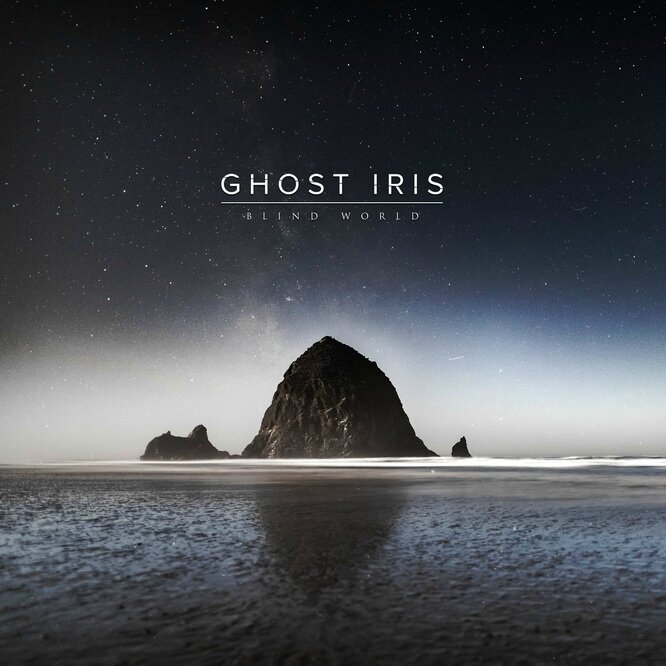 ==> Worldwide Release: 17 February 2017 / pre-Order here <==

Quand on songe à GHOST IRIS, de suite vient à l'esprit les termes 'ambiteux et créatifs'.
De l'audace dans leur Metalcore évolutif au sommet du 'Djent', les danois en ont assurément et leur second album, « Blind World » se montre des plus créatifs, lui qui voit aligner un savant et intelligemment mené cocktail de sensations et émotions fortes qui puisent et mixent dans le 'Djent' à la Meshuggah, guitare jouée de façon sourde et saturation plus qu'appuyée, donc, mais avec toujours cette touche particulière à Ghost Iris, en un brassage avec du Metalcore, Tech, Progressif option inspiration Funk. Ce mixage se retrouve de même via des poussées vocales qui éructent et un chant clair qui se distingue et se taille sa part du gâteau de « Blind World ».
Combinant les ambiances dues aux voix qui se complètent, donc et côté riffs, ceux-ci ne sont pas en reste, eux qui se disputent le devant de la scène avec les mélodies, en étant tous claquants ce qu'il faut et puissants au possible, énergétiques et vibrants à la fois. L'univers que GHOST IRIS propose avec « Blind World », est prenant, divers et à une qualité qui se souligne, celle de capter votre attention, voire vous hypnotiser particulièrement sur des morceaux d'une touche qui n'a d'égale que leur profondeur et la fougue de la jeunesse qu'affichent les quatre GI pour leur donner vie, à savoir : le très convaincant « Pinnacle », premier single tiré de l'album ou encore « Blind World », « Detached », « No Way Out », « Save Yourself », « After The Sun Sets », notamment.

Beaucoup de maturité, doublée de sang neuf et de spontanéité de leur jeunesse pour les danois de GHOST IRIS qui, même s'il ne n'en sont qu'au second opus, affirment d'ores et déjà leur place dans le monde du Metal et du Metal moderne, eux qui apportent avec « Blind World », une pierre à l'édifice.
LONG BRANCH RECORDS, enthousiasmés par leur prestation live particulièrement à l'Euroblast festival en 2016, les ont signés en décembre dernier et ont eu du nez:
GHOST IRIS est une formation qui en a sous le pied et affiche un avenir prometteur.
Une tournée européenne devrait se monter pour 2017, alors, restez à l'écoute et en attendant, « Blind World » est pour vous, histoire de s'imprégner du talent du groupe et de sa pèche, une énergie qui explose d'ailleurs sur scène, soit dit en passant :)
Tasunka

GHOST IRIS « Blind World » Track-List :
01. Gods Of Neglect
02. Save Yourself
03. The Flower Of Life
04. Pinnacle
05. No Way Out
06. Blind World
07. Time Will Tell
08. The Silhouette
09. After The Sun Sets
10. Detached
LINE UP GHOST IRIS:
-Jesper Vicencio - V
-Nicklas Grønlund Thomsen - G
-Dennis Nielsen - B
-Sebastian Linnet - D
---

---
---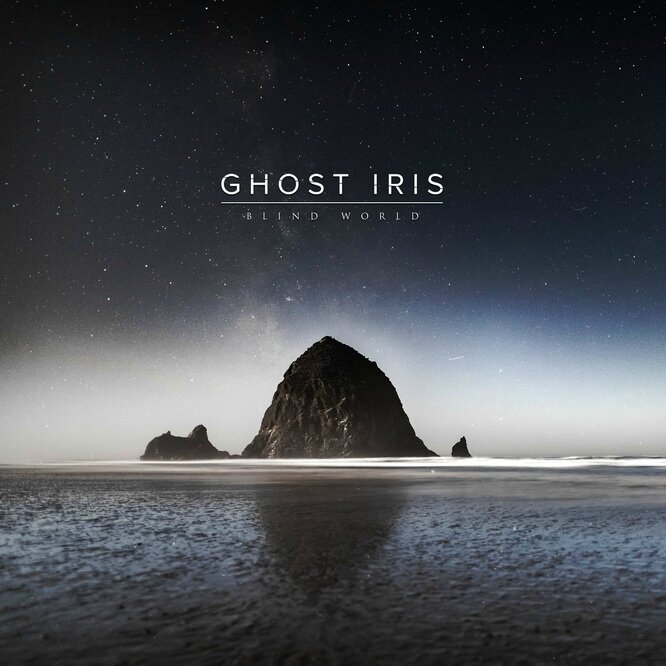 ---
06 décembre 2016
Avec « Devil May Care », on est en présence d'un Postcore / Metalcore agressif, au rythme soutenu, aux guitares lourdes et agiles à la fois, tout le chant qui se voit être double, écorché, sombre et clair, mélodique quand l'atmosphère le demande et le plus beau, c'est que les allemands d'ANNISOKAY mêlent les deux, alternent avec intelligence les ambiances pour créer des morceaux intenses et aussi parlants que possible.
L'émotion, la rage sont au rendez-vous en des montrées en puissance très appréciables des chants et riffs / soli, soutenues par une indéfectible et redoutable basse et une batterie indispensable à l'alchimie Metalcore qui réussit à délivrer, avec efficacité, cette sensation d'urgence. Les parties électroniques participent à la bonne impression de l'ensemble, la majorité des titres se révélant être des coups de poings. Pour leur troisième effort, ANNISOKAY frappent fort et même si tout n'est par parfait, notamment via un chant clair parfois traité de façon trop synthétique, il n'en reste pas moins que « Devil May Care » vaut le détour et l'arrêt :
avec leur nouvel album, les cinq d'ANNISOKAY confirment être un groupe de valeur, totalement engagé dans sa musique, investi à 100% âme et tripes !

Tasunka

"Devil May Care" Track-List:
01-Loud
02-What's Wrong
03-Smile (featuring Marcus Bridge of NORTHLANE)
04-D.O.M.I.N.A.N.C.E
05-Blind Lane
06-Thumbs Up,Thumbs Down (featuring Christoph von Freydorf of EMIL BULLS)
07-Hourglass
08-Photographs
09-Gold
10-The Last Planet
Line Up ANNISOKAY:
-Dave Grunewald - Shouts
-Christoph Wieczorek - Guitar & Vocals
-Philipp Kretzschmar - Guitar
-Norbert Rose - Bass
-Nico Vaeen – Drums

Discography :
-2014 debut "The Lucid Dream[er]"
-2015 "Enigmatic Smile"
-08/2016 Michael Jackson cover-EP "Annie Are You Okay?"
-11/2016 "Devil May Care"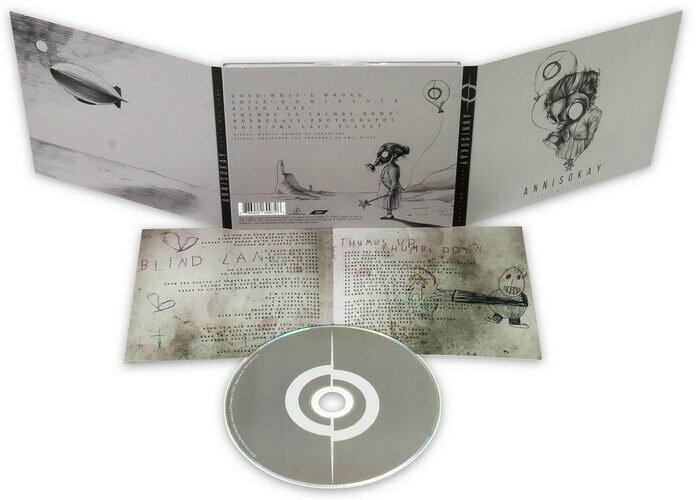 ---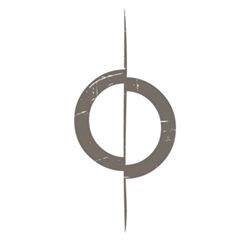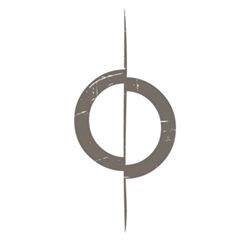 ---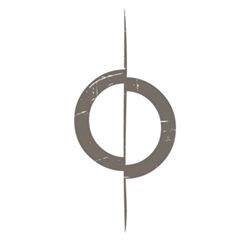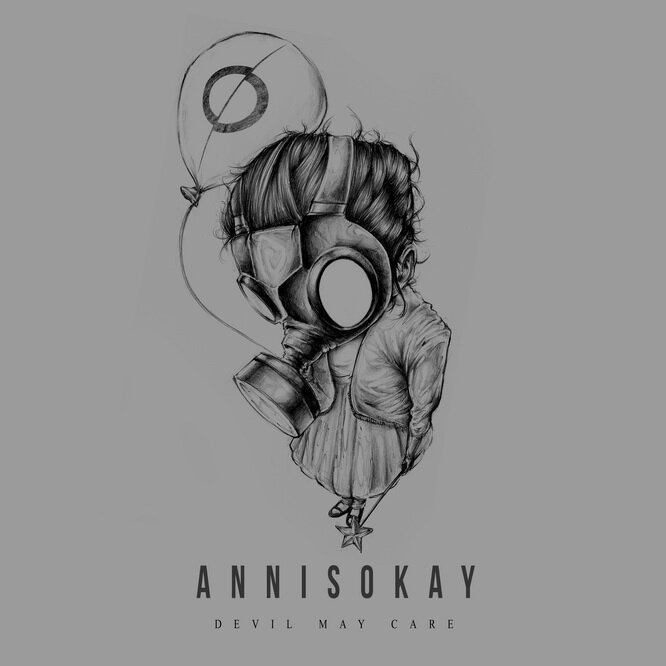 ---