28 août 2020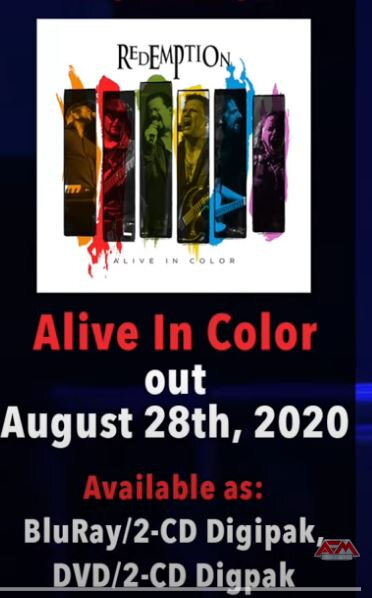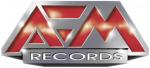 REDEMPTION sait faire impression non seulement sur albums depuis ses débuts en 2000, et en live, la dimension de haut vol qui caractérise le groupe, déploie avec une délectation affichée, toute l'envergure et elle est grande, de ses larges ailes colorées en sensations instrumentales, vocales et atmosphères riches à souhait; alors, quoi de mieux qu'un ProgPower USA de renom, en septembre 2018, pour capter l'essence riche et unique de REDEMPTION, avec ce live CD/DVD au nom justifié : « Alive In Color ». La formation y faisant, en effet, montre de toutes les couleurs de la richesse de son Prog léché, mélodique, dynamique, de tout son talent, de tout son art à tous niveaux, à commencer par les instruments, qui régalent littéralement le public avec ses passes d'armes, ses mélodies entêtantes, ses envolées puissamment subtiles et fortes à la fois, ses recherches audacieuses et abouties notamment au niveau guitares et claviers, même si la section rythmique est du même haut niveau que ses comparses, sans conteste.
Un festin que ce « Alive In Color » entre une setlist calibrée à souhait, entre plaisir, dynamique, finesse et technique, le tout shooté à l'adrénaline sans retenue: le public et le groupe savourent visiblement le moment et c'est contagieux. Alors, pour le premier CD/DVD live de REDEMPTION avec, aux vocaux, leur nouveau complice, non moins que Tom S. Englund (EVERGREY), la réussite est incontestablement au rendez-vous, d'autant qu'en guests de luxe, le plaisir est complété avec les ex et amis, dont le prédecesseur au micro jusqu'en 2017, Ray Alder (FATES WARNING) qui déclenche une salve d'acclamations de la part de la foule à son apparition, ainsi que les guitaristes de renom et doués s'il en est, Chris Poland (MEGADETH, OHM) / Simone Mularoni (DGM).
REDEMPTION fait mouche et assure tout du long de ce concert copieux et dont on en redemande, une fois la dernière note jouée.
REDEMPTION avec « Alive In Color » donne une furieuse envie de retourner aux concerts et de même, d'être en 2021, date prévue pour le prochain et huitième album studio de la formation, nouvellement signée avec ce live, chez AFM.


Tasunka
---
---


---
---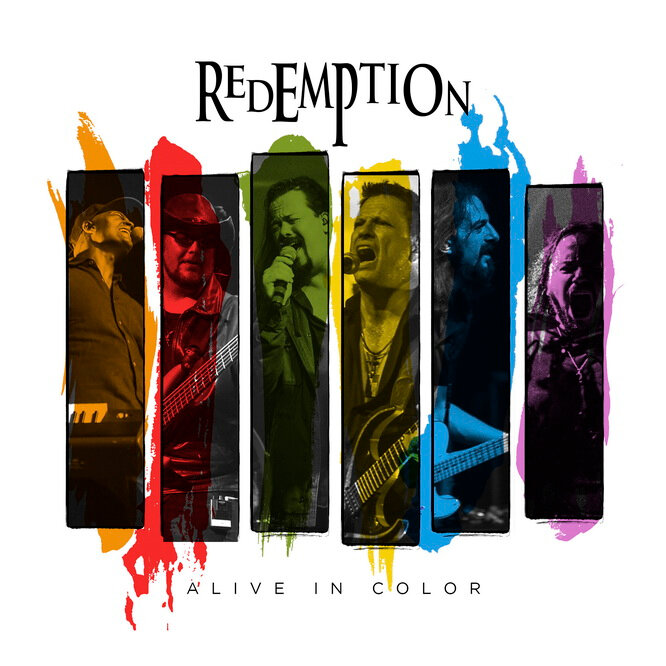 ---
14 mai 2017

==> release: 28 April 2017

Quand un groupe de légende rejoue en live l'intégral de l'un de ses albums tout autant de légende, filme le tout et délivre un live d'anthologie, il y a de quoi se réjouir : d'autant que ce groupe en question, c'est l'incontournable référence du Metal Progressif, FATES WARNING et l'objet du délit, n'est pas moins que leur incontournable troisième œuvre sortie en 1986, «Awaken The Guardian ».
Cette pièce maitresse de Metal avait marqué, à l'époque, l'entrée pour la première fois de FW dans les charts, et depuis les trente dernières années, s'est vue saluée encore et toujours pour la référence qu'elle est et l'inspiration qu'elle a suscitée.
Justement, afin de marquer ces trois décennies depuis la sortie de « Awaken the Guardian », le charismatique leader, guitariste de FATES WARNING, Jim Matheos, a initié de donner deux concerts notamment, et cerise sur la gâteau en plus de rejouer tous les titres originaux, le cadeau ultime a été de le faire avec, reformé, le line-up original de 1987: on retrouve donc avec émotion et plaisir, un moment unique sur scène, puisque les revoilà, John Arch au chant épique inimitable, les deux membres historiques et actuels, Jim Matheos bien sûr et Frank Aresti pour un duo de passes d'armes de guitares d'enfer et mélodiquement inspirée s'il en est, Joe DiBiase à la redoutable basse, tout comme Steve Zimmerman derrière les futs.
Les deux concerts de ce live unique, ont été captés en 2016, l'un en Allemagne au KEEP IT TRUE XIX et l'autre aux USA, lors du Prog Power USA XVII et force est de constater que le résultat comble toutes les espérances : basé sur une production de haut vol, tous les titres résonnent de puissance, de feeling et d'accroche: aux côtés du public, on en prend plein la vue et les oreilles avec un FATES WARNING qui prend un plaisir flagrant sur scène et le fait amplement partager. Quand on songe que « Awaken The Guardian » a été le dernier disque sur lequel John Arch a posé sa voix avec FATES WARNING en 1986, et que la bande de l'époque est à nouveau réunie en 2016, on se dit que la boucle est bouclée et avec panache encore.
« Awaken The Guardian » a été voulu comme un cadeau pour les fans, en remerciement d'un soutien et d'une loyauté sans faille au long des trente dernières années envers FATES WARNING, et le cadeau est beau : ce live a la pochette actualisée est, en effet, un incontournable qui permet de savourer encore et toujours FATES WARNING et ses qualités ou de combler une lacune si on ne connaît pas encore la troupe !

A noter que le groupe va donner un concert unique en France, le 3 juin 2017 :)

En bref, L'esprit de « Awaken the Guardian » est bel et bien toujours vivace trente ans plus tard, comme le prouve ce live des plus recommandés !

Tasunka

2 CD & DVD, Blu-ray, double gatefold vinyl or Download
Metal Blade Records
Songs / Tracks Listing
I -Live at Keep It True XIX:
01-The Sorceress (Live at Keep It True XIX) 06:03
02. Valley of the Dolls (Live at Keep It True XIX) 05:16
03. Fata Morgana (Live at Keep It True XIX) 06:50
04. Guardian (Live at Keep It True XIX) 07:57
05. Prelude to Ruin (Live at Keep It True XIX) 08:24
06. Giant's Lore (Heart of Winter) [Live at Keep It True XIX] 06:59
07. Time Long Past (Live at Keep It True XIX) 02:08
08. Exodus (Live at Keep It True XIX) 09:10
09. The Apparition (Live at Keep It True XIX) 06:27
10. Damnation (Live at Keep It True XIX) 06:31
11. Night on Brocken (Live at Keep It True XIX) 05:44
12. Epitaph (Live at Keep It True XIX) 12:47
Keep It True Festival, April 30th, 2016, Lauda-Königshofen, Germany
Directed and edited by Oliver "Bomber" Barth
Mixed and mastered by Bill Metoyer at SkullSeven Studio, North Hollywood, CA
II- Live at ProgPower XVII:
13. The Sorceress (Live at ProgPower XVII) 06:02
14. Valley of the Dolls (Live at ProgPower XVII) 05:23
15. Fata Morgana (Live at ProgPower XVII) 07:00
16. Guardian (Live at ProgPower XVII) 07:47
17. Prelude to Ruin (Live at ProgPower XVII) 08:33
18. Giant's Lore (Heart of Winter) [Live at ProgPower XVII] 07:04
19. Time Long Past (Live at ProgPower XVII) 02:02
20. Exodus (Live at ProgPower XVII) 09:01
21. Damnation (Live at ProgPower XVII) 06:59
22. The Apparition (Live at ProgPower XVII) 05:56
23. Kyrie Eleison (Live at ProgPower XVII) 05:19
24. Epitaph (Live at ProgPower XVII) 12:26
ProgPower USA, September 9th, 2016, Atlanta, GA
Sound recording and video editing by Kent Smith
Audio and video recording services provided by Lucid Lounge Studios - Atlanta
Mixed and mastered by Bill Metoyer at SkullSeven Studio, North Hollywood, CA
*************

==>Art direction, design, and artwork by Ioannis
******************
FATES WARNING Line-up:
- John Arch : V
- Frank Aresti : G
- Jim Matheos : G
- Joe DiBiase : B
- Steve Zimmerman : D
With:
- Jim Archambault : Keyboards
---


---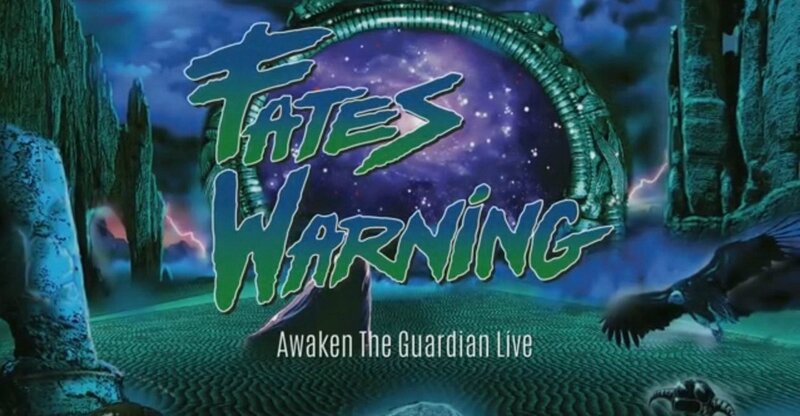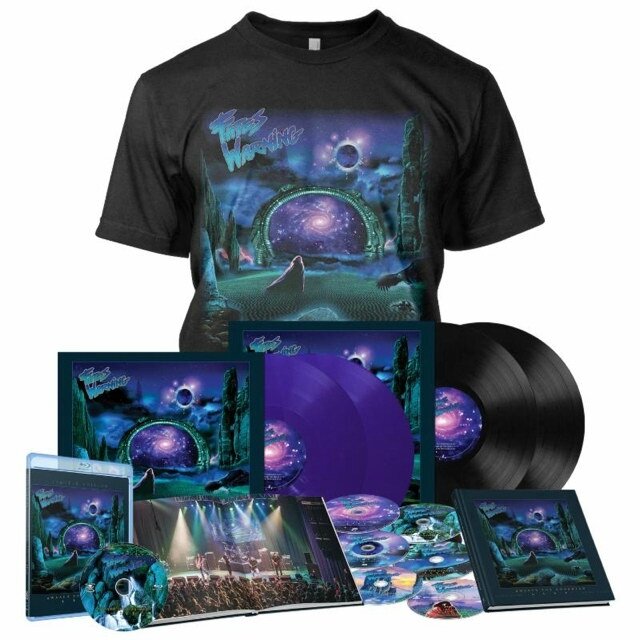 ---

---