04 juin 2020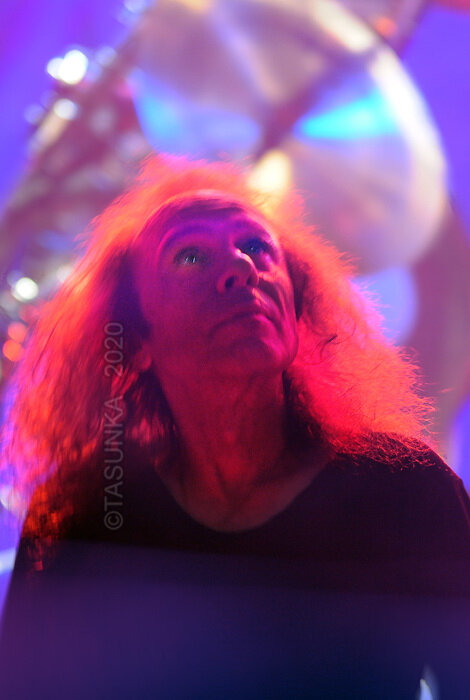 Dio was renowned throughout the world as one of the greatest and most influential vocalists in heavy metal history.
The singer, who was recording and touring with BLACK SABBATH offshoot HEAVEN & HELL prior to his illness, was diagnosed with stomach cancer in late 2009.
Ronnie James Dio passed away 10 years ago, on May 16, 2010 at the age of 67 and remains forever in our hearts.
My photos are my tribute to this unforgettable Wizard, Artist: Photos taken at Hellfest Festival (France- June 2009)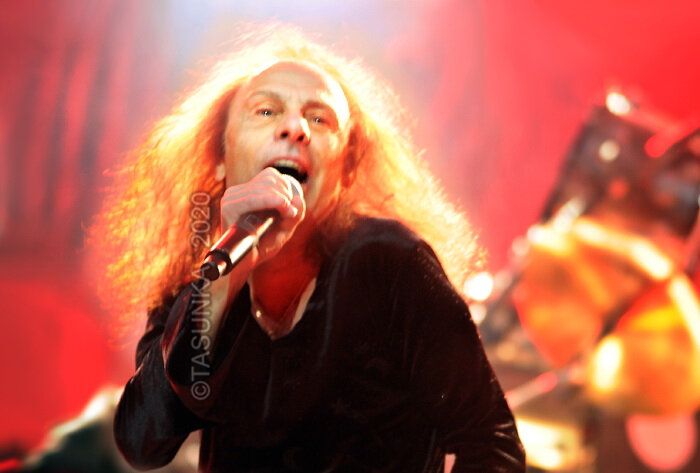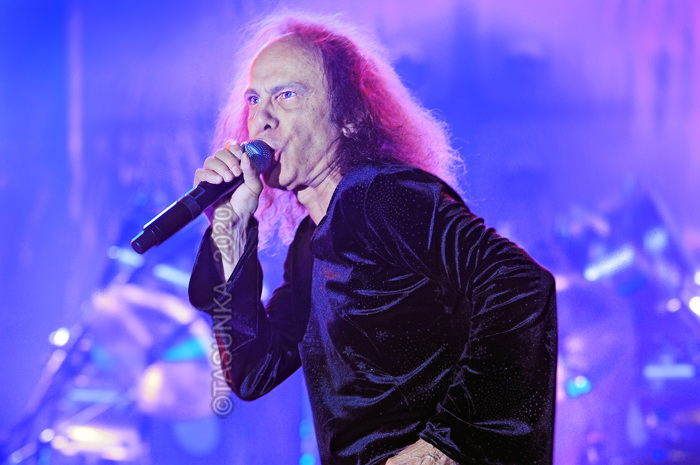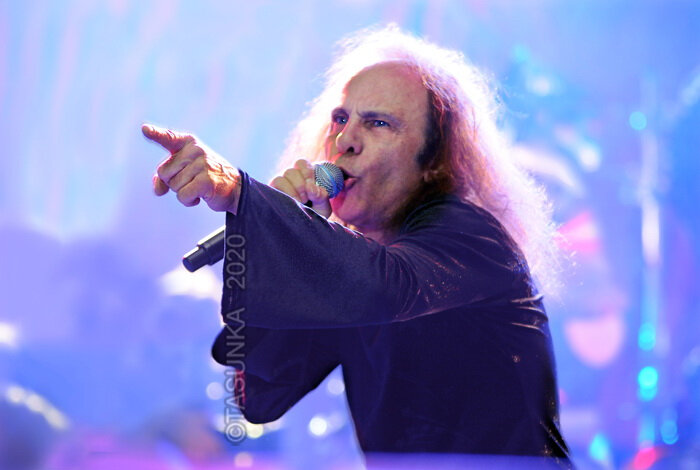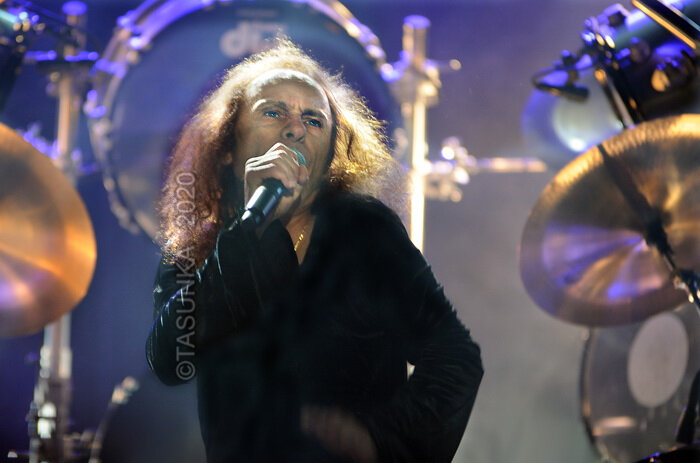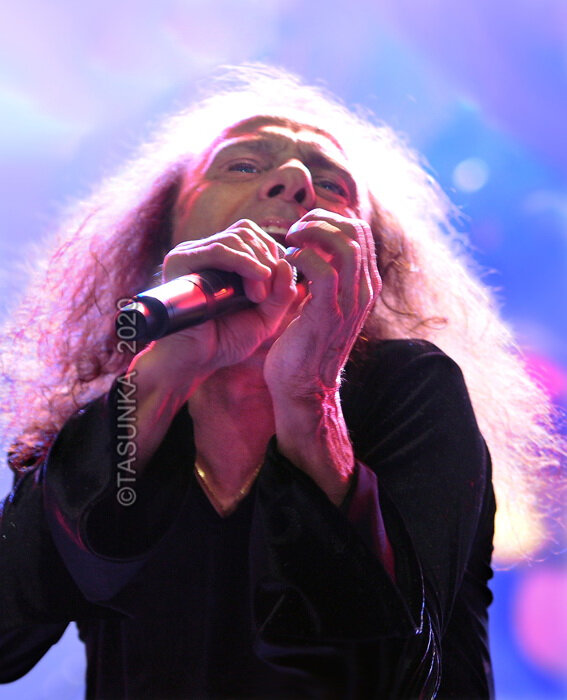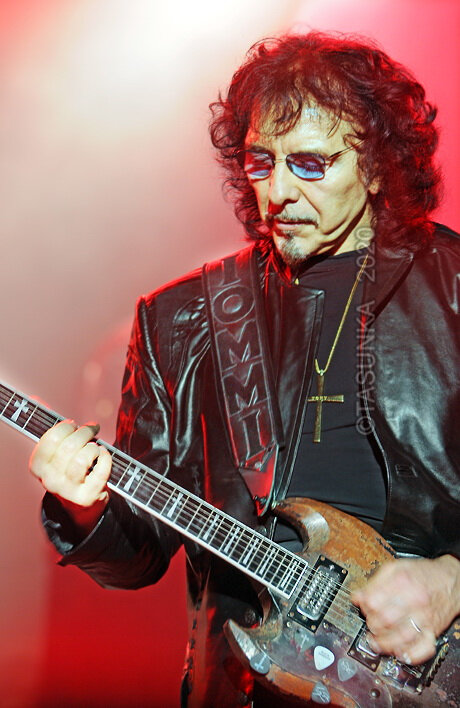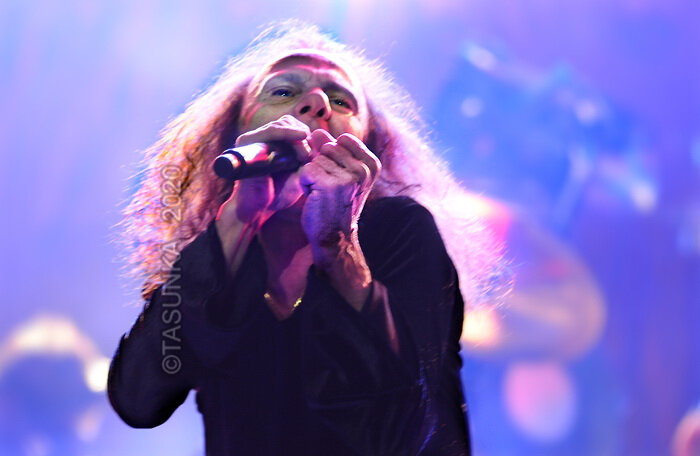 The exclusive copyright in the contents of this website is the property of © Copyright Tasunka Photos 2001-2020.
Any unauthorised copying of the images or other copyrighted material on this website will constitute an infringement of copyright.
Toute représentation ou reproduction intégrale ou partielle faite sans le consentement de l'auteur est illicite – photos et contenu tous droits réservés –
---
02 mai 2017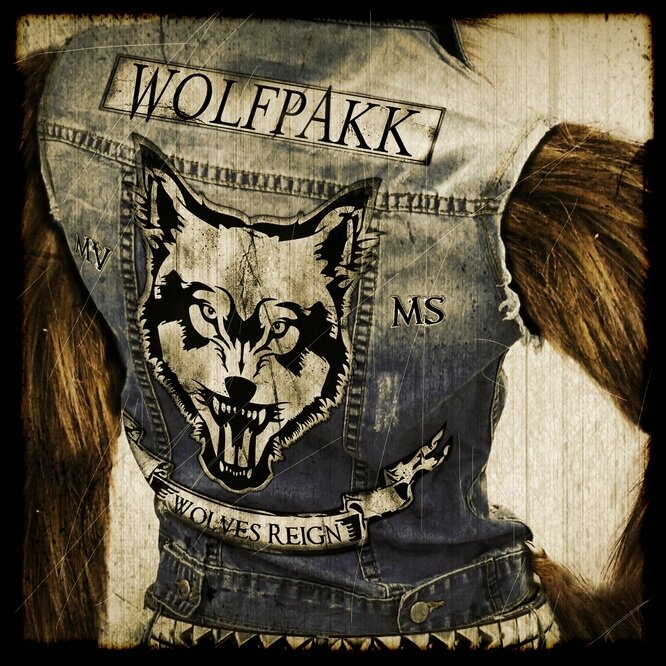 Une nouvelle meute de pas moins de 26 guests issus de la fine fleur du Hard Rock / Heavy mélodique (voir la liste de prestige, ci-dessous) s'est assemblée autour des deux males alphas et piliers de WOLFPAKK : le duo des fondateurs de cet 'all-star project', à savoir les artistes, compositeurs-producteurs accomplis à l'origine du projet, que sont Mark Sweeney (Chant, ex-Crystal Ball) -Michael Voss (Guitare / Basse / Chant, Mad Max, ex-Casanova, Michael Schenker).
Depuis 2011 et l'idée qui a germé dans l'esprit prolifique des deux amis de délivrer un Heavy Metal mélodique / Hard Rock péchu où de nouveaux guests seront invités à chaque nouvel album, a fait mouche. C'est le cas pour les trois premiers albums et à présent, le tout dernier né, « Wolves Reign » fait, lui aussi, honneur à ses prédécesseurs, en alignant des titres imparables où le duo de membres permanents du projet a, une fois de plus, posé une solide fondation de compositions de pur Heavy / Hard Rock, fondation sur laquelle s'éclate littéralement chacun des invités.
Car la clé de la réussite qui caractérise WOLFPAKK, vient du fait que la couleur, la saveur particulière est donnée par l'intervention des invités, qui, chacun dans leur partie, sont libres d'apposer et apporter leur touche sur cette base, ce qui fait de chaque morceau, une pièce unique et ce qui fait, de même, de l'ensemble de l'album, un kaléidoscope puissamment accrocheur car riche de tous les horizons et personnalités, talent des guests. Dans un esprit très intelligent de partage, chaque poste est occupé à tour de rôle par un invité, en plus du duo de base et ce, à tous les postes, d'où des moments intenses où le plaisir est au rendez-vous, car on assiste à une débauche de l'expression de l'habilité de tous, que ce soit au chant, basse, guitare ou batterie. Ecouter « Blood Brothers », « Wolves Reign », « Inside The Animal Mind », « Mother Earth », « Falling », le final Hard Rock dynamique au possible "I'm Onto You", c'est succomber à l'appel de la meute, mais en réalité, chacun trouvera son bonheur, puisque chaque titre est porteur d'un fort potentiel accrocheur. Alors, pourquoi choisir quand c'est bon comme ça ? :)

Au long de "Wolves Reign", on s'éclate autant que la troupe, chante en chœur, secoue ses cervicales, en compagnie de WOLFPAKK qui a, une fois encore, réussi une belle pièce d'album, et ce, à tous niveaux,
grâce à une meute totalement investie, toute sueur et motivation dehors pour ce quatrième opus hautement fédérateur!

Tasunka
« Wolves Reign » Tracklist:
01. Falling
02. Run All Night
03. Blood Brothers
04. Wolves Reign
05. No Remorse
06. Inside The Animal Mind
07. Spirit Of The Hawk
08. The 10 Commandments
09. Mother Earth
10. Tomorrowland
11. I'm Onto You
All songs written by Sweeney/Voss except #1,2 & 11 by Sweeney, Voss, Rauber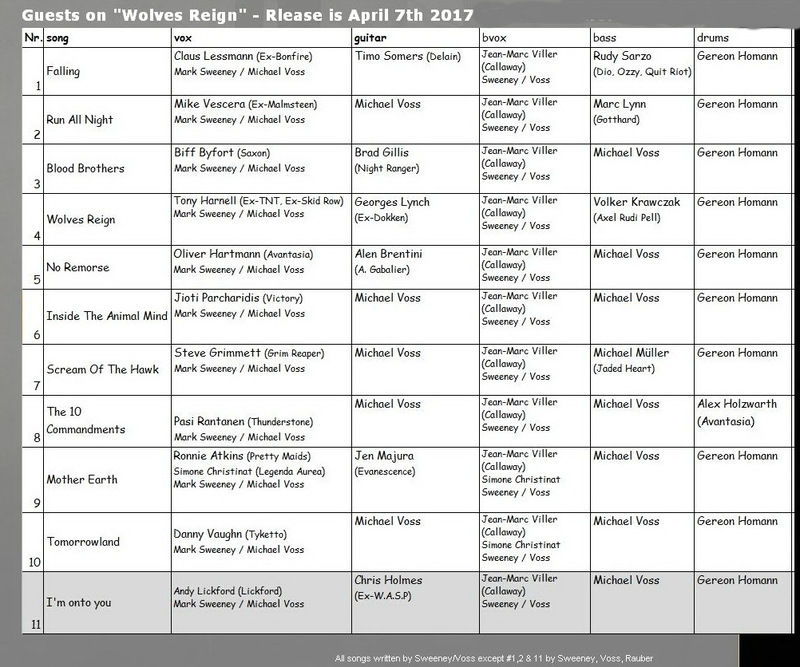 The melodic metal allstar project led by Mark Sweeney (ex-Crystal Ball) and Michael Voss (Mad Max, Michael Schenker)
Guest musicians:

Vocals:
-Biff Byford (Saxon)
-Ronnie Atkins (Pretty Maids)
-Michael Vescera (ex- Yngwie Malmsteen)
-Tony Harnell (TNT)
-Oliver Hartmann (Avantasia)
-Jioti Parcharidis (Victory)
-Steve Grimmett (Grim Reaper)
-Pasi Rantanen (Thunderstone)
-Claus Lessmann (Phantom V)
-Danny Vaughn (Tyketto)
-Andy Lickford (Lickford)

Guitar:
-Timo Somers (Delain)
-Brad Gillis (Night Ranger)
-George Lynch (ex-Dokken)
-Alen Brentini (A. Gabalier)
-Jen Majura (Evanescence)
-Chris Holmes (ex-W.A.S.P.)
Bass:
-Rudi Sarzo (Ozzy Osbourne)
-Marc Lynn (Gotthard)
-Volker Krawczak (Axel Rudi Pell)
-Michael Müller (Herman Frank)

Drums:
-Alex Holzwarth (Avantasia)
-Gereon Homan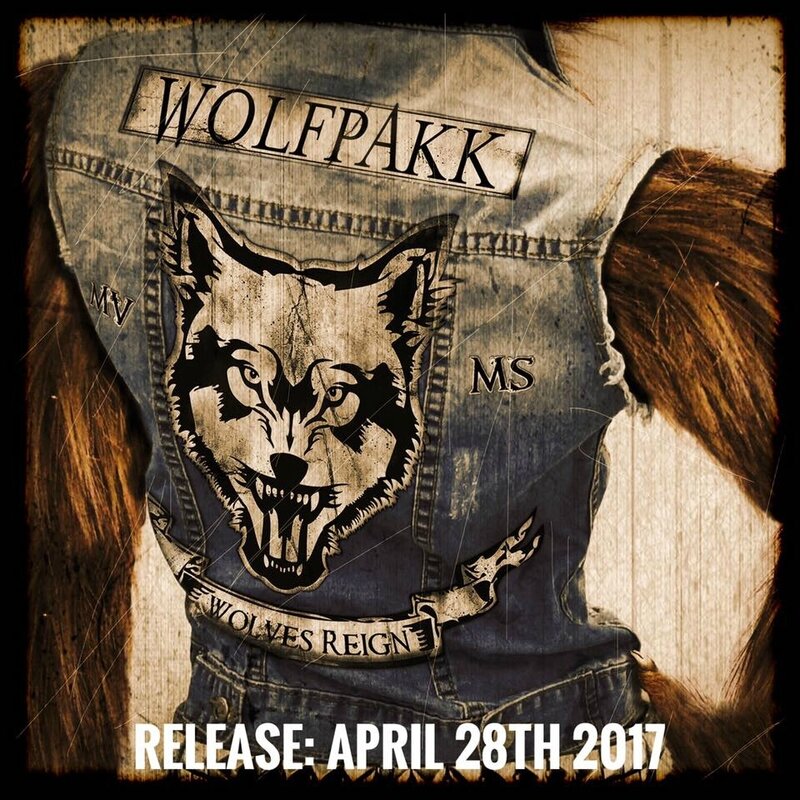 ---
==> Chroniques / French Reviews : click on artwork / cliquer sur les pochettes ;)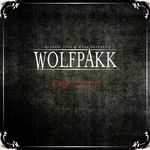 ---
---