23 avril 2017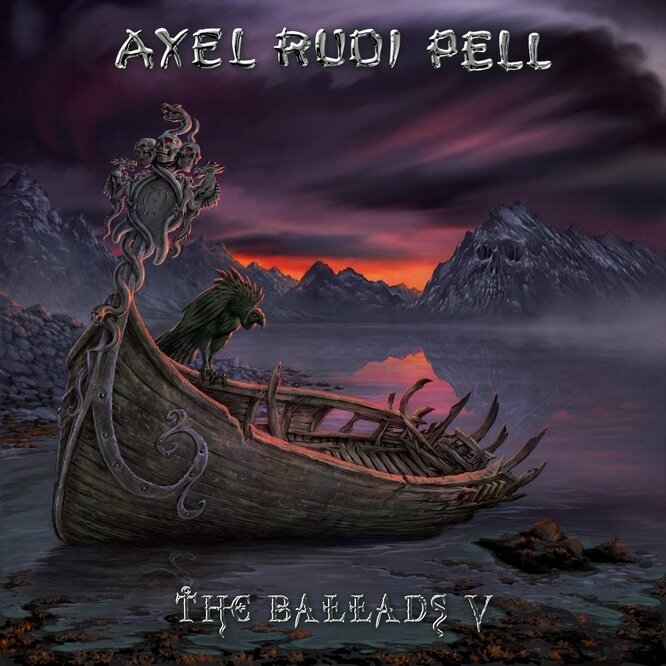 Release Date: april 21st, 2017 (World)

Comme le bon vin, AXEL RUDI PELL et son groupe au line-up racé de vieux briscards du Hard mélodique, ne cesse de se bonifier avec le temps tout autant que de garder intactes toutes ses qualités, à savoir des compositions à la classe et l'accroche, à la puissance émotionnelle et mélodique, toujours autant marquantes.
« The Ballads V », la dernière et cinquième cuvée donc, du meilleur des balades des six dernières années du maestro de compositeur, guitariste hors pair qu'est Axel Rudi Pell, plus deux nouvelles compositions, un nouveau cover ainsi qu'un inédit live, jamais encore diffusé plus une reprise toujours live, de DEEP PURPLE, cette fois, font de ce nouveau chapitre des balades un efficace mixe entre hits classiques et nouveautés en passe de le devenir, des classiques.
Prenez, pour commencer, le morceau écrit spécialement pour la charismatique et incontournable Bonnie Tyler, que Herr Pell admire depuis longtemps et avec qui il souhaitait collaborer. La chanson « Love's Holding On », ayant plu à la chanteuse à la voix unique, le duo Joey Gioeli / Bonnie Tyler, appuyé d'une guitare émotionnelle et forte, a vu le jour pour notre plus grand plaisir. Le titre qui est une réussite, est d'ailleurs sorti comme single fin mars dernier. Côté nouveaux morceaux, on compte la reprise de Ed Sheeran, « I See Fire », une reprise à la sauce ARP qui pimente d'un rock bien senti, le morceau original. Pour ce qui est du troisième et nouveau titre, « On the Edge Of Our Time », tout comme pour « Love's Holding On », on se trouve en présence d'une perle. Quant aux classiques issus des albums allant de 2012 à 2016, le plaisir se prolonge, tout comme et particulièrement sur la reprise de Neil Young « Hey Hey My My », une reprise très inspirée dans sa version, par l'ambiance de la puissante série « Sons Of Anarchy »: toute en intensité en somme. Ajoutez le live « The Line » enregistré mais jamais encore sorti sur album ou l'autre live, le morceau de bravoure de 14 minutes de la reprise de DEEP PURPLE, « Mistreated », capté en juillet 2014 lors du concert pour le vingt cinquième anniversaire du groupe, et avec en guests Doogie White
(ex-Rainbow, MSG) aux vocaux et le légendaire clavier de RAINBOW,
Tony Carey.

Axel Rudi Pell est un compositeur prolifique et en ce moment, il écrit pour le futur album de pur Hard mélodique, qui devrait sortir en fin d'année; aussi, cet opus de ballades familières et nouvelles, est-il un bon moyen de patienter et en beauté encore :
en effet, la qualité estampillée AXEL RUDI PELL fait ici encore et toujours mouche et ce, à tous niveaux: de la pochette, du son, aux compositions puissantes à l'interprétation d'un groupe où chacun se montre être une pointure de musicien et chanteur, une formation d'ailleurs soudée autour d'un line-up solide comme le Hard Rock !
Classe et accrocheur, ce « The Ballads V », en somme !

Tasunka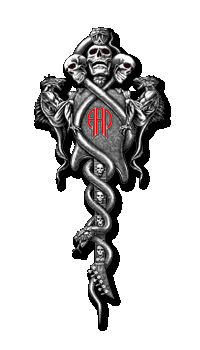 "The Ballads V" Track-List:

01- Love's Holding On (new song feat. Bonnie Tyler)
02- I See Fire (new cover version, Ed Sheeran song)
03- On The Edge Of Our Time (new song)
04- Hey Hey My My (Neil Young cover version)
05- Lived Our Lives Before (taken from "Circle Of The Oath", 2012)
06- When Truth Hurts (from "Into The Storm", 2014)
07- Forever Free (from "Games Of Sin", 2016)
08- Lost In Love (from "Games Of Sin", 2016)
09- The Line (live) (previously unreleased)
10- Mistreated (live) (Deep Purple cover version)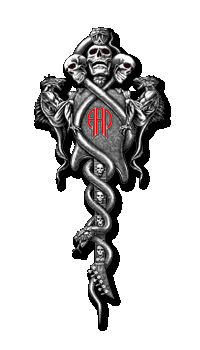 AXEL RUDI PELL Line Up:

-Johnny Gioeli - Lead and Backing Vocals
-Axel Rudi Pell - Lead, Rhythm and Acoustic Guitars
-Ferdy Doernberg - Keyboards
-Volker Krawczak - Bass
-Bobby Rondinelli - Drums
---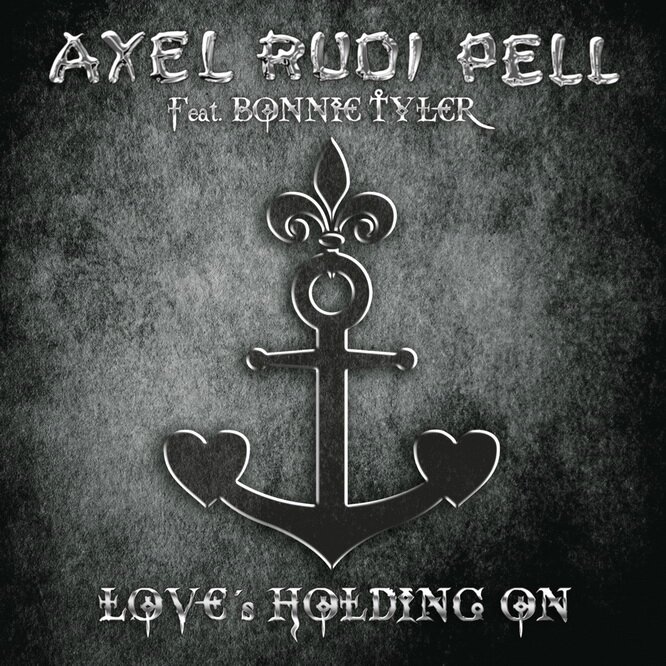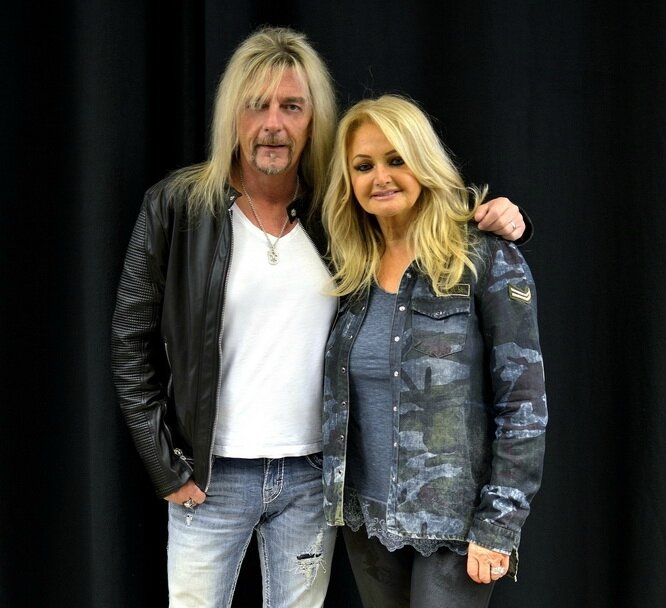 ---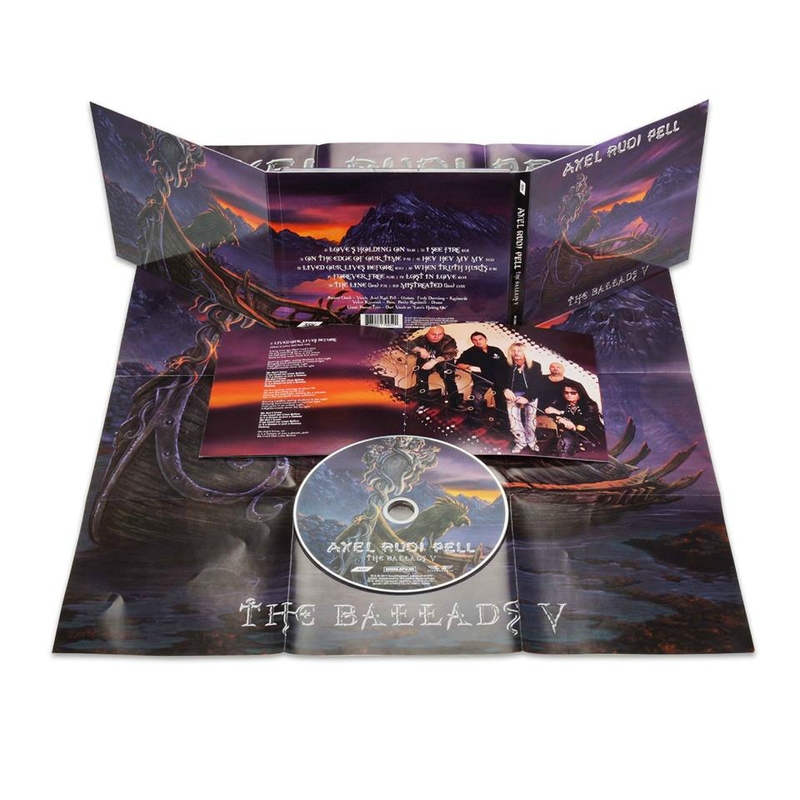 AXEL RUDI PELL Discography:

1989 Wild Obsessions
1991 Nasty Reputation
1992 Eternal Prisoner
1993 The Ballads
1994 Between The Walls
1995 Made In Germany (live)
1996 Black Moon Pyramid
1997 Magic
1998 Oceans Of Time
1999 The Ballads II
2000 The Masquerade Ball
2000 The Wizards Chosen Few (best of)
2002 Shadow Zone
2002 Knight Treasures - Live And More (DVD)
2002 Knights Live (live)
2004 Kings And Queens
2004 The Ballads III
2006 Mystica
2007 Diamonds Unlocked (cover versions)
2008 Live Over Europe (DVD)
2008 Tales Of The Crown
2009 Best Of- Anniversary Edition (best of)
2010 One Night Live (DVD)
2010 The Crest
2011 The Ballads IV
2012 Circle Of The Oath
2013 Live On Fire (DVD)
2014 Into The Storm
2015 Magic Moments (DVD)
2016 Game Of Sins
2017 The Ballads V

=> all products are released on SPV / Steamhammer!!!!!!


---


14.06.D-Augsburg - Spectrum
15.06.D-St. Goarshausen - RockFels Festival
16.06.CH-Pratteln - Z7
17.06.B-Dessel - Graspop Metal Meeting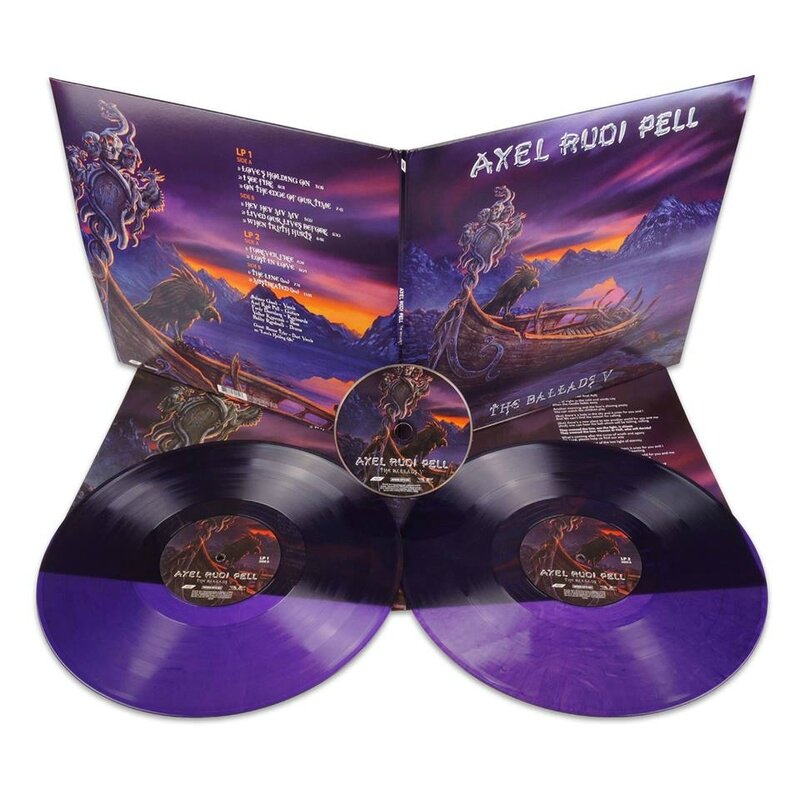 ---
07 février 2015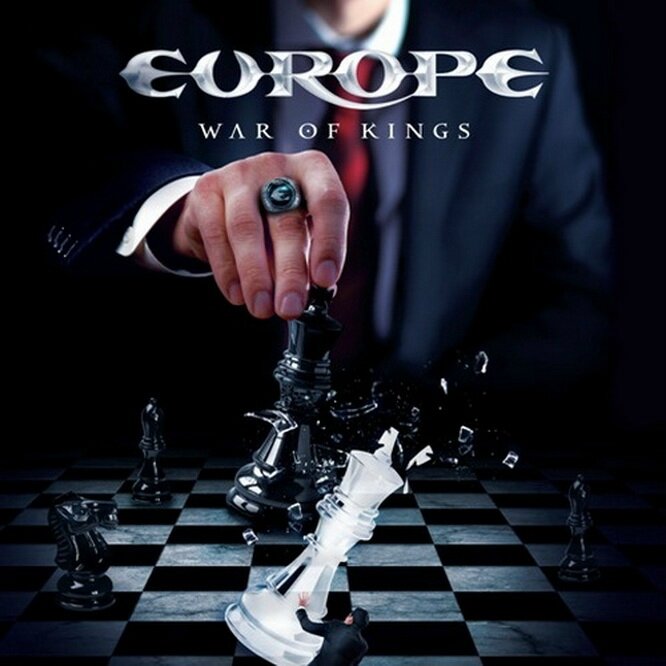 (UDR Records / Warner)
Release Date : 6th march 2015 / Sortie: le 6 mars 2015
Désirant un son plus 'Classic Rock' pour leur dixième album, EUROPE se sont donc adjoint les services de Dave Cobb dont le groupe avait pu apprécier sa production pour RIVAL SONS et notamment, sa façon de faire sonner la batterie du jeune groupe américain, ce qui a initié cette envie de collaborer ensemble. Direction, donc , les Studios PanGaia à Stockholm pour donner vie aux nouvelles compositions des suédois. Et voilà le résultat de ces efforts et de cette passion conjugués pour faire de la musique qui sonne, « War Of Kings ».
Et combien cet album peut exaucer tous les vœux d'amateurs de Rock classique nourri aux racines teinté seventies à la LED ZEPPELIN, DEEP PURPLE ou encore BLACK SABBATH, avec cette touche de Blues Rock, de Son 'vintage' tout en étant moderne et intelligemment équilibré entre racines et présent. l'ensemble est fort abouti, réussi et avec les aspérités qui font que les compositions sonnent de façon naturelle, limite saturée dans les basses, y compris sur les guitares, comme sur « Children Of The Mind », ce qui participe à l'atmosphère moite, chaude comme un ciel lourd du sud profond, envoutante de l'ensemble, où les graves sont à l'honneur, en contre-point de la voix de Joey Tempest. D'ailleurs , le frontman confesse que « War Of Kings » est l'album qu'au sein du groupe, tous avaient toujours voulu faire depuis gamins et que Led Zeppelin, Deep Purple et Black Sabbath ou encore THIN LIZZY tournaient sur leurs platines.
Le don de créer des mélodies imparables, suaves ou rock, n'a pas déserté les rangs de EUROPE, au contraire: on retrouve ici l'art des suédois qui marche à plein, quelque soit l'ambiance du titre: Blues Rock, Classic Rock, mid-tempo, ballades soul. Rien à ajouter, EUROPE viennent tout bonnement de sortir un bijou d'album Classic Rock aux atouts et facettes qui brillent comme du diamant : fin, racé et aux groove et feeling bluffants.
Leur route a été longue et semée de succès puis d'embuches et enfin, après une re-formation douze ans auparavant suivie de maintes tournées et efforts, EUROPE a retrouvé sa place au sommet via notamment « War Of Kings ». Album sur lequel tout le groupe a d'ailleurs rejoint Joey Tempest et le bassiste John Levén lors de la composition des nouveaux titres, ainsi que Dave Cobb, lui-même, qui a co-écrit le très émouvant et chargé en émotions « Angels (With Broken Hearts)».
« War Of Kings » s'inscrit, donc, comme un incontournable dans la carrière des légendes du Rock Suédois et ce, tout autant que les huit concerts que la troupe donnera en invités spéciaux de SCORPIONS fin 2015 : à vous de jouer pour vous procurer ces immanquables d'album et places de concerts !

Tasunka
« War Of Kings » Track-List :
-01) War Of Kings
-02) Hole In My Pocket
-03) Second Day
-04) Praise You
-05) Nothin' To Ya
-06) California 405
-07) Days Of Rock'n'Roll
-08) Children Of The Mind
-09) Rainbow Bridge
-10) Angels (With Broken Hearts)
-11) Light It Up
Bonus: Vasastan (Instrumental)

-Joey Tempest – V / G / K
-John Norum – G
-John Levén – B
-Mic Michaeli – K / G
-Ian Haugland – D
---
---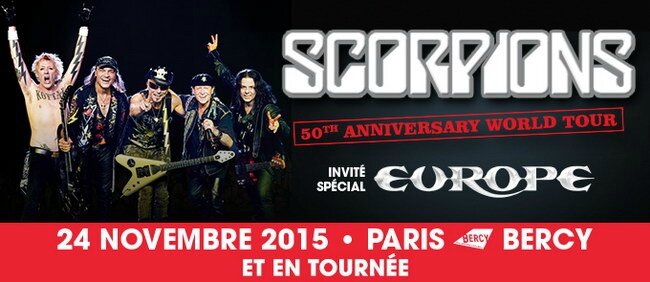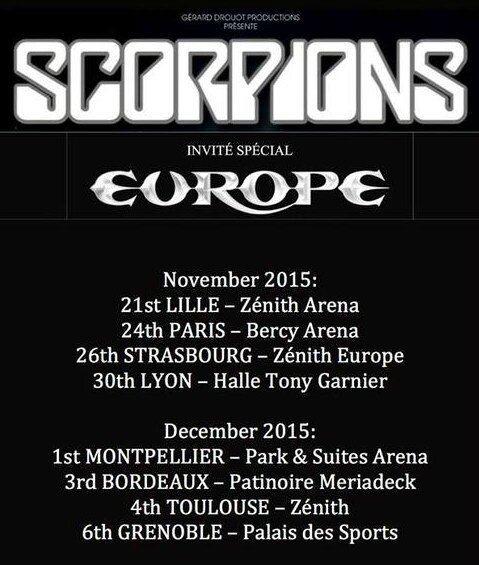 ---

Press Conference (In French) With Joey Tempest @ Hard Rock Cafe - Paris : here

Conférence de Presse Avec Joey Tempest @ Hard Rock Cafe - Paris : ici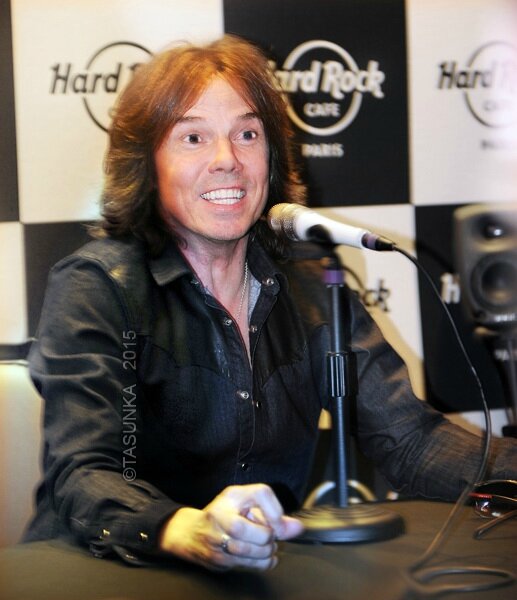 ---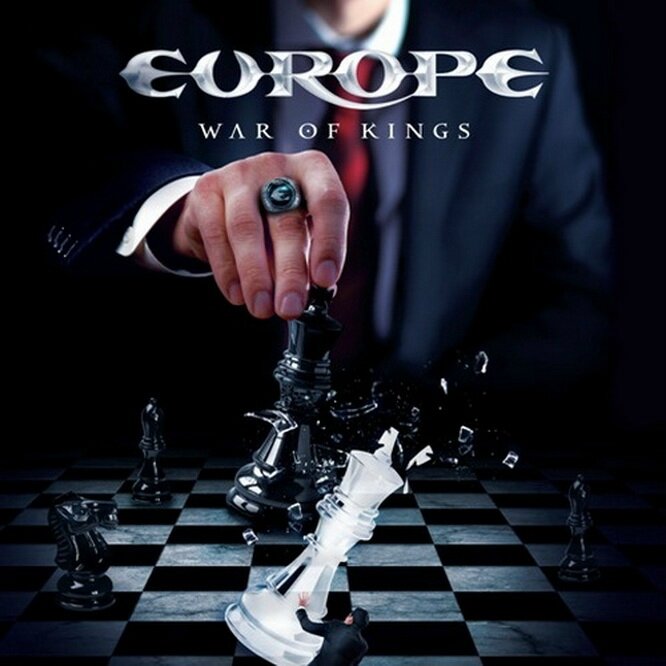 ---