19 février 2021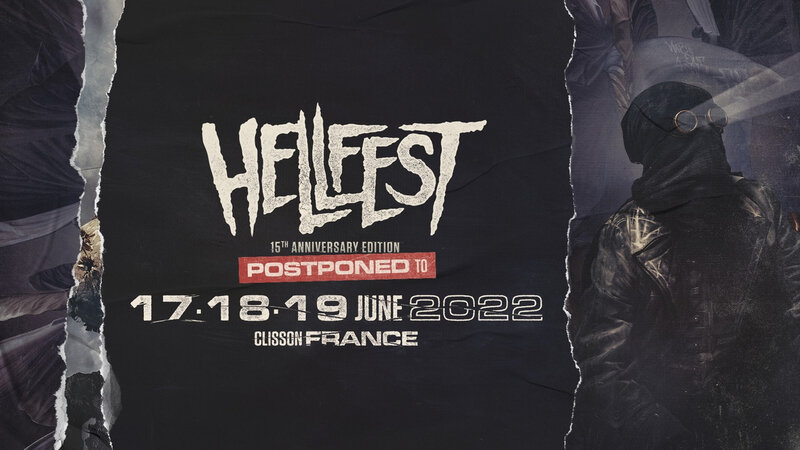 Hellbangers,
Nous avons espéré le meilleur, mais c'est finalement le pire qui se prépare pour cette année. Face aux incertitudes de la situation sanitaire à venir et aux dernières réglementations gouvernementales pour les festivals, nous sommes contraints d'annuler l'édition 2021 du HELLFEST des 18, 19 et 20 juin prochains.
Votre incroyable mobilisation lors de notre "coup de gueule" d'il y a quelques semaines a permis d'alerter l'opinion publique et les médias sur tout un …
==>
Lire la suite
---
30 novembre 2016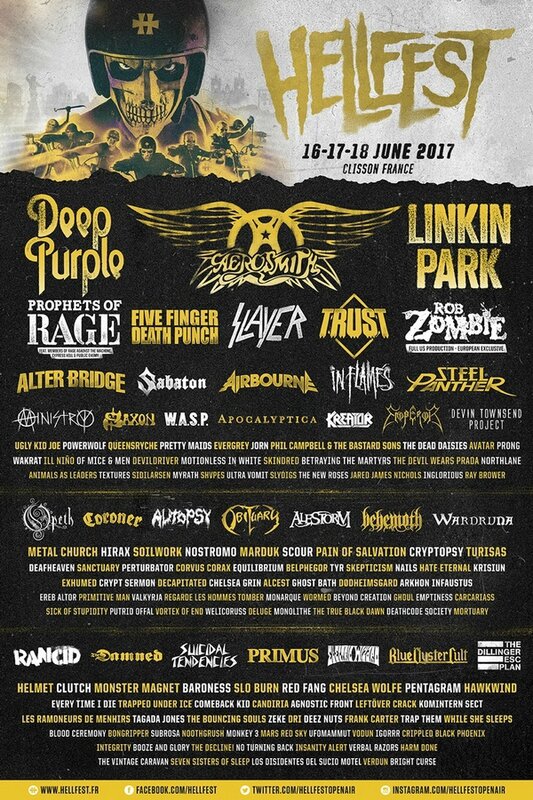 COMPLET !!!
Bien que la célèbre « fête de l'enfer » de Clisson affiche complet depuis la mi-octobre (54 000 places vendues en un temps record), l'annonce de l'affiche du HELLFEST reste toujours un événement, source d'excitation et de toutes les spéculations. Depuis quelques heures, le suspense a été rompu avec la révélation du line-up 2017 de l'un des leaders du spectacle vivant en France.

Jusqu'à présent AEROSMITH, le géant du rock américain, était le seul groupe à avoir été annoncé dans le cadre de sa tournée d'adieux baptisée Aero-Vederci Baby!, qui passera en exclusivité par le HELLFEST ! Depuis hier soir le gang de Boston a été rejoint par 159 autres formations dont 82 n'ont jamais joué à Clisson !

Parmi eux l'on retrouve des têtes d'affiche toujours prestigieuses : LINKIN PARK, le phénomène né dans les années 90 qui, fort de ses 68 millions d'albums vendus dans le monde, est tout simplement irrésistible sur scène. PROPHETS OF RAGE ou la rencontre au sommet de 3 membres de Rage Against the Machine (le guitariste Tom Morello en tête) avec Chuck D de Public Enemy et B-Real de Cypress Hill. L'équation parfaite pour remuer les foules toutes tendances confondues.

Dans le registre des autres sensations fortes, l'un des grands moments de cette 12ème édition sera sans aucun doute le show de ROB ZOMBIE qui va enfin venir en France avec tous ses décors, ainsi que sa production visuelle et pyrotechnique, comme à la grande époque de l'album « Astro-Creep: 2000 », et ce en exclusivité européenne !

Toujours dans le genre tout feu tout flamme, les guerriers suédois de SABATON ne devraient pas être en reste avec leur heavy metal martial en totale opposition avec le glam metal déluré et délirant de STEEL PANTHER.

Dans la lignée du classic rock d'Aerosmith, avec un ultime nouvel album dans les bacs, DEEP PURPLE, une autre légende des années 70, fera aussi passer sa tournée d'adieux par le HELLFEST, histoire de faire résonner une dernière fois les accords de « Smoke on the water » dans le ciel du vignoble.

Autre légende, mais française cette fois, TRUST, qui fête ses 40 ans de carrière avec une tournée de reformation dont les premières dates ont rapidement affiché complet un peu partout en France. Gageons qu'en cette année d'élections présidentielles leur fameux «Antisocial», aura un écho bien particulier au HELLFEST. Tout aussi contestataires les punks de RANCID et THE DAMNED seront une des attractions majeures de la Warzone.

Alors que SAXON se produira avec son aigle d'acier et de lumières, comme à l'époque où ils remplissaient le Zénith et que les Finlandais d'APOCALYPTICA donneront le spectacle qui les a rendus célèbres dans le monde entier : « Apocalyptica Plays Metallica By Four Cellos » (tout est dans le titre).

Révélations du HELLFEST en 2010, les Australiens d'AIRBOURNE feront un retour fracassant à Clisson à l'occasion de leur seule apparition en festival en France et rendront par la même occasion un hommage particulier à Lemmy à travers leur nouvel hymne « "It's All for Rock N' Roll"

Au registre des autres apparitions uniques dans l'Hexagone, on retiendra le passage des sympathiques fêlés de PRIMUS, des fidèles d'IN FLAMES, des ténébreux black metalleux d'EMPEROR, d'OPETH ou la classe à l'état pur et des norvégiens de WADRUNA, connus pour leur contribution à la série télévisée 'Viking'.

FIVE FINGER DEATH PUNCH et ALTER BRIDGE (avec Myles Kennedy, chanteur de Slash), deux grosses cylindrées de la scène US seront aussi présentes, tout comme les indéboulonnables SLAYER et les briscards de MINISTRY, WASP et KREATOR.

Parmi le peloton des autres participants, d'un style à l'autre, l'on remarquera UGLY KID JOE (remember leur hit « Everything about you »), MONSTER MAGNET plus illuminés que jamais, l'ex-Motörhead Phil CAMPBELL, AVATAR valeur montante de la nouvelle scène metal, les joyeux RAMONEURS DE MENHIRS, THE DEAD DAISIES (avec des membres de Mötley Crüe, Whitesnake et Thin Lizzy), le trio d'experts suisses CORONER, les vétérans de BLUE OYSTER CULT et d'HAWKIND, l'incroyable chanteur JORN LANDE (1er concert en France !), les maîtres du prog metal suédois EVERGREY (1er passage à Clisson !), le savant fou DEVIN TOWNSEND, les rockeurs de CLUTCH et BARONESS, ou encore les infatigables SUICIDAL TENDENCIES, METAL CHURCH, HELMET et PRONG…

La liste est longue, très longue… « Toujours plus haut, toujours plus fort ! », décidément cette maxime sied parfaitement au HELLFEST !

Le troisième rassemblement musical le plus important de France en termes d'affluence – mais très certainement premier au niveau design avec le look « mad-maxien » de son site et de ses immenses infrastructures « enflammées » - a tenu à saluer la passion et la fidélité inégalable de son public, en lui offrant ce qui se fait de mieux en termes de « metal ».

Devenu désormais un événement de renommée internationale, le HELLFEST doit avant tout son formidable succès à ses incroyables fans qui se reconnaissent dans la qualité et la diversité de la programmation. Restant avant tout un festival consacré aux musiques dites « extrêmes », depuis sa création le HELLFEST a toujours tenu à représenter tous les styles du genre allant du pur heavy metal au classic rock en passant par les courants death, thrash, black, sludge, doom, gothique, prog, indus et même punk ou hardcore. Toutes ces formes / forces métalliques sont encore une fois largement représentées à l'affiche de cette édition 2017 avec de très grands noms bien sûr, mais aussi des valeurs sûres, des outsiders, des revenants et des artistes émergents voire quasi inconnus. Tout ce beau monde se produira sur les 6 scènes du fest, dans un espace élargi notamment devant les Mainstages, et décoré avec le soin et la folie qui sont devenus la marque de fabrique du HELLFEST. Dans les six mois qui viennent, tout sera donc mis en œuvre pour faire de cette 12ème édition une nouvelle fête inoubliable qui comblera le public et les artistes qui y participeront.

D'ici là, les fans auront aussi rendez-vous avec le HELLFEST dans toute la France à l'occasion des nombreuses soirées « warm up » qui ne vont pas manquer d'être organisées localement. Un p'tit échauffement ne fera de mal à personne avant le marathon de 3 jours qui se déroulera mi-juin à Clisson.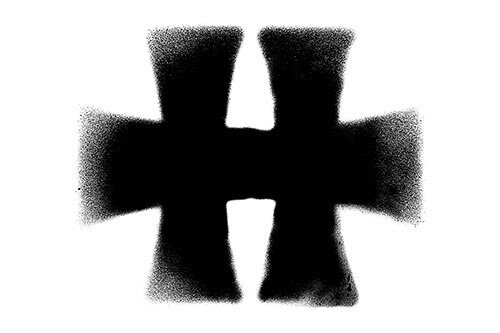 ---
==>REVIVEZ LE HELLFEST 2016
EN 2 MINUTES: cliquer ci-dessous ;)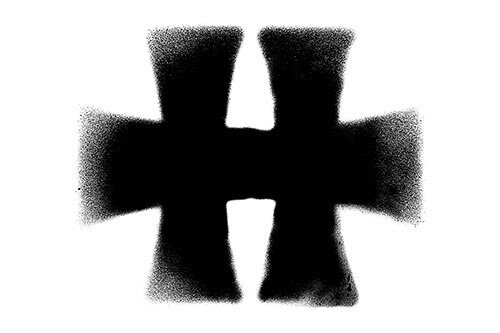 ---
---