14 janvier 2021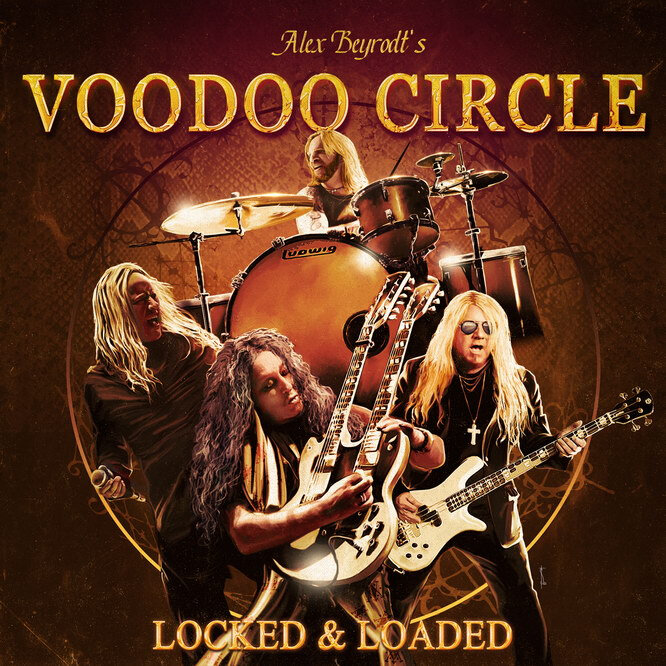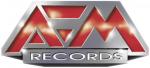 Release: 15 Jan.2021
Un parfum qui sent le haut niveau, la passion à fleur de peau et un plaisir énorme à s'exprimer, voici de suite ce qu'évoque le nom d'Alex Beyrodt, guitariste de renom s'il en est et de sa formation VOODOO CIRCLE, alors, la sortie du dernier album « Locked & Loaded », met de suite l'eau à la bouche. D'autant plus, lorsque l'on apprend que le maestro s'est à nouveau entouré de l'équipe de choc et gagnante qui avait fait le succès du second opus : « Broken Heart Syndrome » (2011).
Et l'alchimie fonctionne sans faille entre ces quatre musiciens-chanteur excellents tout au long des onze nouveaux morceaux taillés pour ce quatuor de poids, chacun ayant l'occasion de faire parler la poudre, le feeling, le Hard Rock, le mélodique, le Blues, le tout en puissance et finesse et toujours avec une maestria qui n'a d'égale que la passion flagrante et très communicative qui anime chacun des musiciens, note après note, solo après solo, morceau de bravoure après morceau de bravoure.
« Locked & Loaded » fonctionne et sait accrocher à tout niveaux, que ce soit via David Readman aux vocaux bluffants, Mat Sinner à la basse de haut vol, Markus Kullman qui sait ce que faire sonner sa batterie veut dire (Led zeppelin, vous avez dit Led Zeppelin :) et bien sûr, Alex Beyrodt lui-même au jeu de guitare(s) (au choix Strat, Les Paul, Gibson,..) dont la technique est encore et toujours au service de ce feeling puissant et de première classe qui le caractérise. LED ZEPPELIN en lien aux racines, WHITESNAKE en coup de chapeau côté Blues, Jimi Hendrix en fusion entre atmosphère guitaristique vintage et moderne, les compositions ont été inspirées et ce mélange bien senti et mené entre Hard Rock, mélodique, Bluesy, racines vintage et moderne épicé façon VOODOO CIRCLE, fait son effet, il faut l'avouer. Cerise sur la 'galette des rois', « Locked & Loaded » s'est vu mixé et masterisé par la pointure qu'est Jacob Hansen, ce qui finit de signer ce carré d'as nommé, "Locked & Loaded » !
L'année commence en force avec VOODOO CIRCLE et ça fait du bien !

Tasunka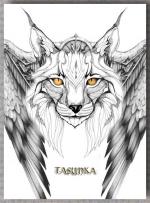 ---
"Locked & Loaded" Tracklist:
01. Flesh & Bone
02. Wasting Time
03. Magic Women Chile
04. Locked & Loaded
05. Devil With An Angel Smile
06. Straight For The Heart
07. Eyes Full Of Tears
08. Devil's Cross
09. Trouble In The Moonlight
10. This Song Is For You
11. Children Of The Revolution
Mixed and mastered by Jacob Hansen, the Danish godfather of sound ;)
---
---

-Alex Beyrodt: mastermind, guitarist and main songwriter
-David Readman: (Pink Cream 69) Vocals
-Mat Sinner (Primal Fear, Sinner): Bass
-Markus Kullman (Glenn Hughes): Drums
---
---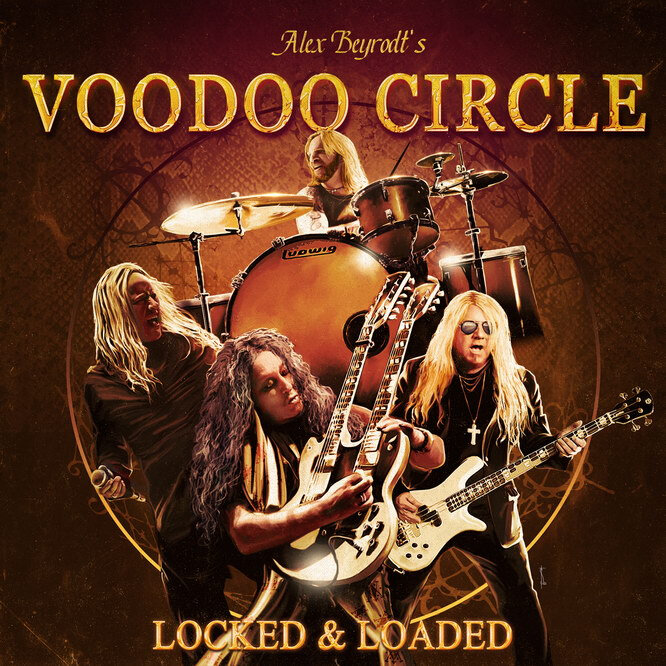 ---
02 décembre 2015

"Whisky Fingers"
(

AFM Records )
Release Date Europe: November 27th 2015
Release Date North America: December 4th 2015
Avec un titre évocateur, « Whisky Fingers », le quatrième et très attendu opus de VOODOO CIRCLE, marque un pas de plus vers les sommets du groupe et de son leader, fondateur, grand amateur de Fender Stratocaster et maitre es Les Paul, Alex Beyrodt (SILENT FORCE, SINNER, PRIMAL FEAR): en effet, non seulement VOODOO CIRCLE proposent un Hard Rock classique et de grande classe que ne renieraient pas RAINBOW, WHITESNAKE ou DEEP PURPLE, et ce, avec ce parfum 70's- 80's savamment distillé et très appréciable, mais en plus, « Whisky Fingers » est riche, varié, et a pour atouts une bande de musiciens rodés à la scène, la sueur, à jouer devant un public que ce soit dans des bars enfumés ou devant de larges scènes : aguerris, les cinq musiciens le sont assurément et cela se sent, s'entend et donne un goût inimitable à chacun des morceaux qui forment ce « Whisky Fingers » chaudement recommandable et recommandé pour le plaisir qu'il procure.
Justement, en parlant de musiciens aguerris au 'cuir' tanné par l'apprentissage de la scène dans les bars notamment, la signification de « Whisky Fingers » (sans 'e' comme tout amateur de Whisky, l'écrit) vient du fait qu'il est dit que chaque guitariste qui s'est formé à 'l'école' sans concessions du live dans les bars, a, aux bouts des doigts, du 'whisky'. Et c'est justement ce qui fait la différence, le fait que c'est par cette parfois rude 'école' que notamment Alex Beyrodt à la guitare et compositions, a fait ses classes. La différence, donc, entre un guitariste aussi techniquement doué soit-il mais qui n'a pas ce bagage de jouer dans les bars, et un guitariste qui l'a, est flagrante et c'est justement ce qui s'entend au long des titres de « Whisky Fingers » : un feeling passe assurément.
Et en effet, dynamique, profond ou encore endiablé, cet album vous rentre dans la peau.
Le duo toujours fort bien mené entre Orgue Hammond qui donne cette couleur unique 70's et la chaude guitare du virtuose mais toujours au service du groove et du feeling, Alex Beyrodt, fait à nouveau mouche : chacun s'exprimant en des soli et atmosphères de premier choix. Ajoutez à cela, la basse incontournable de Matt Sinner (SINNER, PRIMAL FEAR), ainsi que l'arrivée de deux nouveaux membres doués eux-aussi, Francesco Jovino (PRIMAL FEAR, ex-U.D.O.) derrière les futs et aux claviers, Alessandro Del Vecchio, qui non seulement peut se vanter de se distinguer à son instrument, mais aussi pour ce qui de la production et des vocaux : il chante d'ailleurs en duo avec les lead vocals incontournables de David Readman (PINK CREAM 69), sur deux titres : « Trapped In Paradise », « Been Said And Done ».

VOODOO CIRCLE assurent, donc, avec un quatrième et nouvel opus qui ravira bien du monde et avec raison ! :)
Tasunka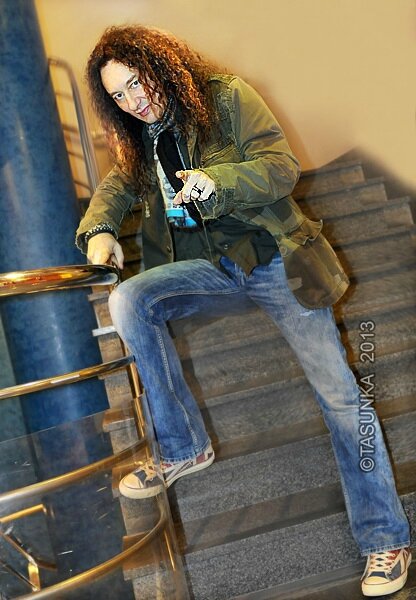 ==> Alex Beyrodt <==

"Whisky Fingers" Track-List:

01. Trapped In Paradise
02. Heartbreaking Woman
03. Watch And Wait (I Got My Eye On You)
04. Medicine Man
05. The Day The Walls Came Down
06. Heart Of Stone
07. Straight Shooter
08. The Rhythm Of My Heart
09. Devil Takes Me Down
10. 5 O'Clock
11. Been Said And Done
Bonus tracks on ltd. Digipak: Coming Home To You Trapped In Paradise (Videoclip)
Available as CD, Digipak, colored Vinyl and Box Set (incl. Digipak and Whisky glass)

VOODOO CIRCLE Line-Up :
-David Readman - V
-Alex Beyrodt - G
-Mat Sinner - B
-Alessandro del Vecchio - K / V
-Francesco Jovino - D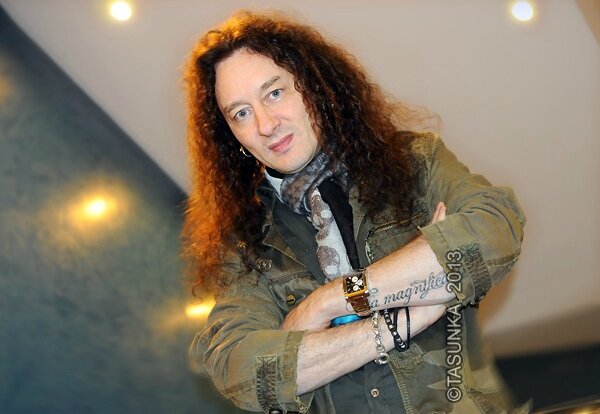 ---
---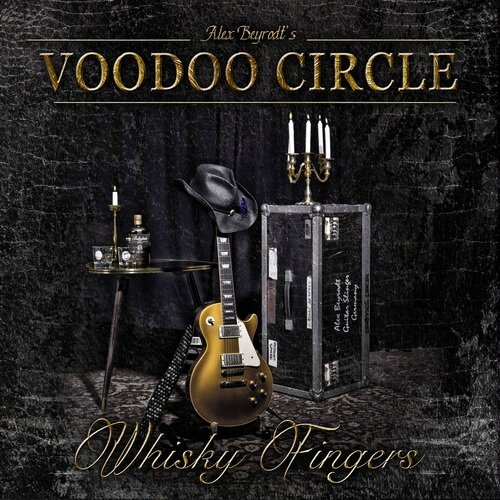 ---