17 octobre 2017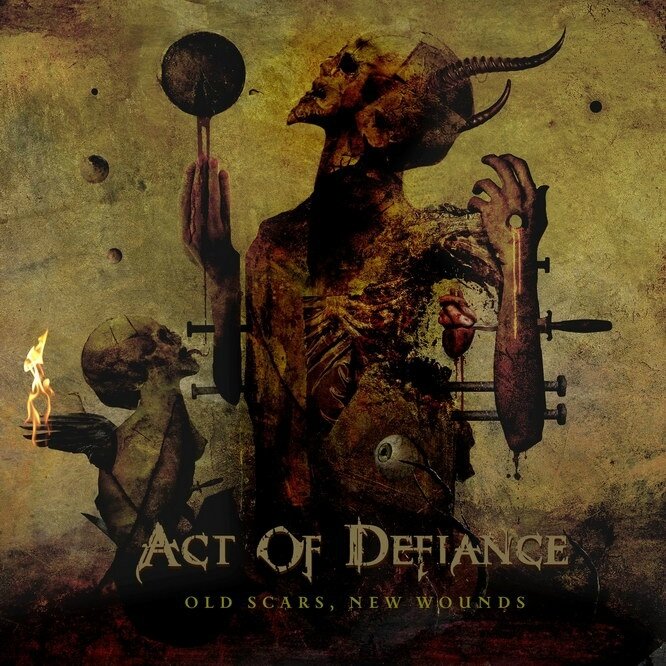 ACT OF DEFIANCE, le groupe formé par les deux musiciens doués et sans compromis que sont les ex-Megadeth, Chris Broderick et Shawn Broder à la guitare et à la batterie tout droit issues d'un Heavy Metal coup de poing et qui a pour but de se faire plaisir avant tout, la bande de choc est donc de retour, cette fois pour leur seconde offrande, « Old Scars, New Wounds ».
Depuis deux ans et le debut album «Birth And The Burial", sorti neuf mois après la création de ACT OF DEFIANCE, le quatuor est parti en tournée, a promu son album, récolté les retours positifs et mérités et s'en est retrouvé plus soudé que jamais, être sur la route leur ayant permis de mieux se connaître et de renforcer le lien fraternel qui lie la troupe. C'est pourquoi, si, sur le premier opus, la composition avait été menée par le duo Broderick / Broder seul, les nouveaux titres le sont, cette fois, par le quatuor au complet: Matt Bachand à la basse et Henry Derek au chant ayant apporté leur contribution et qui dit composition à quatre dit quatre apports d'influences, ce qui se traduit par des virées hautement efficaces dans plusieurs styles de Heavy Metal, qui se cotoient avec en fil rouge, la même hargne, la même dynamique très accrocheuse, qui coure au long des titres et sait fédérer avec leurs force et détermination pour la majorité d'entre eux. Onze morceaux où le Heavy est agilement lourd, Thrash, fiévreux et intense toujours, en des vagues qui se répondent, se défient pour une alchimie nerveuse et bien menée s'il en est. C'est fièrement dynamique et prenant grâce à quatre musiciens qui assurent et se lâchent autant niveau de la guitare, la batterie, que de la basse, le chant qu'il soit en voix claire ou brute, procurant ainsi des moments marquants où on se prend en plein le punch de ce Metal à la qualité affirmée et à la passion évidente de ses protagonistes, chevillées au corps. La production (voir ci-dessous) est au rendez-vous côté qualitatif et plus que bien encore, sans omettre de mentionner le paroles incisives à l'inspiration multiple ou encore l'artwork de haut vol, à nouveau du au talent de Travis Smith.
En somme, deux cornes hautes pour ACT OF DEFIANCE et leur second album plus abouti, « Old Scars, New Wounds », qui agit comme une vague plutôt convaincante d'un Heavy Metal multiforme, estampillé du sceau de la valeur plus que reconnue du quatuor et du plaisir qu'ils prennent à délivrer la musique qu'ils aiment et à la faire partager!

Tasunka

"Old Scars, New Wounds" Track-List:
01- M.I.A. - 4:10
02- Molten Core - 3:29
03- Overexposure - 4:20
04- The Talisman - 5:53
05- Lullaby of Vengeance - 4:11
06- Circle of Ashes - 3:51
07- Reborn - 3:55
08- Conspiracy of the Gods - 4:47
09- Another Killing Spree - 4:34
10- Broken Dialect - 4:44
11- Rise of Rebellion - 5:08
Recruiting

producer Dave Otero (Cattle Decapitation, Allegaeon)

the band tracked the record likewise, with

Broderick laying down

guitars

in his own Ill-Fated Studios in LA, Derek and Broderick's vocals

tracked at

Red Light Studios also in LA,

with Bachand tracking his contributions at

Manshark in South Hampton, MA

and

Drover's drums

were laid down at

Atlanta's Glow In The Dark Studios.
Artwork:

AOD looked once more to the vision of

Travis Smith - whose visuals have accompanied records from the likes of King Diamond, Opeth, Avenged Sevenfold, and Strapping Young Lad.

ACT OF DEFIANCE Line-Up:
-Chris Broderick - G
-Henry Derek - V
-Shawn Drover - D
-Matt Bachand – B

---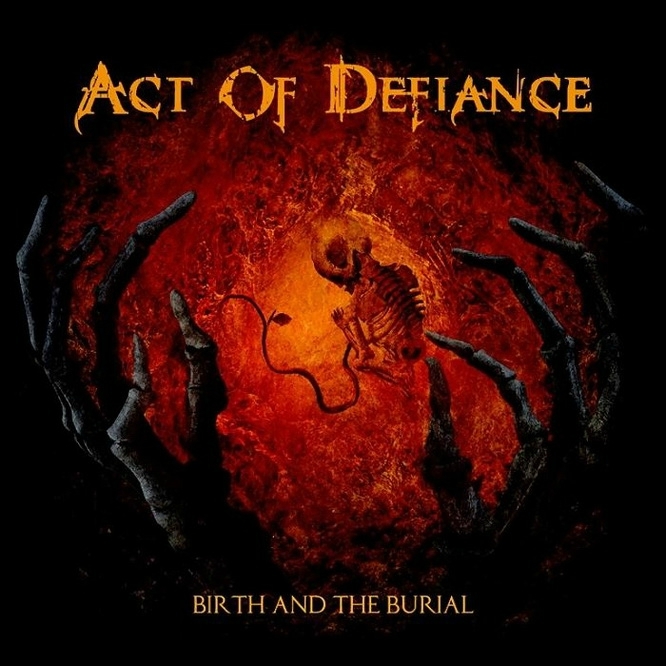 ==> Chronique / French Review: cliquer / click - Release Date: 21st Aug 2015
---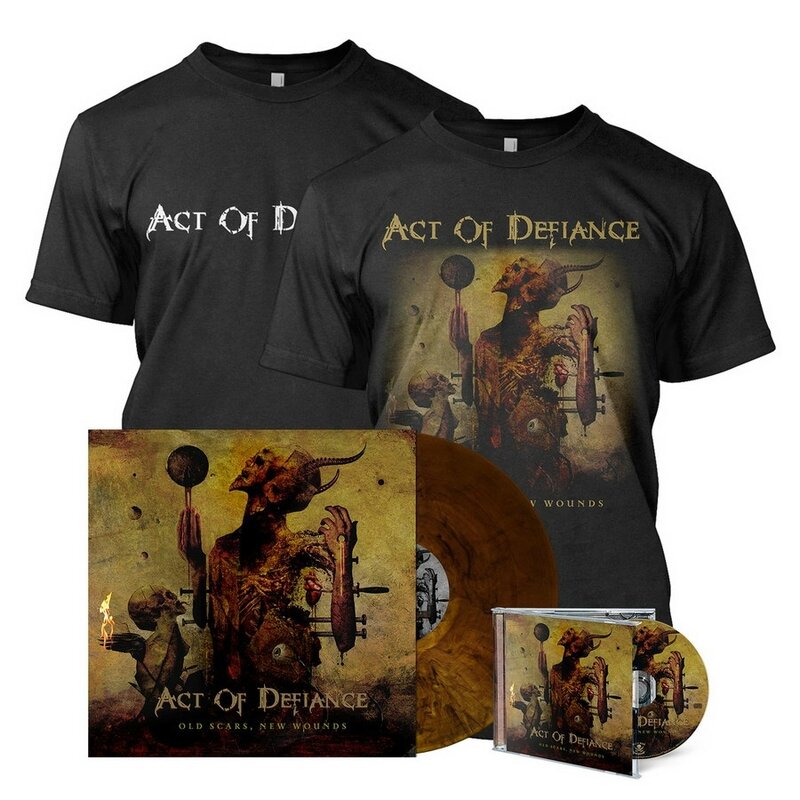 ---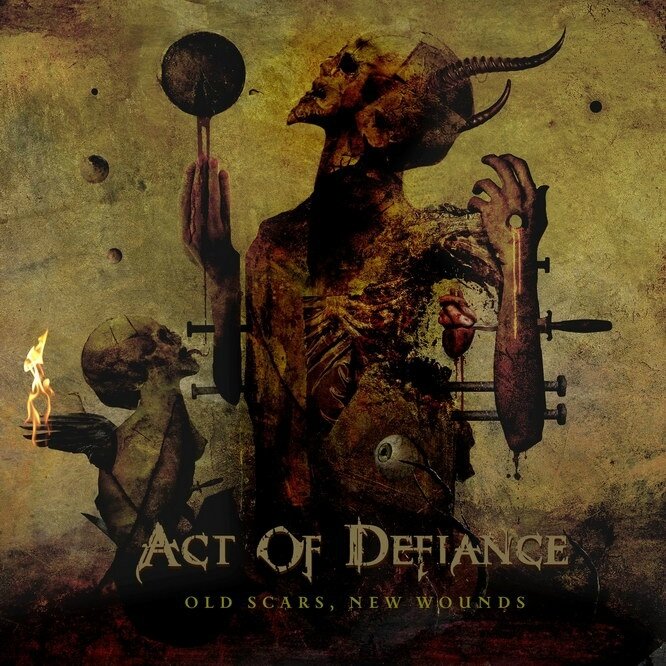 ---