15 août 2014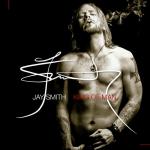 JAY SMITH "King Of Man"
(Gain Music / Sony)
Release G/S/A: July 18th 2014
Release Europe: June 16th 2014
==> Jay Smith - Interview :

<==
This second album of Jay Smith being actually his first one as this time he wrote all the songs except for « King Of Man » song, it gives you a good surprise. All through this "King Of Man" that has already been released in Scandinavia last December and this summer 2014 in Europe and France, can be heard how skilled and inspired this Swedish guitarist – songwriter – singer is.
He proves it especially on the diverse, interesting and catchy following tracks that are the very good « Keep Your Troubles At Quay », the surprising « Ode To Death (Little Sister) » which both mix swing and Rock that sounds like 50's-60's, mix saxophone and hammond, and last but not least the surprising and so good vocals groovy, a real anthem, with angel like choir
To keep on with good stuff, here comes the breathtaking slow tempo song "Cowboys From Hell", Pantera would for sure appreciate when listening to it :) This track is a jewel leaving its mark on you! Just like the Country style, anthem song « Worries Won't Bring It Back »: not only does Jay Smith show how inspired, skilled he can be to bring different atmospheres to his songs but this talented guitarist – singer also shows that his voice is more than efficient, whatever the kind of music played requires it: clear, groovy, dark, etc…
It's not a surprise then to know that the title track "King Of man" hit first rank in rock category of the I tunes charts in Sweden only one week after its release in 2013 or the most shared song on Sporify / Sweden too.
So, let's achieve this introduction to Jay Smith's album by presenting the third single taken from "King Of man": "Keeps Me alive" and its choir, Rock jazz and last but not least the Blues / Rock of "The Blues"
The subtle and of quality production of Grammy Award winning Dan Sundquist brings to all the diverse atmospheres a lot of efficiency
For the pleasure of discovering all the titles mentioned above, don't hesitate a single second to buy "King Of Man", Jay Smith indeed put his guts in his songwriting and playing / singing !


Tasunka

Tracklist « King Of Man »:
01.The blues
02. Women
03. Keeps Me Alive
04. King Of Man
05. Cowboys From Hell
06. Sanctuary
07. Keep Your Troubles At Bay
08. Ode To Death (Little Sister)
09. Tramp Of Love
10. Evil I Might Be
11. Worries Won't Bring It Back
12. Sanctuary revisited
14 août 2013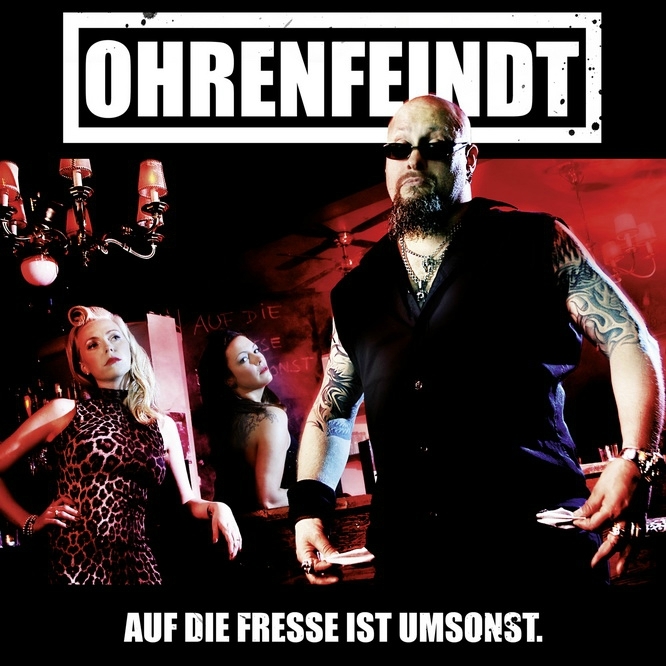 Release Date : 30 Aug 2013 / Sortie : 30 Aout 2013
---------------------------------
== > Review in English below ;) <==
----------------------------------


En provenance directe du fameux St. Pauli de Hambourg, Allemagne bien sûr, OHRENFEINDT est à l'image de ce quartier mal et si bien famé à la fois et surtout incontournable de par sa vie nocturne animée et pleine de zicos et d'artistes, qu'il fait bon croiser. Et justement, OHRENFEINDT fait partie intégrante de cette scène musicale, authentique, brute de décoffrage avec leur Rock'n Roll qui fleure bon le vécu, la sueur et se montre un mélange de Rock incorruptible et de moments intimistes très agréables, OHRENFEINDT, c'est option droit au but autant pour ce qui est de la musique que des textes. Les riffs sont ravageurs et incisifs, mais aussi subtils de profondeur quand l'ambiance le demande, la voix rocailleuse du frontman - bassiste Chris Laut, est impeccable pour l'exercice et les invités sur le disque (liste ci-après), participent à l'accroche indéniable de ce « Auf Die Fresse Ist Umsonst » on ne peut plus recommandable: l'ex-OHRENFEINDT à la batterie Stefan Lehmann (maintenant derrière les futs pour Torfrock), Micky Wolf (ex-Rudolf Rock & die Schocker, ex-Brixton Boogie, à présent Van Wolfen), Bastian Wulff (Loui Vetton) Henny Wolter (ex-Thunderhead, ex-Primal Fear, now Nitrogods) et Jörg Sander (Panik-Orchester).
Même si les deux complices et amis de longue date de Chris,
Flash Ostrock et Dennis Henning, ont quitté le navire récemment, l'amitié reste intacte, tout comme les nouveaux morceaux qui sont autant de hits en devenir avec leur gimmick et leur énergie notamment sur « Auf Die Fresse Ist Umsonst », « Alles Oder Nicht », « Rock'n Roll Sexgöttin », le très réussi Rock seventies de « Königin Der Nacht », « Rock'n Roll Show », "Strom" et au milieu de ce Hard Rock pur jus, un moment hors du tempo gaz à fond, avec la ballade instrumentale « Prinzessin », l'original "Ruf Mich Nicht Mehr An" ou plus mid-tempo sur un « Egal » fort convaincant, ou encore sur les génialement Bluesy avec son harmonica « Prokrastinations-Blues », "Heim".
Avec ce cinquième album, OHRENFEINDT se montre des plus à la hauteur pour plaire aux tympans des amateurs de ce Rock'n Roll roots seventies et intemporel à la fois, cher à AC/DC !

Au fait, le chant est dans la langue de Goethe, mais c'est sans importance, vu que le tout sonne sans même y prêter attention : c'est ce qui arrive quand c'est bon comme ça! ;)

Tasunka
---
OHRENFEINDT « Auf Die Fresse Ist Umsonst »
(AFM Records)
Release Date : 30 Aug 2013
Coming straight out of the famous St. Pauli area in Hamburg, Germany of course, OHRENFEINDT is a band just like the atmosphere of this well famed place for its night life full of artists and people, worth being known. OHRENFEINDT being indeed a full part of this musical scene, genuine, ruthless, thanx to their Rock'n Roll played and sang with guts and finding inspiration in life.
The band offers a very catchy Rock both played without compromise and also intimate moments. Yes indeed, OHRENFEINDT means straight to the point whatever for the music or lyrics. Riffs are killer / sharp ones but can be subtile deep when needed. The vocals of band mastermind Chris Laut also on bass, fit perfectly to the Rock played and so do the guests on the album :
ex-OHRENFEINDT drummer Stefan Lehmann (now bashing the skins for Torfrock), Micky Wolf (ex-Rudolf Rock & die Schocker, ex-Brixton Boogie, now Van Wolfen), Bastian Wulff (Loui Vetton) Henny Wolter (ex-Thunderhead, ex-Primal Fear, now Nitrogods) and Jörg Sander (Panik-Orchester)
Even if the long time friends Flash Ostrock and Dennis Henning left the band, friendship remains and quality too as the new songs prove it through the energy they bring, especially in the following songs that could be hit singles : « Auf Die Fresse Ist Umsonst », « Alles Oder Nicht », « Rock'n Roll Sexgöttin », "Strom" and a calm moment in this storm of pure Rock'n Roll, the instrumental ballad "Prinzessin", the very catchy mid-tempo "Egal", "Ruf Mich Nicht Mehr An", or the awesome seventies Blues style "« Prokrastinations-Blues », "Heim"

With their fifth album OHRENFEINDT reach the top to catch the attention of fans of this both seventies and timeless Rock that reminds of AC / DC's music

By the way, the lyrics are in German but you don't even notice it: that's what happens when music is that good !

Tasunka
---
Tracklist "Auf Die Fresse Ist Umsonst":
01. Auf die Fresse ist umsonst
02. Alles oder nichts
03. Jetzt oder nie
04. Rock'n'Roll Sexgöttin
05. Königin der Nacht
06. Prinzessin
07. Egal
08. Prokrastinations-Blues
09. Durch die Nacht
10. Rock'n'Roll Show
11. Ruf mich nicht mehr an
12. Strom
13. Heim
Bonus track
14. Turbolader-Liebe
First edition comes as Digipak also available as ltd. Vinyl & special edition (Box Set)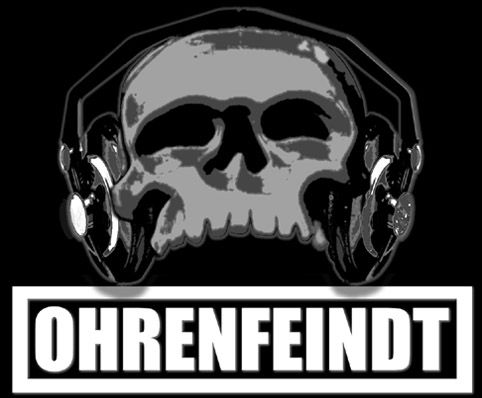 ---
16 mars 2013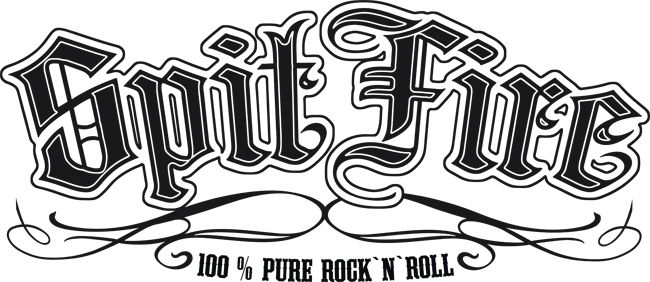 SPITFIRE « Devil's Dance »
(Rookies + Kings / SPV )
Release Europe: 19 April 2013
English version of the review below ;)
SpitFire crache littéralement le feu et comment ne pas se prendre non seulement une claque mais aussi un gros coup de cœur pour ce trio qui, à l'image des trop jouissifs bolides Hot Rods, carbure au nitrous oxide, vous balance plein pot et surtout plein gaz, un détonnant mélange de pur Rock'n Roll, de Rockabilly et de Hard furieux. Les morceaux s'enchainent et chose incroyable, si ça démarre déjà fort avec une guitare en attaque dès le « Go ! » d'ouverture, l'ambiance monte néanmoins crescendo avec des rythmiques qui s'endiablent de plus en plus, sans compter que le chant, les chorus, les refrains et la basse-batterie font un travail génial pour vous accrocher complètement. SpitFire, c'est puissant, droit au but et disons le mot : jouissif, d'autant que la voix de Dick Dropkick équivaut son jeu de guitare côté efficacité, tout autant que le jeu de ses compères : Johnny Jailbreak aux basse et chœurs et Nikk Nitro aux tambours d'acier ! Se dire que « Devil's Dance » est seulement le premier album du groupe allemand, laisse rêveur ! Déjà que leurs ainés et compatriotes de NITROGODS avaient sorti un très bon album de Rock'n Roll, là, les petits jeunes ont fait fort eux aussi, très fort !
Ecoutez les excellents « Enemy », "Kings Of Rock'n Roll », « No Regrets », « Rusted Crown », « Devil's Dance », "Take My Throne", "Burn In Hell", "King Kerosin" et vous saurez ce que pur Rock'n Roll veut dire ;)
Avec une production qui leur fait honneur et rend toute l'intensité des morceaux intacte et punchy, « Devil's Dance » est un must à se procurer, tout autant que d'aller s'éclater en compagnie du trio en live, car c'est bel et bien une musique d'éclate que joue SpitFire et ça, ça ne se rate pas !
Tasunka
---
- Review In English -
SpitFire deserves its name as the band definitely spits fire not only in your face but also in your heart as the 3-piece sounds absolutely like the mighty hot rods: loaded with nitrous oxide ! The band plays a powerful mixture of pure Rock'n Roll, Rockabilly and frantic Hard Rock. If the album already starts in a powerful way with "Go !" and its guitar on attack, it's nevertheless amazing to notice that each new song makes the temperature get higher and higher, makes the rhythms go crescendo, and not to forget to mention are the awesome skilled guitar, singing, chorus, bass, drums parts as all of them are definitely catchy as hell !
SpitFire's music is quite simply powerful, straight to the point, a real fireworks ! The vocals and guitar of Dick Dropkick show both a real skill in spitting fire and so does the playing of his mates: Johnny Jailbreak on bass / backing vocals and Nikk Nitro on drums from hell. When you think that "Devil's Dance" is only the first full length album of the band that's even more amazing. NITROGODS the band of their compatriot elders had already released a very good album of Rock'n Roll but now the younger guys do at least as good as them if not better!
Listen to the excellent tracks: « Enemy », "Kings Of Rock'n Roll », « No Regrets », « Rusted Crown », « Devil's Dance », "Take My Throne", "Burn In Hell", "King Kerosin" and you will at once know what pure Rock'n Roll means ;)
Thanx to an achieved production all songs sound at their best, punchy and catchy, making of "Devil's Dance" a must have album. Don't miss to come at the band's concerts as SpitFire's music is perfect for a real Rock'n Roll party !
Tasunka
---
Line-Up SpitFire:

- Dick Dropkick : Lead vocals / Guitar
- Johnny Jailbreak : Bass / Backing vocals
- Nikk Nitro : Drums / Backing vocals

Tracklisting "Devil's Dance":

01. Go!
02. My Way
03. City Of The Sinners
04. Kings Of Rock n Roll
05. Hellfire
06. Roll The Dice
07. Take My Throne
08. Enemy
09. No Regrets
10. Burn In Hell
11. Rusted Crown
12. Devil's Dance
13. King Kerosin

SpitFire Live:

30.03.2013 - Alte Brauerei / Annaberg-Buchholz (Matt "Gonzo" Roehr Support)
03.05.2013 - Metal Bash Open Air / Neu Wulmstorf
01.06.2013 - "10 Jahre Bad Jokers" / Sand i.T (Bozen/Südtirol)
06.06.2013 - Pfeffelbach Open Air / Pfeffelbach
15.06.2013 - Rock im Zwönitztal Open Air / Chemnitz
04.07.2013 - Reload Festival / Sulingen
21.07. – 27.07.2013 - MetalDays / Tolmin (Slovenia)
22.08.2013 - Ehrlich&Laut Open Air / Alsfeld

Et plus de dates encore à venir!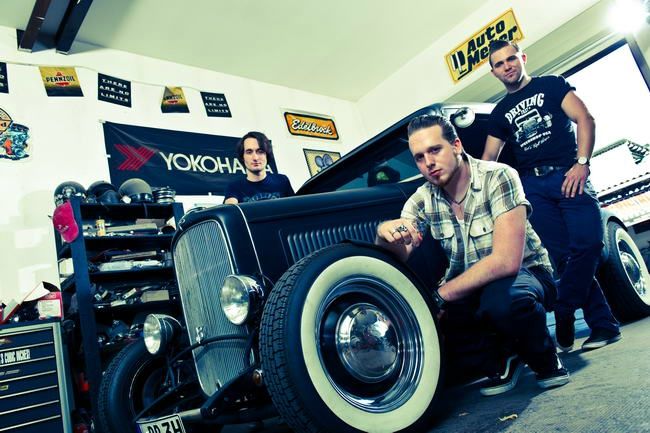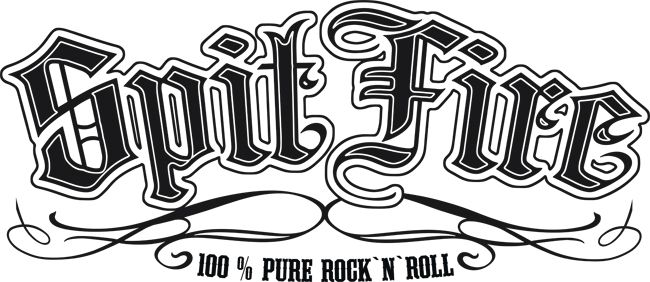 10 mars 2013
Director : Pekka Hara
Order the new STRATOVARIUS album "Nemesis" here: http://on.fb.me/XgLKCj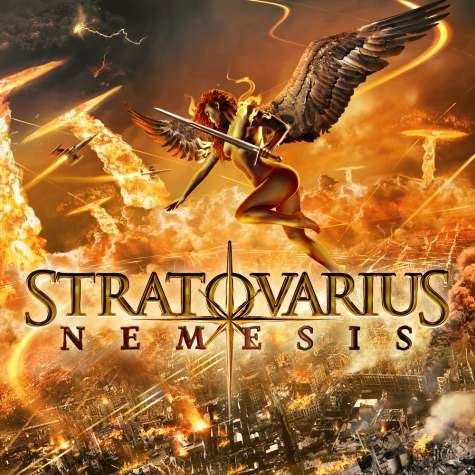 Stratovarius are hailed as one of the most influential and successful Melodic Metal bands in the world and they have managed to establish themselves as one of metal scene's heavy names.
The new album "Nemesis" unites all the best traits of the band's melodic, powerful, fresh and technically elaborated metal, all spiced up with an incredible sense of melody.
The album was produced and mixed by Matias Kupiainen and mastered by Mika Jussila (Finnvox studios) who has a long history with the band.
"Nemesis" has a dark and more modern sound compared to the band's last album "Elysium". It clearly shows how much the band has matured and grown as songwriters. At the same time, the band focused all their attention and work into creating and recording "Nemesis". Singer Timo Kotipelto has spent three weeks recording the vocals in a cottage in the Finnish countryside.
Matias Kupiainen adds: "I have more or less lived in the studio for four months, obsessing over every detail. I feel very relieved that we are done and I am very happy with the material and the sound."
Timo Kotipelto agrees: "Making the album this time was easier because we gave it as much time as it needed. We have worked our asses off to make this and we hope the fans will like it."
Without doubt, the fans will love it! The album has it all. From the typical melodic and powerful Stratovarius sound in "Abandon", to the aggressive and energetic "Stand My Ground", the album represents the new style of the band mixed with good old melodic power metal.
Stratovarius´ musical approach is today wider and richer than ever. The song "Fantasy" sounds almost ABBA-esque with its catchy pop tune, but it´s powered by the famous Stratovarius metal sound, louder than ever.
"Out Of The Fog" integrates some folk music elements, with lyrics telling the story of a young person forced to march blindly into battle.
The only ballad on the album, "If The Story Is Over", is a very emotional song with a grand arrangement that builds up to using the full band and ends with a small female choir.
The title track "Nemesis" is a typical Stratovarius song, with echoes of medieval melodies with powerful double bass drumming and the catchy pop melodies from this side of the millennium.
Says Timo Kotipelto: "The title track of the album; with its modern twist on the myth of Nemesis, it tells a story of a preacher who gives each one what they deserve, good or bad. The song has a very nice riff, cool melodies and a great good old Stratovarius style chorus."
'Nemesis' Standard Edition Tracklist:
01. Abandon
02. Unbreakable
03. Stand My Ground
04. Halcyon Days
05. Fantasy
06. Out Of The Fog
07. Castles In The Air
08. Dragons
09. One Must Fall
10. If The Story Is Over
11. Nemesis
30 août 2009
PHILIP SAYCE « Peace Machine »
(Provogue)
What an outstanding player Philip Sayce is! This guitarist is quite simply amazing and his album « Peace Machine » is a real piece (peace ;) of art, Rock / Blues as it should be: soulful. Each song is a joyful moment, fresh, the exact contrary of a "deja vu" sensation and the groove is for sure here. Far from being a boring demonstration of a talented musician, expect all through "Peace Machine" to share strong feelings with a gifted artist on guitar, vocals and his mates: Mark Browne (B), Kenny Aronoff (D), Fred Mandell (Organ/K). "Peace Machine" sounds clear and raw, powerful as life. Since a long time released in America and in Canada as it was in 2005, the album is at last about to shake your speakers in Europe and that's a great news!!
So, a warm welcome to Philip Sayce and his new line up for 2009 (see below ;) !!
Tasunka
Line up 2009:
Philip Sayce (G/V)
Fred Mandell (Organ / K)
Ryan MacMillan (D)
Joel Gottschalk (B)
Songs from "Peace Machine":
01-One Foot in the Grave
02-Save Me from Myself
03-SlipawaySlipaway
04-PowerfulPowerful Thing
05-Angels live inside
06-Dream Away
07-Sweet Misery
08-Blood on Your Hands
09-Cinnamon Girl
10-Over My Head
11-Alchemy
12-All I Want
13-Morning Star
14-Peace Machine
(Bonus Track) Arianrhod
06 mai 2009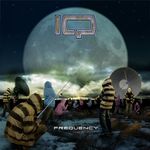 IQ "Frequency"
(Inside Out / SPV)
"Frequency" is amazing just like a rainbow suddenly appeared, you know like something you feel but can't explain with words but that is there for real, moving you. No, I haven't drunk too much that's only the truth ;)
IQ indeed managed this challenge to create a complete Progressive Rock album, through the strength of melodies, the wide range of magic powerful sounds, giving then a cohesive impression to the 7 songs. Peter Nicholls' subtle voice, Mark Westworth's touch on keyboards, Mike Holmes art on guitar and a very efficient bass-drums duet, that recipe undoubtedly creates the magic.
Lastly, 'Intense' could sum up the "Frequency" album and the journey you're invited for: a quiet, melancholic, rock and futuristic journey.
Highly recommended is "Frequency" and highly acclaimed can be IQ for being at the top of their fine art with their ninth studio album :)
Don't miss that and enjoy ! :)
Tasunka
Track Listing:
1. Frequency
2. Life Support
3. Stronger Than Friction
4. One Fatal Mistake
5. Ryker Skies
6. The Province
7. Closer
IQ Line Up :
Mike Holmes: guitar
Peter Nicholls: lead vocal
John Jowitt: bass
Paul Cook: drums
Mark Westworth: keyboards
28 avril 2009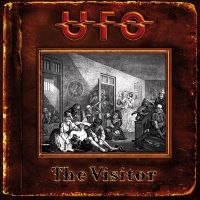 UFO "The Visitor"
(SPV / Steamhammer)
Release dates:
Germany, Austria, Switzerland: May 29
Rest of Europe: June 2
USA, Canada: June 2
This review and many more other press articles, photos, great things about UFO are to be found too on this very good website: here :)
Enthusiasm and dynamism could really be the right words to s um up the way this new album of British Rock legend UFO sounds like: awesome if you prefer !! :) "The Visitor" seems to be performed by a young band full of energy and at the same time is to be heard on the 10 songs the experience, the musical and vocal maturity the years have brought; and last but not least the strong, united line-up UFO consists of is the key of the new album: I mean it's clear that the whole band took a lot of great time and pleasure with the new opus :)
Thank you Phil Mogg (V), Paul Raymond (G / K), and Andy Parker (D), as well as American world-class guitarist Vinnie Moore for the release of "The Visitor" that will not only be welcomed as a good news by the fans but also by a new audience that isn't yet familiar to the band.
Our thoughts go to bass legend and original member Pete Way who's currently suffering from a liver disease and was unfortunately not available for the studio production.
Tasunka
"The Visitor" track listing:
01. Saving Me
02. On The Waterfront
03. Hell Driver
04. Stop Breaking Down
05. Rock Ready
06. Living Proof
07. Can't Buy A Thrill
08. Forsaken
09. Villains & Thieves
10. Stranger In Town
11. Dancing With St. Peter (2009 edition) (digipack bonus track)
24 août 2007
Arch Enemy "Rise Of The Tyrant"
(Century Media)
European Street Date: September 24th, 2007
48:54 to enjoy and well sum up how awesome the new album "Rise Of The Tyrant" of this already heralded band is, especially since 2005 and their acclaimed "Doomsday Machine"and the long powerful world tour that followed: ARCH ENEMY who else? :) "Rise Of The Tyrant" offers a masterpiece that is a great, very effective mix of extreme Metal and melody. Don't be surprised if you start to headbang and cannot stop all along the 11 songs so catchy the guitars riffs are, so powerful the bass and drums rhythms are too and last but not least so remarkable as always the voice of Angela (Gossow) sounds. It's obvious when listening to the songs that the whole band was not only on top form when performing and recording the new album but was also really involved into giving their best: that is to be heard all the 11 tracks long. Moreover the return of Michael's brother, Chris (Christopher Amott) on guitar is a full part of the success ARCH ENEMY deserves as the now back-in-the-race guitars duet made of Chris and Michael, more than helps creating this unique atmosphere that is to be appreciated all through the "R.O.T.T." album. In the field of atmosphere, Per Wiberg (Opeth) as special guest on keyboards is a great choice: his touch brought to the music being "magic". Great band, great songs, great production: an album that is undoubtedly worth the purchase!!! :)
Tasunka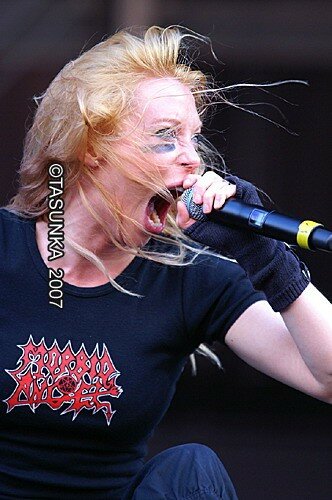 ---
17 août 2007
Raintime "Flies And Lies"
(Sony BMG)
www.raintime.com
www.myspace.com/raintime
How long time seems to be when you're impatient to do something and at last time has come for me to emphasize Raintime and their Metal that sounds like pleasure :) The Italian band indeed wrote songs loaded with very good things: dynamism, vocals sometimes clean but most of time sang in an efficient hoarse / Death way that so well gets along with the Powerful and so well played guitars riffs. Just imagine along catchy rhythms, play the whole at 10 and there you are: you now know how much energy and good mood "Flies And Lies" can make feel. Raintime's other asset is to be found in varied atmospheres within the songs and even if a little bit more of being daring would have been appreciated from them, their cover of Michael Jackson "Beat It" even though fulfils all expectations in this field, so achieved it is. So, ti amo Raintime ;)
Highly recommended!!
Tasunka
12 mai 2007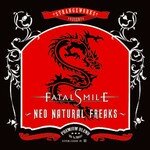 Fatal Smile 'Neo Natural Freaks"
(Bad Reputation)
Many persons have described or will describe in details all the reasons why the new album of Fatal Smile so good is and they for sure are right but let prefer now to speak about the sensation "Neo Natural Freaks" gives: a powerful, mighty feeling !! ;) Or if your prefer: it kicks real ass and makes you feel alive !!! You're sceptic about that, so come on and hear "Neo Natural Freaks" at its best volume: 10 of course and hear the Hard Rock awe-songs, oops, awesome songs ;) : "Crash And Burn", "Learn-Love-Hate", "Common People "(excellent track), "11th Hour", just to mention these best ones. A good sound, a good band having its own personality, a good album, well, nothing else to say then, the music speaks by itself :) Maybe one thing to add: the band performs great concerts as their date in Paris has proved it: let's check out the photos. So, support Fatal Smile: they deserve it ;)
TASUNKA