02 septembre 2014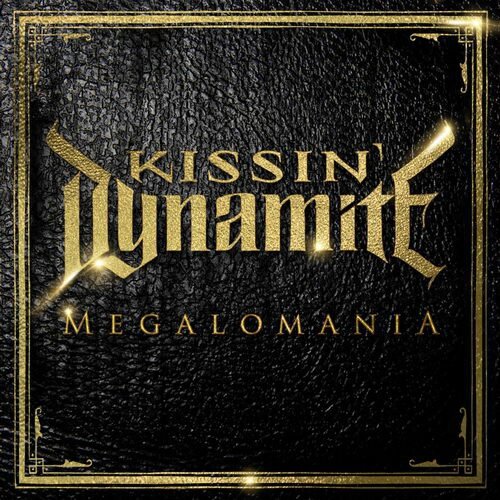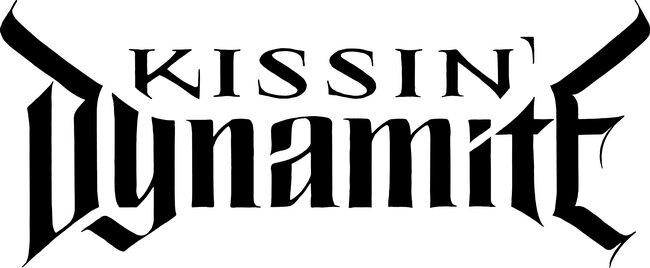 Release Date : 05 Sept 2014
European Tour Dates 2014: ici / here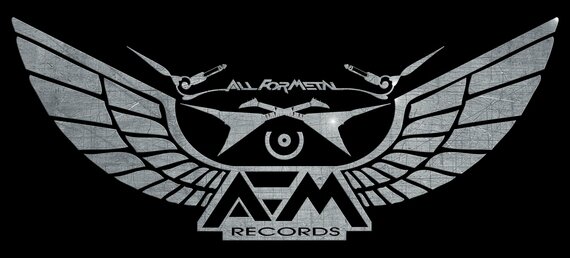 Coup de coeur pour ce quatrième album des allemands de KISSIN' DYNAMITE et quel album: pas de temps mort que l'on passe d'un Hard Rock 'with balls' (si, si, tout comme le clip trop délire), hymnique en diable et matiné d'electro hyper péchu d'ouverture: "DNA" à un Hard Rock aux guitares qui délivrent l'enfer et le fun "VIP In Hell", au mid tempo d'une ambiance différente et royale "Fireflies", « Legion Of The Legendary » et retour au pur Hard Rock, « God In You », tout est, ici, intelligemment dosé et doué d'une aptitude indéniable pour mettre dans l'ambiance et mettre le feu
Pas de doute, avec « Megalomania », un esprit d'ouverture et de mélange est à l'œuvre et le rap, l'indus, l'électro s'invitent sur un esprit et un Rock pur souche; « Megalomania » ouvre indiscutablement un nouveau chapitre inspiré à merveille pour les cinq d'outre Rhin.
Rare d'avoir 90 % des titres qui font mouche en étant aussi variés et pourtant, c'est bien ce que KISSIN' DYNAMITE parvient à faire et avec panache encore : la voix de Hannes Braun s'éclate dans tous les styles: rauque, mélodique, clair, énervé et même chose pour le duo des guitares fort bien senties de Ande Braun et Jim Müller. Quant au duo aux rythmiques, Steffen Haile à la basse et Andreas Schnitzer derrière les futs, ça roule tout seul pour mettre l'ambiance
Le groupe sera en tournée en tête d'affiche en Europe, alors, entre l'album à se procurer et leurs concerts à ne pas rater, la rentrée s'annonce belle, KISSIN' DYNAMITE mettant le feu et la pèche
Le talent n'attend décidément pas le nombre des années, quand on pense à leur jeune âge ! Belle maturité, rien à dire, leur musique sonnant comme celle de vieux routiers du Hard / Heavy Rock, avec tout ce que cela a de bon mais avec cette pointe d'audace propre à la jeunesse : alors, cocktail parfait ? La perfection n'existant pas, disons presque, surtout que le titre final « Ticket To Paradise » n'est pas indispensable, car trop classique, mais c'est bien le seul.

Tasunka
Tracklisting « Megalomania » :
01. DNA
02. Maniac Ball
03. VIP In Hell
04. Fireflies
05. Deadly
06. God In You
07. Running Free
08. Legion Of The Legendary
09. The Final Dance
10. Ticket To Paradise
Bonus track on Ltd. Edition Digipak: Golden Cage
Line-Up KISSIN' DYNAMITE:

-Hannes Braun : V
-Ande Braun: G
-Jim Müller : G
-Steffen Haile : B
-Andreas Schnitzer : D

---
---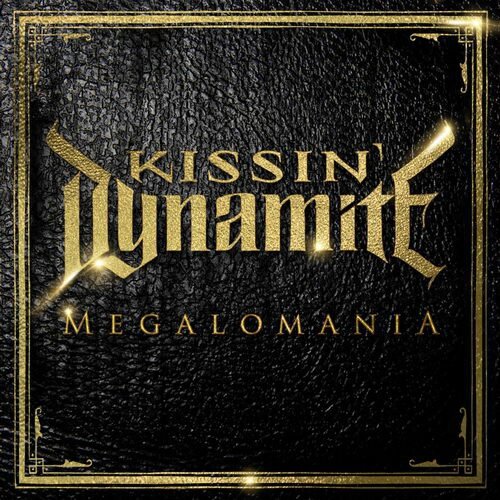 ---
24 août 2014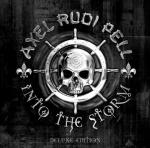 Axel Rudi Pell "Into the Storm - Deluxe Edition"
(Steamhammer / SPV)


Release Date Scandinavia: August 20th, 2014
Release Date Germany: August22nd , 2014
Release Date Europe: August 25th , 2014
Release Date USA/Canada: September, 02nd ,2014

AXEL RUDI PELL sort une édition deluxe de l'album "Into The Storm" sur SPV/Steamhammer. Nous pourrons y trouver un CD bonus qui contiendra des enregistrements live, ainsi que la dernière vidéo du groupe « Long Way To Go »
Par ailleurs, une pochette exclusive sera disponible, et le livret s'étendra sur 16 pages, avec de nouvelles photos et un texte écrit par Axel Rudi Pell en personne
En somme, un album 'deluxe' parfait pour qui ne connait pas ou peu ARP et veut se prendre en pleine face son classique mais bon Heavy Mélodique ou puissant, mais pour les autres qui suivent depuis longtemps le groupe, ou plutôt le maestro guitariste, c'est fort de ressortir un album seulement six mois après avoir acheté la version originale de « Into The Storm », début 2014 ; de quoi s'en mordre les doigts étant donné que la version deluxe et ici, décidément bonne de par ses bonus intéressants : commerce quand tu nous tient :)
Eh oui, c'est que comme teaser entre la première partie de la tournée qui vient de s'achever et la seconde à venir dès septembre, cet album fait mouche, surtout de par ses près de 27 minutes de morceaux en live (même s'ils ne sont que trois) qui donnent un furieuse envie d'aller à l'un des concerts de cette seconde partie de la tournée 2014. C'est que sur scène, ARP c'est du tout bon, l'assurance de passer un beau moment, et de faire oublier que sur disque, la même recette est encore et toujours employée : bonne recette, certes, mais à force de toujours manger le même plat à peu de variantes près, on peut parfois se lasser
Ceci n'enlève pourtant rien à la qualité qui a fait la réputation de ARP depuis 25 ans, et en soi, « Into The Storm » est et reste un bon album, avec ses moments forts dont le superbe « Into The Storm », comme toujours chez ARP, un morceau long et choyé par Axel Rudi Pell, la voix unique de Johnny Gioeli et par leurs comparses. Très bon aussi, l'instrumental en bonus track « White Cats(Opus (#6 Scivolare)" ou « Hey Hey My My », « Way To Mandelay », en second bonus. Bobby Rondinelli (Rainbow, Riot, Black Sabbath, notamment) en remplacement de Mike Terrana assure la succession, sans aucun problème, au point de ne pas remarquer le remplacement
Bref, un album qui roule tout seul, trop parfois ? et une version deluxe qui vaut le coup. Enfin, tant qu'en fin de tournée, il ne prend pas l'envie de la ressortir agrémentée de nouveaux bonus, rendant cette version obsolète? Mais bon, ce serait dommage de se priver de cette édition deluxe de fin août 2014 et de se poser trop de questions :)
Tasunka
Tracklisting Digipak: "Into The Storm" – Deluxe Edition

CD 1

01) THE INQUISITORIAL PROCEDURE
02) TOWER OF LIES
03) LONG WAY TO GO
04) BURNING CHAINS
05) WHEN TRUTH HURTS
06) CHANGING TIMES
07) TOUCHING HEAVEN
08) HIGH ABOVE
09) HEY HEY MY MY
10) INTO THE STORM
11) WHITE CATS (Opus #6 Scivolare) (Bonus Track)
12) WAY TO MANDALAY (Bonus Track)

CD 2

01. NASTY REPUTATION – live 2014
02. STRONG AS A ROCK – live 2014
03. MEDLEY: Too Late / Call Her Princess / Eternal Prisoner / Too Late – live 2014
04. LONG WAY TO GO - enhanced video
Line Up AXEL RUDI PELL:

-Johnny Gioeli - Lead and Backing Vocals
-Axel Rudi Pell - Lead, Rhythm and Acoustic Guitars
-Ferdy Doernberg - Keyboards
-Volker Krawczak - Bass
-Bobby Rondinelli – Drums


Tour 2014:
"Into The Storm"-Tour 2014 Part 2
AXEL RUDI PELL
special guests: REBELLIOUS SPIRIT

19.09. CH-Pratteln - Z7
20.09. NL-Zoetermeer - Boerderij
21.09. D-Cologne - Essigfabrik
23.09. D-Aschaffenburg - Colos-Saal
24.09. D-Munich - Backstage
26.09. A-Vienna - Szene
27.09. CZ-Zlin - Masters of Rock Cafe
28.09. CZ-Prague - Matrix Music Club
30.09. D-Berlin - Huxleys
01.10. D-Bremen - Aladin
03.10. D-Karlsruhe - Substage
04.10. B-Vooselaar - Biebob
05.10. D-Bochum - Zeche (sold out)
06.10. D-Bochum - Zeche


Discography:

1989 Wild Obsession
1991 Nasty Reputation
1992 Eternal Prisoner
1993 The Ballads
1994 Between The Walls
1995 Made In Germany (live)
1996 Black Moon Pyramid
1997 Magic
1998 Oceans Of Time
1999 The Ballads II
2000 The Masquerade Ball
2000 The Wizards Chosen Few (best of)
2002 Shadow Zone
2002 Knight Treasures - Live And More (DVD)
2002 Knights Live (live)
2004 Kings And Queens
2004 The Ballads III
2006 Mystica
2007 Diamonds Unlocked (cover versions)
2008 Live Over Europe (DVD)
2008 Tales Of The Crown
2009 Best Of- Anniversary Edition (best of)
2010 One Night Live (DVD)
2010 The Crest
2011 The Ballads IV
2012 Circle Of The Oath
2013 Live On Fire (DVD)
2014 Into The Storm
=> all products are released on SPV / Steamhammer
19 août 2014
ACE FREHLEY "Space Invader"
(SPV / Steamhammer)
Street Date Europe: August 18th, 2014
Street Date GSA/Scandinavia: August 15th, 2014
Dans une interview, Ace Frehley déclarait créer ses morceaux afin qu'ils lui plaisent à lui, bien sur, mais aussi à ses fans et le reproche fait, justement par ses mêmes fans concernant le précédent opus, « Anomaly » (2009), était que malgré que celui-ci soit un bon album, il n'était pas assez heavy et manquait de guitares. C'est donc, depuis cet intervalle de cinq ans qui sépare le précédent effort et celui-ci, et avec ces propos restés gravés dans son esprit que Ace Frehley a composé « Space Invader » et bien lui en a pris : les guitares sont, ici en effet, rock à souhait, génialement exécutées, techniques et mélodiques à la fois, un parfait mélange qui met dans le mille à chaque morceau. Ce son et ce feeling très seventies qui animent tout l'album, sont classieux et très agréables ; on se laisse prendre au jeu et voilà que défilent les morceaux sur des riffs efficaces, sur des vocaux bien balancés.
Pour les paroles, entre sexe, faire la fête et le sujet délicieusement 50's et kitsch de l'espace et des envahisseurs, on savoure. D'ailleurs, le ton est donné par la pochette confiée à non moins que Ken Kelly, son ami de longue date, qui a été, notamment, l'auteur de l'artwork de deux best sellers de Kiss : « Destroyer » (1976) et « Love Gun » (1977) et bien sûr, de ses peintures d'Heroic Fantasy notamment pour « Conan »
Coté production de "Space Invader", c'est nickel là aussi. Bref, le lead guitariste, compositeur bien connu et respecté à juste titre, s'en est donné à cœur joie, faisant, de « Space Invader », un must à posséder. Le meilleur album depuis son premier disque solo « Ace Frehley », sorti en 1978 ? c'est bien possible :)
Les neuf morceaux originaux assurent, notamment l'immanquable instrumental de 7 minutes « Starship » et même si la reprise du « Space Cowboy » de Steve Miller, aurait mérité plus d'audace, le tout se laisse savourer sans retenue. Après tout, Ace Frehley n'est-il pas le « Space Cowboy » ? ;)
Pas étonnant qu'il ait été honoré via son entrée au Rock n Roll Hall Of Fame en 2014, pour son œuvre avec KISS et qu'en août 2014, les fans aient proclamé "Space Invader", meilleur album du mois: c'est mérité !

Tasunka
Standard Version tracklisting :
01. Space Invader
02. Gimme A Feelin` (radio edit)
03. I Wanna Hold You
04. Change
05. Toys
06. Immortal Pleasures
07. Inside The Vortex
08. What Every Girl Wants
09. Past The Milky Way
10. Reckless
11. The Joker
12. Starship

13 juillet 2014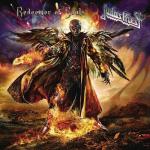 JUDAS PRIEST « Redeemer Of Souls »
(Sony Music / Columbia Records)
Sortie : 14 juillet 2014
n°18 au Top Album !
Meilleure entrée dans l'histoire du groupe en France !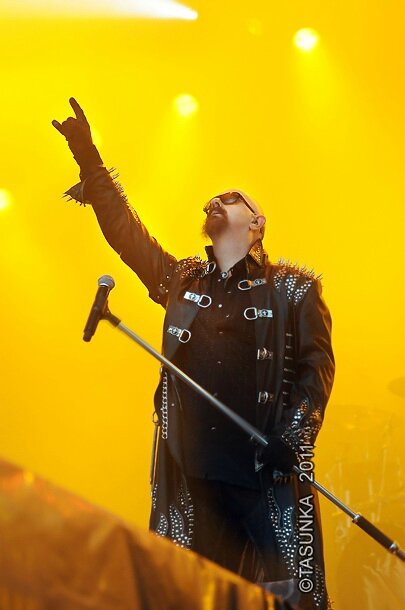 La vitesse, la puissance qui ont fait adorer autant Judas Priest quelques décennies plus tôt, notamment avec un incontournable et légendaire « Painkiller » (1990), font un peu défaut dans ce 17ième album : « Redeemer Of Souls », et pourtant, si le rythme est quelque peu plus ralenti, l'énergie, la hargne, l'enthousiame purs et durs sont, eux, bien là et oui, écoute après écoute, on se laisse prendre à ce nouvel opus, finalement fort accrocheur, des légendes du Heavy Metal que sont Judas Priest. Et ce, d'autant plus que la voix unique de Rob Halford fait merveille, sans pour autant arracher les aigus, comme inspirée par l'intensité, encore que de temps à autre, les poussées vocales se font pour notre plus grand plaisir, comme sur le très bon titre épique, « Hails Of Valhalla », qui allie intensité et envolées vocales du plus grave au plus aigu, prouvant, s'il en est, que Rob Halford assure toujours autant
Si le départ de l'incontournable fondateur-guitariste K.K. Downing en 2011, laissait songeur sur le devenir de cette marque de fabrique unique qui caractérise le groupe, à savoir ce duo hors pair de guitaristes Glenn Tipton – K.K. Downing, aux savoureux riffs et soli, on est, ici, rassuré, étant donné que Glenn Tipton prouve encore son savoir faire au long de l'album, épaulé en cela par l'ex guitariste de Voodoo Six : Richie Faulkner. A noter, aussi, le son vintage très 80s des guitares, qui ajoute un bel effet, comme un parfum des plus beaux albums de ces années-là. Et même chose pour ce qui est des basse et batterie
Avec pas mal de variations très Metal à son actif, « Redeemer Of Souls » plane entre un Heavy metal pur et dur, mais aussi mélodique, grave ou épique, avec notamment des musts tels que le précité « Hails Of Valhalla », mais aussi, grave et intense, sur « Cold Blooded » ou encore le très Ozzy Osbournien dans la voix: « Sword Of Damocles », et que dire du majestueux bluesy « Crossfire », qui se démarque, avec une composition et une interprétation très inspirées, ou encore du très réussi mid tempo « Hell & Back », du lancinant «Secret Of The Dead », qui vient former le trio de cloture de l'album, avec son esprit entre poignant et en attaque illustré par « Battle Cry » et enfin, « Beginning Of The End » à l'émotion à fleur de vocaux et d'instruments : très belle ballade, intelligemment menée. Le 'début de la fin' ? No way ! :)

D'autant que, en plus de cet opus, oui, il y aura bien un "Redeemer Of Souls" Tour; ok aux USA en fin 2014, mais bon, heureux ?
Moi, oui et je ne dois pas être un cas unique ;)


Tasunka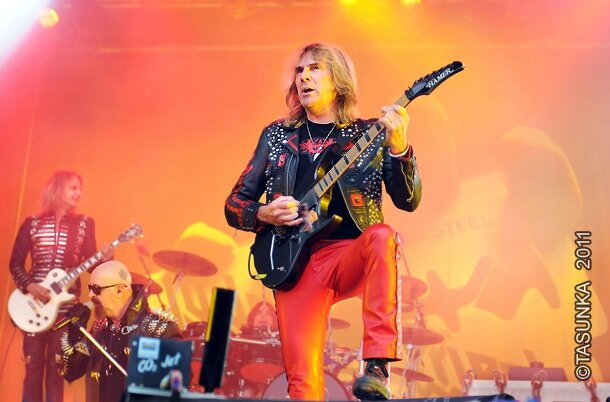 CD 1 « Redeemer Of Souls » (Deluxe):
01- "Dragonaut"
02- "Redeemer Of Souls"
03- "Hails Of Valhalla"
04- « Sword Of Damocles »
05- « March Of The Damned »
06- "Down In Flames"
07- "Hell & Back"
08- "Cold Blooded"
09- "Metalizer"
10- "Crossfire"
11- "Secret Of The Dead"
12- "Battle Cry"
13- "Beginning Of The End"
CD 2:
01- "Snakebite"
02- "Tears Of Blood"
03- "Creatures"
04- "Bring It On"
05- "Never Forget"
JUDAS PRIEST Line-Up:
- Rob Halford : V
- Glenn Tipton : G
- Richie Faulkner : G
- Ian Hill : B
- Scott Travis : D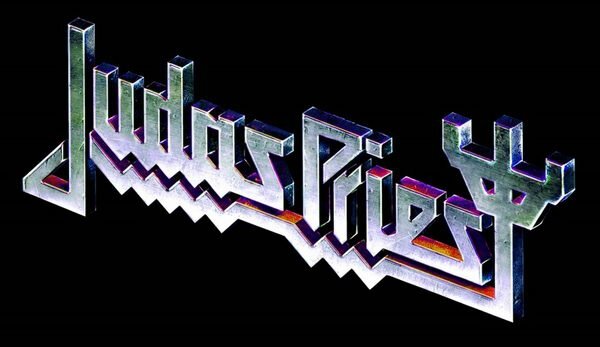 22 juin 2014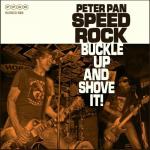 PETER PAN SPEEDROCK "Buckle Up And Shove It!"
(Steamhammmer / SPV)
Release Dates:
Europe June 2, 2014
Germany May 30, 2014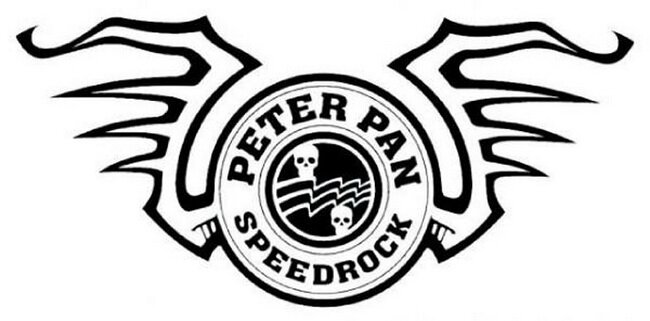 Ca sent la poussière, les bars, les horizons larges et pourtant, ce Rock'n Roll brut de décoffrage vient de Hollande et s'il fait penser sur certains morceaux aux ainés de Motörhead avec ce son, cette guitare saturée qui s'exprime avec un de ces pieds très visible, ce rythme plein gaz façon dragster lancé à fond et surtout, cette voix du guitariste-chanteur très proche, par instants, de qui vous savez, le groupe n'en possède pas moins sa touche, sa personnalité Rock et oui, ça le fait. Surtout sur des titres tels que l'incontournable « Bad Thing » qui aligne une puissance et un feeling à réveiller un mort. Là, PPSR s'expriment avec leur panache, leur rentre-dedans très appréciables. Même chose sur le single « Get You High » ou encore « Loose Woman & Loud Guitar », « Wise Eyed & Thirsty », la très réussie reprise de « New Rose » en hommage aux pionniers du Punk : THE DAMNED et du fleuron qu'est « Deadringer », l'un des meilleurs morceaux de l'album avec « Murdertruck », « Doin' The Nasty », « Heart Full Of Soul » : la seconde reprise, cette fois, d'un joyau des YARDBIRDS, puis, le très bon « Note To Self » avec batterie et basse en avant, emboitées par la guitare qui s'exprime à plein en solo et même la voix se fait, là, plus suave. Sur un « Heart Full Of Soul », reprise au feeling Rock / Blues accrocheur à fond, et avec en guest vocal, non moins que Spark Retard (DEMENTED ARE GO, GOD DAMN ), la messe est dite : ce titre conclue en beauté un album prenant de bout en bout, bardé d'atouts Rock, avec ce côté non linéaire, au contraire, qui vous prend aux tripes, d'autant plus efficacement que la production donne un son qui s'adapte à et optimise, ainsi, l'atmosphère de chaque morceau

Quand on pense que le groupe s'était dissout en plein milieu de leur tournée avec NASHVILLE PUSSY et qu'ils avaient eu cette réunion / reformation éclair le lendemain du clash, c'est tant mieux, parce qu'il aurait été dommage que cette formation qui compte pour la scène Rock depuis pas mal d'années, ne soit plus là

En résumé, ce neuvième album, « Buckle Up And Shove It », c'est méchamment d'enfer, c'est PPSR et en top forme encore ;)

Tasunka
Tracklisting " Buckle Up And Shove It! "
01- Get You High
02- Whatever Man
03- Murdertruck
04- Tunnelvision
05- Bad Thing
06- Loose Woman & Loud Guitar
07- New Rose
08- Note To Self
09- Wise Eyed & Thirsty
10- Buckle Up & Shove It
11- Deadringer
12- Doin' The Nasty
13- Heart Full Of Soul
Line-Up PPSR:
-Peter Van Elderen: V / G
-Bart 'Bartmann' Geevers: B
-Bart Nederhand: D
Tour/Live

Date City / Venue Venue
28.06.2014 Merchtem - Loco Loco Fest Belgium
05.07.2014 Ameland - MadNes Festival Netherlands
10.07.2014 Ballenstedt - RockHarz Open Air Germany
11.07.2014 Tábor - Mighty Sounds Festival Czech Republic
12.07.2014 Prölsdorf - Krach am Bach Festival Germany
13.07.2014 Gierle - Sjock Festival Belgium
25.07.2014 Essen - Nord Open Air Germany
28.07.2014 Bausendorf - Riez Open Air Germany
01.08.2014 Enschede - Geuzenpop Netherlands
02.08.2014 Waarschot - Roadkill Festival Belgium
30.08.2014 Annen - Rock Op Brink Festival Netherlands
03.09.2014 Chester - The Compass United Kingdom
04.09.2014 Edinburgh - Bannermans United Kingdom
05.09.2014 Cardiff - The Moon Club United Kingdom
06.09.2014 London - The Boston Arms United Kingdom
07.09.2014 Oxford - The Wheatsheaf United Kingdom
More tour- and festival dates to be announced soon
08 avril 2014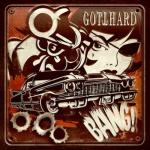 GOTTHARD « Bang »
(G Records)
« Bang », ça se savoure un Rock'n roll d'ouverture qui à la peche comme ça et « Get Up 'N Move On » vous réveillerait un mort, puis, c'est au tour de l'entrainant mid tempo Rock avec son imparable gimmick « Feel What I Feel » (video ici) de vous prendre aux tripes, l'un des meilleurs titres de l'album, assurément. Tout comme le Rock roulant comme une cadillac lancée pleins gaz, tendance sudiste « Jump The Gun » : ah, ce son de guitare ronflant et lourd comme un grondement de tonnerre !
Et en parlant de meilleurs morceaux, voici qu'arrive « Spread Your Wings » très réussi avec ce parfum de seventies dû à l'effet orgues Hammond, au son des guitares et ses chœurs aériens. Non moins bon, « Red On A Sleeve », est un nouveau fleuron Rock de l'album, avec un solo d'orgues Hammond bien amené, tout comme son camarade « What You Get » et « Mr Ticket Man ». Côté première fois dans l'histoire de Gotthard, la ballade « C'est la vie » incorpore des paroles en français, plus un accrodéon doublé de violon et guitare acoustique, le tout vous donnant un doux vague à l'âme ; décidément le groupe se promène quel que soit le tempo lent ou enivré, Rock ou plus calme. « My Belief » plus classique, s'en sort bien notamment avec sa guitare, en réponse au chant et tout autant pour le duo avec Melody Tibbits, « Maybe » avec sa caisse claire militaire et son piano, ses violons: tout pour attendrir votre cœur, en somme
Ca carbure aux riffs / soli de Leo Leoni, au chant , rythmique, bref aux compositions incisives et / ou mélodiques, et que dire de la voix de Nic Maeder si ce n'est que l'homme est doué, méchamment encore. Bref, avec « Bang », Gotthard se montre en top forme et impliqué pour donner ce même bon temps que le groupe a visiblement pris
La qualité quand ça vous tient, ça ne vous lâche pas et Gotthard est un groupe de grande classe, mais était-il encore besoin de le démontrer ? :)
D'ailleurs, les 10 :53 du titre final superbe avec son accompagnement par un orchestre et qui n'est pas sans évoquer dans les mémoires le « November Rain » de qui vous savez; « Thank You », brille tout simplement de par sa profondeur touchante

Alors, Thank You Gotthard ! Et une pensée pour Steve Lee

Tasunka
Tracklisiting "Bang":
•01 : Let me in Katie (Intro)
•02 : BANG
•03 : GET UP ´N MOVE ON
•04 : FEEL WHAT I FEEL
•05 : C´EST LA VIE
•06 : JUMP THE GUN
•07 : SPREAD YOUR WINGS
•08 : I WON´T LOOK DOWN
•09 : MY BELIEF
•10 : MAYBE (Duet)
•11 : RED ON A SLEEVE
•12 : WHAT YOU GET
•13 : MR. TICKET MAN
•14 : THANK YOU
GOTTHARD Line-Up:
-Marc Lynn: B
-Leo Leoni: G
-Hena Habegger: D
-Freddy Scherer: G
-Nic Maeder: V, G
26 février 2014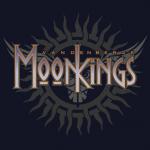 VANDENBERG'S MOONKINGS
(Mascot Records / Wagram)

Sortie le 24 Fevrier 2014

55 minutes au lieu de 40 prévues tant Adrian Vandenberg , l'ex guitariste de Whitesnake, Manic Eden, Vandenberg, Teaser,
a aimé chacune de ses compositions et a par conséquent eu du mal à faire un choix pour quels titres figureraient sur ce premier album. Avec les morceaux « Lust And Lies », d'entrée de jeu, « Good Things », le ton est donné, ça fleure bon le Hard Rock sensuel et fort à la fois de la fin des seventies, doublé de l'âge d'or du milieu des années 80s. Un parfum de Led Zeppelin, entre autres, avec cette touche propre au talentueux quitariste qu'est Adrian Vandenberg et ses soli inspirés
Ça groove au long de ce premier opus éponyme, ça rock et vous donne une forte envie de croquer la vie à pleine dents. Les balades ne sont pas laissées de côté avec , notamment, un « Breathing », classique mais bien amené. Puis, retour au pur Hard Rock qui vous prend aux tripes, avec un « Steel Away » prenant à souhait, ou encore « Line Of Fire », «Nothing Touches ».
Plutöt réussi donc, après 10 ans d'absence à se consacrer à sa passion pour la peinture et à sa famille, ce retour aux affaires musicales de cet artiste néerlandais, avec son projet et ses trois comparses au talent affirmé, eux aussi. Belle production, bons titres, bon groupe, bref, on attend avec impatience les prestations en live du quatuor d'autant que la voix de Jan Hoving assure à l'égal d'un certain Coverdale et que la basse-batterie sont du même haut niveau que les riffs d'Adrian Vandenberg en personne. A noter, en cerise sur le gâteau, le titre final « Sailing Ships », co-écrit par Adrian Vandenberg et David Coverdale, à l'époque où le guitariste officiait au sein de Whitesnake, pour l' album « Slip Of The Tongue » (1989), titre remis, en 2014, à la puissance et l'émotion qui lui sied et avec la participation de non moins que David Coverdale himself, en guest vocal : du très bon !

Tasunka
Vandenberg's Moonkings Line-Up :
Adrian Vandenberg – G
Jan Hoving – V
Sem Christoffel – B
Mart Nijen Es – D

Vandenberg's Moonkings Tracklisting :
01- Lust And Lies
02- Close To You
03- Good Thing
04- Breathing
05- Steal Away
06- Line Of Fire
07- Out Of Reach
08- Feel It
09- Leave This Town
10- One Step Behind
11- Leeches
12- Nothing Touches
13- Sailing Ships
31 janvier 2014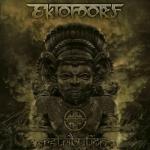 Release Date Europe : Jan 31st, 2014
Quelle claque que ce nouvel EKTOMORF! La bande du charismatique chanteur – guitariste - compositeur Zoltán "Zoli" Farkas est effectivement de retour et très inspirée, encore, avec des compositions mélangeant autant le Thrash, le Hardcore et ce, avec un de ces grooves, qui n'a d'égal en intensité que l'attaque des riffs puissance décuplée, d'une batterie enragée, des vocaux rauques et des textes aussi engagés que la musique. Pas de quartiers, la confrontation à la dureté de la vie, les expériences dures vécues et exprimées en force au travers de chaque titre, le tout justifie ce concentré d'énergie exprimé en moins de 5 minutes pour la majorité des titres dont "Numb And Sick", avec, en guest, non moins que le chanteur de Ill Niño, Cristian Machado, en duo avec Zoltán
Difficile de distinguer tel ou tel morceau, tant chacun d'eux est un ras-de-marée interprété avec une précision et un naturel qui font leur richesse et leur adhésion immédiate. On peut penser à du Soulfly, du Slipknot, mais l'identité d'EKTOMORF est, ici, bien définie et ne se noie pas dans ces influences, ce qui est à saluer. Comme pour retrouver son souffle, le quatorzième et dernier morceau, « Collapsed Bridge », surprend, car joué en acoustique, mais toujours en intensité autant musicalement que pour ce qui est des textes
A noter le gros son impeccable dû à une production nette et tranchante, pleine de groove ce qu'il faut, grace aux soins de Tue Madsen (Antfarm studios) en charge de longue date des mixage, master et production pour le groupe
Le groupe Hongrois est là et leur « Retribution » montre qu'il le sera encore longtemps : EKTOMORF assurent et délivrent un Metal de classe internationale et ce, depuis leurs débuts il y a deux décennies!

Tasunka
Line-Up EKTOMORF :
-Zoltán "Zoli" Farkas : V / G
-Tamás 'Tomi' Schrottner : G
-Szabolcs Murvai : B
-Robert Jaksa : B
Tracklist "Retribution":
01: You Can't Control Me
02: The Plagues
03: Face The Fear
04: Escape
05: Who The Fuck Are You
06: Numb And Sick
07: Lost And Destroyed
08: Souls Of Fire
09: I Hate You
10: Watch Me
11: Mass Ignorance
12: Save Me
13: Whisper
14: Collapsed Bridge

18 janvier 2014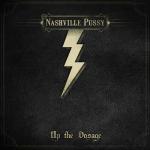 NASHVILLE PUSSY "Up the Dosage"
(Steamhammer / SPV)
Release Date Europe: January 20th, 2014
On peut toujours s'attendre avec NASHVILLE PUSSY à du Rock qui vous botte les fesses, aussi, depuis le dernier album studio de 2009, « From Hell To Texas », il tardait d'avoir un nouvel 'ass kicking album' de la part du groupe
Cest fait au travers de ce « Up The Dosage » qui joue la carte de la puissance, de la diversité et de l'envie évidente de tout donner, sans se départir de l'humour qui caractérise NP, notamment sur le morceau d'ouverture « Everybody's Fault But Mine » et son Rock classique. Blaine Cartwright, chanteur – guitariste, compositeur et tete pensante de la formation, s'en est donné à cœur joie au long des treize nouveaux titres plus deux bonus (sur le Digipack et la version LP), et ce, en compagnie d'un ami rencontré en 2009 lors d'une tournée commune en Europe, à savoir le chanteur-bassiste de SUPERSUCKERS : Eddie Spaghetti, puisque ce dernier a co-écrit trois titres et participé aux arrangements des autres
Pour ce qui est de la diversité, on passe de très bons moments entre le Country Rock, avec dobro et mandoline, s'il vous plait, de « Hooray For Cocaine, Hooray For Tennessee », les accents Motörheadiens du titre favori de Cartwright « Rub It To death », l'excellent « Till The Meat Falls Off the Bone » et son retour aux seventies, ou encore les non moins bons : « Beginning Of The End », « Pussy's Not A Dirty Word », l'excellent et rentre-dedans « Up The Dosage », sur lequel le rythme est marqué fortement et efficacement par la basse de Bonnie Buitrago qui fait honneur à la qualité de jeu de sa prédecesseur: Karen Buda,
Bon son, bon groupe, bon Rock précis et rentre-dedans tout autant que varié pour ce nouvel album, alors, oui, « Up The Dosage » vaut incontestablement l'achat :)

Fort d'un nouveau disque aux titres catchy et des classiques du groupe, NASHVILLE PUSSY s'en va porter la bonne parole, le bon Rock en Europe, pour une tournée (dates ci-dessous), aussi achat d'album et place de concert sont-ils fortement recommandés : ils le valent !!

Tasunka
Tracklisting « Up The Dosage » :

01. EVERYBODY'S FAULT BUT MINE
02. RUB IT TO DEATH
03. TILL THE MEAT FALLS OFF THE BONE
04. THE SOUTH'S TOO FAT TO RISE AGAIN
05. BEFORE THE DRUGS WEAR OFF
06. SPENT
07. BEGINNING OF THE END
08. UP THE DOSAGE
09. TAKING IT EASY
10. WHITE AND LOUD
11. HOORAY FOR COCAINE, HOORAY FOR TENNESSEE
12. PILLBILLY BLUES
13. PUSSY'S NOT A DIRTY WORD
Bonus Tracks (on LPS / Digipack CD)
14. BEGGING FOR A TASTE
15. BEFORE THE DRUGS WEAR OFF (alternate version)

Line-Up NASHVILLE PUSSY:
-Blaine Cartwright - guitars, vocals
-Ruyter Suys - guitars
-Bonnie Buitrago- bass
-Jeremy Thompson – drums



Tour Dates:

30.01. F-Vaureal - Le Forum
31.01. F-Strasbourg - La Laiterie
01.02. F-Dunkerque - Les 4 Ecluses
03.02. F-Paris - La Machine du Moulin Rouge
04.02. F-Caen - Le Cargo
06.02. F-Brest - La Carene
07.02. F-St. Nazaire - Le VIP
08.02. F-Bordeaux - Barbey Rock School
09.02. F-Toulouse - Connexion Live
11.02. E-Bilbao - Kafe Antzoki
12.02. E-Santiago de Compostela - Capitol
13.02. E-Madrid - Arena
14.02. PT-Lisbon - Santiago Alquimista
15.02. E-Sevilla - Fanatic
16.02. E-Barcelona - Razzmatazz 3
17.02. F-Montpellier - Secret Place
19.02. F-Lyon - Ninkasi Kao
20.02. CH-Geneva - L`Usine
21.02. CH-Zurich - Bogen F
22.02. I-Milan - Lo Fi Club
23.02. I-Bologna - Freakout Club
24.02. I-Roma - Traffic Live

More dates will be announced soon
07 janvier 2014
LITA FORD + CHERIE CURRIE "Rock This Christmas Down"
(Steamhammer / SPV)
Release: 3 Dec 2013
A nouveau réunies pour enregistrer ensemble et ce, pour la première fois depuis 1977, les deux 'sœurs' de cœur et de musique que sont Cherie Currie et Lita Ford ont travaillé ce petit single Rock à point pour célébrer les fêtes et nous offrir ainsi un vrai cadeau de Noël. En effet, les plaies laissées par la séparation des Runaways à la fin des 70s, semblent enfin du passé et les deux rockeuses font partie à nouveau de la vie l'une de l'autre
A l'initiative de Lita Ford, ce « Rock This Christmas Down » pourrait augurer de futures collaborations avec les anciens Runaways ? Sait-on jamais ?
Belles retrouvailles, en tous cas, sur un titre sympa et bien Rock, alors, champagne !
Tasunka
Chonique LITA FORD "Living Like A Runaway" ici / here