09 janvier 2018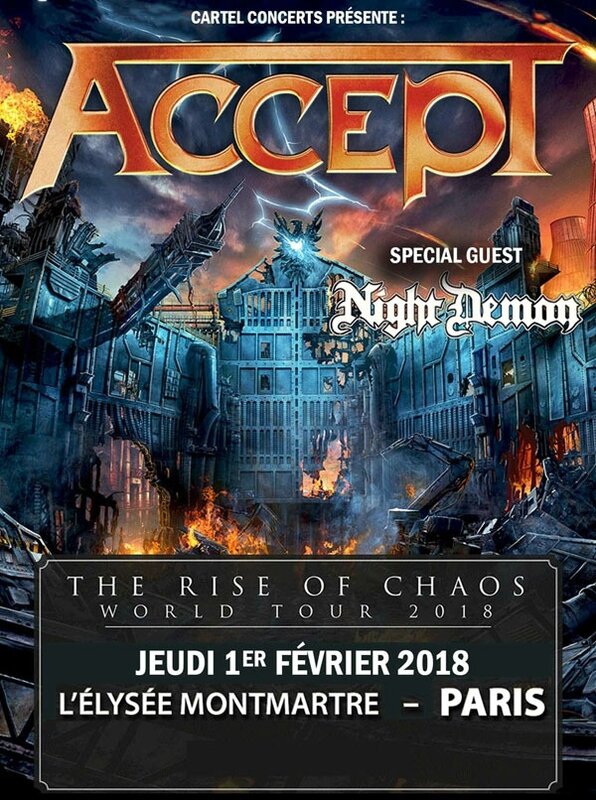 Tous les Détails en cliquant sur l'affiche ci-dessus

NIGHT DEMON News/ En support de ACCEPT
The mighty Night Demon are invited to support ACCEPT as special guest on their "The Rise of Chaos - World Tour 2018"!
Jarvis Leatherby of Night Demon states: "We are honored to be a part of the Rise of Chaos tour in 2018. By far the biggest and most special thing we have been asked to be a part of."
******************
==> chronique: ici / French review: here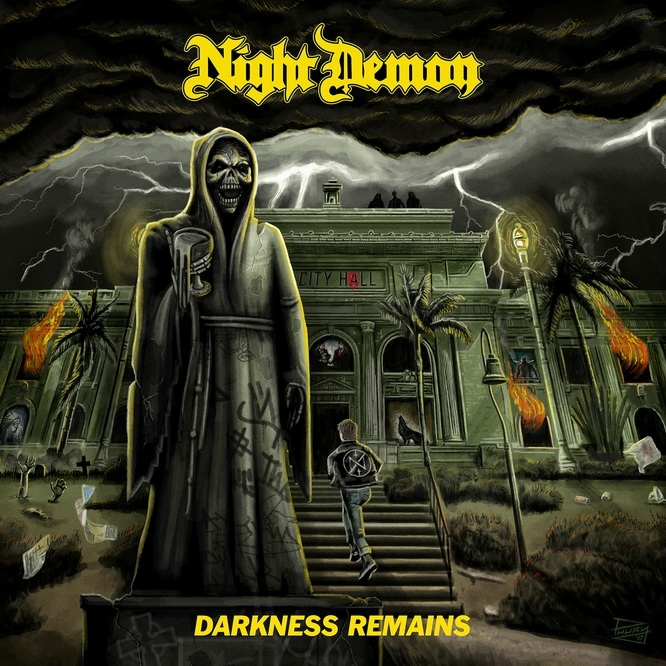 ---
08 janvier 2018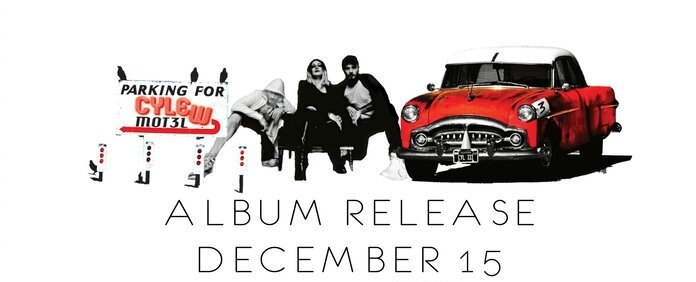 2017

Trois est le chiffre sous lequel est placé CYLEW puisque ce nouvel opus « MOT3L » et il mérite ce nom d'opus, est non seulement la troisième sortie du groupe comme son titre l'indique, mais se voit aussi composé d'un trio de choc pour lui donner vie, sans compter que trois représente aussi les trois ans, temps passé sur ce nouvel album pour lui insuffler toute son âme libre, forte, parfois mélancolique et d'un Rock mélodique des origines des mieux inspiré, nourri de beaucoup d'intensité et de vibrations chaudes et fortes en émotions variées, toujours.
« MOT3L » est donc le fruit d'une collaboration active et fructueuse entre Lady Cylew qui a à nouveau composé et écrit les paroles tout autant que créé l'atmosphère via ses photos et artwork, collaboration commune avec Arnaud Bascuñana à la production mais aussi aux guitare et basse, ainsi que de Kriss Kilong à la batterie. Lady Cylew pose avec talent sa voix chaude et lancinante tout autant que prenante au long des treize nouvelles compositions, sa guitare faisant écho à celle, inspirée de ce Rock californien qui sait faire vibrer et qui jaillit avec brio, celle en lead de Arnaud Bascuñana, Le fait d'avoir enregistré en analogique et en condition live, apporte une couleur savoureuse aux morceaux, les rendant vivants et parlants au possible, et ce, que l'atmosphère soit plus Rock énergique, mid tempo ou en option ballade aux accents teintés de mélancolie. La production est menée de main de maitre et très naturelle à la fois, rendant ainsi honneur à l'interpréation de chacun, que ce soit la batterie inspirée de Kriss Kilong, la guitare et basse de Arnaud et bien sûr, la voix accrocheuse, s'il en est, de Lady Cylew, une Lady qui sait faire parler les émotions et vibrations inspirées de ses racines de franco californienne d'adoption.
CYLEW parle de son troisième album, comme d'un 'Road Trip' et c'est bien le cas: « MOT3L » est bel et bien une puissante invitation à vous évader, à prendre la route en leur compagnie : alors, prêts ? Le voyage vaut assurément le détour !
Tasunka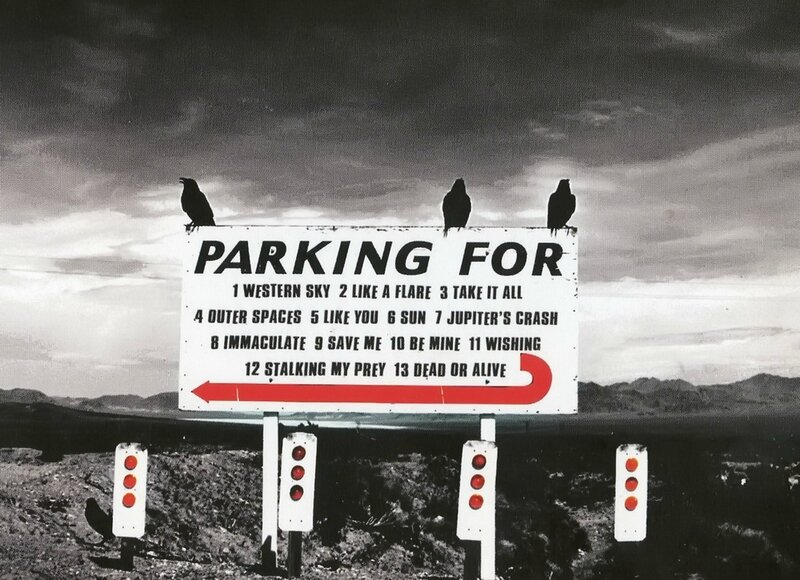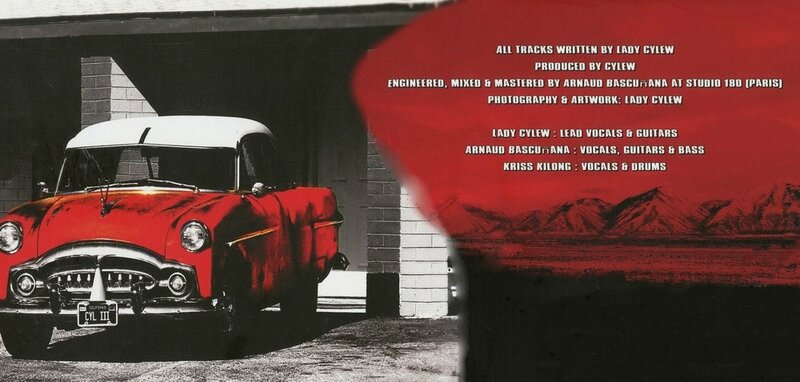 ---
---
---
07 janvier 2018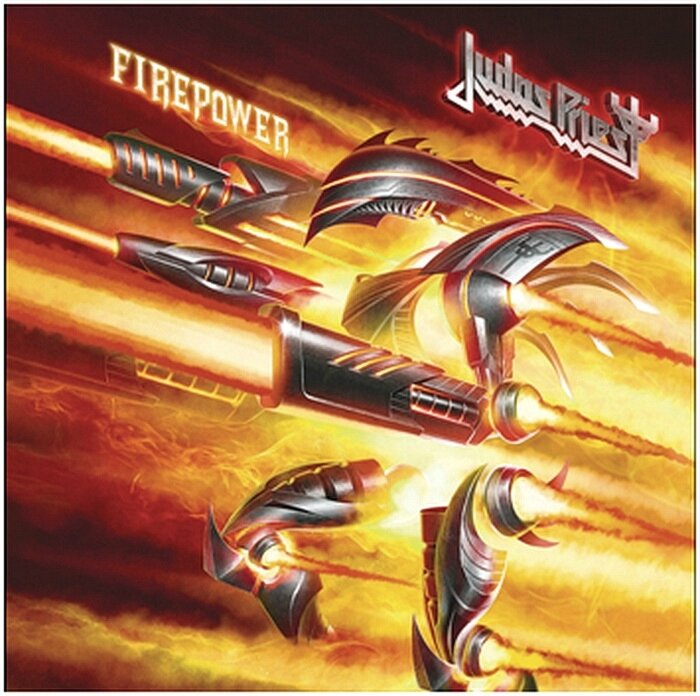 'FIREPOWER'
Sortie le 9 mars 2018
01. Firepower

02. Lightning Strike

03. Evil Never Dies

04. Never The Heroes

05. Necromancer

06. Children of the Sun

07. Guardians

08. Rising From Ruins

09. Flame Thrower

10. Spectre

11. Traitors Gate

12. No Surrender

13. Lone Wolf

14. Sea of Red
(CD, digibook, double vinyle, vinyle coloré & digital)
Produit par Tom Allom
Le responsable du son des plus grands albums du groupe entre 1979-1988,
des classiques tels que 'Unleashed in the East', 'British Steel', 'Screaming for Vengeance' ou 'Defenders of the Faith'
et Andy Sneap (Saxon, Accept, Megadeth, Arch Enemy, Testament...)
---
JUDAS PRIEST :
-Rob Halford - V
-Glenn Tipton - G
-Richie Faulkner - G
-Ian Hill - B
-Scott Travis - D
---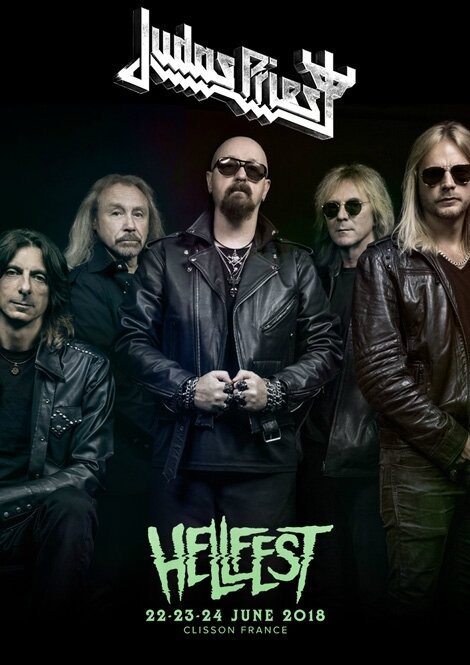 ---

---
06 janvier 2018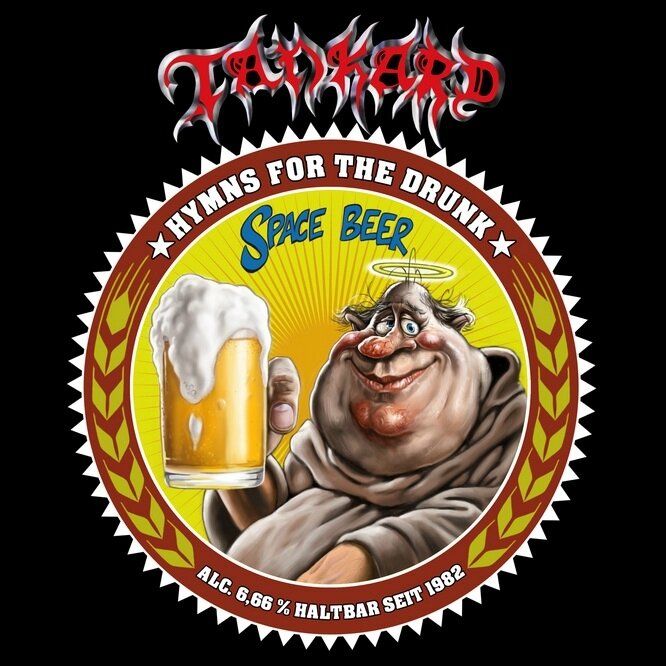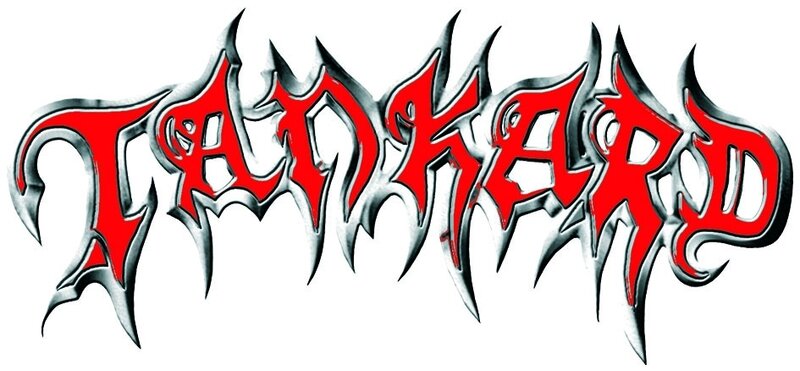 2002-2010 correspond pour les iconiques TANKARD, aux années où la troupe était signée chez AFM Records et à des années importantes car marquées d'un retour aux affaires pour le groupe, justement au sein de cette 'écurie' allemande, alors, la tentation pour le label de sortir un Best-Of de cette période était apparemment forte : c'est chose faite avec « Hymns For The Drunk ». Et pourquoi pas, après tout, vu qu'il faut reconnaître que même si on peut se dire que c'est un best of de plus, toujours est-il qu'en fin de comptes, celui-ci a un solide paquet d'atouts à son actif, à commencer par le fait de poser combien ce quatuor, authentique as 'es Thrash fédérateur' et sifflage de bières, sans oublier la constante bonne humeur, et ce, depuis 1982 tout de même, combien, donc, TANKARD assure et sait faire monter l'ambiance et s'éclater en sa compagnie. « Hymns For The Drunk » est un bon moyen, en somme, de découvrir ou redécouvrir via les dix-sept titres sortis en ce début de millénaire, la dynamique et un savoir faire sans failles des allemands à délivrer un Thrash, qui, comme la boisson dont la bande est adepte, fait 'du bien par où ça passe'.
TANKARD assure depuis 1982 et 35 bientôt 36 ans de méfaits Thrash, ça valait bien un nouveau Best Of, surtout que « Hymns For The Drunk » tire un beau coup de chapeau à cette bande de 'Metal-Maniacs » pur jus ou plutôt, lève son pichet, comme le personnage de la pochette qui donne le ton, à ces quatre accros au Metal !

A noter que TANKARD est en tournée, alors, préparez-vous à lever vos verres tout en headbangant, puisque le groupe sera à Colmar, le 16 mars 2018

Tasunka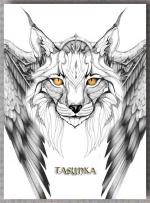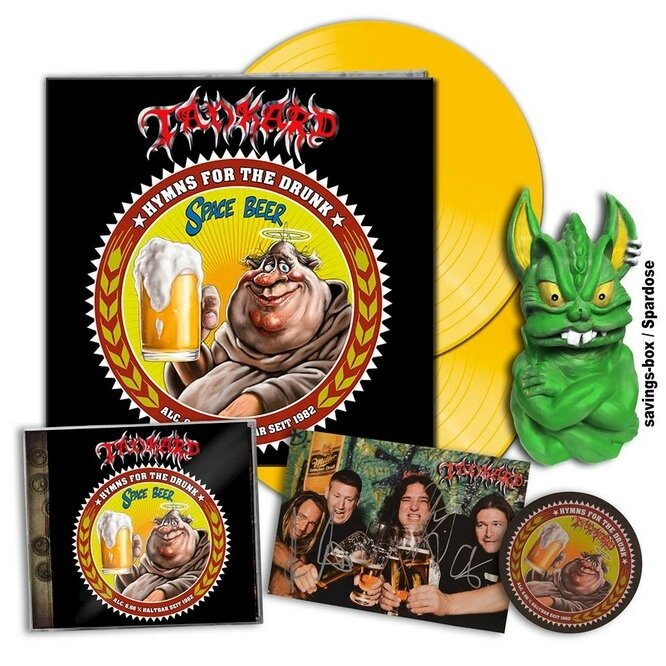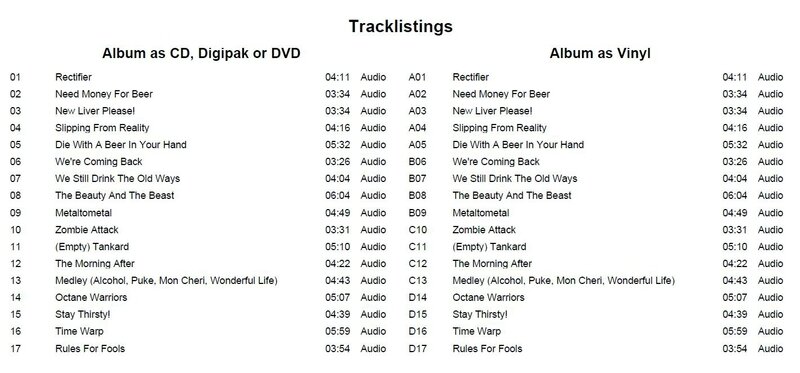 ==> Cover Artwork : Patrick Strogulski
---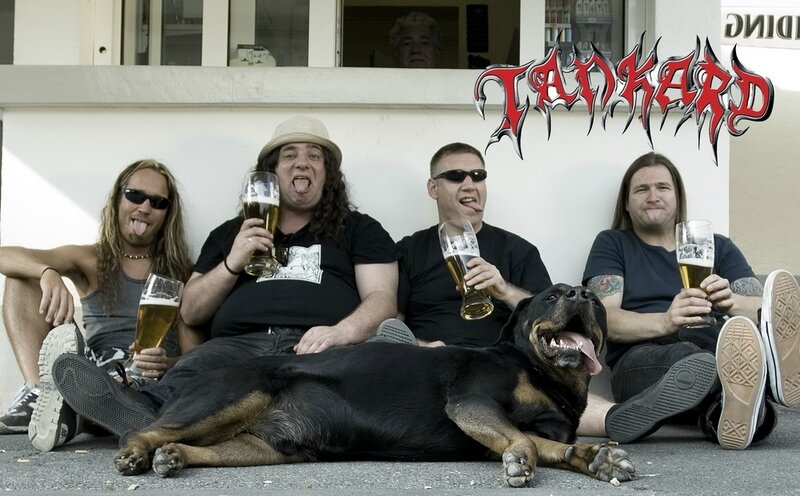 TANKARD Line-Up:
-Andreas Geremia - V
-Andreas Gutjahr - G
-Frank Thorwarth - B
-Olaf Zissel - D
---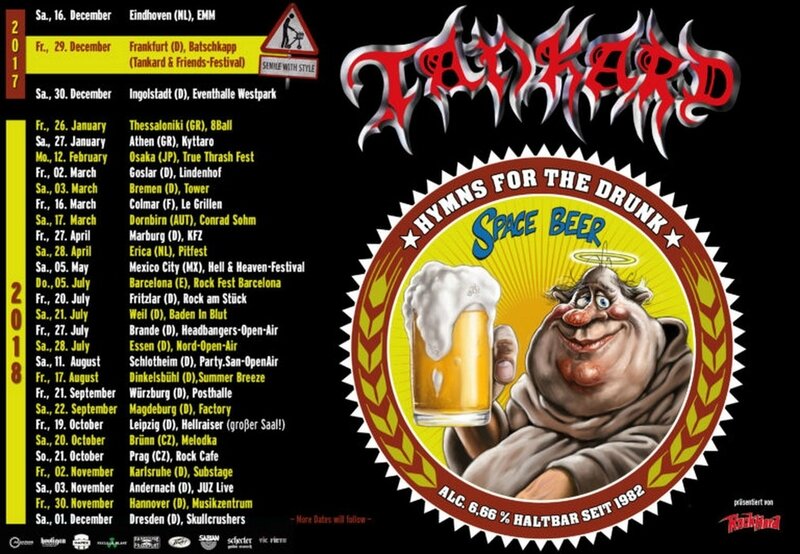 ---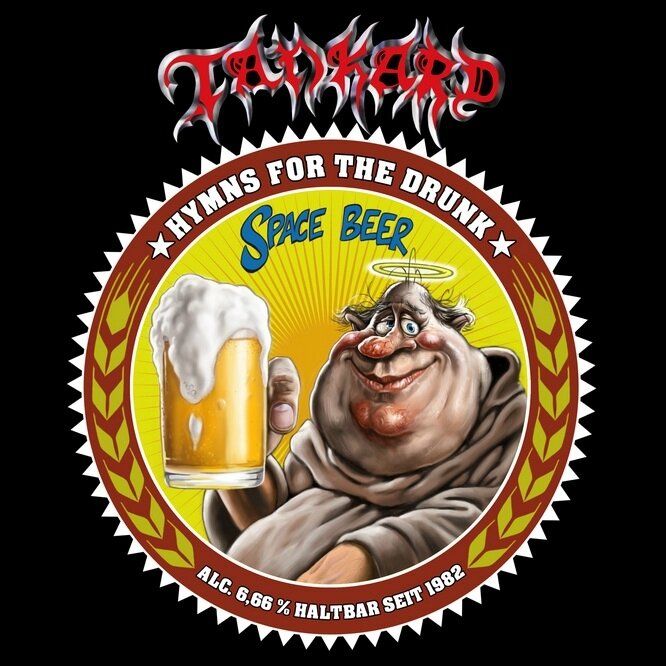 ---
02 janvier 2018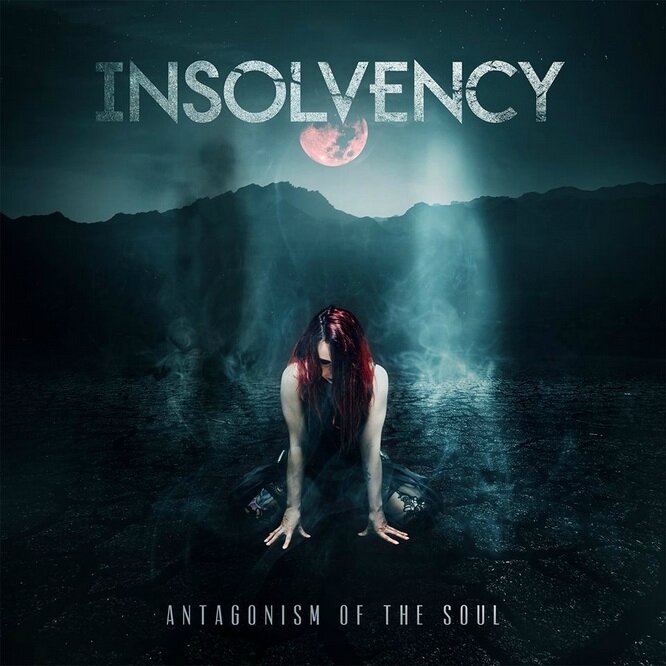 ** Release Date: 26/01/2018 **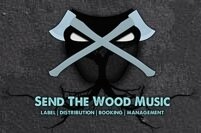 / Season Of Mist Distribution
==> Buy Single / Pre Order Album : http://hyperurl.co/Antagonism

Mêler les genres se fait de plus en plus et en l'occurrence, via « Antagonism Of The Soul », il est ici question de voir le Metal Heavy mixé avec la forte et très efficace base d'un Metalcore sans fard : alors, oui, INSOLVENCY a relevé le pari et plutôt réussi la fusion en incorporant à sa recette, éléments mélodiques et typiquement en option 'pas de quartiers', mêlant ainsi le subtile avec la force de frappe, en un mélange somme toute convaincant.
Des voix doubles à la fois en growl et claire, du duo de guitaristes qui sont l'atout majeur de la bande, un duo d'ailleurs à saluer par sa virtuosité qui n'a d'égale que son impact mélodique et sa force de persuasion, de la section rythmique basse-batterie qui assure sa partie avec toute la dynamique requise, bref, avec leur premier album et après un EP éponyme paru en 2015, les troyens font impression en offrant à la scène Métal, leur approche moderne et bardée de fougue, celle d'un quatuor qui en veut et ça s'entend. Le groupe ayant fourbi ses armes en live, jouant ainsi aux côtés de leurs collègues dont No Return ou Melted Space, formation de leur talentueux voisin, Pierre Le Pape, et sans omettre de mentionner que Bruno Blackstard a eu le privilège d'être l'un des guitaristes choisis pour jouer au '100guitarsfromhel Festival' (Finlande – Helsinki / 2015)
du maestro Alexi Laiho de Children Of Bodom, formation appréciée depuis longtemps par le français.
Pour mettre en valeur le potentiel de INSOLVENCY, les mixage et master ont été placés sous la houlette de Jim Pinder et Carl Bown (While She Sleeps, Bullet For My Valentine, Trivium, Machine Head..), pas moins. Entre les compositions, l'interprétation, la production et les paroles, « Antagonism Of The Soul » dispose d'atouts, c'est certain. Même si tous les morceaux ne se distinguent pas de la même façon, certains restant en retrait côté impact, toujours est-il que d'autres portent l'accroche de ce premier album : sont à citer notamment, « A Leaving Life, A New Beginning » ou encore « « Black Moon », « This War Is Not For You », « Death Wish ».

INSOLVENCY montre et affiche haut avec « Antagonism Of The Soul », un potentiel assuré et une détermination qui donnent envie de suivre la bande : à découvrir !

Tasunka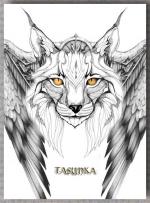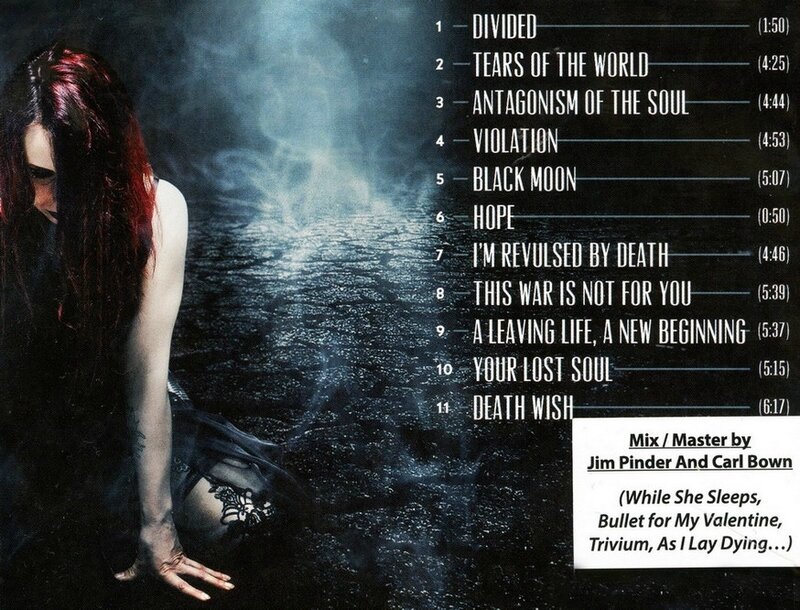 ==> Artwork designed by Daniel from McBride Design (Asking Alexandria, Born Of Osiris, Veil Of Maya, Betraying The Martyrs and many more...)
---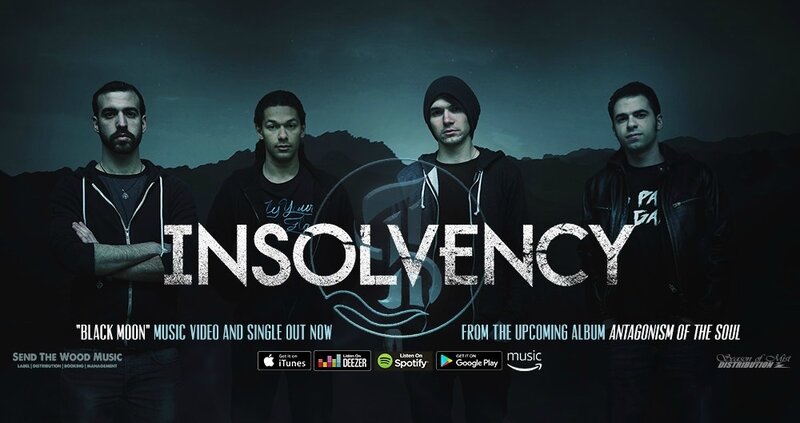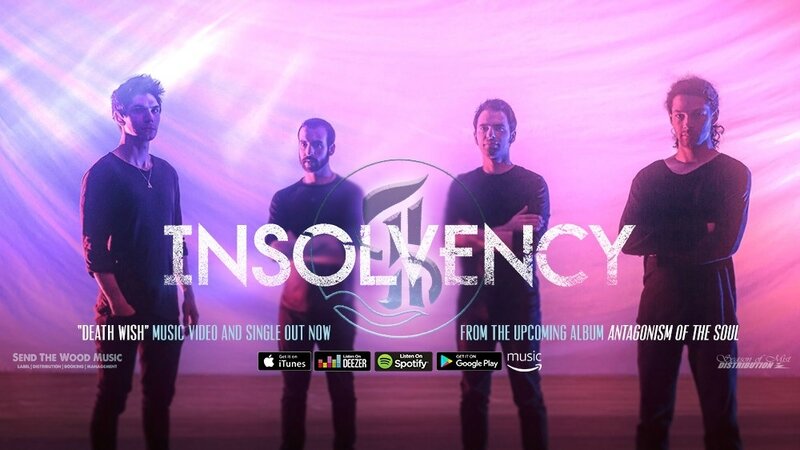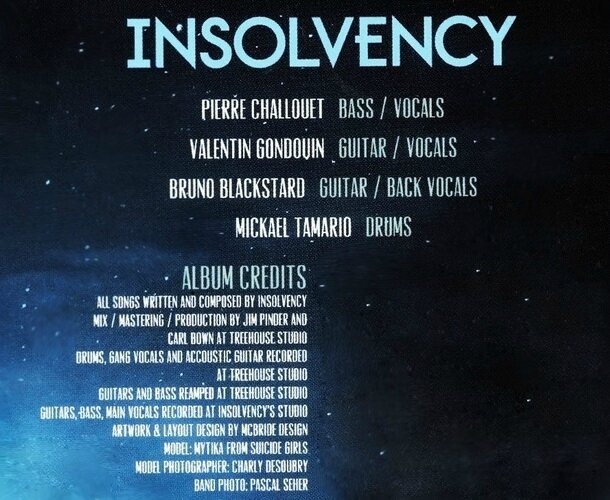 ---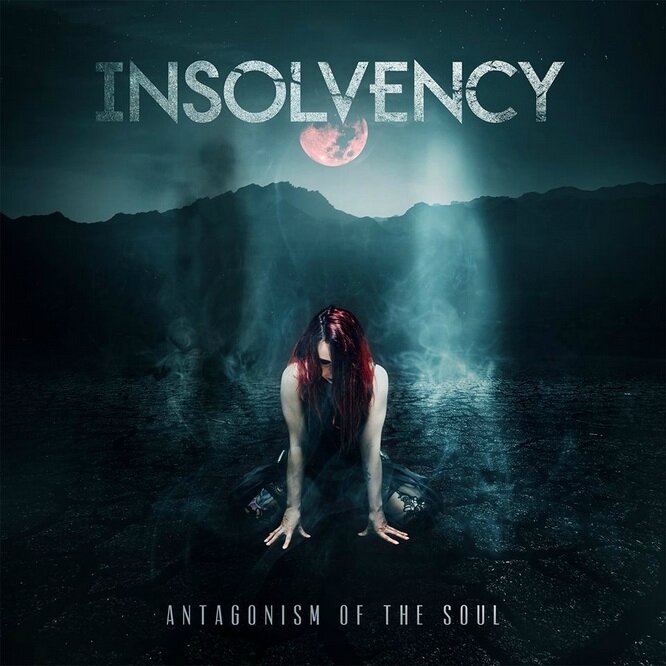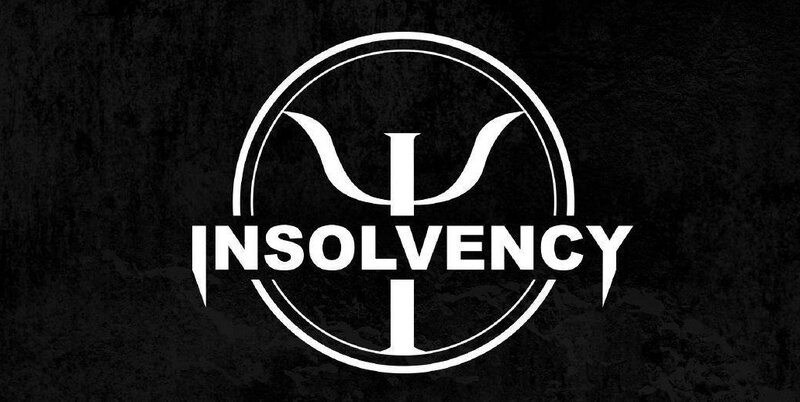 ---
13 novembre 2017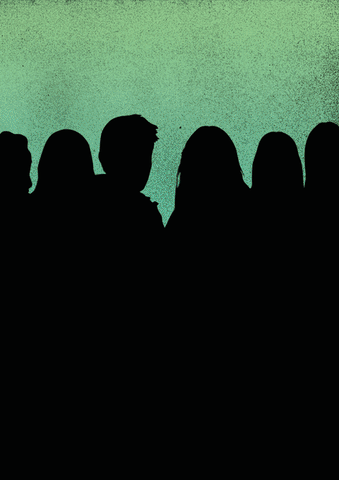 Le 13 octobre dernier, à 13h13, le HellFest lançait la mise en vente de des pass 3 jours de sa 13ème édition... moins de 30 heures plus tard le festival défrayait la chronique en affichant complet et ce sans avoir annoncé un seul des groupes du line-up 2018 !
Aujourd'hui, lundi 13 novembre 2017, le festival annonce sa première tête d'affiche : IRON MAIDEN !
Cette légende du heavy metal britannique se produira à Clisson pour la seconde fois.
Ce premier nom est le 1er d'une série de... 13... qui ne vont pas tarder à suivre dans les prochains jours...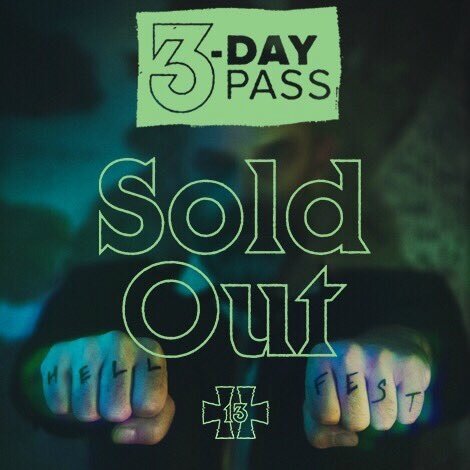 #YouCantControlIt #Is13YourLuckyNumber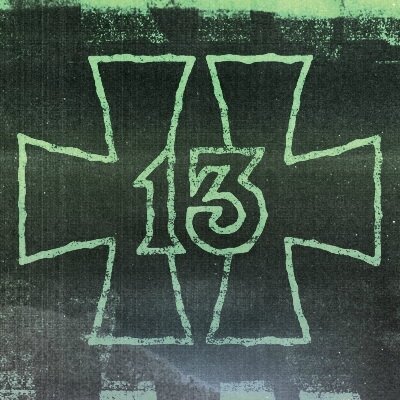 ---
07 novembre 2017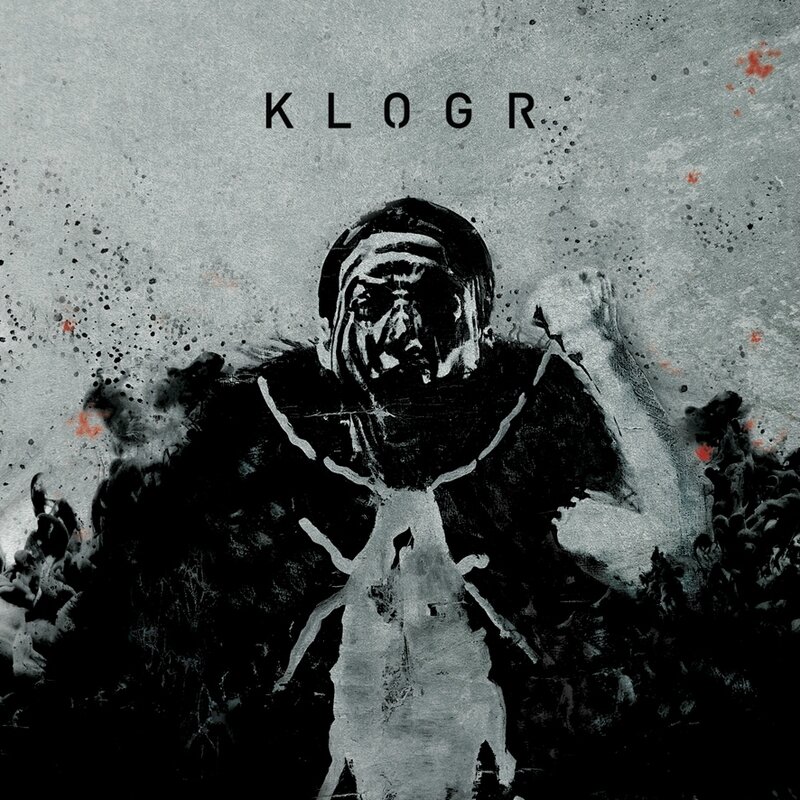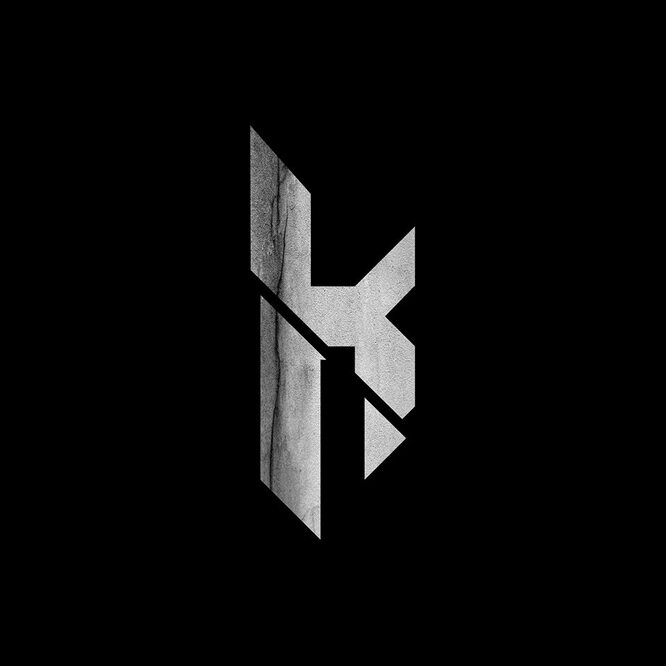 Release date: October 6th, 2017 via Zeta Factory.
KLOGR (à prononcer K_log_R (kay, log, are) ont passé deux ans en studio à peaufiner leur troisième album, « Keystone » et l'investissement en tripes, passion et temps, vaut le détour : les nouvelles compositions sont, en effet, léchées, fouillées et spontanées à la fois, techniquement, vocalement, musicalement au top pour faire parler la vaste palette émotionnelle et punchy exposée avec ferveur par une bande en forme assurément et investie tout autant à délivrer un Rock / Metal alternatif et parfois progressif qui a du mordant et de l'inventivité à revendre.
« Keystone » signe un retour des italo-américains sous le sceau à la fois de plus de puissance, de rogne que jamais et de fidélité à leur patte Rock / Metal alternatif , une patte unique qui se voit bonifiée et plus aboutie encore avec les nouvelles compositions. Au service de ces brulots de titres et de l'esprit aventureux et créatif de KLOGR, le triple récompensé par un Grammy, de producteur qu'est David Bottrilla, a visiblement été conquis par KLOGR, leur esprit et a visiblement dédié tout son savoir–faire à valoriser tout son éclat et sa profondeur, sa force aux morceaux, incisifs quand il le faut et subtilement puissants toujours. La troupe a hâte de reprendre la route et mettre le feu sur scène, en défendant son nouvel opus ce qui se comprend après le temps passé enfermé en studio et c'est aux côtés de The Rasmus, que le quatuor va réaliser son souhait, ce qui est une très bonne nouvelle, d'autant que le groupe sera de passage en France, le 18 novembre et puisque les fêtes de fin d'années approchent, le second cadeau est que Art Cruz, fameux batteur de PRONG, se joindra à KLOGR lors de cette tournée, en invité spécial: il faut dire que les deux groupes ont déjà tourné ensemble en 2014 et collaboré pour un hommage au regretté guitariste de SLAYER Jeff Hanneman, toujours en 2014.

Alors, une urgence se fait, se procurer à la fois « Keystone » cette perle d'album de KLOGR et un billet pour leur concert du 18 novembre à Paris !

Tasunka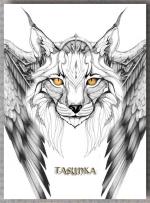 « Keystone » Tracklist :
01. Sleeping through the Seasons
02. Prison of Light
03. Technocracy
04. The Echoes of Sin
05. Pride before the Fall
06. Something's in the Air
07. Drag You Back
08. Sirens' Song
09. Dark Tides
10. Silent Witness
11. Enigmatic Smile
12. The Wall of Illusion
- Produced by 3 Time Grammy Award Winning Producer David Bottrill

- Artwork; The artwork is a piece of a painting of the renowned Italian artist, Andrea Saltini
---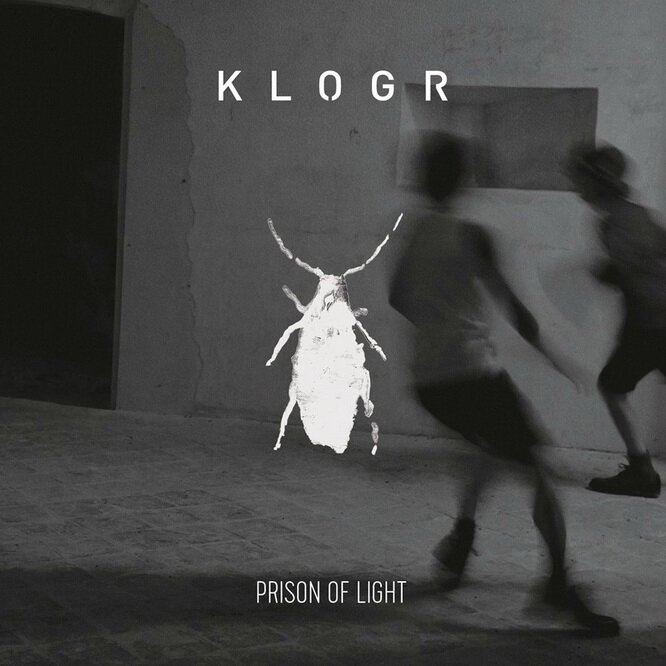 KLOGR Line-Up:
-Gabriele "Rusty" Rustichelli: Vocals/Guitars
-Pietro Quilichini "PQ": Guitars/Backing Vocals
-Maicol Morgotti: Drums
-Roberto 'Robby' Galli: Bass
Today the band reveals an incredible news: Prong drummer, Art Cruz, will feature the new remixed single and video of "Technocracy". The video has been directed and edited by Roberto Zampa (also director of King of Unknown, Breaking Down, Breathing Heart and Sleeping Through The Seasons).
But that's not all! In addition, KLOGR announce that Art will be also special guest of the upcoming tour in support of The Rasmus!
---
---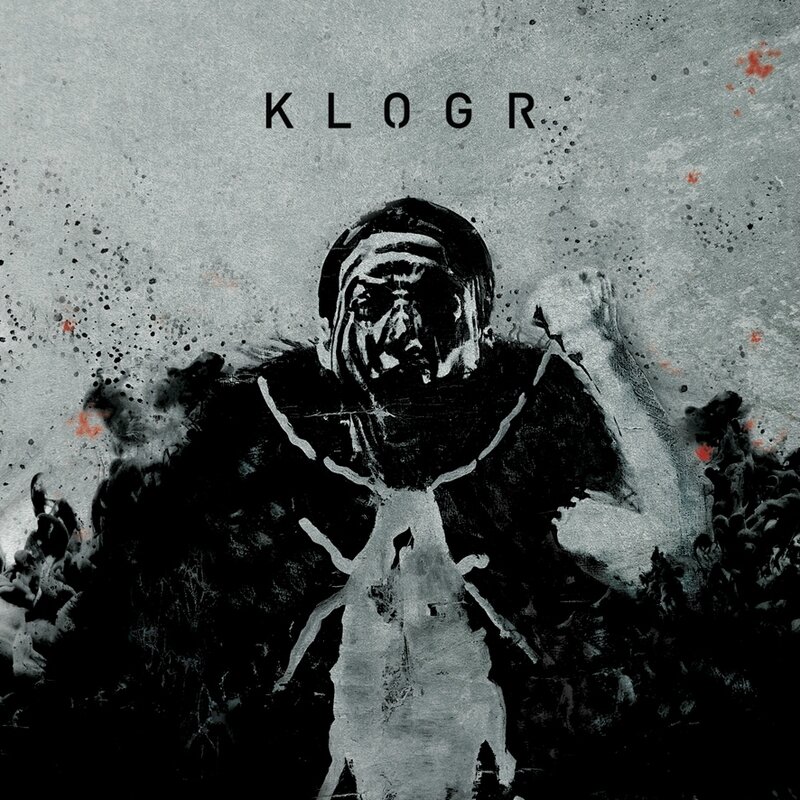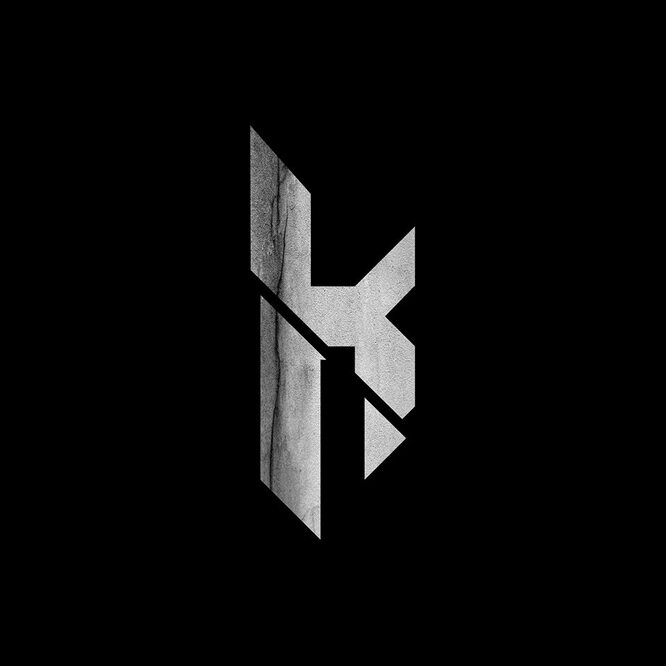 ---