24 octobre 2007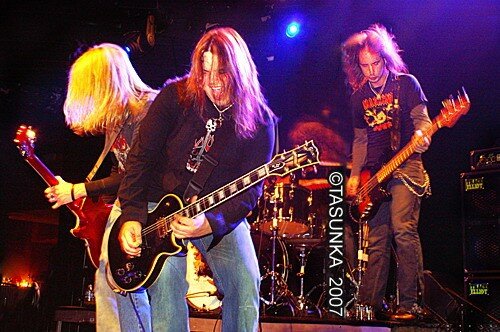 Récit d'un lundi 22 octobre 2007 de pure folie et plaisir Rock d'enfer !!! Paris et le Trabendo en frissonnent encore ;-)
(Par Tasunka)
BSC (comprenez BLACK STONE CHERRY :) a fait des émules et a fini de ravir les fans de la première heure ou plutôt du premier album éponyme de 2006, ce soir-là. La pèche dans toute sa splendeur et un Hard-Southern Rock des mieux calibrés, qui fait bondir toutes les têtes en cadence, tel est BSC.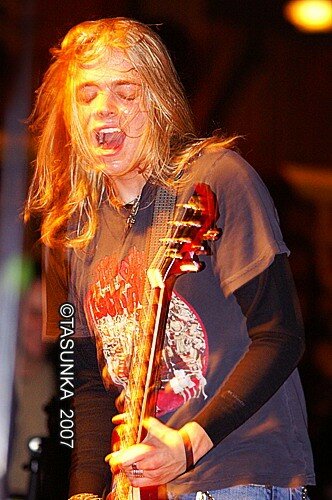 Check out the whole photos album here :-) / retrouvez toutes les photos ici :-)
http://iskaphotos.canalblog.com/albums/black_stone_cherry___the_answer__paris_oct__22nd__2007_/index.html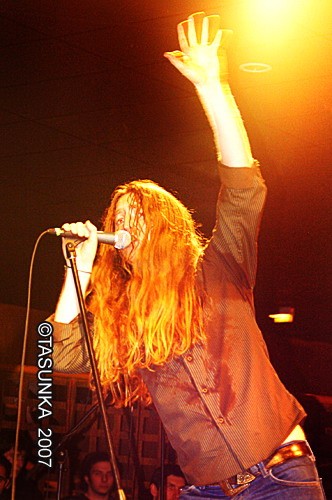 Solo de batterie, soli des deux gratteux de BLACK STONE CHERRY, ne manquait que celui du bassiste, mais tous chantaient, en cœur ou en lead, et pose sur pose, pris à fond dans leur set, chacun des membres de BSC était aux anges et le public aussi. Bon son, bonnes lumières, certes une trop faible affluence vu le plateau de choix qui était proposé, mais quel accueil les 2 groupes ont tout de même reçu !! Les 2 formations n'ayant de cesse de remercier lors de leur passages respectifs et le chanteur guitariste de BSC, faisant même des apartés en français et avec succès encore, surtout quand il a demandé s'il y avait des filles dans la salle :) Technique maitrisée, plaisir affiché, sauts dans tous les sens, compositions à faire battre de joie le coeur de tout amateur de bonne musique: oui, THE ANSWER ET BSC ont apporté tout ça et oui, c'était décidément une belle soirée que beaucoup vont regretter d'avoir manquée, étant donné que ça s'appelle du bonheur, tout simplement ces deux groupes-là!!!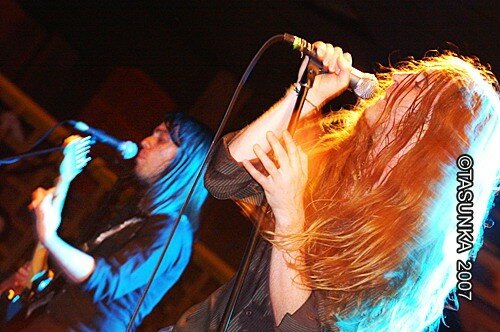 Merci BSC et THE ANSWER pour, respectivement, un Southern Rock et un Heavy-Rock de premier ordre: l'Irlande et le Kentucky peuvent être fiers et nous aussi, heureux français qui les avons reçus. Roadrunner leur maison de disques, NS, Replica Records et Base Productions ont vraiment du nez !!! :)
A noter la présence dans la salle de tout THE GENTLEMEN OF DISTORTED SOUND, prêts à jouer le lendemain au Hard Rock Café en acoustique, avec THE ANSWER et la présence aussi des non moins géniaux australiens, enfin... franco-australiens ;) de KORITNI.
Belle ambiance, donc :)
Set List THE ANSWER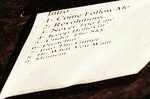 Set list BLACK STONE CHERRY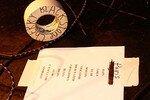 www.myspace.com/blackstonecherry
www.blackstonecherry.com
www.bsc.roadrun.com
12 octobre 2007
Check out all the photos of this great concert here :) / Toutes les photos de ce très bon concert sont ici :)
http://iskaphotos.canalblog.com/albums/fitcion_plane___brooklyn__paris_oct__1__2007_/index.html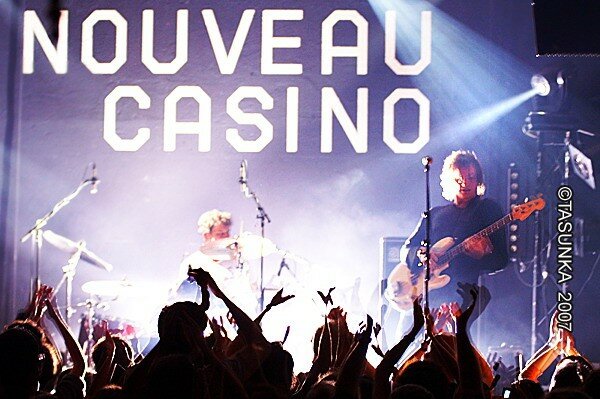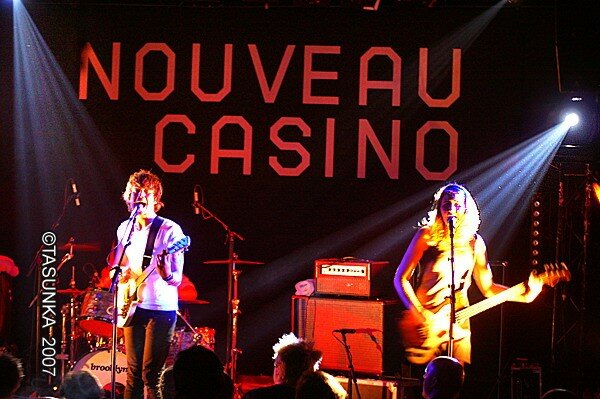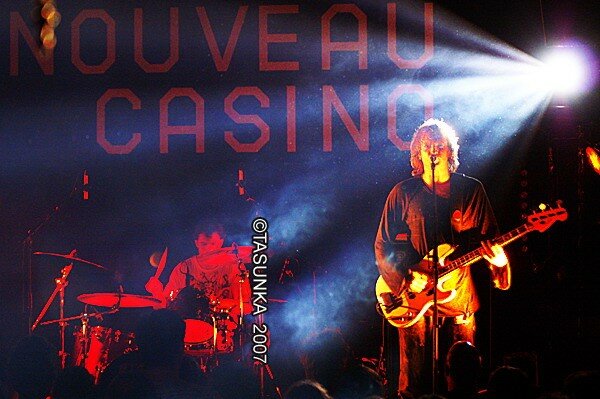 Après avoir joué en première partie de The Police au stade de France, les 29 et 30 septembre 2007, voilà que Fiction Plane faisaient les honneurs de leur très chouette musique au Nouveau Casino, en tête d'affiche, cette fois et quel plaisir a été cette date du 1er octobre pour tous ceux qui étaient venu les applaudir !! :)
(Par Tasunka)
En ouverture, les français de Brooklyn ont plu et leur dynamisme sur scène était contagieux. Chaque morceau faisait monter encore plus la pression et le public a fini par se laisser apprivoiser par un Power / Pop Rock bien balancé. A retrouver sans faute et très vite, Brooklyn ayant assuré sans conteste :)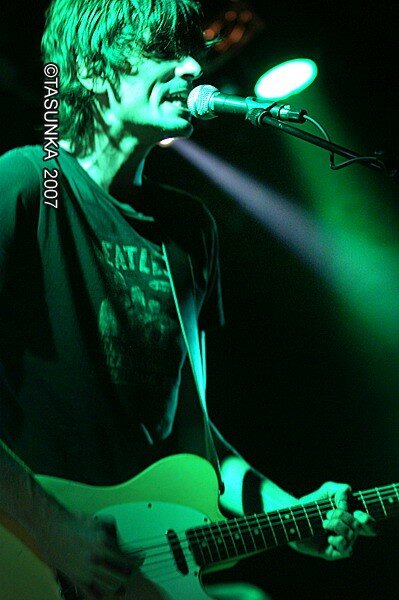 Le public était-il venu pour applaudir Fiction Plane ou le fils de Gordon Sumner, dit Sting ? En tout cas, la question ne s'est plus posée une fois le concert du trio anglais démarré: la musique et l'ambiance étaient tellement prenantes, que c'est bel et bien à Fiction Plane dans son ensemble que les acclamations s'adressaient. Il faut dire qu'entre des morceaux bien exécutés et accrocheurs, des moments de rire et d'émotion menés par un Joe Sumner agile au chant, à la basse et pour mettre le public dans sa poche à coups de plaisanteries en Français, de varappe improvisée suivie d'un saut en l'air depuis la grosse caisse de la batterie de son acolyte. Ou encore, toque de Noël sur la tête, sourire aux lèvres, et nouvelles plaisanteries en Français avec un accent qui renforce le charme et une salle conquise.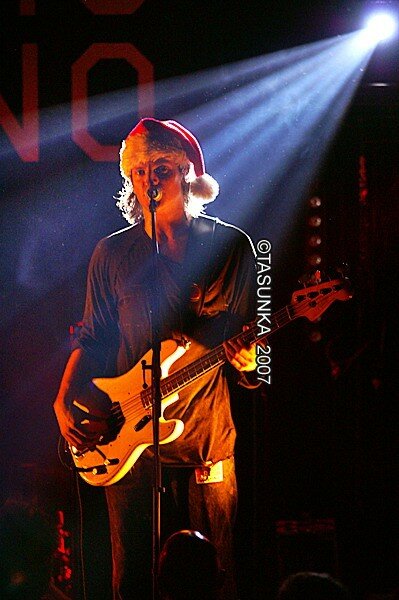 Joe semblait heureux et ne cessait pourtant de scruter régulièrement vers le balcon en hauteur au fond de la salle. Il faut dire qu'après une entrée discrète, Sting ou plutot Gordon Sumner de son état civil, était là, incognito, au balcon. Est-ce naturel est-ce pour cette raison, toujours est-il que son fils et de toute manière tout le trio s'est donné vraiment à fond, solo de batterie de Pete Wilhoit et solo de guitare de Seton Daut inclus.
Check out the whole photo album here :) / retrouvez toutes les photos ici :)
http://iskaphotos.canalblog.com/albums/fitcion_plane___brooklyn__paris_oct__1__2007_/index.html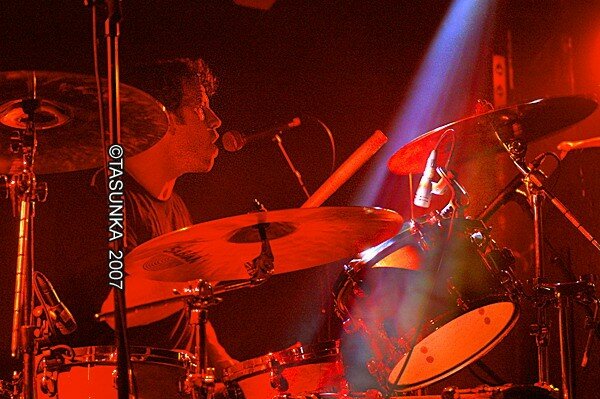 Après un rappel scandé à l'unisson par une salle conquise, revoilà le plaisir au rendez-vous. Un rappel qui s'est conclu, par…mais vous avez déjà deviné: eh oui, par une nouvelle ascension de Joe, basse à la main et cette fois, depuis encore plus haut, depuis le mur d'enceintes, le tout pour un nouveau saut dans le vide sur les dernières notes: impressionnant !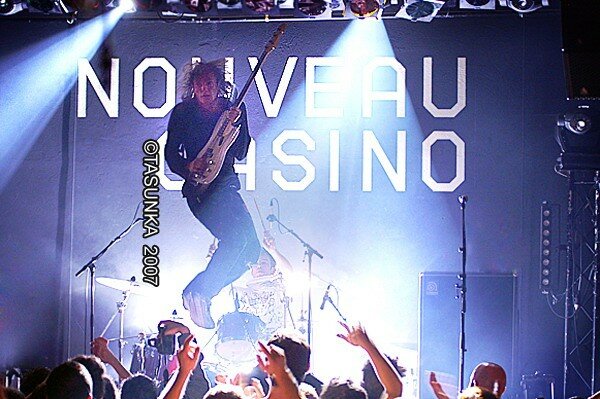 Tout autant sur que hors scène, chacun des membres du groupe était souriant et s'est ensuite prêté avec bonne grâce aux sollicitations des fans en quête de photos et d'autographes.
Moment de grâce et flashs quand Sting est descendu du balcon, a traversé la foule et est venu embrasser son fils le concert terminé, pour le féliciter.
Une soirée qui valait le déplacement à tous points de vue :)
Set list Fiction Plane: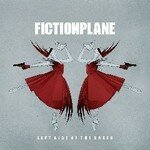 Fiction Plane "Left Side Of The Brain"
(Replica Records/ XIII Bis Records/ Sony BMG)
Envie de vous évader ? Le deuxième opus de FICTION PLANE est indiscutablement l'assurance de cette évasion recherchée: cet album étant synonyme de plaisir, tout simplement ! A présent en trio, la formation d'outre manche forme une entité qui génère un sentiment d'accomplissement, autant au niveau des compositions toutes plus inspirées les unes que les autres, qu'au niveau de l'interprétation et on ne peut que s'en réjouir et déguster sans réserve ces 43 minutes que dure "Left Side Of The Brain". Le Pop Rock se mêlant effectivement à une variété d'ambiances, passant de l'électrique à l'acoustique et guitare, batterie et enfin, la voix tout autant que la basse de Joe Sumner, font impression, l'homme démontrant son style et son identité propres. Même s'il faut reconnaître qu'on ne peut s'empêcher de penser à son père (Sting of course ;)), notamment sur des similitudes de timbre de voix dont les premiers morceaux "Anyone", "Death Machine", "Its' A Lie", se font le reflet. Sur album, FICTION PLANE, c'est du plaisir, mais alors, sur scène, c'est un pur régal de groove et de fun, alors, suivez le mouvement FICTION PLANE, vous ne le regretterez pas ;)
Tasunka
06 octobre 2007
Toutes les photos concert et photos session WARGASM sont ici / Check out all the concert pix and photo session here :)
http://iskaphotos.canalblog.com/albums/session_photos_wargasm__woa_2007_/index.html
http://iskaphotos.canalblog.com/albums/wargasm__fr__at_woa_2007/index.html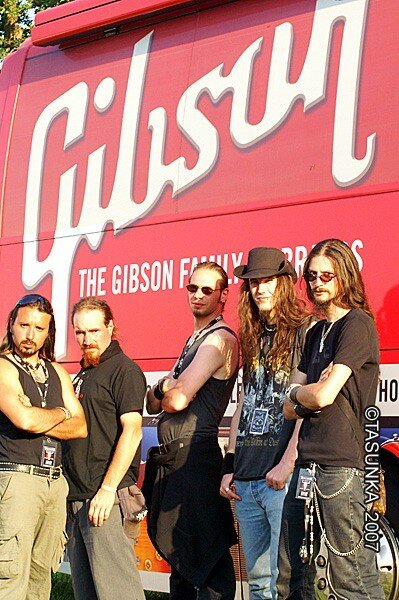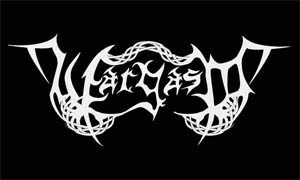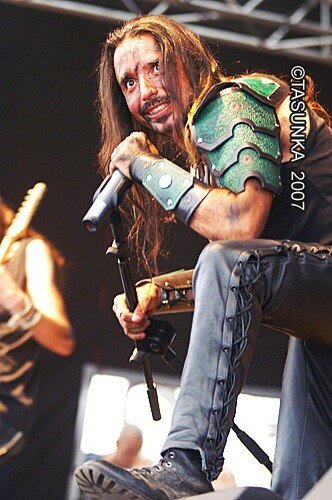 Toutes les photos de leur très bon concert et de la session photos, c'est ici / Check out too the whole album of this great concert and of the photo session here :)
http://iskaphotos.canalblog.com/albums/wargasm__fr__at_woa_2007/index.html
http://iskaphotos.canalblog.com/albums/session_photos_wargasm__woa_2007_/index.html
27 septembre 2007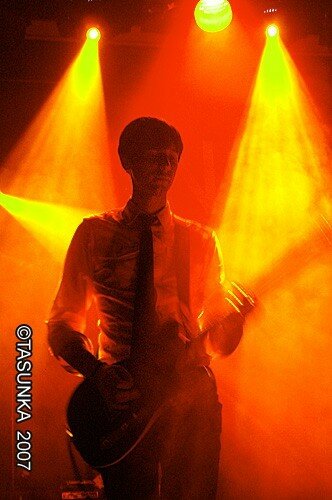 Retrouvez l'album photos complet / Check out the whole photos album here ;)
http://iskaphotos.canalblog.com/albums/the_cinematics___catleya__paris_sept__18th__2007_/index.html
Base Productions www.base-productions.com n'a plus à prouver sa compétence en matière de bons concerts, mais on n'en reste pas moins toujours agréablement surpris à l'issue de chaque soirée, comme ce fut à nouveau le cas ce 18 septembre 2007 au Nouveau Casino, avec The Cinematics et Catléya
(Par Tasunka)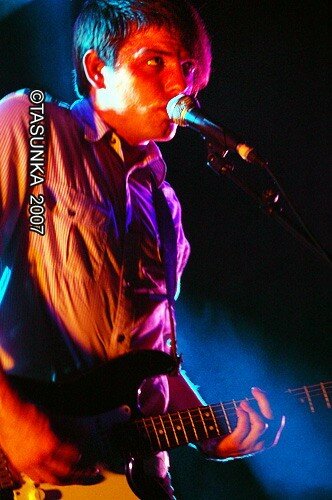 La salle parisienne a vu un effectif nombreux acclamer et avec raison, ces deux formations Pop Rock qui valent le coup: la première, en ouverture, étant française et vraiment à la hauteur, à savoir Catléya www.catleya.fr avec une chanteuse-guitariste à l'image du groupe: tout autant positivement étonnante sur scène que chaleureuse et la seconde formation tout droit issue d'Ecosse et tout aussi chaleureuse et intéressante: The Cinematics www.thecinematics.net
Signés chez TVT Records, label américain indépendant, le quatuor a justifié l'engouement qu'il suscite, en prouvant avec un concert aussi bon visuellement que d'un point de vue interprétation, que, ce soir-là aussi, il était en forme. Seul bémol, une prestation trop courte (55 minutes) qui a laissé sur sa faim pas mal de monde. A revoir plus longuement, donc :)
Set list Catléya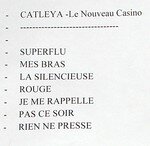 Set list The Cinematics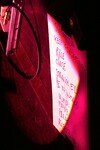 16 septembre 2007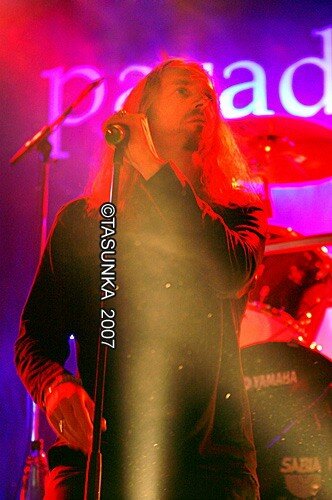 Toutes les photos du concert / Check out the whole photos album here :)
http://iskaphotos.canalblog.com/albums/paradise_lost___eyes_of_eden___neurosonic__paris_sept__13_2007_/index.html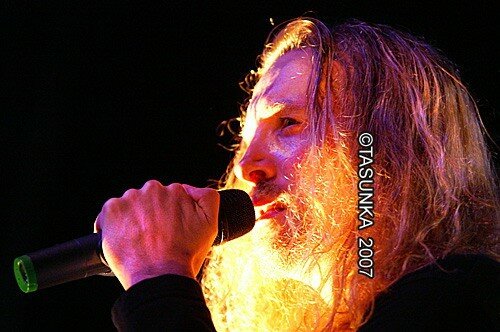 PARADISE LOST / EYES OF EDEN / NEUROSONIC: quoi de mieux pour remplir un Elysée Montmartre et assurer une belle rentrée parisienne ?
(Par Tasunka)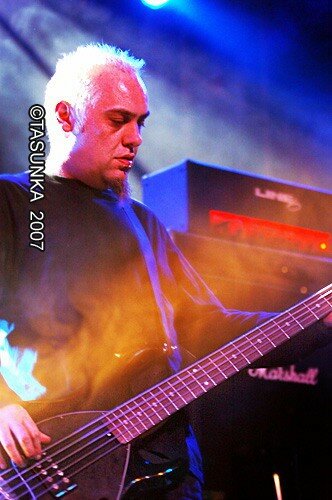 Après des aléas concernant le choix final du groupe en support de cette tournée, ou encore l'horaire d'ouverture des portes, c'était parti avec Neurosonic, qui s'est donné à fond dans son gig, public encore éparse ou pas, Elysée en configuration réduite rideaux sur le côté ou pas, les Canadiens assurent et musicalement et visuellement, aucun doute là-dessus. Leur Rock alternatif rentre dedans et aux textes forts, avait de quoi plaire: ce ne fut malheureusement pas le cas pour la plupart du public, qui semblait ne pas s'attendre au style proposé et les a accueillis juste poliment dans l'ensemble, ce qui était injustifié. Partie remise, c'est tout, Neurosonic ayant joué ce soir-là, sa première performance dans la capitale et l'envie est là de les revoir dans l'hexagone :)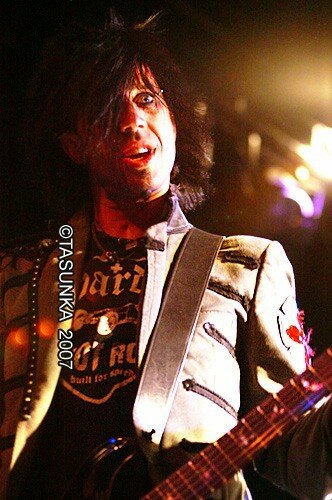 Eyes Of Eden a connu des acclamations plus marquées, la foule comportant des fans avérés du groupe. Les lumières passablement sombres pour le concert précédent se sont améliorées avec les allemands et c'était appréciable pour se mettre dans cette ambiance Rock/ Gothique avec chanteuse symphonique aussi blonde que la demoiselle à la basse était brune :) Les morceaux sonnaient bien, avec une belle voix féminine et cette pointe germanique agréable qui se reconnaît à la guitare, mais si le potentiel est bel et bien là, l'originalité finit, elle, par faire défaut par instants et sur la longueur, c'est un bémol qui se ressent.
www.myspace.com/eyesofedenband / www.eyesofeden.de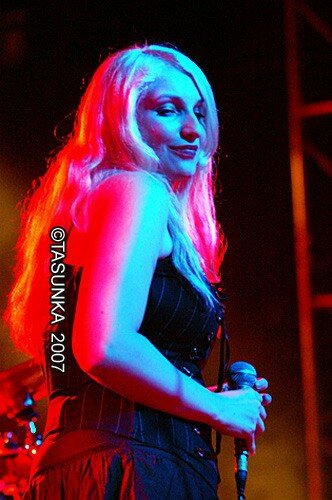 Aucun décrochage d'intérêt avec la tête d'affiche: il faut dire que Paradise Lost, c'est une institution et que leur longévité ne doit rien au hasard, leurs morceaux étant ciselés et le public enfin bien nombreux était fin connaisseur ce soir-là, vu et entendu les applaudissements nourris quand, enfin, le groupe a foulé les planches de l'Elysée. Le son pas particulièrement au top pour les groupes en support, a continué ses méfaits, mais rien qui n'ait réellement entravé la bonne marche d'une machine bien rodée, d'une ambiance prenante (eh oui, les lumières ont fini par être au top, elles aussi ;) et d'une set list solide comme du béton :) Morceau après morceau, l'ambiance est montée au point de finir en déluge de cris et de battements frénétiques de mains, pour réclamer le rappel tant attendu et pour, enfin, saluer et remercier le groupe qui achevait son gig, apparemment satisfait de cet accueil des plus à la hauteur.
Paradise Lost n'en méritait pas moins :)
www.paradiselost.co.uk / www.myspace.com/paradiselostuk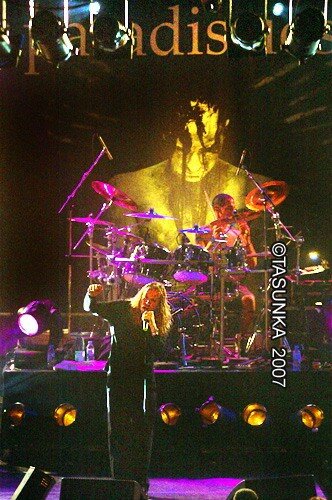 Belle rentrée, en somme :)