13 janvier 2008
HELLISH ROCK 2007 / 2008 Paris/ Elysée Montmartre 5-6 janvier 2008
www.hellishrock.com
Jérôme de France Métal précisait judicieusement dans ses écrits que HELLOWEEN "sold out" à Paris le 6 janvier et si la 2è date, celle du 5, l'était aussi, le groupe aurait alors la capacité de tenir un concert au ZENITH en tête d'affiche… la preuve en a été faite: les deux dates de ce début 2008 étant noires de monde, au point de faire invariablement grimper la température de façon impressionnante une fois dans la salle :) Mais, après tout, à événement aussi unique que ce Hellish Rock Tour, conditions uniques elles aussi et l'événement de voir tourner ensemble HELLOWEEN / GAMMA RAY ou disons KAI HANSEN / MICHAEL WEIKATH, valait bien de transpirer un peu.
En ouverture, AXXIS a confirmé sa bonne prestation qui l'a révélé au festival de Raismes 2007 et Anna du groupe roumain MAGICA, au chant féminin pour cette tournée, s'en est bien sortie aux côtés du chanteur habituel d'AXXIS. Belle énergie et morceaux Heavy agréables, au riffs et à l'énergie marquées, bref une recette classique, mais gagnante car jouée avec les tripes pour les Allemands :)
www.axxis.de / www.magicaband.com
Bon son, belles lumières, GAMMA RAY entrait en scène et la soirée prenait son essort en montant d'un cran dans l'intensité des réactions dans l'assistance et quelles réactions !! :) KAI HANSEN sait s'attirer la faveur des foules c'est indéniable, avec sa présence sur scène. Tout, du groupe aux morceaux, ont d'ailleurs fait la démonstration au travers d'un set bien rodé, d'une formation unie, très à l'aise et heureuse sur scène: un plaisir, en somme, GAMMA RAY. A noter, un peu isolé dans son coin, mais enthousiaste à fond; aux claviers, Alessio Gori (Flashback Of Anger) là pour cette tournée en compagnie du groupe. Du beau monde!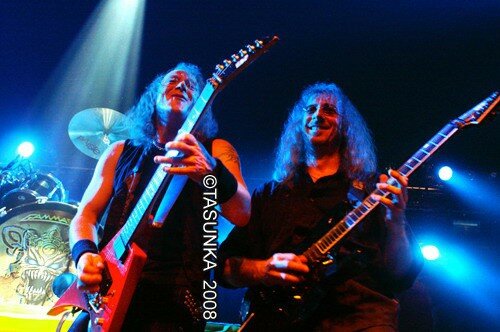 Toutes les photos GAMMA RAY / HELLOWEEN / AXXIS sont ici ;) / Check out all the photos of GAMMA RAY / HELLOWEEN / AXXIS here ;) http://iskaphotos.canalblog.com/albums/hellish_rock__helloween_gamma_ray_axxis__paris_jan_2008_/index.html
HELLOWEEN, dans la catégorie plaisir, c'est un label de qualité tout comme GAMMA RAY: un show bien rodé, avec un intermède hilarant, il faut le reconnaître, où Andi Deris à la tête d'un trio Andi (V)/Markus (B)/Sascha (G) ont fait leur apparition, à mi concert, dans un petit théâtre installé pour l'occasion près de la batterie, tous trois déguisés en nains de jardin à gros sabots, jambes courtes et longue barbe blanche, puis les compères se sont fendus d'une interprétation nasillarde de "Smoke On The Water" pour cause de voix déformée, haut perchée option à l'hélium, pour la circonstance. Michael Weikath, non grimé, en est venu à se fendre d'un sourire tout en tirant sur le trio avec une mitrailleuse modèle géant en plastique, pour les faire taire et voilà les trois lutins mis hors service dans un râle: hilarant. Sinon, dans les très nombreux "plus" du concert, sont à noter: une setlist plutôt bien équilibrée (il faut dire qu'il y avait le choix entre les nombreux hits alignés par le groupe en 20 ans de carrière:) un groupe très heureux d'être là, de bonnes conditions sons et lumières pour mettre en valeur leur prestation et enfin, l'événement que tous attendaient: mais si, vous voyez lequel :) Mais avant de vous le confirmer, parlons du "moins" du concert: les soli de batterie dispensables au moins pour deux d'entre eux. Mais bon, pas de quoi ternir la soirée, loin de là, surtout qu'il est de temps de revenir à la cerise sur la gâteau du "Hellish Rock". Après un premier rappel, composé d'un medley des plus grands titres, voilà enfin ce fameux second rappel, sous la forme d'un final d'apothéose où sur "Future World", puis sur un "I Want Out" imparable, GAMMA RAY et HELLOWEEN ont uni leur efforts sur scène. Tous attendaient ces retrouvailles, et quel événement que les deux guitaristes redevenus complices: c'était quelque chose à vivre et à voir: Michael Weikath et Kai Hansen jouant ensemble sur la même scène.
Il faut dire qu'HELLOWEEN était en tête d'affiche, mais en "very special guest" GAMMA RAY jouait d'égal à égal: une affiche équilibrée sans rivalité aucune :)
Setlist HELLOWEEN:
Très belles soirées, en conclusion, que ces 5 et 6 janvier qui étaient un vrai cadeau de nouvel an, pour ce premier concert de 2008: de quoi mettre le sourire au beau fixe !!! :)
Merci à Base Productions www.base-productions.com pour ces concerts uniques et aux fans qui ont rempli la salle et mis le feu avec une ambiance plus que chaleureuse tout au long de ces deux journées de folie dont le ton était donné rien qu'en voyant l'inratable convoi de tourbus et camion décoré "Hellish Rock": HELLOWEEN and GAMMA RAY were in town !! ;)
Tasunka
7
HELLOWEEN "Gambling With The Devil"
(SPV)
"Je suis fier du résultat" telle était, en septembre dernier, la déclaration au sujet de "Gambling With The Devil" de Michael Weikath, guitariste d'HELLOWEEN, charismatique autant au niveau de son jeu que de sa personnalité. C'est qu'en parlant fin 2007 de ce nouvel album du groupe, on sentait effectivement l'homme ravi du résultat et il avait raison de l'être! Sur les 12 titres que recèle cet opus, on y trouve le Métal qui fait la renommée d'HELLOWEEN, tout autant que des hits en puissance, dont le single "As Long As I Fall". Charlie Bauerfeind (SAXON, entre autres :) s'est mis aussi de la partie à la production, en ciselant les morceaux, les faisant sonner au mieux, batterie comprise et ce n'est pas l'absence de répétition préalable de la part du groupe, avant d'entamer la création de "Gambling", qui a atténué la réussite de cet album et la très bonne impression laissée par l'ensemble de ce disque: au contraire, chacun dans le line up d'HELLOWEEN a su apporter avec brio sa part à l'œuvre, au moment de sa réalisation et de son interprétation. Le titre "Gambling With The Devil" pour ce nouveau CD est, en plus, judicieux dans le sens où il se réfère au choix que l'on a tous, toujours, soit de pactiser avec le diable, soit de rester fidèle à soi-même et avec ce nouveau disque, HELLOWEEN prouve, encore une fois, qu'ils restent inchangés, fidèle à eux-mêmes et à leur Heavy/ Speed hymnique bien connu et apprécié depuis longtemps :)
Tasunka
GAMMA RAY "Land Of The Free-Part II"
(SPV)
Un changement de taille sous la forme d'une signature chez Steamhammer/SPV imitant en ça l'exemple d'HELLOWEEN, plus l'intégration dans le processus d'enregistrement de l'album, d'un élément extérieur sur certaines étapes, à savoir Tommy Newton (HELLOWEEN, UFO), sans oublier Kai Hansen (G/Chant) et Dirk Schlächter (B) se chargeant seuls de la production de "LotF II", voilà qui bougeait positivement chez GAMMA RAY en 2007. La préparation de la tournée commune avec HELLOWEEN, ce tant attendu Hellish Rock Tour 2007/2008, qui a débuté en novembre dernier, a aussi eu des répercussions bénéfiques pour ce digne successeur de "Land Of The Free I" de 1995. C'est qu'il sonne efficacement bien ce "Land Of The Free-Part II" sorti en novembre dernier: il offre une vraie cure de bonne humeur, de péche, de plaisir pour les oreilles avec son Power Metal bien léché et tout autant un plaisir pour les yeux avec la pochette toujours réussie, normal quand on sait que c'est Hervé Monjeaud qui s'y est attelé :) Plus que recommandable tout simplement ce "LotF II" qui se révèle un digne successeur, 12 ans après, du désormais classique "Land Of The Free-Part I"
Tasunka
09 janvier 2008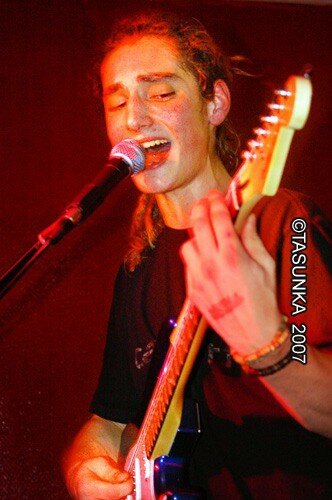 A découvrir l'album photos complet ici ;) / Check out the whole photos album here ;)http://iskaphotos.canalblog.com/albums/meltin_pot__freaks_club__51__nov__23rd__2007_/index.html
Un envoûtant métissage Reggae, Jazz et plus encore, voilà ce qu'à, avec talent, offert MELTIN' POT en ce 23 novembre 2007, à Reims (51), dans le cadre de la Reggae Night organisée par PATAGAYA, cette dynamique association aussi sympa qu'efficace :)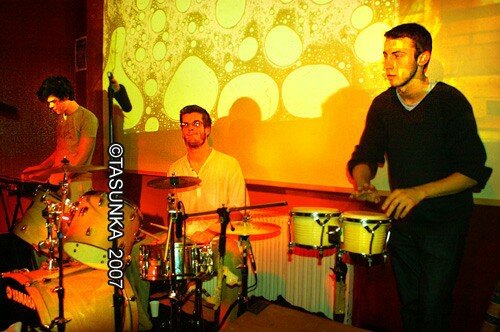 MELTIN'POT a démontré, avec brio, être une formation prometteuse, sur laquelle compter pour l'avenir, ce dont on ne peut que se réjouir. http://www.myspace.com/meltinpottasteofreggae
Quant à SAYE DY A en ouverture, ils ont su faire preuve d'originalité musicale dans un autre style et susciter l'intérêt, eux aussi.
Preuve en est que, quelque soit le courant musical pratiqué, quand la musique sort des tripes comme c'était le cas ce soir-là, on ne peut qu'adhérer et soutenir ces formations aux atouts certains, et même chose pour l'association PATAGAYA :)
Tasunka
Toutes les photos sont ici ;) / Check out all the photos here ;)
http://iskaphotos.canalblog.com/albums/meltin_pot__freaks_club__51__nov__23rd__2007_/index.html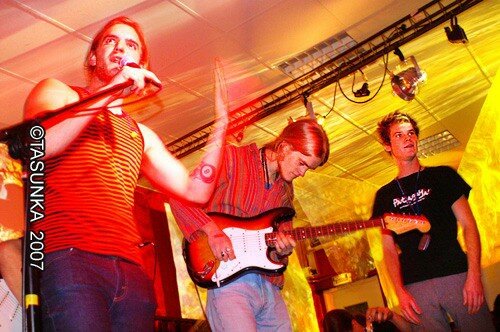 08 janvier 2008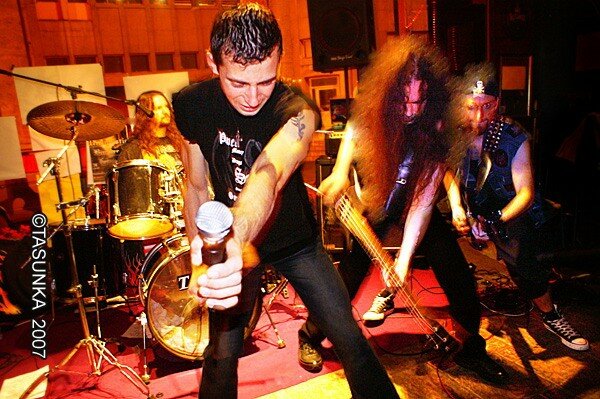 Toutes les photos du concert sont ici / The whole photos album is here ;)http://iskaphotos.canalblog.com/albums/evil_one__reims_nov__9th__2007_/index.html
La session photos est ici / Check out too the photos session here ;) http://iskaphotos.canalblog.com/albums/session_photos_evil_one__nov__9th__2007_/index.html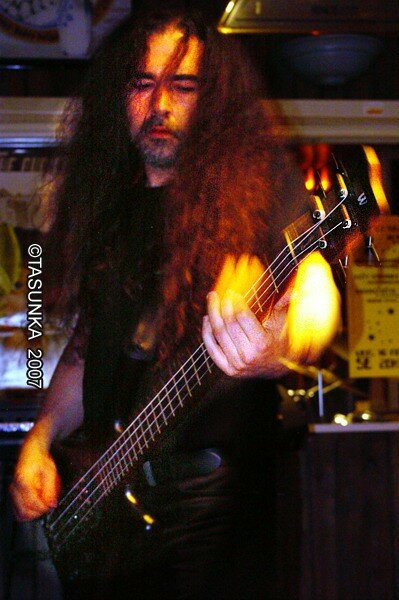 En hommage à Fabrice (R.I.P) qui demeurera toujours présent dans le coeur de tous et en soutien affectueux à sa famille, ses amis, à tous ceux qui l'aiment dont, bien sûr, EVIL ONE qui continuent l'aventure !!!! C'est une fantastique nouvelle !!! www.myspace.com/evilonefrance / http://evilone.music.free.fr
Voici les photos de ce concert génial donné à Reims, à l'Excalibur, le 9 novembre 2007: ça déménageait, rien à dire ;)
Stay Evil !!!!!
Tasunka
Toutes les photos en session et de ce très bon concert sont ici / The whole photos albums both of these great concert and photos session are here ;)
http://iskaphotos.canalblog.com/albums/evil_one__reims_nov__9th__2007_/index.html
http://iskaphotos.canalblog.com/albums/session_photos_evil_one__nov__9th__2007_/index.html
01 janvier 2008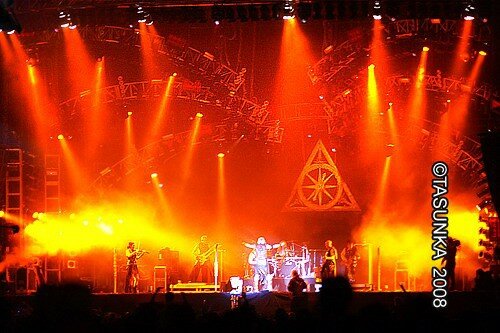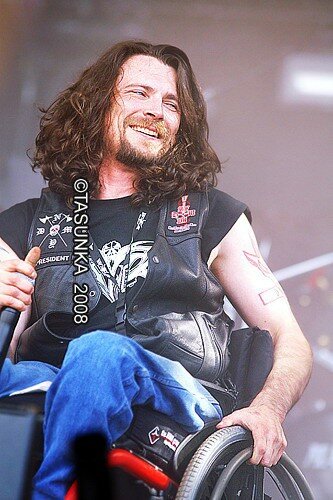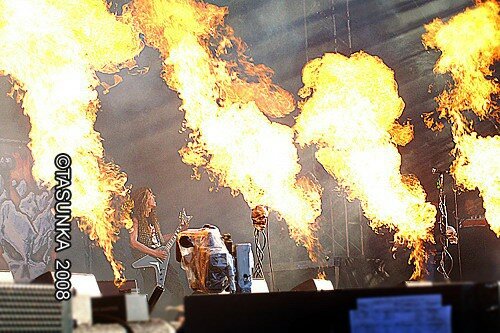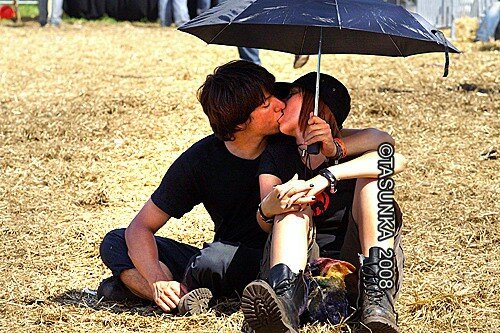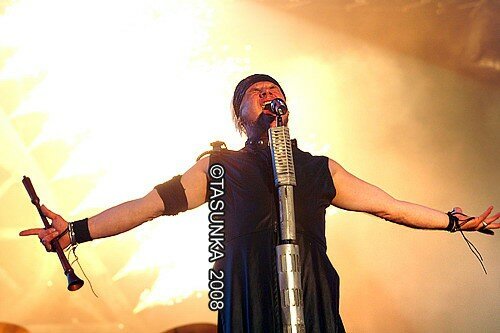 24 décembre 2007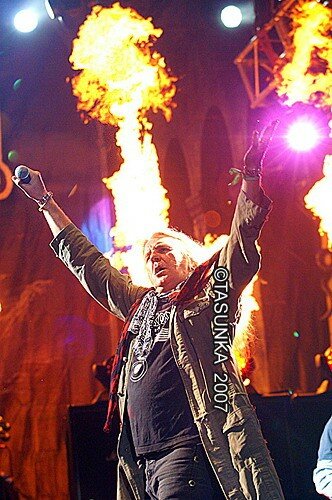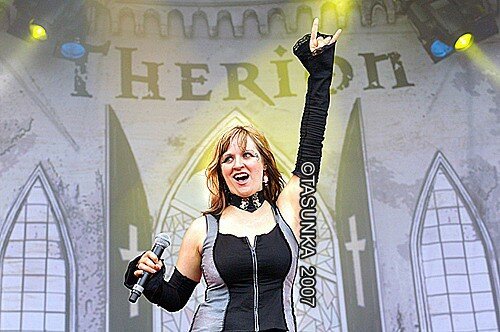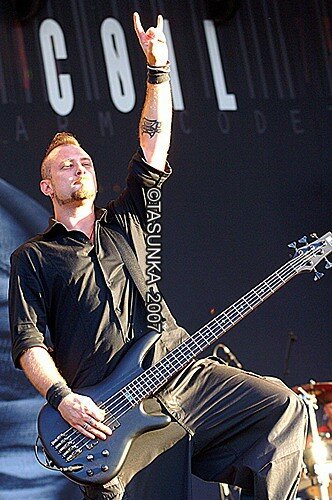 05 décembre 2007
Bob dit Fabrice Bonhomme a décidé de jouer de la Basse avec les anges.Il y gagne le rang de ange-gardien honoraire et espère prendre du grade rapidement. Il est parti entouré de sa famille et de ses amis.
Toutes mes condoléances à sa famille, ses proches et amis, EVIL ONE et à tous ceux qui l'aimaient; j'ai été honorée de faire cette session photo et de concert avec lui et vous tous EVIL ONE: merci !!!
Je me joins à tous pour vous soutenir dans ce moment douloureux et pour la suite: Stay Evil !!!
Tasunka
Tous vos messages sont les bienvenus à ces adresses:
www.myspace.com/evilonefrance / http://evilone.music.free.fr