24 juillet 2009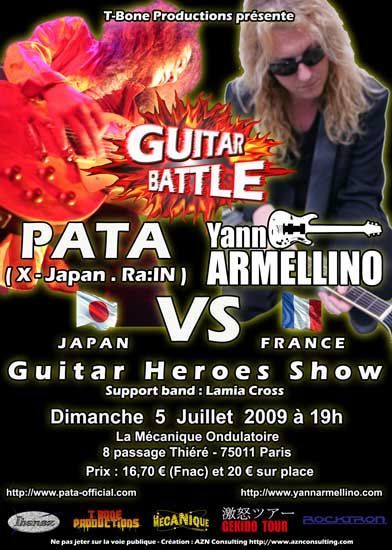 Yann Armellino / Pata (X-Japan / Ra:IN)
Toutes les photos de ce superbe et très chaud concert, sont ici / Check out all the photos of this very warm and awesome concert here ;)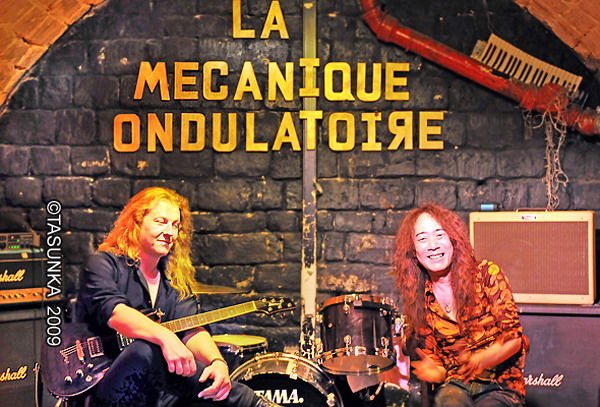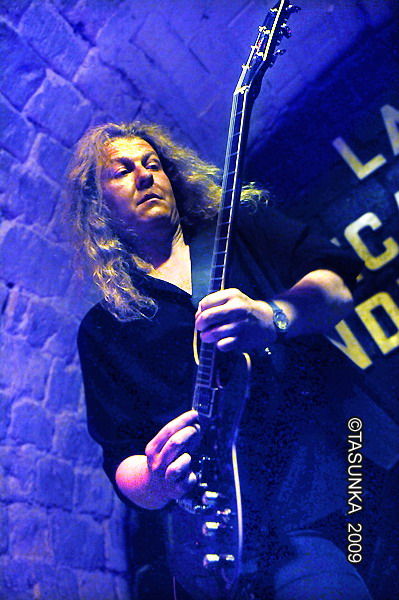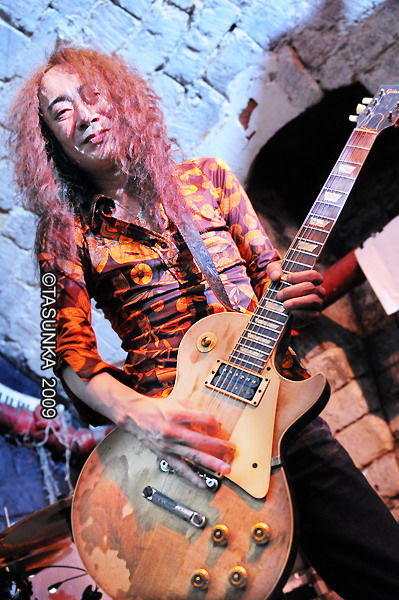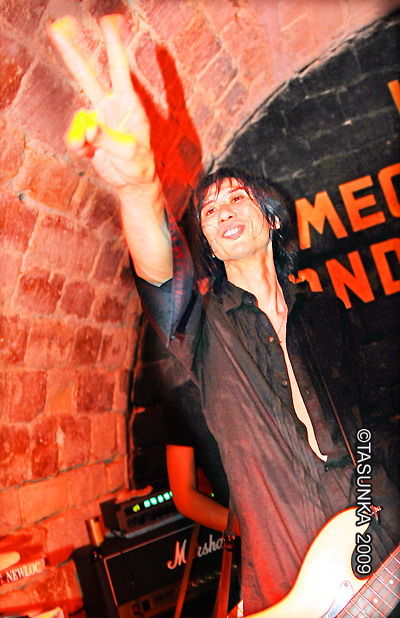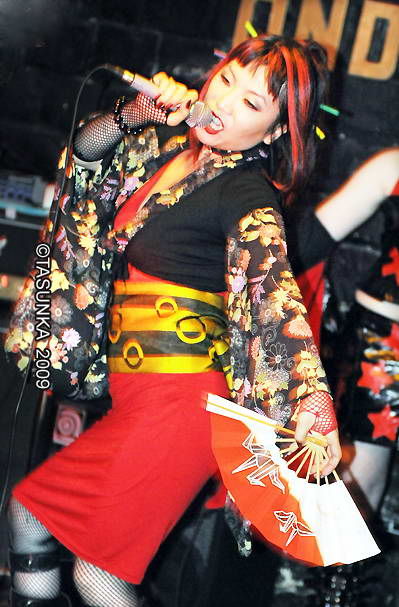 Setlist Pata / Yann :)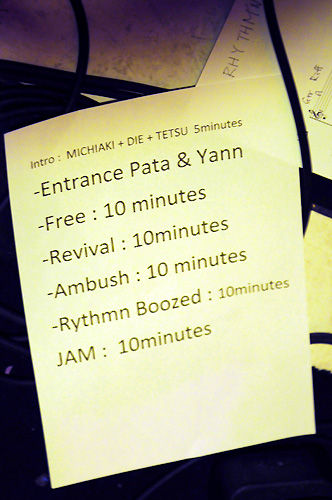 05 juin 2009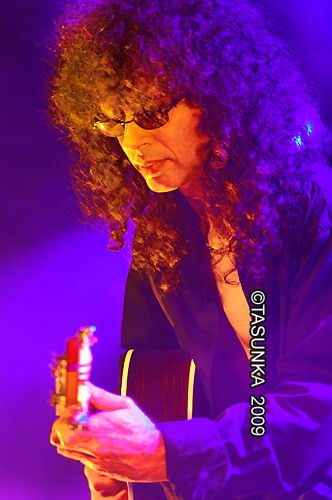 Toutes les photos sont ici / Check out all the photos here ;)
Live Report (French) here / ici ;)
Vous pouvez aussi retrouvez un autre live report: de David taugis pour Metalchroniques: ici :)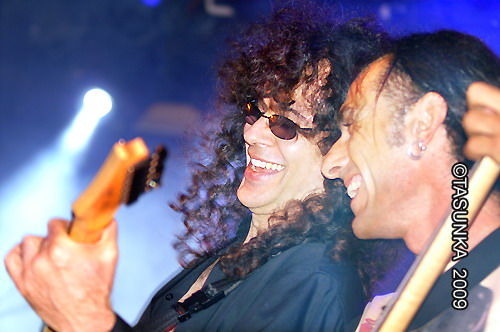 04 juin 2009

PARIS - NOUVEAU CASINO
31 Mai 2009
PATRICK RONDAT
Toutes les photos sont ici / Check out all the photos here ;)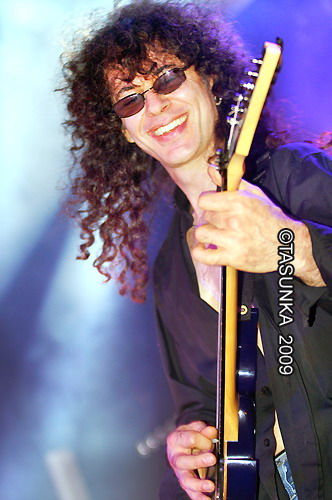 Pour un anniversaire, c'en fut assurément un à marquer d'une pierre blanche! Jugez plutôt : dans une salle blindée, tout acquise au fantastique musicien qu'est Patrick Rondat, se sont succédés moments d'anthologie après moments inoubliables.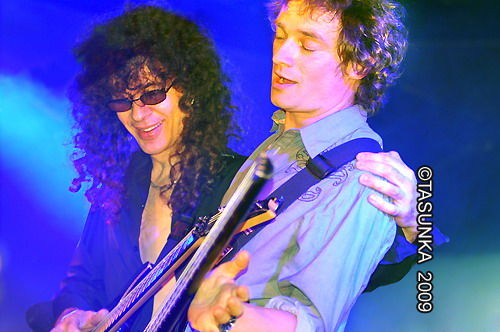 Le défilé des guests dont Pacal Mulot, pour ne citer que lui, a laissé une superbe impression, celle d'avoir la cerise sur le gâteau déjà bien appétissant quand c'est Patrick Rondat qui joue, entouré de ses potes tout aussi talentueux que lui :)
Quelle ambiance, quelle réussite que cette célébration de 20 années de carrière pour un musicien unique et bardé d'un talent et, last but not least, d'un humour des plus agréables: respect !! ;)
Tasunka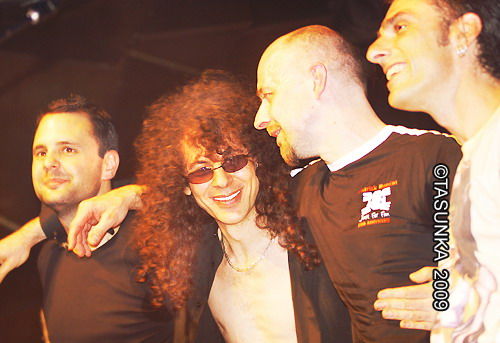 30 mai 2009

PARIS - TRABENDO
26 Mai 2009
KORITNI
SISTER SIN
Toutes les photos sont ici / Check out all the photos here ;)
==> "Lady luck " album 2007 / Tour: Itw + chronique + live photos concert 2007
==> "Game Of Fools" album 2009 / Tour: itw LEX (V) / EDDY (G) + Photos Session + chronique + Live Photos concert 26 mai 2009
==> "Switchblade Serenades" album 2009: chronique + Live Photos concert 26 mai 2009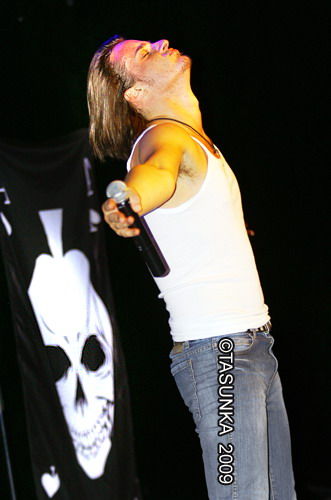 Quel concert, aussi intense pour SISTER SIN et sa frontwoman d'enfer, que du côté des incontournables KORITNI, à nouveau de passage en France et pour notre plus grand plaisir: c'est qu'ils assurent les franco-australiens !! surtout que Lex, au chant, souffrait, ce soir-là, d'un rhume ce qui ne l'a pourtant nullement empeché de se donner à fond, à l'image de tout le groupe d'ailleurs; comme le dit lui-même Lex avec un sourire: "Hey, that's Rock'n Roll" :)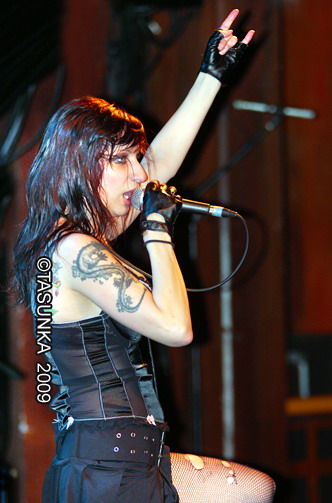 A noter aussi, en ce 26 mai, une présence des plus sympas: Mister Francis Zégut en personne venu célébrer, avec tous, le Rock'n Roll, prendre des photos du concert, serrer des mains et surtout fêter son anniversaire: alors, bon anniversaire et merci pour ces années de bons et loyaux services à la cause Rock ;)
Tasunka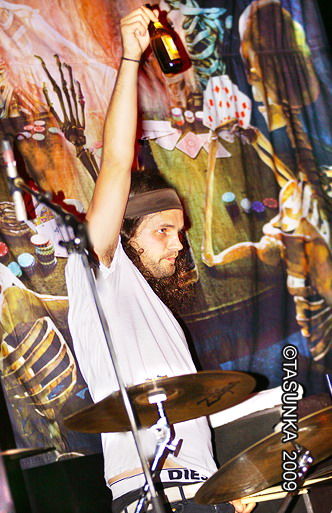 24 mai 2009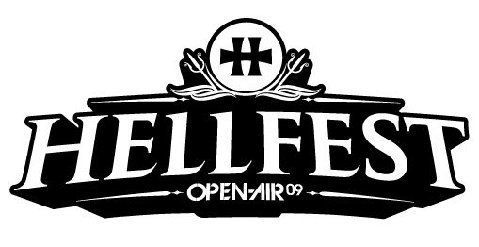 Ben Barbaud est un mec épatant, permettez-moi de le dire : c'est qu'à chaque interview, il arrive toujours à surprendre par son enthousiasme loquace et sa conviction que rien ne semble altérer, ajoutez à ça une ouverture d'esprit et un bel humour, et vous aurez un aperçu de qui est véritablement le fondateur du Hellfest : à l'image du festival, en somme :)

(Merci à Roger Wessier pour cette interview avec Ben Barbaud :)
(Par Tasunka)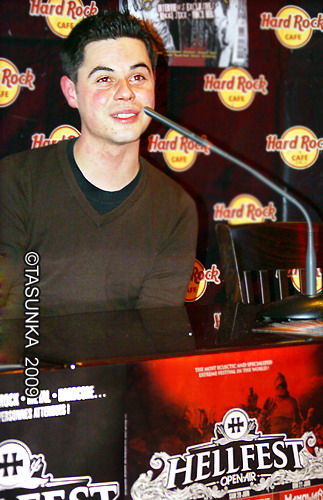 - Quoi de neuf depuis la conférence de presse générale d'avril dernier ? (vous la trouverez ici ;)
Depuis la conférence de presse, ça suit son cours, même s'il y a des annulations, Edguy, Deicide, ou les changements de noms : Godseed avec Gorgoroth, par exemple. Il y a des aléas, comme KFDM qui se rappellent d'un coup qu'ils n'ont pas checké pour leurs visas et ne peuvent, donc, pas venir. Tu as des histoires comme ça qui te mettent en porte à faux, vu que tu avais déjà annoncé leur set. Ou tu as les inversions d'horaire que les groupes réclament, mais bon cette année, c'est un peu l'hécatombe déjà 5 annulations, mais c'est les aléas du truc :)
En 2008, le but était de prouver que 2007 était un problème financier et pas un problème de compétence, ce qui a été démontré côté compétence, vu les retours positifs qu'a reçus l'édition de année dernière. En 2009, s'il fait beau, tout devrait bien se passer aussi, on a pris un risque supplémentaire en terme de programmation, augmenter aussi la jauge du festival, des écrans sur la grande scène, une scène supplémentaire.
On a fait le calcul pour ne pas décevoir les gens qui aiment ce qui a fait le succès du festival, l'extrême, l'éclectisme et que ce ne soit pas accès sur le Heavy avec les têtes d'affiche.
Voilà pourquoi on a rajouté une quatrième scène pour accueillir tous ces groupes divers et variés et tous, dans le public, devraient trouver leur bonheur.
Ce qui coûte le plus cher dans un festival, ce n'est pas de payer les têtes d'affiche, mais simplement d'avoir une bonne organisation: quand un festival est réussi, c'est que l'infrastructure est bonne et pour qu'elle soit bonne, ça se paie pour s'entourer de personnes pros et compétentes.
Si les gens veulent une affiche de tarés, ok, mais le billet va être cher ou alors on rogne sur le budget avec moins de toilettes, mais c'est un choix, comme en 2007. Heureusement là, même si en 2008 on n'a pas gagné d'argent, cette année, on a eu pas mal de moyend et ça devrait aller :)
-Côté partenariat : il y a de nouveaux partenaires ?
Il y a la peur, les préjugés, surtout en province, quand tu amènes un projet comme le Hellfest : c'est vrai que je suis Clissonais, que le maire de Clisson était mon prof de maths quand j'étais gamin, alors étant déjà dans la place, connu, les choses étaient quand même plus faciles pour amener l'idée du festival. Tu vois, les gens il, faut leur dire ce qu'ils veulent entendre, ce qui signifie que je n'ai pas maquillé les choses, juste que je les ai amenées petit à petit et les gens de Clisson maintenant, avec le recul, s'aperçoivent que l'investissement valait le coup, ce qui n'était pas gagné au départ, vu que le Métal portait sur son nom, beaucoup de préjugés pour eux qui ne connaissaient pas. Les élus de la commune, du département, les habitants, reconnaissent qu'en terme de sécurité, c'est ok, que les retombées en terme de bonne image, en terme financier sont largement positives.
On a pris un risque et le pari s'est révélé gagnant.
Côté budget des institutions publiques, on est passé de 1 à 2% pour le festival, mais il n'y a pas encore cette démarche d'être de vrais partenaires, de leur part, c'est-à-dire de pouvoir permettre à beaucoup de jeunes de venir au festival avec des tarifs préférentiels : tu vois, j'offre des conditions de tarifications avantageuses pour des riverains et des communes voisines , pour permettre aux jeunes de venir à ce festival ; ce qui me sidère c'est que ce soit à nous de faire cet effort là et pas aux institutions alors que c'est leur rôle et que l'argent public, c'est notre argent, l'argent de tous je veux dire !
Je suis pour toutes les musiques et on nous donne l'impression que personne n'écoute du Métal, mais je ne désespère pas que d'autres sphères s'y intéressent. Maintenant qu'on commence à en parler à la télé que ça fait la couverture de Rock'n Folk, les portes s'ouvrent plus, mais je dois avouer que je trouve ça un peu hypocrite : j'aurais aimé que ces demandes de partenariat ou cet intérêt se manifestent quand il y avait besoin, aux débuts du festival ce qui nous aurait évité de faire quelques erreurs.
-Critiques et louanges reçues sur le festival 2008 et les autres années ?
Il y a toujours des gens qui jugent sans savoir sous le couvert de l'anonymat d'internet, ce qui m'énervait quand j'étais plus jeune, mais maintenant je leur dis: ok, dis-moi en face la raison de ta critique et si tu as raison on changera, sinon, ferme-là :) La critique liée à la programmation cette année, c'est celle par rapport aux années précédentes où les groupes d'extrême étaient mis en avant, mais même si je peux comprendre cette remarque, je leur dirai de regarder l'affiche cette année, avec son éclectisme. Les jeunes ne s'avouent pas fiers d'avoir Marilyn Manson en tête d'affiche ce à quoi je leur réponds que grâce à ces groupes, on attire un plus vaste public, donc des retombées financières dont, on en a besoin pour aller dénicher ensuite des petits groupes extrêmes. J'ai dit à un gars, il n'y a pas longtemps que sur la scène Rock Hard, il y avait de très bons groupes comme Amon Amarth et rien que cette scène, à elle seule, a de quoi satisfaire ceux qui aiment le lourd dans le domaine extrême.
-Pour le fun, que penses-tu du mini débat sur les strip teaseuses ? :)
Ouh là, c'est notre partenaire internet qui a mis l'accent là-dessus, ce qui, de l'extérieur donne le cliché du metalleux tel que les gens le voient. Alors qu'elles étaient déjà là l'année dernière (NDT : très jolies, les demoiselles il faut avouer ;) mais tout comme le skate ou cette année, le catch, alors pas de quoi faire un débat sur internet (rires communs)
-Le festival débute dans un mois pile : comment tu te sens à l'approche de l'ouverture ?
Je me sens serein, je prends du recul sur les choses qu'on ne peut pas maitriser comme le temps ou un problème de sécurité ou encore le taux de remplissage, même si à l'heure où nous parlons, c'est typique du Hellfest, à savoir que la moitié des places soient achetées en préventes et l'autre sur place :)
D'accord avec Ben: on attend tous avec impatience ce Hellfest d'anthologie !!!!
07 mai 2009
IQ "Frequency"
(Inside Out / SPV)
The English review of "Frequency" is to be read there ;)
« Frequency » fait aussi fort que l'apparition soudaine d'un arc-en-ciel, vous savez le genre de chose que l'on ressent sans pouvoir l'expliquer, mais qui est pourtant bel et bien là, à vous prendre aux tripes. Non, non, pas d'excès de boisson pour dire ça, juste la vérité ;)IQ ont vraiment réussi le pari de composer un album Rock Progressif abouti à souhait, avec ses mélodies fortes, sa riche palette de sons vraiment magiques, le tout donnant 7 morceaux d'une belle cohérence. Que ce soit la voix subtile de Peter Nicholls, la patte aux claviers de Mark Westworth, l'art de Mike Holmes à la guitare, ou encore la très efficace section basse-batterie, tous les ingrédients sont présents pour que la magie opère. Pour conclure, un qualificatif pourrait résumer « Frequency » : intense ! Tel est aussi le voyage d'une douce mélancolie, doublée de force et d'une pointe futuriste, auquel vous êtes invités.
« Frequency » est plus que recommandé et IQ plus que dignes d'être salués pour être au top de leur art avec ce neuvième album studio.
Embarquez avec IQ et savourez le voyage ! :)
Tasunka
Track Listing:
1. Frequency
2. Life Support
3. Stronger Than Friction
4. One Fatal Mistake
5. Ryker Skies
6. The Province
7. Closer
IQ Line Up :
Mike Holmes: guitar
Peter Nicholls: lead vocal
John Jowitt: bass
Paul Cook: drums
Mark Westworth: keyboards
06 mai 2009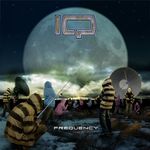 IQ "Frequency"
(Inside Out / SPV)
"Frequency" is amazing just like a rainbow suddenly appeared, you know like something you feel but can't explain with words but that is there for real, moving you. No, I haven't drunk too much that's only the truth ;)
IQ indeed managed this challenge to create a complete Progressive Rock album, through the strength of melodies, the wide range of magic powerful sounds, giving then a cohesive impression to the 7 songs. Peter Nicholls' subtle voice, Mark Westworth's touch on keyboards, Mike Holmes art on guitar and a very efficient bass-drums duet, that recipe undoubtedly creates the magic.
Lastly, 'Intense' could sum up the "Frequency" album and the journey you're invited for: a quiet, melancholic, rock and futuristic journey.
Highly recommended is "Frequency" and highly acclaimed can be IQ for being at the top of their fine art with their ninth studio album :)
Don't miss that and enjoy ! :)
Tasunka
Track Listing:
1. Frequency
2. Life Support
3. Stronger Than Friction
4. One Fatal Mistake
5. Ryker Skies
6. The Province
7. Closer
IQ Line Up :
Mike Holmes: guitar
Peter Nicholls: lead vocal
John Jowitt: bass
Paul Cook: drums
Mark Westworth: keyboards
28 avril 2009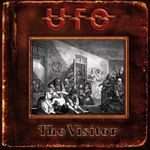 UFO "The Visitor"
(SPV / Steamhammer)
English Review of "The Visitor" here ;)
Dates de sortie:
Allemagne, Autriche, Suisse: May 29
Europe: June 2
USA, Canada: June 2
Enthousiasme et énergie seraient vraiment les bons termes pour résumer la façon géniale dont sonne ce nouvel album de la légende du Rock anglais qu'est UFO !! :)
« The Visitor » a l'air d'avoir été fait par une bande de jeunes débordants d'énergie et tout à la fois on entend au long des 10 morceaux toute l'expérience et la maturité musicale et vocale glanées au fil des années. Enfin, et non des moindres, il est à noter que l'édifice repose solidement sur un line-up fort et uni: on entend nettement combien le groupe a pris de plaisir avec ce nouvel opus :)
Merci à Phil Mogg (V), Paul Raymond (G / K), Andy Parker (D), tout autant qu'au classieux guitariste américain Vinnie Moore pour cette nouvelle sortie qui devrait ravir les fans, mais aussi ceux qui ne sont pas encore familiers du groupe.
Nos pensées vont au bassiste de légende et membre original Pete Way qui souffre actuellement d'une maladie du foie, ce qui l'a malheureusement rendu indisponible lors de la production studio.
Tasunka
"The Visitor" track listing:
01. Saving Me
02. On The Waterfront
03. Hell Driver
04. Stop Breaking Down
05. Rock Ready
06. Living Proof
07. Can't Buy A Thrill
08. Forsaken
09. Villains & Thieves
10. Stranger In Town
11. Dancing With St. Peter (2009 edition) (digipack bonus track)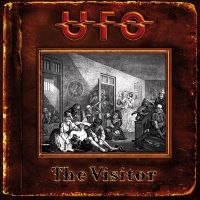 UFO "The Visitor"
(SPV / Steamhammer)
Release dates:
Germany, Austria, Switzerland: May 29
Rest of Europe: June 2
USA, Canada: June 2
This review and many more other press articles, photos, great things about UFO are to be found too on this very good website: here :)
Enthusiasm and dynamism could really be the right words to s um up the way this new album of British Rock legend UFO sounds like: awesome if you prefer !! :) "The Visitor" seems to be performed by a young band full of energy and at the same time is to be heard on the 10 songs the experience, the musical and vocal maturity the years have brought; and last but not least the strong, united line-up UFO consists of is the key of the new album: I mean it's clear that the whole band took a lot of great time and pleasure with the new opus :)
Thank you Phil Mogg (V), Paul Raymond (G / K), and Andy Parker (D), as well as American world-class guitarist Vinnie Moore for the release of "The Visitor" that will not only be welcomed as a good news by the fans but also by a new audience that isn't yet familiar to the band.
Our thoughts go to bass legend and original member Pete Way who's currently suffering from a liver disease and was unfortunately not available for the studio production.
Tasunka
"The Visitor" track listing:
01. Saving Me
02. On The Waterfront
03. Hell Driver
04. Stop Breaking Down
05. Rock Ready
06. Living Proof
07. Can't Buy A Thrill
08. Forsaken
09. Villains & Thieves
10. Stranger In Town
11. Dancing With St. Peter (2009 edition) (digipack bonus track)
09 avril 2009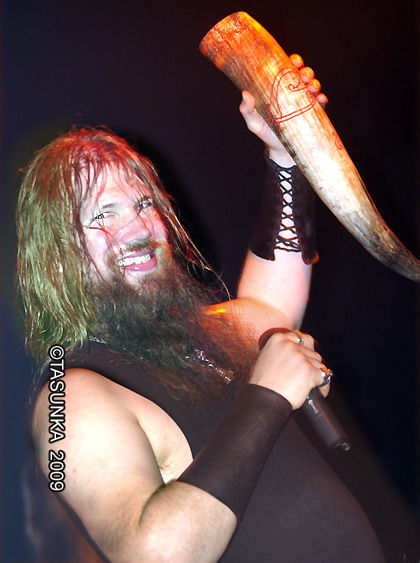 Merci aux 3 groupes et spécialement à AMON AMARTH pour ce fantastique concert: toutes les photos sont ici ;)
A bunch of thanx to the 3 bands and especially to AMON AMARTH for another awesome concert: all the photos here ;)