21 février 2009

PARIS - ELYSEE MONTMARTRE
18 Février 2009
LORDI
FATAL SMILE
BRANDON ASHLEY & THE SILVER BUGS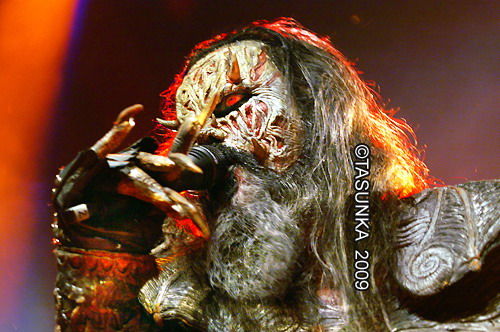 All the photos are here ;) / toutes les photos sont ici ;)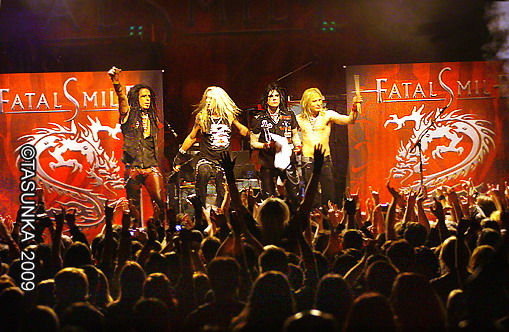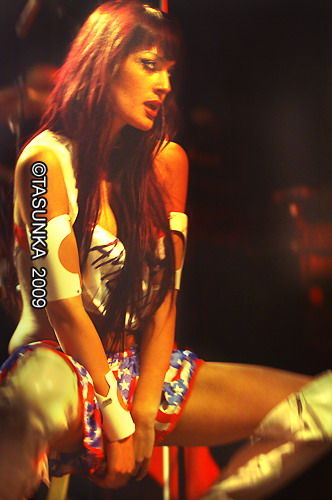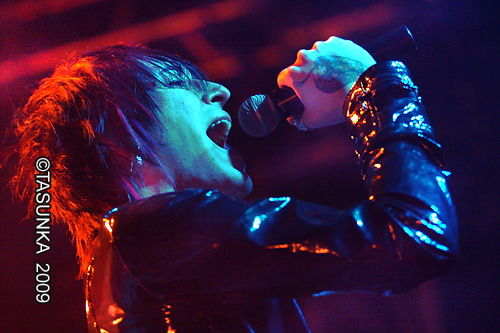 25 novembre 2008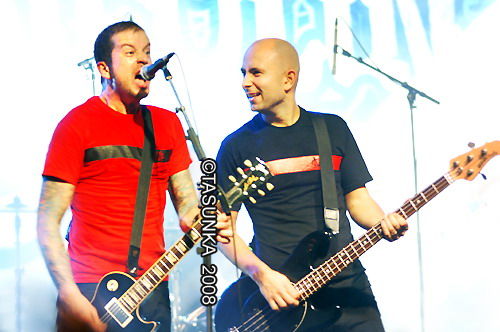 Toutes les Photos MILLENCOLIN / THE BRIGGS / TRACY GANG PUSSY sont ici ;)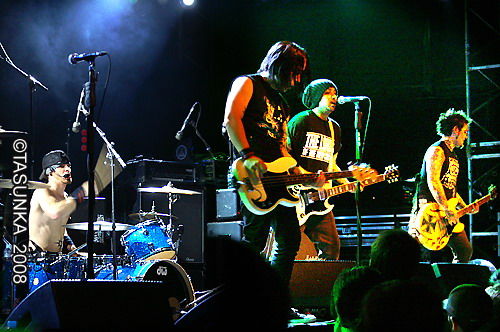 22 novembre 2008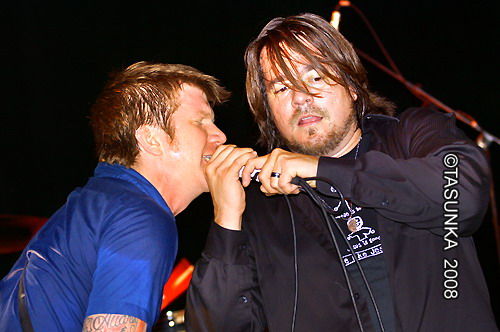 HERMANO / RESCUE RANGERS / DIE ON MONDAY: PHOTOS ici / Live Report ici ;)
Tout HERMANO ici !!! : ci-dessous le détail de tout ce vers quoi le lien mène !!! ;)
==> Photos 7 nov 2008 + Live Report HERMANO / RESCUE RANGERS / DIE ON MONDAY (Trabendo - Paris)
==> Photos 8 nov 2007+ Live Report HERMANO / LOADING DATA (Nouveau Casino - Paris)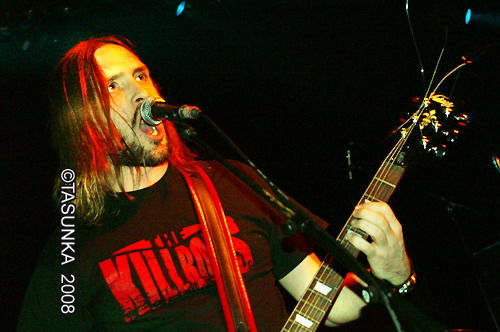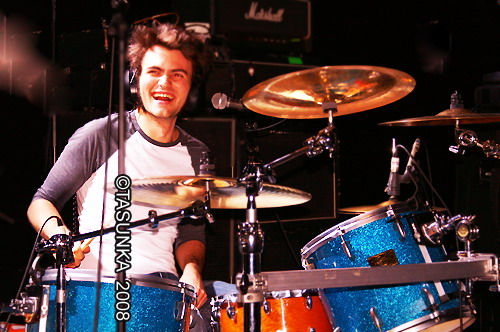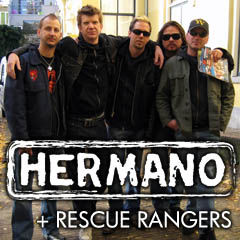 (Récit / Photos: Tasunka)
HERMANO / RESCUE RANGERS / DIE ON MONDAY: PHOTOS ici ;)
Tout HERMANO ici !!! : voir détail de tout ce vers quoi le lien mène !!! ;)
==> Photos 7 nov 2008 + Live Report HERMANO / RESCUE RANGERS / DIE ON MONDAY (Trabendo - Paris)
==> Photos 8 nov 2007+ Live Report HERMANO / LOADING DATA (Nouveau Casino - Paris)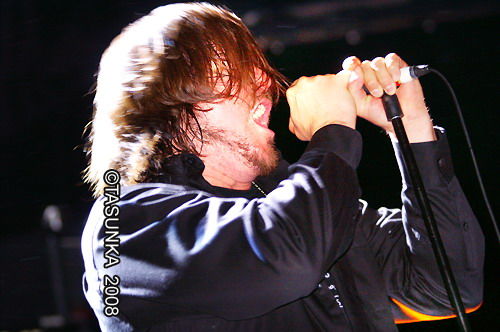 Rock / Down Tempo, les Français de DIE ON MONDAY ont définitivement rendu inconditionnel le soutien des ceux qui les connaissaient déjà et ont gagné à leur cause toute la salle du Trabendo: c'est que c'est dynamique, très bien fait, avec de l'attaque bien sentie, en gros, de quoi ravir un paquet de monde notamment avec un guitariste trop heureux de quitter la scène pour jouer au milieu même du public, quasiment le temps d'un morceau complet: jolie ouverture, par conséquent, pour DIE ON MONDAY qui n'a pas du tout eu à rougir face au charisme de la tête d'affiche, HERMANO, ni face à leurs compatriotes hexagonaux, RESCUE RANGERS ;)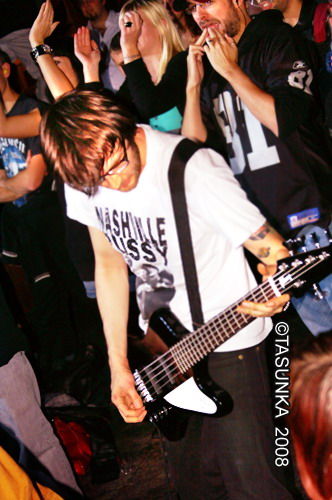 Stoner / Rock, RESCUE RANGERS, le groupe marseillais, a raflé la mise auprès de l'assemblée présente ce soir-là; ce serait difficile de ne pas trouver leur musique, ou encore leur présence scénique, à la hauteur : c'est que les gars du sud savent assurer et rester en même temps modestes, comme le souligne leur chanteur-guitariste de frontman en précisant leur fierté et leur plaisir d'être là, devant tous et en guest d'HERMANO, cette formation que chacun des membres de RESCUE RANGERS aime tant.
Du beau boulot, à l'image de leur bassiste à genoux au sol, tout en jouant et se relevant ensuite sans effort ou de l'arrivée pour un morceau d'un joueur d'instrument australien joué à l'unisson de la guitare : chapeau ! :)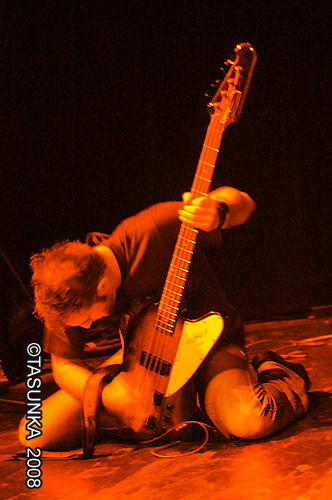 Un an déjà qu'HERMANO avaient mis tout le monde aux anges, en se produisant dans un Nouveau Casino parisien plein à ras bord de monde (NDT: c'était le 8 novembre 2008: à voir les photos + live report de cette date ;). Plus spacieuse, la salle du Trabendo accueillait, cette fois, les Américains et même s'il aurait été fantastique d'avoir plus de monde que les quelques 400 personnes présentes, l'ambiance, elle, était au moins au pur déchaînement d'enthousiasme. Chaque titre, chaque solo, chaque aparté avec le public de la part du chanteur, John Garcia, provoquait un rugissement de plaisir des fans et il y en avait un paquet ce soir-là. A l'issue d'un concert bien rodé avec mention spéciale au guitariste pour s'être donné autant à fond dans son jeu à la six cordes, que dans ses mimiques et ses incessants sauts sur les retours, pour être au plus près du public, trop ravi de voir et toucher David Angstrom d'aussi prés :)
A l'issue donc d'un concert bien rodé, le rappel semble s'être passé le temps d'un instant et déjà l'heure de clore cette très cool soirée avait sonné, trop tôt :)
10 ans d'existence pour HERMANO et une seule réflexion : le groupe était déjà bon dès le départ, mais son parcours montre et démontre combien le talent est bel et bien là et ne cesse de s'imposer.
Merci à Base Productions pour cette nouvelle soirée d'anthologie :)
Tasunka
17 novembre 2008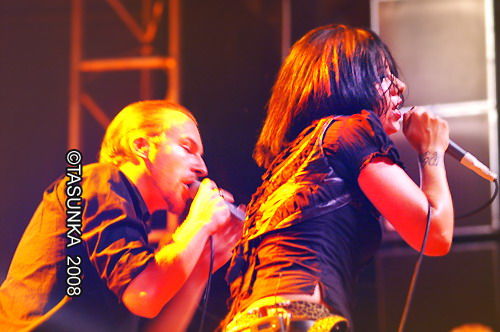 Photos ETHS / THE NUANCES ici / here ;)
Live Report (Fr) ETHS / THE NUANCES ici / here ;)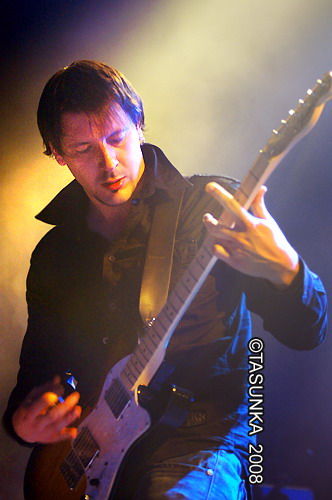 16 novembre 2008
Photos ETHS / THE NUANCES ici / here ;)
Le sud était en déplacement dans la capitale avec 2 formations qui valent le détour: la tête d'affiche ETHS qui continue d'acquérir la reconnaissance que son Rock dynamique, sombre mérite et la seconde THE NUANCES, qui faisait ses premières armes sur une grande scène, ce soir-là et s'en est plutôt bien sortie dissimulant même, avec classe, un gros trac bien compréhensible :)
(Récit et photos Tasunka)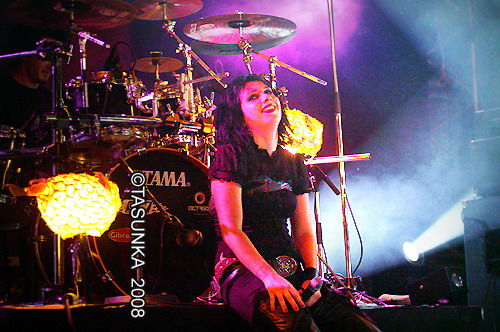 Emmené par une chanteuse guitariste à la forte présence scénique, THE NUANCES et son Indie Rock a su séduire dès les premiers accords et même si les compositions ne sont pas toutes du même niveau du point de vue intensité, en tout cas, le potentiel est bel et bien là tout comme une visible envie de donner le meilleur d'eux -mêmes: THE NUANCES est une groupe à suivre donc :)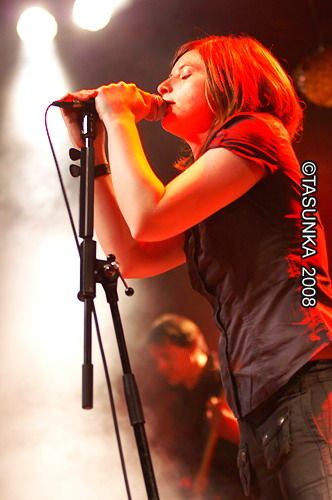 L'Elysée Montmartre était certes barrée latéralement par des rideaux noirs, l'occupation de la salle n'en a néanmoins pas démérite; bonne affluence en somme, avec cependant une surprise: le type de public venu soutenir et hurler le nom d'ETHS; à savoir une foule jeune et apparemment peu Métal. De quoi se demander pourquoi ETHS, avec pourtant autant de qualités, n'attire pas encore plus de metalleux ? En tout cas, si vous vouliez perdre un tympan ce soir-là, il suffisait de rester auprès des premiers rangs, des demoiselles et de leurs cris stridents dès l'apparition de tout ETHS sur scène: quelle fougue !! :) Du côté de la tête d'affiche, le concert a roulé tout seul, avec une frontwoman aguerrie et tout sourire, des musiciens plus qu'heureux de cette tournée et de cette date parisienne, de quoi passer une très bon moment d'autant qu'en plus de bénéficier d'un bon son, d'une belle lumière, les poissons éclairants suspendus haut sur scène, ajoutaient une touche d'ambiance originale: les marseillais ont assuré avec leur énergie et leur univers explosif et on comprend vraiment leur succès en sortant de leur concert :)
Tasunka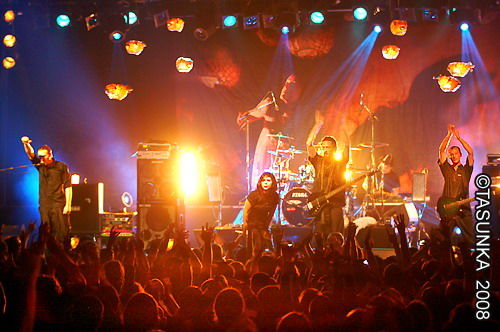 setlist ETHS:
14 novembre 2008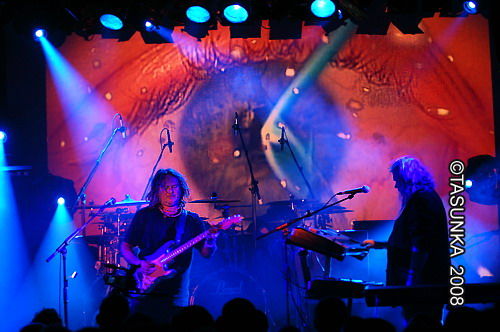 Photos PENDRAGON / RPWL Experience ici / here ;)
Live Report (FR) PENDRAGON / RPWL Experience ici / here ;)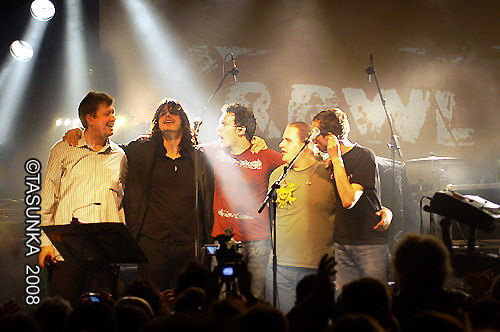 13 novembre 2008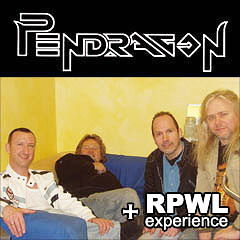 Photos PENDRAGON / RPWL Experience ici / here ;)
Belle soirée que celle qui a eu lieu au Nouveau Casino, en ce 24 octobre 2008. C'était un plaisir, tout simplement, ces concerts de 2 formations aussi attachantes qu'intenses dans leur jeu scénique: D'ailleurs à ce jeu, PENDRAGON est sorti grand vainqueur devant un parterre de fans en délire; la date parisienne étant sold out. Normal, le groupe fêtait ses 30 annnées d'existence lors de leur tournée, me direz-vous :)
(Photos / Live Report: Tasunka)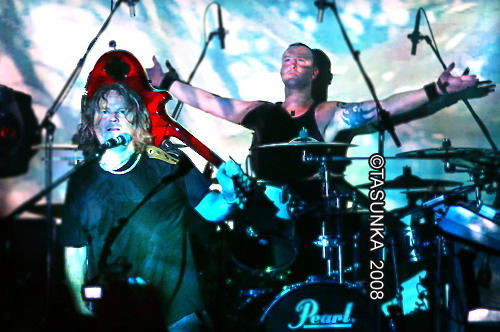 Pour RPWL le tempo et le sourire étaient au beau fixe: visiblement très heureux de se trouver dans la capitale, les Allemands ont eu autant le sourire que la pèche tout le long du concert, s'amusant même à jouer les uns avec les autres, le chanteur massant les épaules du clavier pendant que le guitariste et le bassiste faisaient un duo, à l'autre bout de la scène, toutes dents dehors: de sourire, bien sûr ;)
Dommage qu'avec l'imposant set de batterie de PENDRAGON, le batteur de RPWL se soit retrouvé dissimulé au fond à droite de la scène, à peine visible, mais heureusement audible :) Le public connaissait le Prog /Rock des Allemands et les réactions de la salle semblaient n'en impressionner et toucher que plus le chanteur et toute la formation, face à tant d'applaudissements et de reprise en choeur des couplets: c'est qu'avec un salle pleine à craquer, une telle affluence avait à elle seule, de quoi impressionner :)
D'ailleurs, la chaleur est si vite montée, que quelques personnes se sont trouvées mal et ont dû quitter la salle pour retrouver leur souffle au dehors.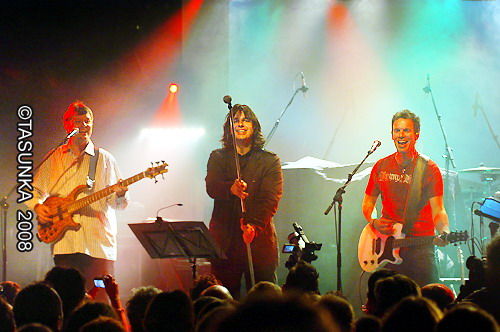 Le chanteur-guitariste de PENDRAGON Nick Barrett, a, plus tard dans la soirée, mentionné à maintes reprises, tout en sueur, combien Paris, c'est chaud!! :) Aidé de Clive Nolan, claviers, pour son français, il l'a précisé en anglais et en français, au cas où :)
Mais avant d'avoir ce plaisir d'avoir les Anglais sur scène, le changement de plateau a pris un temps qui semblait interminable et à causé un retard dans le planning. Comme la salle devait impérativement être libérée pour ensuite accueillir une soirée qui irait jusqu'à l'aube, du coup, Nick a précisé que, pour ne pas amputer leur set à cause du retard, il allait avaler les mots de ses speechs d'entre morceaux et il l'a vraiment fait, avec humour, toujours à la fois en langue de Shakespeare et de Molière :)
Pour leur anniversaire, 30 ans de PENDRAGON, ça se fête avec les honneurs, le groupe a montré l'étendue de ses capacités autant musicales, que scéniques avec un show efficace, proche du public, aux hymnes avérés que tous dans la salle, se sont délectés à reprendre en chœur; la voix du chanteur n'était pas au top ce soir-là, mais point de vue instruments, les soli de guitare lui semblaient faciles.
Un intermède pour rappeler leur trentième anniversaire, un autre pour souligner avec un sourire malicieux combien Paris compte pour le groupe et enfin, un dernier intermède pour présenter les "forçats de PENDRAGON": eh oui, c'est ainsi que le chanteur les présenta à tour de rôle: Pete Gee, bassiste, 29 ans de condamnation avec PENDRAGON, Clive Nolan, claviers, 20 ans de presence et enfin tout en le saluant, le petit dernier arrivé à la batterie : Scott Higham. Puis, ce fut le tour de Clive de présenter le chanteur guitariste fondateur de PENDRAGON: Nick Barrett !!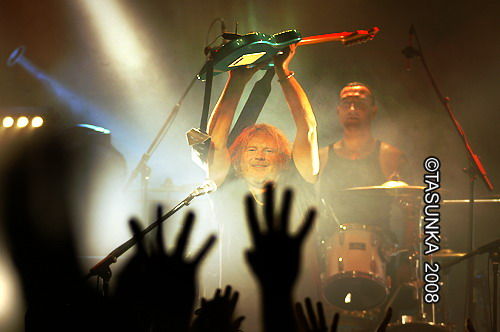 Le progressif du groupe est du pur progressif qui fait parfois regretter quelques manques d'attaques Rock dans la composition, mais après tout, la marque de fabrique de PENDRAGON et son succès sont les leurs, alors, pourquoi ne pas garder le cap ? ;)
Belles lumières, belles diffusions sur fond de scène, tendu tout en travers, d'images, de couleurs, le tout pour une alliance réussie entre lumière et son…même si le son a posé malgré tout des difficultés en étant saturé, ou trop fort, voire trop bas, mais dans l'ensemble, une réussite le show bien rodé.
Faute de temps, un seul rappel de 2 titres a conclu le concert, puis ensuite, au pas de charge, les roadies n'ont eu que peu de temps pour tout ranger, sortir et entreposer dans le tourbus; la soirée pop qui arrivait, investissait déjà les lieux.
Une salle blindée comme jamais a sur faire un triomphe à PENDRAGON et un bel accueil à RPWL et ça, ça compte: merci aux groupes, à la salle bon enfant et sympa à souhait, ainsi et last but not least qu'à Base Productions :)
Tasunka
Setlist PENDRAGON:
03 novembre 2008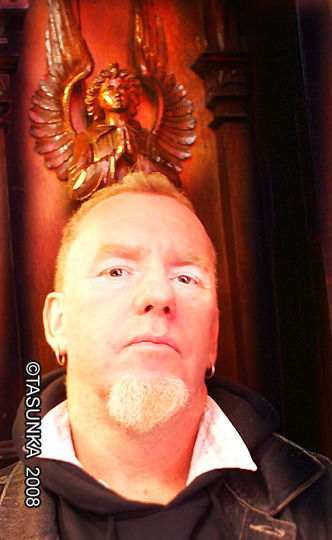 Photos Session ici / here ;)
Interview Robbi Robb (FR) ici / here ;)
TRIBE AFTER TRIBE "M.O.A.B." (French Review) ici / here ;)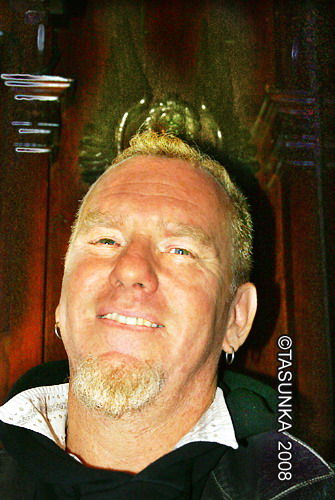 02 novembre 2008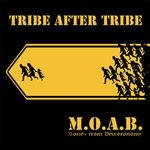 TRIBE AFTER TRIBE « M.O.A.B. »
(SPV)
Robbi Robb Photos ici / here ;)
Robbi Robb - TRIBE AFTER TRIBE interview (FR) ici / here ;)
Coup d'émotion et de coeur pour TRIBE AFTER TRIBE. Avec « M.O.A.B.» on est transporté dans un univers fort et profond à la fois, intense et puissant, qui prend aux tripes, remue le corps et l'esprit et au final, fait se dire que les moments de magie arrivent: la preuve avec ce superbe album. Robbi Robb distille la magie depuis 2 décennies et sait faire parler l'émotion grâce à sa vaste palette de couleurs musicales et à la chaleur de sa personnalité. Entouré par beaucoup d'autres talentueux artistes plus ou moins connus, mais qu'importe leur statut, l'homme sait faire vibrer chacune de ses compositions, avec inspiration, servi en ça par un son à l'image du désert où « M.O.A.B» a vu le jour: immense et intense, termes qui, en conclusion, résument « M.O.A.B.» sans l'ombre d'un doute :)
Tasunka