03 mai 2013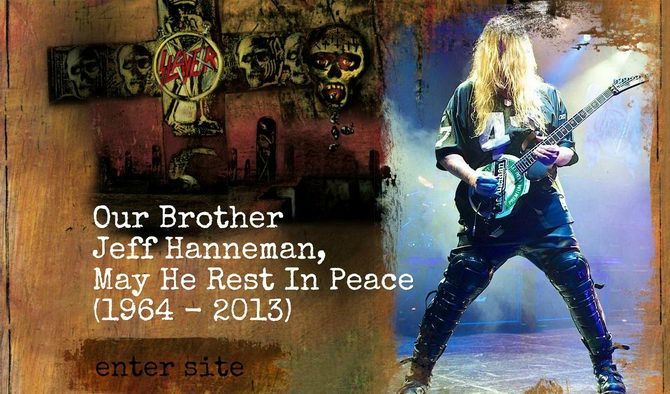 'Slayer is devastated to inform that their bandmate and brother, Jeff Hanneman, passed away at about 11AM this morning (05.02.13) near his Southern California home. Hanneman was in an area hospital when he suffered liver failure. He is survived by his wife Kathy, his sister Kathy and his brothers Michael and Larry, and will be sorely missed'
SLAYER
I was given the chance to meet him and Kerry, Dave in Paris in 2009, to have a drink and a very nice time after press conference.
Jeff Hanneman was a great guitarist and a very sweet, friendly man !!!
Our heartfelt thoughts are with his family, his bandmates and brothers
R.I.P
Tasunka
==> Very Nice Photos Session With Jeff / Kerry / Dave (SLAYER promotion for "World Painted Blood" - Paris 2009- Great Evening with the band :)
==> Photos SLAYER - Fun in Paris 2009 - Green Fairy was there :) - A big Thank You / Merci to the Band !!!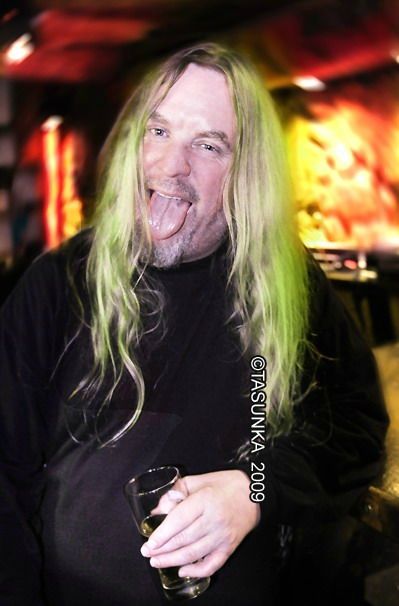 ==> Live photos SLAYER / MEGADETH in Paris - 26 March 2011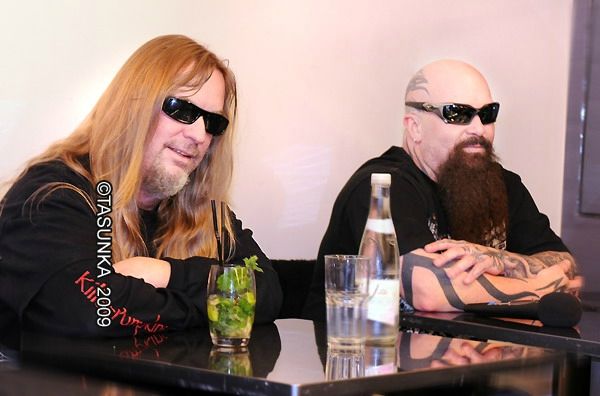 02 mai 2013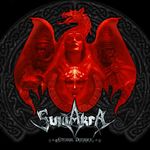 SUIDAKRA « Eternal Defiance »
(AFM)
Release Date : 25 May 2013

Concu comme un concept album basé sur l'histoire et le mythe venus tout droit du Pays de Galles : « The Dream Of Macsen Wledig », « Eternal Defiance » trouve ses racines sur de solides riffs et soli de guitares, sur des mélodies dignes de figurer en bande originale de n'importe quel grand film de cinéma, avec des vocaux bardés de testostérone et rugueux à souhait de l'âme pensante du groupe et chanteur : Arkadius, la bande de SUIDAKRA fait dans la dentelle brute ou pour plus de précision, le groupe cisèle un celtique Metal de premier plan, avec toutes les qualités liées au genre : rentre-dedans, magistralement guerrier et subtil à la fois. Et de la subtilité, on en trouve tout au long de ce disque que ce soit via les apports d'instruments à cordes, celtiques, flute, de voix féminine de Tina Stabel, à l'image de « Beneath The Red Eagle » avec ses alternance et réponse voix brute masculine et aérienne féminine. Au long de ce morceau, se retrouve toute l'étendue du savoir-faire de SUIDAKRA, ou encore comme sur le splendide « Pair Dadeni » avec ses double grosses caisses en attaque, ses riffs de même, ses envolées d'instruments médiévaux classiques, ça claque comme un coup de fouet un jour de bataille, comme une envie de bouffer le monde, puis, le tempo s'adoucit, s'alanguit avec la ballade acoustique avec chant féminin seul plus guitare sèche, piano, « The Mindsong » et son récit mélancolique, puis, retour à l'acharné mélodique et fort en sensations avec « Rage For Revenge » ou le très puissant « Defiant Dreams ».
Sans même s'en apercevoir, tant l'album se laisse écouter avec plaisir, voilà qu'arrivent les derniers titres, dont « Damnatio Memoriae », qui marque un passage au chant clair, masculin cette fois, sur guitare acoustique ponctuée de violon et le feu d'artifice final avec l'entrainant et endiablé "Mrs McGrath" (en bonus)
Très bon ce nouvel opus des allemands de SUIDAKRA: un coup de cœur plus que recommandé à l'achat ! ;) C'est dingue ce que ce groupe a su, dès ses débuts, garder ce même haut calibre dans les compositions et la pèche dans leur jeu !
Tasunka
Tracklisting « Eternal Defiance » :
01. Storming The Walls
02. Inner Sanctum
03. Beneath The Read Eagle
04. March Of Conquest
05. Pair Dadeni
06. The Mindsong
07. Rage For Revenge
08. Dragon's Head
09. Defiant Dreams
10. Damnatio Memoriae
11. Mrs. McGrath (Bonus Track)
First edition comes as Digipak (incl. comic booklet)
Line-Up SUIDAKRA:
- Arkadius – G / V, Keys, Banjo
- Lars - D
- Jussi - G
- Tim - B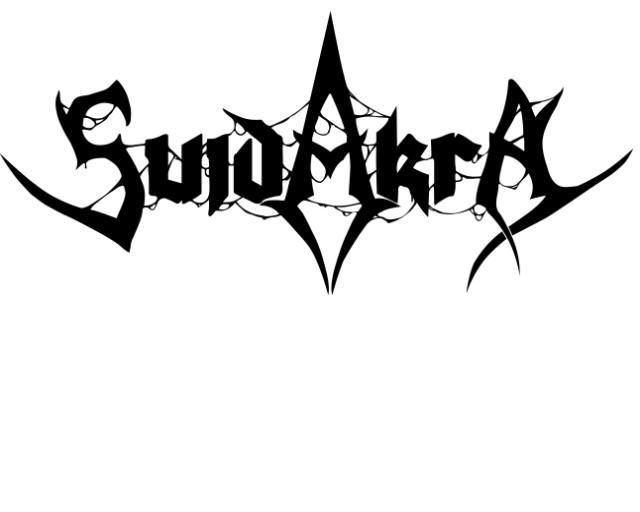 25 avril 2013
Extract from the new Melted space's upcoming album "Between" (Chronique Ici )
Singers: Manuel Munoz/Lucie Blatrier - Guitar: Charley Corbiaux - Directed by: Sébastien Brodart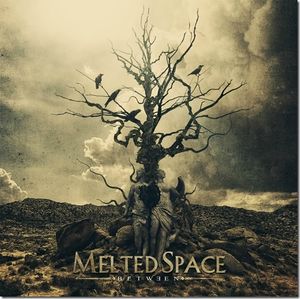 18 avril 2013
Interview avec Denis Protat, l'auteur de cette riche et indispensable encyclopédie :)
Chronique du livre en cliquant sur la couverture, ci-dessus
==> Qui es-tu et pourquoi cette envie de s'atteler à une telle encyclopédie ?

Denis Protat: Je suis enseignant, né en 68. J'ai depuis tout jeune écouté ces artistes des seventies. Il n'existait pas d'ouvrage sur le sujet à l'époque, ciblés sur le hard rock des seventies.

==> Et pourquoi particulièrement du Hard Rock des seventies ?
C'est à cette époque où les plus grands groupes sont nés : Led Zeppelin, le Jimi Hendrix Experience, les Who...

==> Combien de temps t'a pris la première mouture du livre en 2004 et cette nouvelle édition enrichie ?

Il m'a fallu un an pour chaque édition.

==> D'où tires-tu la richesse de ton savoir sur le sujet ?

C'est tout un parcours qui remonte à 25 ans...des rencontres, des journées à chiner (magasins, puces...) à chercher le disque rare ou encore inconnu. les livres aussi. Maintenant il y a le net.

==> Comment tu t'y prends pour faire des découvertes aussi poussées d'albums et ce, de par le monde entier ?
Grâce à des années de recherches, de croisements, de relations avec des collectionneurs.

==> Quel sujet ou partie de l'encyclopédie t'a donné du fil à retordre ?
Garder ou pas un groupe, trouver la juste frontière entre heavy ou pas....Le Floyd a des passages heavy et pourtant nombreux sont ceux qui ne comprendraient pas l'inclusion du groupe dans un livre sur le hard rock, le flamant rose étant plutôt considéré comme progressif ou psychédélique (période Syd Barett).

==> Et a été le plus aisé ?
Les groupes connus...il y presque trop d'infos.

==> Quelle(s) découverte(s) t'a ou t'ont le plus marqué en faisant l'encyclopédie ?
De fabuleux combos comme Granicus, Left End, Leaf Hound et toutes ces pépites que j'ai mis en îles désertes.

==> Tu as pu écouter un extrait ou quasi tous les albums de l'encyclopédie ?
Presque tous, oui et quand je ne les ai pas écoutés, je mets très peu de commentaires.
==> Ta passion carbure à quel(s) album(s) en ce moment?
En ce moment je suis plutôt dans une période folkrock, folk psyché et toujours la période des seventies. Il y a des perles comme Trees ou Pentangle par exemple.

==> Tu es incontestablement passionné, alors, quel est ton futur projet ?
Rien de bien précis pour le moment. J'ai déjà fort à faire à écouter tous ces artistes !
Merci à Denis Protat pour ses réponses et son "Encyclopédie du Hard Rock Des 70's" qui se révèle être un must tout simplement pour tout amateur ou 'découvreur' de cet âge d'or, car les racines sont bel et bien là :)
17 avril 2013
Salut à tous !
Voici la nouvelle vidéo officielle de One-Way Mirror pour le titre "One-Way Mirror" (Destructive By Nature), réalisée par Cyril Taussat aux Blinn Studios. Cette animation 3D a été inspirée par les personnages du jeu Guitar Hero combinés au style "retro-gaming" de GTA ! Regardez et faites passer le mot !
A bientôt !
ONE-WAY MIRROR
--------------------------------------------------------------------------------
Hi guys!
Here we go!
This is the new One-Way Mirror official video of the track "One-Way Mirror" (Destructive By Nature), directed by Cyril Taussat at Blinn Studios. This 3D animated was inspired by the Guitar Hero avatars combined with "Retro" GTA style! Watch it now and don't forget to spread the word!
Enjoy!
ONE-WAY MIRROR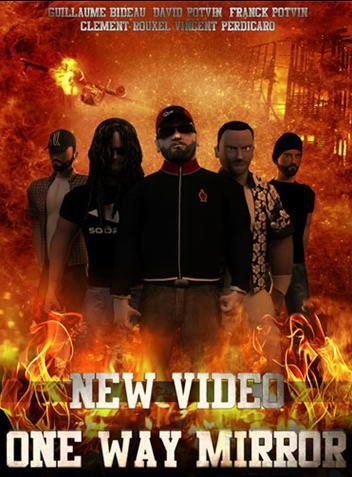 14 avril 2013

D.A.D "Dic.Nii.Lan.Daft.Erd.Ark / De Luxe Edition"
(AFM)

Release date : 22 march 2013
Released as special 2-CD DELUXE EDITION, incl. 16 bonus tracks (acoustic & Live recordings)

Ne jamais répéter ce qu'ils ont déjà fait, tel est le leitmotiv de D.A.D. et les danois s'y tiennent comme le démontre à nouveau l'édition luxe de leur 11ième album (sorti en première version en 2011). En effet, retour en 2011 : "Dic.Nii.Lan.Daft.Erd.Ark" était et est toujours des plus classieux et simplement direct avec ce retour aux sources et à un Rock'n Roll qui vous prend droit au cœur, aux tripes. Décidément, le quatuor avait mis dans le mille et on se laisse emmener sur des riffs à la base purement Rock'n Roll, sur un chant unique et des paroles au feeling à fleur de peau, sur des mélodies option « Everything Glows », sur de l'énergie qui rappelle « No Fuel Left For The Pilgrims » ou « Helpyourselfish ». Sans renier leurs bases, D.A.D. expérimentent, alors, du neuf pour un résultat naturel et bien inspiré, un complément à leur carrière déjà largement digne d'être saluée.
Le retour de l'un de leurs producteurs favoris, aux manettes, à savoir Nick Foss, apporte un son rugueux, sans couche superficielle inutile, avec, cependant, une point de subtilité qui procure aux morceaux, toute la classe et l'impact voulus. C'est à une balade sauvage et mélodique, Rock'n Roll seventies et intemporelle à la fois, que nous convient les danois et impossible de ne pas leur emboiter le pas tant les titres sont tout simplement bons, très bons ! Entendre « Last Time In Neverland » et ses riffs et solo de guitare est un must ou encore « I Want What She's Got » , « We All Fall Down » (Tout en feeling), « Can't Explain What It Means » (Bluesy à tomber)

Etant donné qu'en 2013, l'édition spéciale de l'album se décompose en deux CDs, c'est avec plaisir que l'on découvre que le disque 1 offre les morceaux originaux et le second, leur version en acoustique pour cinq d'entre eux et « I Want What She's Got » en acoustique vaut à lui seul, le détour, plus 11 titres survitaminés en live pour conclure ce CD 2.
Loin de faire redondance, cette édition 'Deluxe" 2013 de l'opus de 2011 avec ses 2 CDs d'une belle richesse, est un bonus réel qui rappelle que D.A.D, c'est décidément un sacré groupe !
Feeling, racines Rock'n Roll sont les mots d'ordre de "Dic.Nii.Lan.Daft.Erd.Ark / De Luxe Edition »", enfin..mots d'ordre' ? Non, mots de 'plaisir', serait plus juste, parce que les vetérans de D.A.D. ont visiblement pris leur pied sur cet opus que ce soit en studio, en acoustique ou en live: l'album est donc un coup de cœur à nouveau, tout simplement !

Tasunka
CD 1:
01. A New Age Moving In
02. I Want What She's Got
03. The End
04. Fast On Wheels
05. The Place Of The Heart
06. Last Time In Neverland
07. Breaking Them Heart By Heart
08. We All Fall Down
09. Wild Things In The Woods
10. Can't Explain What It Means
11. Drag Me To The Curb
12. Your Lips Are Sealed
CD 2:
01. I Want What She's Got (Acoustic)
02. The End (Acoustic)
03. A New Age Moving In (Acoustic)
04. Last Time In Neverland (Acoustic)
05. The Place Of The Heart (Acoustic)
06. A New Age Moving In (Live)
07. Jihad (Live)
08. The End (Live)
09. Everything Glows (Live)
10. Ridin' With Sue (Live)
11. Monster Philosophy (Live)
12. We All Fall Down (Live)
13. Last Time In Neverland (Live)
14. I Want What She's Got (Live)
15. God's Favorite (Live)
16. The Place Of The Heart (Live)
02 avril 2013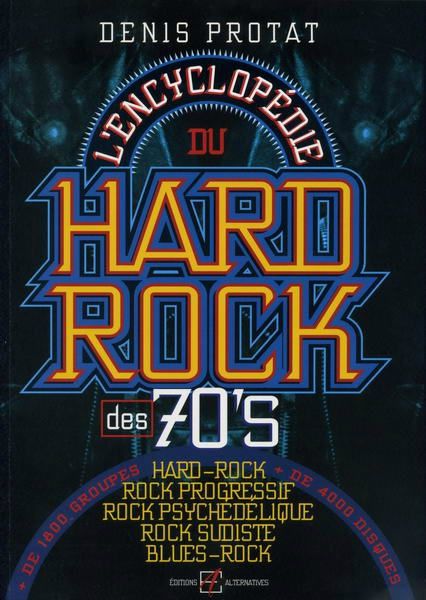 Publication Aux Editions Alternatives
Interview avec Denis Protat, l'auteur de cette riche et indispensable encyclopédie: ici :)

Il est des livres qui vous prennent, comme ça, sans prévenir, auquels on s'attache au point de s'y plonger et replonger avec délectation, avec une curiosité insassiable d'en savoir plus, encore et encore. On peut dire que « L'Encyclopédie Du Hard Rock des 70's » est incontestablement de ce genre-là et pourtant, ce n'était pas une évidence sur le papier, étant donné que quand on songe spontanément à une encyclopédie, c'est avant tout l'image d'un objet utile qui vient à l'esprit, utile certes mais froid en un sens, aussi bien fait soit-il. Pas de quoi s'y attacher, juste s'y référer. Or là, avec Denis Protat et son encyclopédie du Hard Rock des seventies, c'est simple, on se retrouve attaché à ce livre, du début à la fin. Non seulement, on est en présence d'un bel ouvrage à bien des niveaux : visuellement, très agréable dans les mains, utile et pratique par ses 1 800 groupes, ses 4 000 albums référencés et commentés, utile avec ses cotes d'albums, ses commentaires, ses index, et mille autres choses, mais ce qui fait la richesse et l'intérêt, l'accroche de cette seconde édition enrichie de « L'Encyclopédie Du Hard Rock des 70's » (la première mouture datant de 2004), c'est la passion, le cœur et les tripes qu'a mis son auteur, Denis Protat, dans chaque page, chaque commentaire, avisé, clair, net et précis. Là est la touche du passionné, l'ingrédient humain qui fait de ce livre de 192 pages tout compris, une pièce unique à laquelle on aime se référer et/ ou ouvrir des pages au hasard, pour le simple plaisir de la découverte de groupes et le livre en regorge d'où qu'ils viennent de par le monde entier, car c'est bien des formations issues de toute la planète qui figurent dans l'encyclopédie! On voyage à chaque lecture, avide d'écouter ou réécouter les groupes nommés. « L'Encyclopédie Du Hard Rock des 70's » se révèle être un must à posséder dans sa bibliothèque et à consulter comme une gourmandise pour le plaisir pour les passionnés, pour la précision technique pour les collectionneurs, etc.. De toute façon dans son introduction, l'auteur précise son intention, non ce n'est pas une encyclopédie exhaustive, mais on a envie d'ajouter, combien le livre peut être riche, divers et complet : les genres de l'âge d'or du Hard Rock 70's sont décrits, les dates et raisons de ce phénomène, bien exliquées, bref, un début de bible :)

Un grand merci à Denis Protat pour son livre, qui me sert et fait voyager tous les jours et un remerciement spécial à Thierry Huylebroeck pour me l'avoir fait découvrir!

Tasunka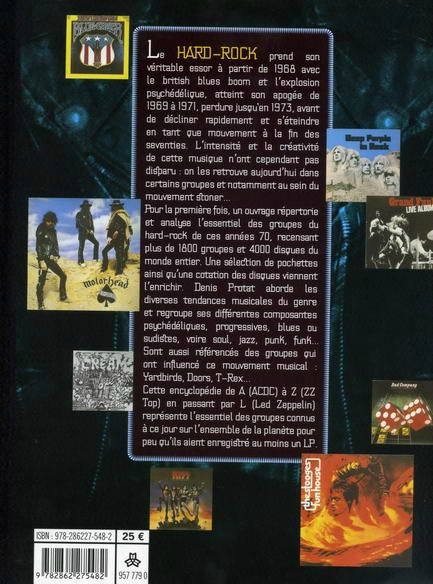 16 mars 2013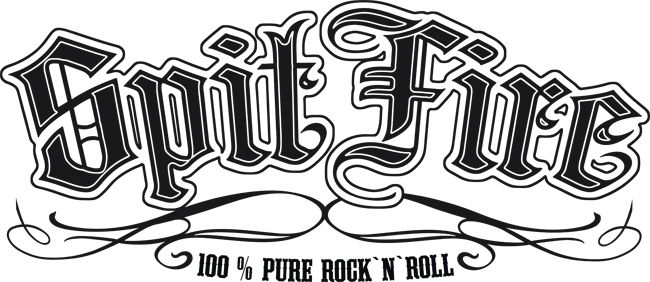 SPITFIRE « Devil's Dance »
(Rookies + Kings / SPV )
Release Europe: 19 April 2013
English version of the review below ;)
SpitFire crache littéralement le feu et comment ne pas se prendre non seulement une claque mais aussi un gros coup de cœur pour ce trio qui, à l'image des trop jouissifs bolides Hot Rods, carbure au nitrous oxide, vous balance plein pot et surtout plein gaz, un détonnant mélange de pur Rock'n Roll, de Rockabilly et de Hard furieux. Les morceaux s'enchainent et chose incroyable, si ça démarre déjà fort avec une guitare en attaque dès le « Go ! » d'ouverture, l'ambiance monte néanmoins crescendo avec des rythmiques qui s'endiablent de plus en plus, sans compter que le chant, les chorus, les refrains et la basse-batterie font un travail génial pour vous accrocher complètement. SpitFire, c'est puissant, droit au but et disons le mot : jouissif, d'autant que la voix de Dick Dropkick équivaut son jeu de guitare côté efficacité, tout autant que le jeu de ses compères : Johnny Jailbreak aux basse et chœurs et Nikk Nitro aux tambours d'acier ! Se dire que « Devil's Dance » est seulement le premier album du groupe allemand, laisse rêveur ! Déjà que leurs ainés et compatriotes de NITROGODS avaient sorti un très bon album de Rock'n Roll, là, les petits jeunes ont fait fort eux aussi, très fort !
Ecoutez les excellents « Enemy », "Kings Of Rock'n Roll », « No Regrets », « Rusted Crown », « Devil's Dance », "Take My Throne", "Burn In Hell", "King Kerosin" et vous saurez ce que pur Rock'n Roll veut dire ;)
Avec une production qui leur fait honneur et rend toute l'intensité des morceaux intacte et punchy, « Devil's Dance » est un must à se procurer, tout autant que d'aller s'éclater en compagnie du trio en live, car c'est bel et bien une musique d'éclate que joue SpitFire et ça, ça ne se rate pas !
Tasunka
---
- Review In English -
SpitFire deserves its name as the band definitely spits fire not only in your face but also in your heart as the 3-piece sounds absolutely like the mighty hot rods: loaded with nitrous oxide ! The band plays a powerful mixture of pure Rock'n Roll, Rockabilly and frantic Hard Rock. If the album already starts in a powerful way with "Go !" and its guitar on attack, it's nevertheless amazing to notice that each new song makes the temperature get higher and higher, makes the rhythms go crescendo, and not to forget to mention are the awesome skilled guitar, singing, chorus, bass, drums parts as all of them are definitely catchy as hell !
SpitFire's music is quite simply powerful, straight to the point, a real fireworks ! The vocals and guitar of Dick Dropkick show both a real skill in spitting fire and so does the playing of his mates: Johnny Jailbreak on bass / backing vocals and Nikk Nitro on drums from hell. When you think that "Devil's Dance" is only the first full length album of the band that's even more amazing. NITROGODS the band of their compatriot elders had already released a very good album of Rock'n Roll but now the younger guys do at least as good as them if not better!
Listen to the excellent tracks: « Enemy », "Kings Of Rock'n Roll », « No Regrets », « Rusted Crown », « Devil's Dance », "Take My Throne", "Burn In Hell", "King Kerosin" and you will at once know what pure Rock'n Roll means ;)
Thanx to an achieved production all songs sound at their best, punchy and catchy, making of "Devil's Dance" a must have album. Don't miss to come at the band's concerts as SpitFire's music is perfect for a real Rock'n Roll party !
Tasunka
---
Line-Up SpitFire:

- Dick Dropkick : Lead vocals / Guitar
- Johnny Jailbreak : Bass / Backing vocals
- Nikk Nitro : Drums / Backing vocals

Tracklisting "Devil's Dance":

01. Go!
02. My Way
03. City Of The Sinners
04. Kings Of Rock n Roll
05. Hellfire
06. Roll The Dice
07. Take My Throne
08. Enemy
09. No Regrets
10. Burn In Hell
11. Rusted Crown
12. Devil's Dance
13. King Kerosin

SpitFire Live:

30.03.2013 - Alte Brauerei / Annaberg-Buchholz (Matt "Gonzo" Roehr Support)
03.05.2013 - Metal Bash Open Air / Neu Wulmstorf
01.06.2013 - "10 Jahre Bad Jokers" / Sand i.T (Bozen/Südtirol)
06.06.2013 - Pfeffelbach Open Air / Pfeffelbach
15.06.2013 - Rock im Zwönitztal Open Air / Chemnitz
04.07.2013 - Reload Festival / Sulingen
21.07. – 27.07.2013 - MetalDays / Tolmin (Slovenia)
22.08.2013 - Ehrlich&Laut Open Air / Alsfeld

Et plus de dates encore à venir!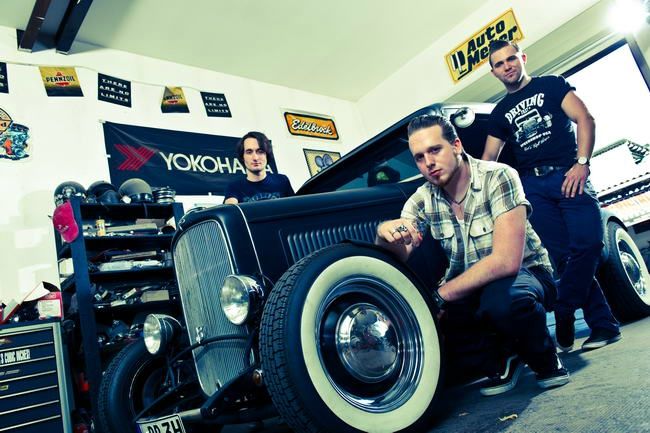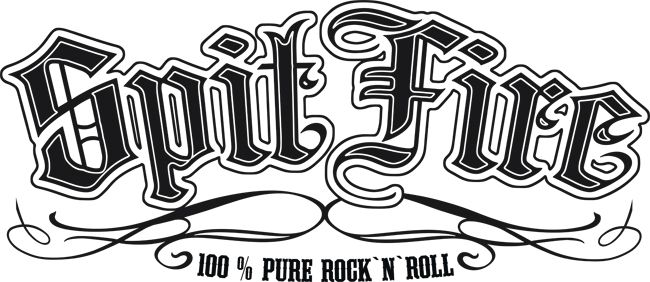 10 mars 2013
Director : Pekka Hara
Order the new STRATOVARIUS album "Nemesis" here: http://on.fb.me/XgLKCj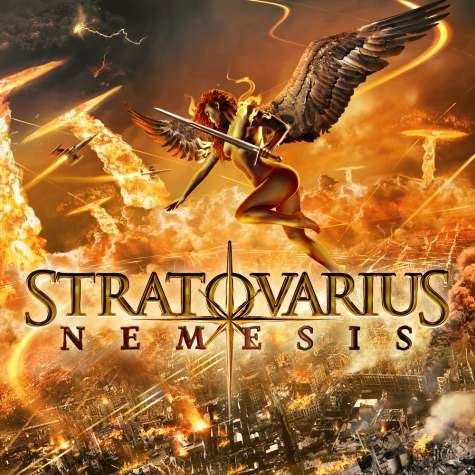 Stratovarius are hailed as one of the most influential and successful Melodic Metal bands in the world and they have managed to establish themselves as one of metal scene's heavy names.
The new album "Nemesis" unites all the best traits of the band's melodic, powerful, fresh and technically elaborated metal, all spiced up with an incredible sense of melody.
The album was produced and mixed by Matias Kupiainen and mastered by Mika Jussila (Finnvox studios) who has a long history with the band.
"Nemesis" has a dark and more modern sound compared to the band's last album "Elysium". It clearly shows how much the band has matured and grown as songwriters. At the same time, the band focused all their attention and work into creating and recording "Nemesis". Singer Timo Kotipelto has spent three weeks recording the vocals in a cottage in the Finnish countryside.
Matias Kupiainen adds: "I have more or less lived in the studio for four months, obsessing over every detail. I feel very relieved that we are done and I am very happy with the material and the sound."
Timo Kotipelto agrees: "Making the album this time was easier because we gave it as much time as it needed. We have worked our asses off to make this and we hope the fans will like it."
Without doubt, the fans will love it! The album has it all. From the typical melodic and powerful Stratovarius sound in "Abandon", to the aggressive and energetic "Stand My Ground", the album represents the new style of the band mixed with good old melodic power metal.
Stratovarius´ musical approach is today wider and richer than ever. The song "Fantasy" sounds almost ABBA-esque with its catchy pop tune, but it´s powered by the famous Stratovarius metal sound, louder than ever.
"Out Of The Fog" integrates some folk music elements, with lyrics telling the story of a young person forced to march blindly into battle.
The only ballad on the album, "If The Story Is Over", is a very emotional song with a grand arrangement that builds up to using the full band and ends with a small female choir.
The title track "Nemesis" is a typical Stratovarius song, with echoes of medieval melodies with powerful double bass drumming and the catchy pop melodies from this side of the millennium.
Says Timo Kotipelto: "The title track of the album; with its modern twist on the myth of Nemesis, it tells a story of a preacher who gives each one what they deserve, good or bad. The song has a very nice riff, cool melodies and a great good old Stratovarius style chorus."
'Nemesis' Standard Edition Tracklist:
01. Abandon
02. Unbreakable
03. Stand My Ground
04. Halcyon Days
05. Fantasy
06. Out Of The Fog
07. Castles In The Air
08. Dragons
09. One Must Fall
10. If The Story Is Over
11. Nemesis
12 février 2013
"Dirty Dynamite" French Review: here / ici :)