24 décembre 2021

-cliquez sur le visuel pour l'afficher en grand format-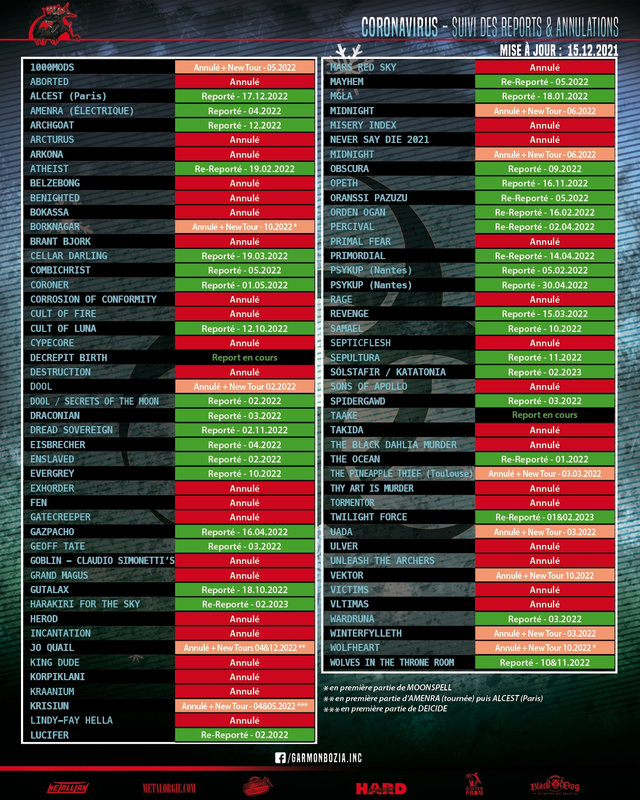 Programmation 2022 / 2023

"Nous continuons à travailler ardemment dans l'optique d'une reprise complète des concerts et nous vous proposons donc aujourd'hui une vision sur les 70 tournées qui nous attendent !

Vous craignez d'avoir raté une information sur les reports et annulations ? Pas d'inquiétude, vous trouverez un récapitulatif en image ici ; pour suivre en direct les éventuels prochains rebondissements, pensez à vous inscrire aux events dédiés à chaque concert qui vous intéresse. Enfin est toujours en ligne notre article complet, mais qu'on ne peut plus mettre à jour, permettant de répondre à toutes vos questions sur le sujet en cliquant là.

Et si pour Noël, vous nous offriez un cadeau (gratuit) ? Pour participer, rendez-vous sur notre publication facebook ici-même et suivez les recommandations faites aux père et mère Noël.
Merci pour votre soutien !
⛄ 🎄 🎅 ❄ BONNES FÊTES et, nous l'espèrons, À BIENTÔT !❄ 🎅 🎄 ⛄

---
04 mai 2021
*** 421 jours sans concert, 63 tournées impactées. ***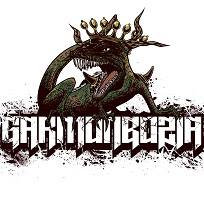 Voici toutes les informations, classées par ordre alphabétique de la tête d'affiche
🔍 visuel HD: bit.ly/GARMON-covid-202105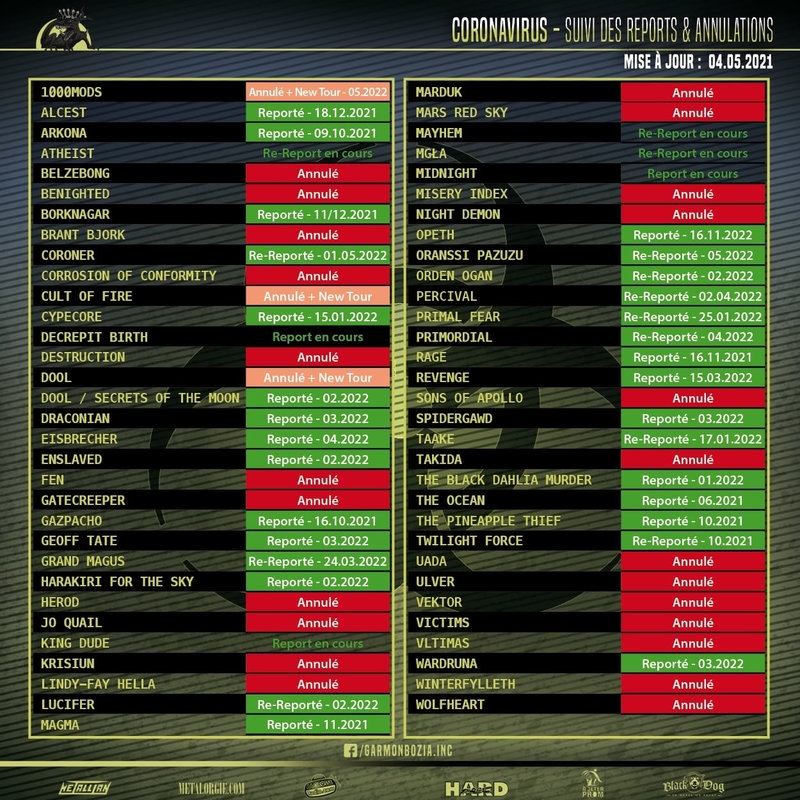 ---
==> Suivez les nouvelles mises à jour sur Garmonbozia Inc.:
==> Tous les événements: cliquer ici
---
---
19 février 2021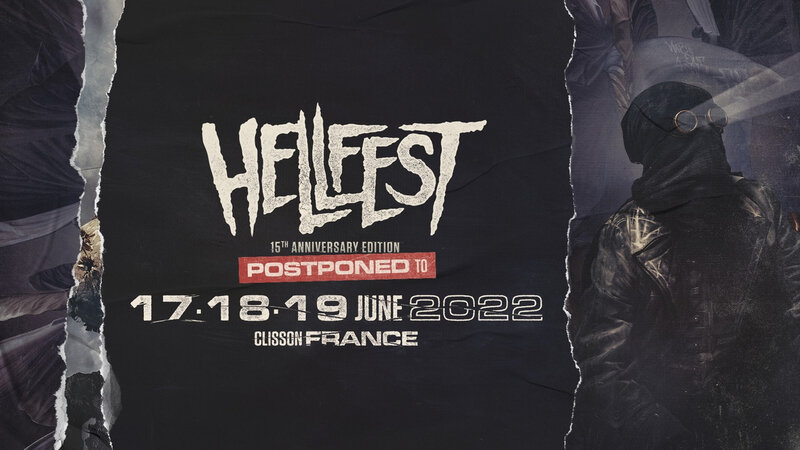 Hellbangers,
Nous avons espéré le meilleur, mais c'est finalement le pire qui se prépare pour cette année. Face aux incertitudes de la situation sanitaire à venir et aux dernières réglementations gouvernementales pour les festivals, nous sommes contraints d'annuler l'édition 2021 du HELLFEST des 18, 19 et 20 juin prochains.
Votre incroyable mobilisation lors de notre "coup de gueule" d'il y a quelques semaines a permis d'alerter l'opinion publique et les médias sur tout un …
==>
Lire la suite
---
22 mai 2020

"Vous auriez deux minutes pour répondre à quelques questions ?"

GARMONBOZIA: "Que vous soyez addict à notre programmation ou ne passiez qu'occasionnellement à nos concerts, nous vous invitons à répondre à ce mini-sondage afin de nous aider à mieux appréhender la suite des nos aventures dans ce contexte néo-apocalyptique et à répondre à toutes les interrogations sur les questions des reports, annulations et billetteries ➡

bit.ly/Garmon-Covid-sondage
---
"Et si les concerts sont à l'arrêt pour l'instant, nous vous préparons la reprise !"
---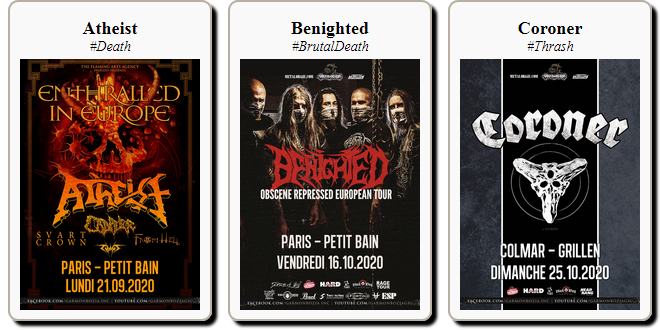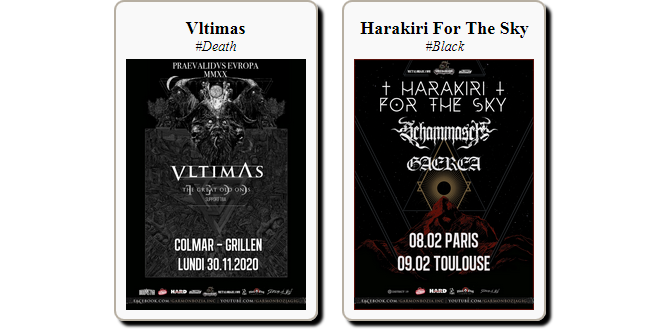 ⬇ Des invités s'ajoutent à ces concerts ⬇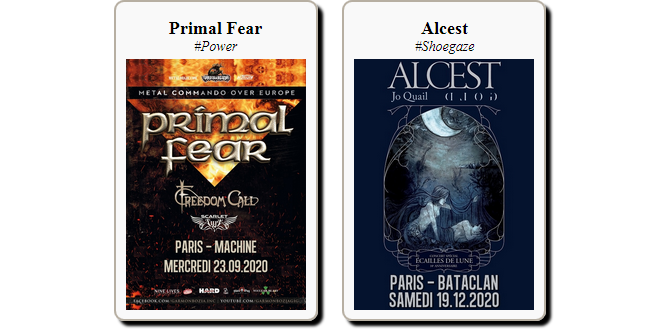 ⬇ Ces concerts sont reportés, prenez note des nouvelles dates ! ⬇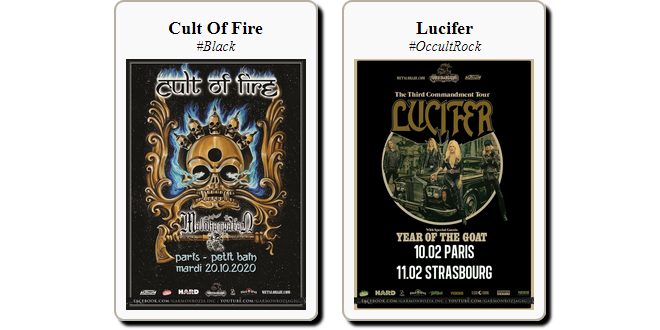 ⬇ Ces tournées sont annulées, sans possibilité de report dans l'immédiat ⬇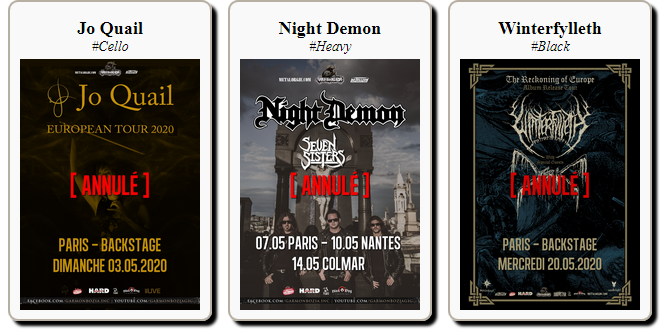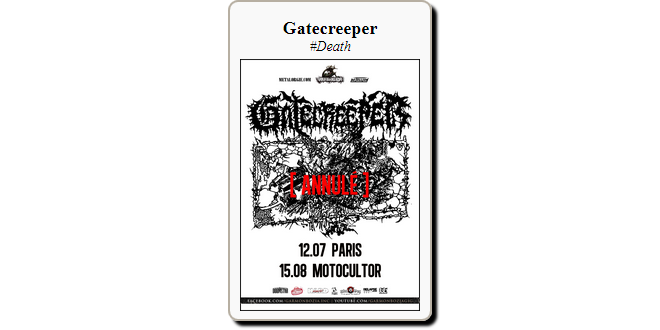 ➡ TOUS LES CONCERTS GARMONBOZIA ⬅
---
26 octobre 2018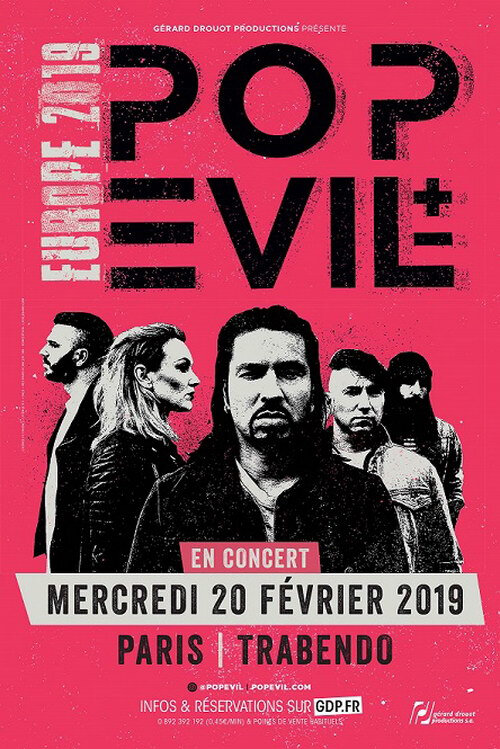 ==> POP EVIL - France / Paris @Trabendo: locations ici <==
==> POP EVIL - Tour Dates 2019: click here <==


Suite à leur tournée d'été aux USA avec Poison & Cheap Trick, et de nombreux concerts en tête d'affiche en Amérique du Nord,
POP EVIL débarquera enfin en Europe au mois de février 2019 pour une tournée qui passera par l'Allemagne, la Grande-Bretagne, les Pays-Bas et la France !
Mercredi 20 Février 2019 : Paris / Le Trabendo - Locations ICI
Le chanteur Leigh Kakaty ne cache pas son enthousiasme :
« Nos fans nous ont harcelé pour que revenions jouer en Europe. Leur patience est enfin récompensée ! Cette tournée s'annonce plus que bien. Avec près d'un an de concerts américains derrière nous, l'énergie sur scène est à son maximum et nous allons nous surpasser pour le public européen ! »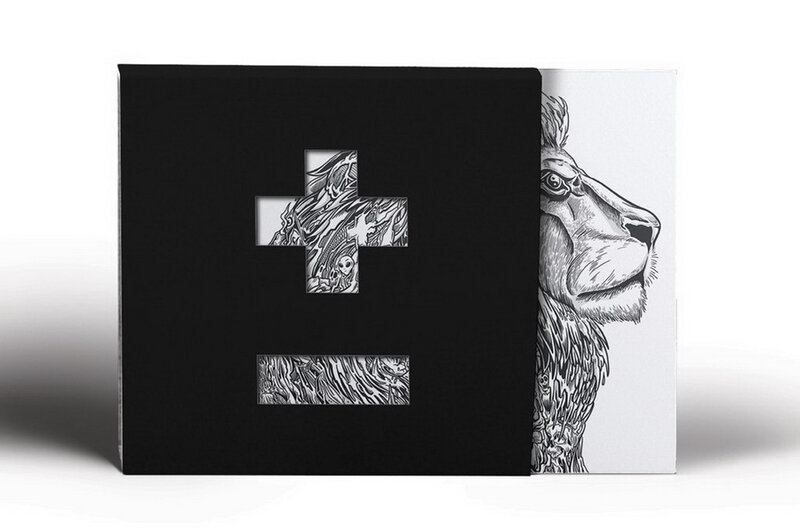 ==> "Pop Evil" Chronique / French Review: here / ici <==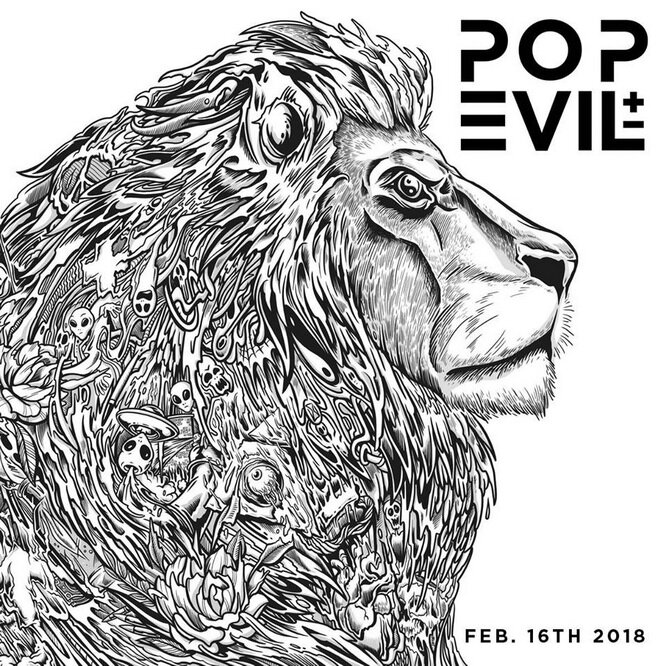 ---
06 juin 2018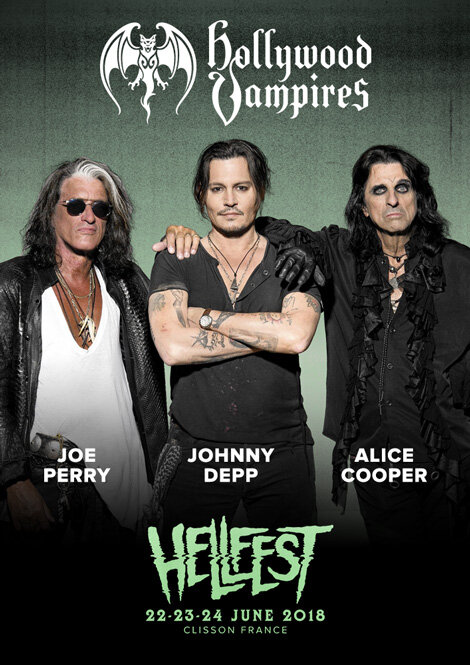 Johnny Depp au Hellfest ! Qui aurait pu imaginer ça un jour ?
Le célèbre acteur américain, connu pour être aussi un féru de rock, se produira bien à Clisson le 22 juin prochain au sein d'HOLLYWOOD VAMPIRES, un groupe qu'il a fondé en compagnie d'Alice Cooper et du guitariste d'Aerosmith Joe Perry. Le trio a sorti un album en 2015 en hommage à différentes rock-stars des 70's décédées... C'est ainsi que le trio (accompagné par différents guests) reprenait des titres des Who, Led Zeppelin, The Doors, T. Rex, Jimi Hendrix et bien d'autres...
- Ecoutez leur version de "Whole Lotta Love": ICI
==> HOLLYWOOD VAMPIRES se produira en exclusivité
et pour la 1ère fois en France au Hellfest ! <==
Le festival affiche complet depuis le mois d'octobre,
l'intégralité des 55 000 pass 3 jours ayant été vendue en moins de 30 heures !
HOLLYWOOD VAMPIRES vient d'entamer sa tournée en Europe (dates ici) avec le line-up suivant :
- ALICE COOPER : chant
- JOHNNY DEPP : guitare
- JOE PERRY : guitare
- SHERYL COOPER : chant
- CHRIS WYSE : basse
- TOMMY HENRIKSEN : guitare
- GLEN SOBEL : batterie
- BUCK JOHNSON : claviers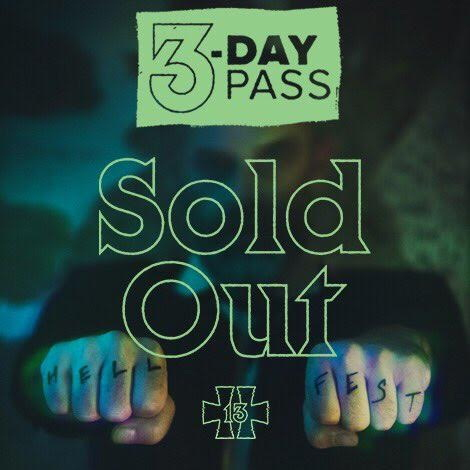 #YouCantControlIt #Is13YourLuckyNumber
---
04 juin 2018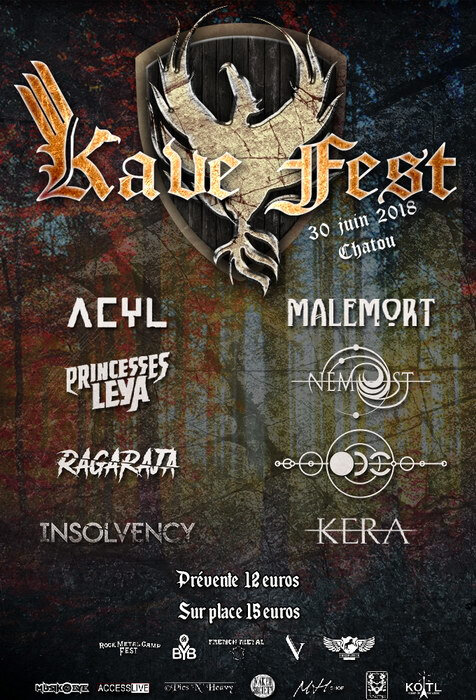 TEMNEIN ayant du déclarer forfait, INSOLVENCY sera donc à l'affiche du Kave Fest cette année !
==> Les billets pour l'édition 2018 sont encore disponibles: ici // Retrouvez les détails de ce KAVE FEST en plein air, en cliquant sur l'affiche ci-dessus ;)
==> Chronique INSOLVENCY "Antagonism Of The Soul": ici <==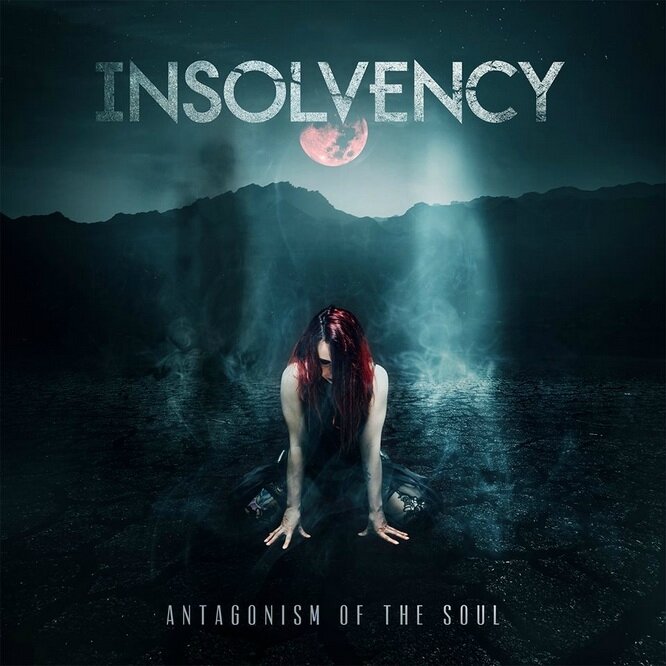 ---
28 mai 2018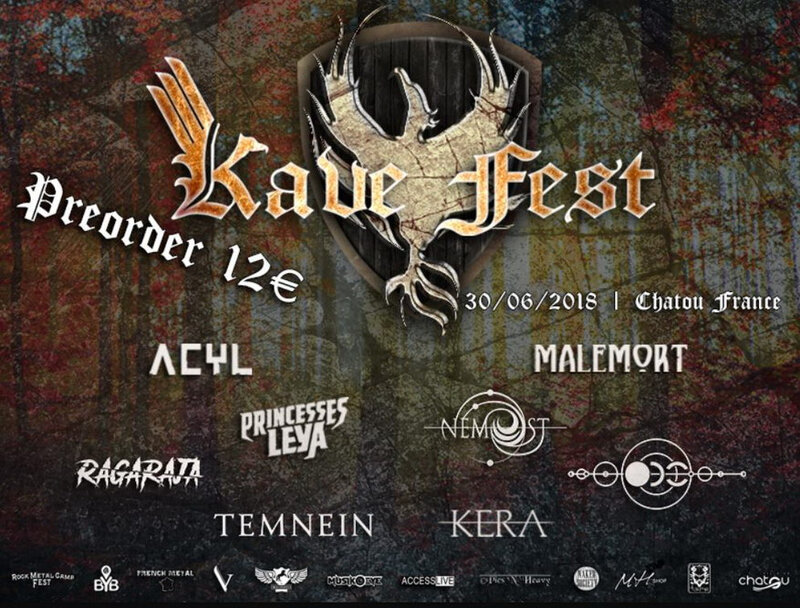 KAVE FEST News 2018 :
Le Kave Fest est heureux d'annoncer l'ouverture de sa billetterie en ligne en partenariat avec MH Shop !
==> Les billets pour l'édition 2018 sont disponibles: ici <==

Le billet d'entrée sera à 135 Dirham en prévente (12 euros - hors frais) et 1027 Roubles sur place. (15 euros)
**************

Pour les moldus, le Kave Fest est un festival metal en plein air sur une journée dans un jardin en banlieue parisienne. Durant cette journée, vous aurez l'occasion de profiter des groupes, du soleil, d'un barbecue et de moultes bières, tout ceci dans une ambiance accueillante et konviviale.
Chacun est libre d'apporter la nourriture et les boissons qu'il souhaite (à condition d'être conservées dans une bouteille en plastique) mais ça serait dommage de ne pas se péter le bide à notre Bar-beukiou.
Et pour ceux qui ne connaissent pas encore le Kave Fest, l'édition 2017, c'était ça :
---