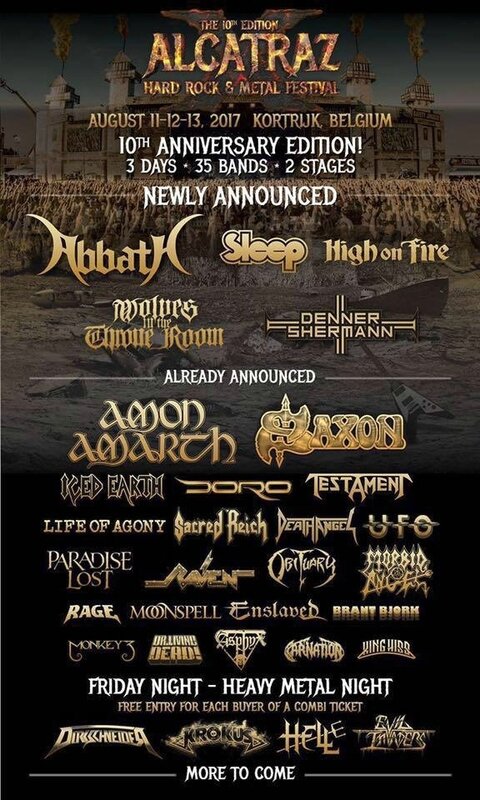 VENDREDI 11, SAMEDI 12, DIMANCHE 13 AOUT 2017

les amateurs de Métal au sens large peuvent sans hésitation se rendre à la dixième édition de l'
ALCATRAZ HARD ROCK & METAL FESTIVAL!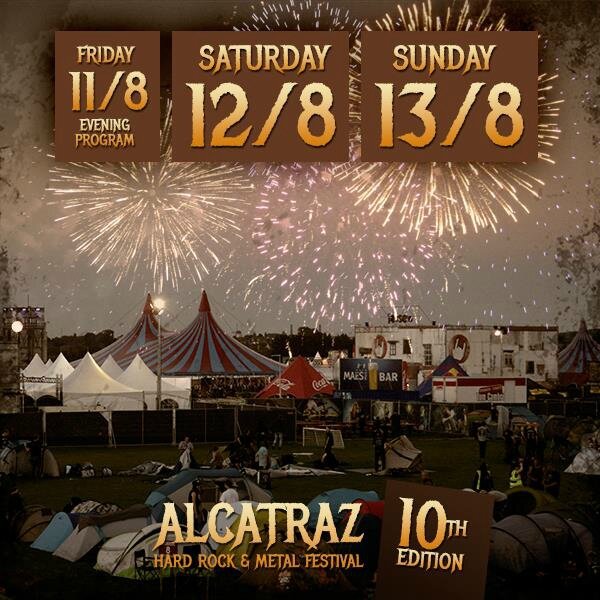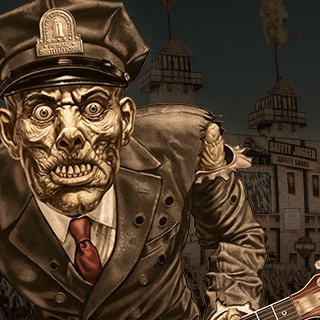 Mot Des Organisateurs:
'Bien que nous soyons déjà satisfaits à 200 % de l'affiche actuelle, vos réactions ultra-positives nous ont agréablement surpris (et c'est peu de le dire). C'est bien mais vous vous en doutez, nous n'allons pas nous arrêter en si bon chemin. Nous avons encore quelques noms sympathiques à offrir à nos visiteurs.
En tout une douzaine de groupes viendront s'ajouter dans les semaines à venir mais il y en a déjà cinq que nous pouvons vous dévoiler dès aujourd'hui. Parmi ces cinq noms qui viennent compléter l'affiche de l'Alcatraz 2017, il y en a trois que nos visiteurs annuels connaissent particulièrement bien. Saxon et Testament occupaient déjà le haut de l'affiche en 2009 (la meilleure de nos éditions au 'Brielpoort'). Les festivaliers présents à l'époque se souviennent certainement que Saxon avait débuté son set avec un retard pour le moins considérable, mais ils se souviendront également que l'attente avait été récompensée par un set d'une tel intensité que les voisins du Brielpoort et le bourgmestre de Deinze en parlent encore aujourd'hui.
La légende Saxon fête cette année ses quarante ans d'existence et pour fêter dignement cette longévité hors norme, le groupe embarque pour une tournée mondiale taille XXL qui les verra faire étape sur la scène de l'Alcatraz.
Testament est une autre valeur sure de l'Alcatraz. Le groupe est une véritable légende de la scène thrash américaine mais c'est aussi et surtout un immense plaisir que nous nous faisons à nous-mêmes tant nous adorons leur vision du thrash et tant nous apprécions Gene Hoglan.
Life Of Agony était déjà de l'affiche 2014 de l'Alcatraz, c'était la première rencontre entre Mina Caputo et le public belge. Le moins que l'on puisse écrire c'est que ça a directement 'matché' entre Mina et ses fans belges. Life Of Agony n'a jamais oublié ces moments magiques passés sur la scène de l'Alcatraz et un retour à Courtai était une des priorités du groupe. Ce sera chose faite en 2017 avec en prime quelques titres du nouvel album à vous faire découvrir.
Pour Paradise Lost et Obituary (nous y avons mis le temps mais nous y sommes enfin arrivés) se sera un premier passage par la scène de l'Alcatraz. Paradise Lost nous offrira une sorte de 'best off' de son immense discographie et Obituary nous proposera des titres issus de son prochain album (et croyez-nous ce nouvel album est une vraie bombe).
Restez connectés...dans un futur assez proche, d'autres noms vous seront également dévoilés : AMON AMARTH, SAXON, TESTAMENT, DORO, ICED EARTH, DEATH ANGEL, LIFE OF AGONY, SACRED REICH, UFO, OBITUARY, PARADISE LOST, RAVEN, RAGE, DIRKSCHNEIDER, HELL, KROKUS, MORBID ANGEL, ENSLAVED, MOONSPELL, ASPHYX, BRANT BJORK, KING HISS, MONKEY 3, DR. LIVING DEAD, EVIL INVADERS, CARNATION.
Dans peu de temps nous vous dévoilerons les 9 noms manquants.
-----------------------
Alcatraz Hard Rock & Metal Festival tickets:
En plus de vos commentaires enthousiastes sur l'affiche 2017, nous avons enregistré de multiples demandes d'information concernant les tickets d'un jour. N'ayez crainte, toutes les informations relatives à ses ticket d'un jour vous seront communiquées dès que possible, c'est-à-dire dès que la répartition des groupes sera établie. Nous voulons vous garantir un prix d'entrée par jour le plus équitable possible et vous comprendrez bien sûr que dans cette optique, le calcul ne peut se faire qu'après une répartition définitive de l'affiche sur toute la durée du festival. D'avance nous vous remercions de votre compréhension et de votre patience.
Attention. La soirée du vendredi n'est gratuite que pour les visiteurs munis d'un combi ticket. Pour les personnes intéressées par la soirée du vendredi, un ticket 'spécial vendredi' sera prochainement mis en vente.

Dès que le cinquième nom de cette affiche du vendredi sera annoncé, il vous sera possible de vous procurer ce ticket 'spécial vendredi'.
==>Tickets: Combi-tickets (également tickets VIP) seront disponibles sur www.alcatraz.be
Les tickets combi sont d'ores et déjà disponibles au Popcenter de Courtrai.
---