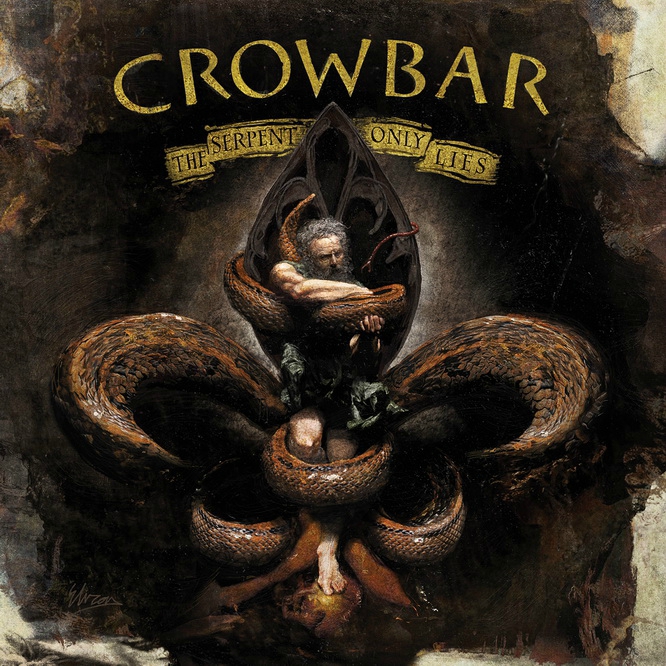 Release Date: October 28, 2016
Territory: Europe

Kirk Windstein, frontman, chanteur et guitariste des références du Sludge, CROWBAR, a voulu que leur onzième album, « The Serpent Only Lies », retrouve et replonge dans l'état d'esprit qui animait le groupe à l'origine, aussi, s'est-il volontairement immergé dans l'atmosphère des débuts en réécoutant les premières productions de la bande, sorties plus de deux décennies plus tôt, ainsi que les disques de formations ayant influencé CROWBAR à l'époque : Trouble, Saint Vitus, Melvins ou le tout premier Type O Negative.
Fort de cette réécoute du premier opus éponyme, ainsi que de « Broken Glass » et de ceux des groupes précités, c'est sur cette base et intention de sortir un album à l'esprit old-school qui sonne moderne à la fois, que « The Serpent Only Lies » a vu le jour.
Si CROWBAR délivre un opus qui sent effectivement bon ce savoir-faire si apprécié et salué au long des années, au travers d'un Sludge lourd et puissant, il n'en reste pas moins que le côté old-school revendiqué par son maitre à penser, à savoir un Sludge mélodique qui vous broie et ne laisse pas indemne avec ses distorsions sales, est là, certes, mais inégalement selon les morceaux, le tout péchant par moments d'un manque d'effet 'dans ta face'.
Ainsi, si le meilleur se trouve dans un grondant tel le tonnerre « I Am The Storm », ou encore « Song Of The Dunes », « On Holy Ground », « Embrace The Light » ou le titre d'ouverture « Falling While Rising », « Surviving The Abyss », on salue avant tout le chant superbement inspiré encore et toujours de Kirk Windstein, un chant qui apporte un groove de plus aux instruments. Pour ce qui est, justement, des guitares et batterie, basse, même si elles assurent elles aussi, il arrive d'avoir envie de les entendre sortir des sentiers habituels du groupe, s'exprimer avec plus de prise de risques pour créer une dimension supplémentaire, retrouver justement pleinement toute cette distorsion sale et mélodique. Même si, ici, la place a été volontairement plus donnée aux guitares, mettant un peu moins l'accent sur la voix par instants, toujours est-il que ce même chant reste le pilier qui soutient le groove délivré par CROWBAR.
Ceci dit, avec « The Serpent Only Lies » on est tout de même en présence d'un disque de CROWBAR: ce qui veut dire, de haut niveau.
Avec une production au top, une pochette du même tonneau et ses nouveaux morceaux, CROWBAR se montre fidèle à sa renommée de 'pourvoyeur de Sludge ' depuis 27 ans!

Tasunka
« The Serpent Only Lies »Tracklisting:
01.Falling While Rising
02.Plasmic And Pure
03.I Am The Storm
04.Surviving The Abyss
05.The Serpent Only Lies
06.The Enemy Beside You
07.Embrace The Light
08.On Holy Ground
09.Song Of The Dunes
10.As I Heal
==> Eliran Kantor did a brilliant job with the artwork! ;)

CROWBAR Line Up:
-Kirk Windstein - G / V
-Matt Brunson - G
-Tommy Buckley - D
-Todd Strange – B
---
---

---