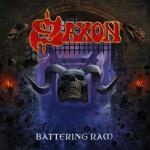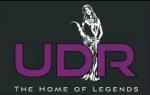 Worldwide Release: October 16th, 2015
La légendaire machine à headbanger et à hymnes, SAXON, sort son 21ième album qui, à l'image de son sobre titre "Bélier" et de sa punchy pochette, en dit long sur l'intention du groupe : l'esprit est à en découdre et à un retour plus marqué au Heavy laissant un peu l'orientation Rock'n Roll, pour revenir à dix nouvelles compositions plus Metal que jamais, fortes et mélodiques à la fois.
« Battering Ram » peut être vu comme une rencontre, une alliance choc et bien équilibrée entre le passé et le futur, pour des morceaux hymniques où les guitares de Paul Quinn et Doug Scarratt s'en donnent à cœur joie que ce soit sur les passages qui demandent leur talent et dextérité affirmée de 'shredder' ou de fins mélodistes et la voix de Biff Byford laisse tout autant épaté, puisque des attaques en aigus façon old school du début des 80's, aux intonations suaves ou feutrées et mélancoliques, Biff Byford assure avec une de ces aisances, prouvant si besoin était, qu'il n'a décidément rien perdu de sa tessiture unique de voix, ni de sa puissance vocale reconnaissable entre toutes. Côté assise rythmique solide comme l'acier et subtile à la fois, c'est toujours le duo Nibbs Carter à la basse et Nigel Glockler derrière les futs, qui assurent le job avec brio.
Le sceau Saxon est bel et bien apposé sur ce « Battering Ram » qui navigue avec panache et efficacité entre touche classique et moderne, délivrant ainsi toute l'étendue du potentiel du groupe au long des dix morceaux qui peuvent se balader entre Heavy hymnique et faire de même la part belle à la fraicheur en laissant l'exploration s'exprimer, notamment avec des titres tels que « Queen Of Hearts » qui a cette saveur de Prog dans son esprit et ambiance, « Stand Your Ground » et son excellent break en solo des deux guitaristes ou le mid tempo « To The End » et sans omettre le superbe final sur le poignant et plein de la force de l'émotion, « Kingdom Of The Cross », qui rend hommage, en cette année du centenaire, à tous ceux tombés lors de la meurtrière première guerre mondiale. L'idée de ce titre est venue de Nigel Glockler qui jouait cette base sur son synthé depuis quelques années et Biff Byford appréciant ce qu'il entendait, le moment semblait bien choisi pour en faire un morceau: « Kingdom Of The Cross » est, au final, un titre fort en émotions et qui a la particularité d'avoir été interprété seulement par le chant, les claviers, la basse et la voix du narrateur, à savoir Dave Bower, qui est à la fois acteur et chanteur du groupe HELL.
La production, quant à elle, paraphe et scelle ce « Battering Ram » de choix, en faisant sonner chaque détail, chaque atmosphère pour un résultat très naturel alors qu'en coulisses, il est dû à la précision du travail minutieux de non moins que Andy Sneap (MEGADETH, TESTAMENT, EXODUS, ACCEPT) aux Backstage Recording Studios.
Les textes de Biff Byford inspirés du réel, du Rock'n Roll ou de la fantaisie, montrent, quant à eux, que l'inspiration est au rendez-vous sur des compositions et interprétation de même intensité et cet ensemble réussi fait assurément de « Battering Ram », un album qui est à compter parmi les meilleurs du groupe!

A noter que pour célébrer la sortie de « Battering Ram », SAXON fouleront les scènes et y mettront à n'en pas douter le feu, pour des concerts en compagnie de MOTÖRHEAD ou de ARMORED SAINT, selon les dates.
SAXON seront justement en France, au Zénith de Paris, le 15 novembre 2015 en guests de MOTÖRHEAD et au Zénith de Lille, le premier février 2016, toujours en invités pour célébrer les 40 ans de carrière de MOTÖRHEAD et les 70 ans de Lemmy.

Et, c'est à saluer aussi, SAXON seront au complet, avec leur batteur Nigel Glockler, qui s'est bien remis de son intervention en urgence au cerveau, en février 2015 : bref, ça va assurer !
SAXON sont bel et bien là, chapeau bas ! :)

Tasunka
"Battering Ram" track listing:
01. Battering Ram
02. The Devil's Footprint
03. Queen Of Hearts
04. Destroyer
05. Hard And Fast
06. Eye Of The Storm
07. Stand Your Ground: TB solo duo
08. Top Of The World
09. To The End
10. Kingdom Of The Cross

SAXON Line-Up:
-Biff Byford: V
-Nigel Glockler: D
-Nibbs Carter : B
-Paul Quinn : G
-Doug Scarratt : G
---
---
SAXON European tour dates/ CLICK HERE :)
SAXON Dates en France, ci-dessous :)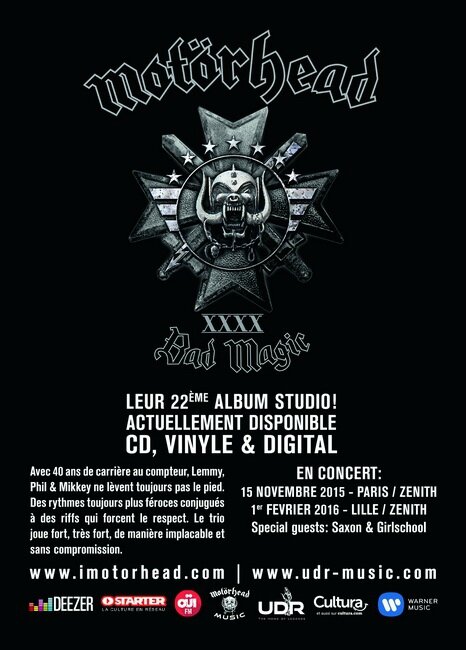 ---