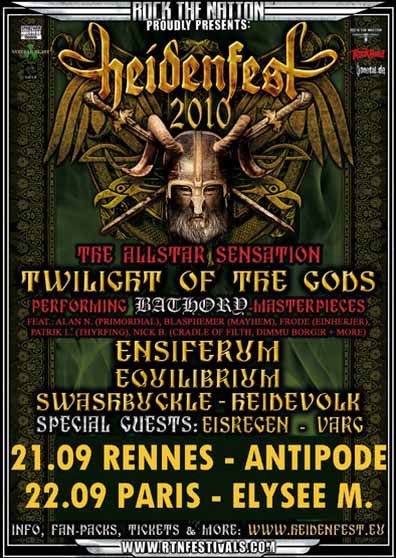 !!! THE ALLSTAR SENSATION !!!
TWILIGHT OF THE GODS
performing BATHORY masterpieces
FEAT: ALAN N. (PRIMORDIAL), BLASPHEMER (MAYHEM), FRODE (EINHERJER),
PATRIK L. (THYRFING), NICK B. (CRADLE OF FILTH, DIMMU BORGIR + MORE)
ENSIFERUM
www.ensiferum.com www.myspace.com/ensiferum
EQUILIBRIUM
SWASHBUCKLE
HEIDEVOLK
www.heidevolk.com www.myspace.com/officialheidevolk
21.09 RENNES - ANTIPODE
2, rue André Trasbot 35200 Rennes - ouverture des portes: 19h00
22.09 PARIS - ELYSEE M.
72, boulevard Rochechouart 75018 Paris - ouverture des portes: 17h00
préventes aux points habituels ou à tarif préférentiel:
FGarmonbozia@aol.com (Rennes & Paris)
a.jeter.prom@hotmail.fr et Rock'n'Roll Voltage (Paris uniquement)
www.myspace.com/garmonboziainc
Prochains concerts Garmonbozia Inc, Metallian & VS Webzine:
GONG - 40 YEARS ORIGINAL LINE UP TOUR
26.09 Rennes - l'Etage

BLIND GUARDIAN + ENFORCER + STEELWING
28.09 Paris - Elysée Montmartre

DARK TRANQUILLITY + INSOMNIUM
30.09 Paris - Trabendo

WATAIN + DESTROYER 666
01.10 Paris - Nouveau Casino
02.10 Rennes - Ubu
03.10 Lyon - Ninkasi Kao

SABATON + ALESTORM + THAUROROD
09.10 Paris - Nouveau Casino

TARJA
10.10 Paris - Bataclan

TRISTANIA + ASRAI + UNSUN
11.10 Paris - Glazart

ENSLAVED + NEGURA BUNGET REPORTE / POSTPONED !
16.10 Lille - Aeronef
17.10 Dijon - Vapeur
18.10 Paris - Nouveau Casino
TREPALIUM
17.10 Dijon - Vapeur

ELUVEITIE + KORPIKLAANI + GODNR.UNIVERSE
20.10 Montpellier - Secret Place
25.10 Toulouse - Phare
26.10 Lyon - Ninkasi Kao
27.10 Nantes - Olympic
29.10 Colmar - Grillen
30.10 Paris - Trabendo

SHINING + ENTHRONED + SVART CROWN
26.10 Paris - Glazart

PAUL DI'ANNO & COVERSLAVE
28.10 Rennes - Jardin Moderne

TAAKE + HELHEIM + VULTURE INDUSTRIES + SULPHUR
28.10 Paris - Glazart
29.10 Luynes - Korigan

ELECTRIC WIZARD + MOSS
29.10 Paris - Nouveau Casino

THERION + LOCH VOSTOK + LEPROUS
02.11 Lille - Aeronef
03.11 Paris - Elysée Montmartre
10.11 Lyon - Transbordeur
11.11 Toulouse - Phare
14.11 Limoges - CC John Lennon
15.11 Strasbourg - Laiterie

NAPALM DEATH + IMMOLATION + MACABRE + WAKING THE DEAD
12.11 Rennes - Antipode
MISERY INDEX + GRAVE + ARSIS + THE LAST FELONY + THE ROTTED
21.11 Paris - Glazart pt
MUNICIPAL WASTE + SAVIOURS + RAMMING SPEED
07.12 Paris - Glazart