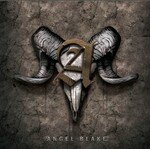 ANGEL BLAKE "Angel Blake"
(Metal Blade Records / Distr. Nocturne)
OK cet album remonte déjà à 2006, mais l'envie se faisait d'en reparler parce qu'il est tout simplement prenant cet ANGEL BLAKE avec ses 10 titres bardés d'émotion à fleur de riffs, de vocaux. L'énergie étant aussi de la partie pour mettre l'atmosphère au top de sa forme, le résultat de ces ex: THE CROWN et TRANSPORT LEAGUE comble assurément les espérances. Sur une production collant au mieux, l'esprit du grouope s'anime et s'exprime en beauté; en effet, le son assure véritablement sa partie puisque celui-ci sait rendre rudes les guitares rythmiques ou en soli, rendre clair le chant mais avec une vraie profondeur pour cette voix torturée qui fait mouche et que dire enfin des rythmiques certes classiques, si ce n'est qu'elles sont, elles aussi, d'un bon rendu et d'efficaces piliers de soutien pour l'ensemble des morceaux. Difficile de ne pas adhérer à ces puissants en force et feeling que sont "Retaliate", "Self-Terminate", "Solitude, My Friend", "The Forsaken" ou le titre final avec un contraste mélancolique encore plus marqué: "..'Til The End". ANGEL BLAKE peut être fier d'avoir non seulement produit un très bel album, mais aussi d'avoir une marque de fabrique reconnaissable avec un Heavy mélancolique de belle facture. Vraiment recommandable, en résumé.
TASUNKA